Over the last year, I've had the opportunity to interview and get to know some wonderfully creative people and talk to them about the creation of their work. I interviewed playwright Dale Lee Kwong about the premiere of her play Ai Yah! Sweet and Sour Secrets at Lunchbox Theatre, I interviewed Barb Mitchell about her long and varied career as an actor and broadcaster, and I interviewed Matt Dy from the Austin Film Festival about what makes that festival a must-attend event for up and coming writers with ambitions of working in television and film.
So, I thought I'd do a little Year End Review and touch on some of the wisdom and stories all these people shared with me over the last year. Plus, I asked everyone I talked with the same three questions at the end of their interview.
What makes a good friend?
The world needs more…?
What's your favourite flavour of ice cream?
It's a bit of an experiment really – it's based on James Lipton's practice of asking every guest he had on the Actor's Studio the same ten questions. I thought three were enough and I wanted something a little light and fun to end the interview. So, read on to discover Haysam Kadri's favourite ice cream or how Jamie Dunsdon describes a good friend.
And I'm busy lining up some interviews for 2019. This April I'll be talking to Joe Slabe about his production of Crossing Swords at Storybook Theatre, come May I'll be chatting with Artistic Producer Samantha MacDonald about the 2019/20 Lunchbox Theatre Season and in the fall I'll be talking to my longtime friend and director David Winning about his film and television career.
Now if you'd like to catch a little theatre over the holiday season there are a couple of terrific shows worth seeing. You know Disney figured out a long time ago that the secret to success isn't making children's films but rather the secret to success is making family films. Films that are as entertaining and fun for the adults to watch as the children. And the good news is that this holiday season you can see a live play on the stage that is as much fun for the adults in the audience as the kids. Zorro: Family Code by Rebecca Northan, Bruce Horak and Christian Goutsis at Alberta Theatre Projects is a fun and exciting adventure that delivers laughs and thrills and will no doubt, once you've seen it, become a favourite family memory because theatre creates memorable experiences and the best experiences are those that we share with family and friends.
Zorro: Family Code is about an aging Zorro who has returned to Spain ready once again to defend the people against his arch nemesis, the corrupt and self-centered Capitán Juan Ramon. However when a second masked hero named Zoro turns up the comic misadventures multiply. There's plenty of physical comedy and swordplay in this adventure and the production makes full use of Alberta Theatre Projects thrust stage.
The story is brought to life by a talented and perfectly cast ensemble featuring Derek Flores as Don Diego De La Vega better known as Zorro, Mabelle Carvajal as the beautiful love interest and narrator of the story Maria Murrieta, Tyrell Crews as the villainous and never gives up Capitán Juan Ramon, Kevin Corey as the comical sidekick Sergeant Pedro Gonzales, Lucian-River Mirage Chauhan as Miguel De La Vega or as I like to call him the son of Zorro, and Natasha Strickey as the independent, smart, and not too bad with a sword herself daughter of Zorro Isodora De La Vega.
The night we saw the show a young boy sitting behind us with his family went "Wow!" when a blossomed covered tree magically descended to the stage. Which simply means, and I quite agree, that this production has the wow factor! Great fun for the whole family. Highly recommended. Zorro: Family Code runs until December 30th at Alberta Theatre Projects in the Martha Cohen Theatre. Tickets are available through the Alberta Theatre Projects Box Office or online on their website.
And speaking of the "Wow!" factor I had an opportunity to catch Storybook Theatre's Production of Joseph and the Amazing Technicolor Dreamcoat over the weekend and this production is one of the best musicals I've seen on the Calgary Stage. It's not just the music – it's the dancing and the chemistry between the actors and the inventive staging – that all contribute to make this an unforgettable theatre experience. And the production is made all the more thrilling because of the intimate nature of the Storybook stage. You're up and close and fully immersed. Joseph and the Amazing Technicolor Dreamcoat runs until December 29th. Tickets are available online at the Storybook Theatre website or at the box office.
And even though it's close to being sold out you still have a chance to catch Stephen Hair as Ebenezer Scrooge in the Theatre Calgary production of A Christmas Carol. This is the last year for this particular adaptation and it marks Hair's 25th year playing Scrooge. A Christmas Carol is a timeless tale about forgiveness, redemption, second chances, and a celebration of the true spirit of Christmas. A Christmas Carol runs until December 23rd and tickets may be purchased online or at the Theatre Calgary Box Office.
And marking its fifth year on the Calgary Stage is Naughty or Nice The Big V by Forte Musical Theatre. While Zorro, Joseph, and Scrooge are suitable for families this show is a little naughty and intended for a mature audience. Directed by JP Thibodeau with musical direction by Joe Slabe and starring Scott Olynek, Justine Westby, Tenaj Williams, and Madeleine Suddaby this Calgary Holiday tradition is a great date night idea or night out with friends. Naughty or Nice runs until December 22nd at Lunchbox theatre and tickets can be purchased online at the Forte Music or Lunchbox Theatre website.
And finally you can catch a production of Jersey Boys: The Story of Franki Vali & The Four Seasons playing at Stage West Calgary until February 3rd. The Tony Award winning Jersey Boys features classic tunes like, Sherry, Big Girls Don't Cry, Can't Take My Eyes Off Of You and chronicles how four working-class kids became one of the greatest success stories in pop music. Plus Stage West is offering a special New Year's Eve package that includes their gourmet dinner buffet, a champagne toast, a midnight mini-buffet, and dancing after the show. Reservations for the New Year's Eve show are available only through the box office by calling 403.243.6642. Regular Tickets are available through the Box Office or online at Stage West.
And don't forget you can always check out what's happening in the Calgary professional and community theatre scene by checking out the Calgary Herald Theatre Listings or the YYSCENE Listings of Upcoming Events.
Now, back to my Year End Review. Below is the complete list of interviews featured in this blog post. If you're interested in checking out the entire interview for any of these folks you can click on the links below or on the link at the end of each summary.
Interview with Playwright Dale Lee Kwong: Ai Yah! Sweet And Sour Secrets
Last February when I talked with Dale Lee Kwong she was celebrating the premiere of her play Ai Yah! Sweet and Sour Secrets at Lunchbox Theatre. Dale writes poetry, plays, and creative non-fiction and is a third-generation Chinese-Canadian whose work often explores Chinese-Canadian history, diversity, and inclusion, as well as adoption, and LGBTQ issues. One of the nice thing about Dale's story is that her Lunchbox production was a forty-year dream come true.
DALE LEE KWONG
It's been my goal to have a play at Lunchbox Theatre since 1978. I was in grade twelve when the Stage One program first started, and I don't even know how I ended up going to all the Stage One readings but I did, and I made a mental note to myself that someday I would like to have a play at Lunchbox.
JAMES HUTCHISON
But isn't that fascinating – that there's that connection from thirty years ago – no forty years ago.
DALE
Oh my God, forty years! That makes me tear up thinking about that. That's why this play is so special to me. Lunchbox is my favourite theatre company, and I make no bones about saying that. I've been donating to them for years, and I've been volunteering there, and I think they're one of the best treasures in Calgary.
***
Ai Yah! Sweet and Sour Secrets is a very funny coming out culture clash comedy that explores family secrets and ultimately our acceptance of the people we love for who they are. And I think, one of the secrets to Dale's success as a writer has been her willingness to say, "I don't know. I'm new, but I'd like to learn."
***
DALE
Even though I'm not as much of a greenhorn as I was twelve years ago I'm still a newbie. This is my first big production. So, there's a bit of a learning curve, but I'm really lucky because one of my mentors in the theatre community is Sharon Pollock whom I've known since 2006, and over the last few years we've become really good friends because we walk our dogs together.
DALE
Sharon is wonderful. Last year she had her own new play Blow Wind High Water at Theatre Calgary and she had a revision happening on another play at Stratford and I was going through stuff on my end and so I could ask her questions like, "Should I go to the rehearsals?" And Sharon was the first to say, "It's your right to go to the rehearsal. Not all playwrights do. In fact, most directors would probably discourage it, but you're emerging – you're a rookie – you should go to them all." She said, "Just take a book, and be there if they need you, and listen once in a while, and see what things they struggle with, and you'll learn."
You know I always say to emerging artists, particularly artists in their 20s, I say, "You have age on your side. You can plead complete ignorance. You can say, I don't know. I've never been to a dress rehearsal? Can I come to your dress rehearsal? I've never been to a first read. Can I come to your first read?"
The other thing you can do if you're an emerging writer or artist is volunteer. I have been ushering at Calgary theatres for more than ten years. Almost every theatre company in the city uses ushers, and if you usher you get to see the play for free, and you meet the people behind the scenes. So there are all these people that I've met along the way, and I've been supporting them for ten years, and I finally have something they can come to.
***
And here are Dale's answers to my three final questions.
JAMES
What makes a good friend?
DALE
My best friend is loyal, forgiving, consistent, has a sense of humour, and love me unconditionally.
JAMES
The world needs more?
DALE
The world needs more action and less empty promises.
JAMES
And most important of all what's your favourite flavour of ice cream?
DALE
My favourite ice cream always changes to whatever is in season at Village Ice Cream!
***
Which means, since this is now December, I had to check out the seasonal flavours at
Village Ice Cream
and Dale's current favourites would be Ferrero Rocher and Bourbon Eggnog.
An interview with Matt Dy: Director of Script Competitions at the 2018 Austin Film Festival
The Austin Film Festival is a celebration of film and television that focuses on story and the people who write the screenplays and teleplays. The festival features industry professionals as well as up and coming writers. This year my play, Masquerade, was a finalist in the stageplay competition. I gave Matt Dy, the Director of Competitions for The Austin Film Festival, a call to talk to him about the festival and what participants can expect.
MATT DY
The thing that still remains intact over the twenty-five-year history of the festival is our goal and mission to champion the screenwriter. We're now open to playwrights and eventually we may become more of a hub for all forms of story because we're also expanding into fiction podcasting and we have a digital series component as well – content for the web – so there's a lot of different formats that we've embraced over the years but the mission to champion the writer is still the same.
JAMES HUTCHISON
The festival has a number of writing competitions. You've got the feature-length drama. You've got the comedy feature. Horror. Sci-fi. So you've got lots of different categories, but I'm wondering, regardless of the genre, do you notice anything that the winning scripts seem to possess? Something in them that makes this writing stand out.
MATT
I think if I had to pin it on one thing it would be stories that have that unique voice – that unique perspective. Those stories end up winning or advancing in the competition. It's always their unique spin on a familiar story. A different perspective so that when you're reading it you go, "Oh that's brilliant. I wasn't expecting that."
JAMES
Well, let's talk a little bit about the festival. There are two components. There's the film festival and there's the conference and the conference is filled with industry professionals and established as well as up and coming writers. What's the conference part of the festival about?
MATT
I like to call it summer camp for screenwriters except it's only four days. It sort of has that Kumbaya feel when you first arrive. It's palatable – at least for me. You know you can stereotype writers and say they're all an isolated bunch who are very introverted who don't like to converse or be communal, but I find that even the most introverted screenwriter, deep down, really wants to connect, and I think when they realize that wow, I'm not the only one who feels that way, and they come to a conference where it's a bunch of introverts and a lot of thinkers and creative types who are just like them then the walls start to come down. And we try to make it easy for them to get to know each other and just converse and make friends. Usually without fail that's what happens.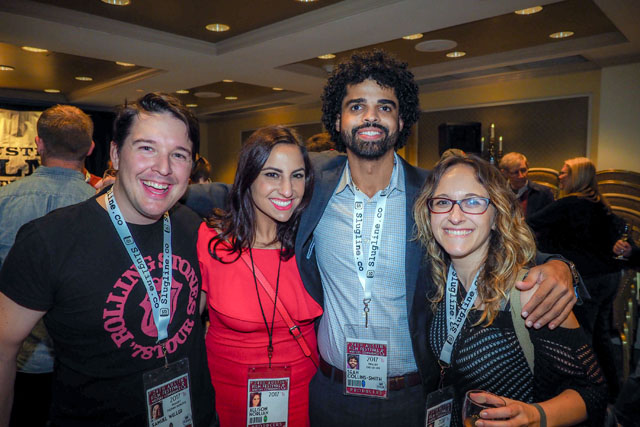 JAMES
Are there any legendary stories from the festival that you can share?
MATT
You know what feels legendary for me each year is the Awards Luncheon and hopefully you'll see that and feel that too when you're here because the awards luncheon is where we celebrate the winners in the competition and win or lose it's still a really great event because on that stage we are awarding up and coming writers from our competition and we're also honouring the established writers like the Tony Gilroys, the Larry Wilmores, Roger Corman, Dan Petrie and so they're all on the same stage together. And what's so beautiful is that one of those awardees, almost without fail, will comment on what they've seen from the up and coming writers. They're deeply moved by the time they get up on stage because they're also not sure what to expect at our festival. So, when they see we're really championing the writer and they're hearing all the winner's stories and we even have a young filmmakers award so they end up seeing young kids going up there and accepting awards too it makes an impact. And these kids are in awe of what they are seeing – you know these teenagers are seeing people from different backgrounds and ages winning our script competition and our film competition and then they're seeing highly established people as well and so that's really inspiring for the next generation of young people who are going to continue to create and write and tell stories. And for me, that feels legendary because everybody always comes away feeling so invigorated and inspired.
***
And here are Matt's answers to my three final questions.
JAMES
What makes a good friend?
MATT
You kind of threw me off guard I was expecting something film related but I'm game, alright. I would say a good friend…unconditional support and a good listener. I'd say that would be my answer.
JAMES
The world needs more…?
MATT
Compassion and empathy and being able to listen to people who have a different opinion or background from your own and just taking the time to listen to others.
JAMES
What's your favourite flavour of ice cream?
MATT
Mmmmm, I think my go-to is Ben and Jerry's Phish Food.
***
Which is, for those of you who don't know, Chocolate Ice Cream with Gooey Marshmallow Swirls, Caramel Swirls & Fudge Fish.
Red Rock Diner is Summertime fun at Stage West Calgary – Interview with Red Robinson & Ben Cookson
Stage West
has found a formula for success producing entertaining musicals, comedies, and Broadway hits. In fact, as I mentioned at the beginning of this blog, you can catch a production of
Jersey Boys The Story of Frankie Vali and the Four Seasons
on stage until February 3rd. But last summer Stage West produced
Red Rock Diner
.
Red Rock Diner
by Dean Regan is a rockabilly jukebox musical that celebrates the music of the fifties and features plenty of classic hits like
Johnny B. Good
,
Who Wrote the Book of Love
and
Great Balls of Fire!
The play is loosely based on the early career of Canada's champion of rock 'n' roll music DJ Red Robinson who started spinning rock 'n' roll records on Vancouver's CJOR while he was still in high school in 1954.
I spoke with both the original Red Robinson and Ben Cookson who plays Red in the show. Red, who is 81, still has a youthful energy and infectious enthusiasm for rock 'n' roll more than 70 years after he first heard and helped spread the music of Roy Orbison, Chuck Berry, The Big Bopper and Elvis.
JAMES HUTCHISON
So, you were there at the beginning of rock 'n' roll. Did the stars align for you or were you pushing in some way to get into that position? How did you end up being the person introducing rock 'n' roll to Canada?
RED ROBINSON
Nobody else would take a gamble, and they didn't know what they were doing, and I'm not being rude. I was a kid. I was seventeen, and I knew what the kids in high school wanted. You know the teachers would throw a dance and play Glenn Miller, but in truth we all went down to a little restaurant called The Oakway at the corner of Oak and Broadway – it's not there anymore. And the guy had a jukebox and he played rhythm and blues and we were all getting up and dancing to it and that's where the idea of Red Rock Diner came from you know the title of the play. We just had fun.
JAMES
How did you discover the music to put on the air?
RED
Well, I'd go down to the music stores in those days and you'd ask for it and they'd reach under the counter and put it in a brown paper bag and give it to you like it was pornography. It was unbelievable. And I think it was because they were black artists – that was the problem – and you know that all changed – thank God.
So, I'd buy my own records and when I couldn't get them fast enough I would go to a little record store in Billingham Washington just across the border, and I made a deal with a company called Stark Music and every new record that came in I took them. And I'd drive down – it's about sixty miles – I'd drive down – get them and come back home and play em on the radio. By the time they were pressed in Canada and mailed out it would be another week to ten days.
JAMES
So, you were offering something that was fresh and on the cutting edge.
RED
That's right.
JAMES
Well you know musicians need their champions, right? I think that's a good way to think about you. You were a champion for that music and for those artists.
RED
I really was, and I believed in it. And I'll tell you one thing I never told anybody. I traveled by airplane all around this province doing sock hops, taking my own music with me, taking giveaways, and you know only because I believed in it and I wanted the music to spread and so if anyone hates rock 'n' roll you got to hate me.
***
Bringing the character of Red Robinson to life on stage is Ben Cookson. Ben bears an uncanny likeness to the young Red Robinson and has the same infectious positive attitude and smile.
JAMES HUTCHISON
Why do you think this music still resonates today?
BEN COOKSON
This music still resonates today because the eighty-year-olds are still playing it for their kids and grandkids. I think rock 'n' roll introduced a heartbeat into music. I think it's a heartbeat that appears in all genres today. Rock 'n' roll creates this internal feeling that you can't help but move to.
JAMES
Is it a little something primal maybe?
BEN
Yeah, exactly. You get hooked on it right away. And I think that's why that music is still being played.
JAMES
What's it like for you to perform in a show that's running for a couple of months?
BEN
A show like Red Rock Diner – especially for the other five guys – is a heavy breathing show. They're working their butts off. And it definitely becomes easier over time and that allows us to sink into the text of the songs and the actual beats of it and the reaction of the audience a little more, but it's all for the audience because it's their first time seeing the show even though it may be our sixtieth time doing the show. We owe it to them to give it our best every time.
JAMES
What's your impression of Stage West as a company and Stage West as a performance space?
BEN
I think the large reason our cast has become such a family is because the production team and the family here at Stage West is so strong. Everyone cares so much about the production. Everyone cares so much about each other. It's hard not to love what you're doing and who you're working with.
***
And here are Red's answers to my three final questions.
JAMES
What do you think makes a good friend?
RED
I think it's sort of like almost having a brother or a sister. Someone you can trust and you never think about it after that. Otherwise, they're not a friend.
JAMES
The world needs more…?
RED
Well, you could fill that in with love. I mean if everybody got along we wouldn't have wars but we're not built that way as human beings. I think the Beatles summed it all up with, "All you need is love."
JAMES
What is your favourite ice cream?
RED (Laughs)
My favourite ice cream, believe it or not, is strawberry.
***
And here are Ben's answers to my three final questions.
JAMES
What makes a good friend?
BEN
A good friend is someone you're not afraid, to be honest with. You're not afraid to criticize if need be and who will always be there in good times and bad times.
JAMES
The world needs more…?
BEN
The world needs more selflessness. I think that's the biggest issue today. Everyone so concerned about themselves and where they're at tomorrow as opposed to where the world is going to be at a couple of years from now. It's very very selfish. I think the world needs more selflessness.
JAMES
What's your favourite ice cream?
BEN
My favourite ice cream – whoa – I'm a sucker for a good Rocky Road but I also love the fruit varieties. A little black cherry ice cream is definitely a close second but Rocky Road is probably the first.
***
Interview with Helen Young: Urban Stories: Social Justice Issues for the Stage
Urban Stories Theatre supports local playwrights who write about social justice issues and helps these playwrights go from first draft to finished production. The company is made up of a core group of local artists who oversee all productions and workshops.
Urban Stories and the Knox Theatre Collective presented, The Just Acts Youth Edition last June at Knox United Church. The Just Acts Youth Edition is a showcase for young writers to develop and present their work on stage.
Helen Young is the Artistic Director and one of the founders of Urban Stories Theatre. Her theatre, film, and television work goes back more than 30 years and includes acting, singing, dancing, stunt work, writing, teaching, and directing. I spoke to Helen about her thoughts on theatre's place in our culture and this year's festival.
JAMES HUTCHISON
I'm wondering where you think theatre fits into our society and culture now that we have so many other ways of communicating ideas and engaging in conversations with others such as Twitter, Instagram, YouTube, and of course Facebook.
HELEN YOUNG
I think theatre will always be important and necessary, because we need to connect in person. I do and see a lot of theatre, and nothing beats an audience reacting to live theatre. Or leaving the theatre and hearing people discussing what they've just seen. I would rather see a live show than a movie. We need human contact, and that's one of the things that's driving Urban Stories Theatre to move towards a more socially aware focus starting now.
JAMES
You have a play festival coming up called Just Acts Youth Edition. What is the Just Acts Youth Edition?
HELEN
Every year we do the Just Acts Play Fest in February where we invite playwrights to submit short plays on a common theme that changes each year. It has been running for about 8 years now and is very popular. So, we decided to do a Youth Edition for younger writers. UST works with the Encore Junior High Drama Fest each May and we perform the student written plays. Last year we did a show of the plays from the festival. This year we are moving to a more social justice, humanity theme. So, we looked for more socially aware plays and performance pieces.
JAMES
Where did the idea for the festival come from?
HELEN
Young voices are often taken for granted or not heard at all, so we wanted to offer a platform for them to be heard. I have been going to Youth Riot for a few years now and watching the faces of the writers and performers when an audience reacts to a piece they wrote. I wanted to offer another avenue for these creative young artists to express themselves.
JAMES
You're also producing a play that you've written called, Touch of Grace, which deals with the teen sex trade. How did this project evolve?
HELEN
I have a degree in sociology, and my focus was woman's correctional facilities. Many of the women I spoke with were forced to grow up too fast. That's where Grace began, girls growing up too fast and doing whatever it takes to survive. I also focused on the people who help these girls. Social workers who burn out fast. The play doesn't deal with facts, it deals with an almost mystical sense of love and empathy that Grace has towards others. Something that touches them and allows them to open up their hearts and souls. The people at the group Home need Grace as much as she needs them.
JAMES
What do you hope audiences will take away from this show?
HELEN
We're all in this world together, and it's always easier to deal with what life throws at you when you have a good support system. Many of us take our friends and families a little bit for granted. If people walk away from this show and talk about it or go hug a friend, then I've done my job.
***
And here are Helen's answers to my three final questions.
JAMES
What makes a good friend?
HELEN
Good friends are people who respect who you are and where you are in your life journey. They support you and help in times of change and offer guidance and challenge you when needed. They love you for who you are.
JAMES
The world needs more …?
HELEN
Art, music, theatre, dance and storytellers. These are the things that make the world worth living in.
JAMES
What's your favourite flavour of ice cream?
HELEN
Vanilla!
***
Interview with Playwright Neil Fleming: Spare Parts
Neil Fleming is a multi-talented, award winning Calgary designer, playwright and television producer. In our hour and a half chat last Friday Neil and I talked about all kinds of things including playwriting, depression, Chuck Wendig, poltergeists and ADHD. The purpose of our getting together was to talk about Neil's playwriting and specifically his current play, Spare Parts, which was being workshopped at the Stage One Festival of New Canadian Work at Lunchbox Theatre .
JAMES HUTCHISON
The new play you're working on with Lunchbox Theatre is called Spare Parts and has three characters. There's Martin a widower living alone in the haunted apartment his wife Sarah convinced him to buy, and on the anniversary of the accidental death of his wife and daughter Emily, Martin decides to take an overdose of anti-depressants.
Then there's Eric, Martin's upstairs neighbour, and a former human guinea pig for pharmaceutical companies, who is now developing and promoting a new Life Style System that focuses on exercise, recreation, and meditation through colouring as a pathway to an enjoyable life.
And finally, there's Sarah, Martin's dead wife. As Martin trips through his various symptoms, side-effects, and visions, we meet Sarah as a memory. In life, Sarah had a business taking people on tours of haunted buildings. She knew the story of Lester – who had been found dead in a heritage building – presumably payback for a romantic tryst. When she heard the apartment was coming on the market, she knew she had to convince Martin to buy it and move in. These three characters…
NEIL FLEMING
Well, four if you count Lester.
JAMES
Four characters are caught up in a story about suicide, depression, guilt, religion, and the supernatural. First question, how much of that is based on personal experience?
NEIL
Well I didn't know this at the time, but I did struggle with anxiety and depression. It was more anxiety, I think. Depression I didn't know how to define. I didn't know anything about mental health really. Depression to me was sadness, as a writer. As a clinical term it's something else. What I was struggling with was my inability to focus and accomplish things and constantly feeling like I was getting lapped by younger writers or whatever. I was like why can't I get anything done?
Recently I've been diagnosed with ADHD and it was such a relief to finally know what I've been struggling with my entire life really. But, before I was diagnosed I was buying a book by Peter Shankman called Crazy Publicity Stunts and Why Your Company Should Do Them because I was thinking of doing a street theatre project that was sort of a social media experiment. And beside that book, in the people who bought this book also bought section, was another book by Peter Shankman called, Faster Than Normal. How to hack your ADHD brain and unleash your super power. And I was like, I want to read that. I ordered both of them. And that book explained my entire life, my entire history, and I was like Oh, my God. That's my childhood. This is high school. University. All of those things, and I could see how things went sideways
And when you're a writer and you sit down to write something it's work. The first draft is always fun, but fixing it and fine-tuning it that's work, and if nobody's breathing down your neck waiting for a draft then it's easy to just let that one sit there and start something new. So, I have a lot of different projects that haven't seen the light of day because I haven't been able to focus. I started Spare Parts years ago, and it was part of my mental health journey.
The other thing with ADHD is that when I need to focus I can hyperfocus. That's the H part. As an adult it's not hyperactivity it's impulse control. And so, yesterday I was writing solid for five to six hours on the play because I have to give them something to read by Monday so we can start to work on it.
JAMES
You mentioned something in a previous interview when you were asked, "What do you think art is?" You said, "I suppose art is an expression of human emotion." Why do you think we have this need to examine our emotional connection and reaction to other people, the world, and ourselves?
NEIL
I think that there are so many unanswered questions that we have. You know I took first-year philosophy when I was at University and it was all Plato's Republic and you couldn't make me read that book – it was like painful. If it had been a survey course of all the philosophers I think I would have really gotten into it with different perspectives and stuff.
JAMES
Maybe theatre is philosophy on stage?
NEIL
Yeah, kind of. It's trying to explain what it means to be a person, because we don't know what happens after we die. As artists I think we're always trying to reflect back, and sometimes it's a funhouse mirror reflection, but you know it's also a compulsion. And I think the ADD is part of it too. I just started doing collage work with my photography. A few years ago we were in Paris for my wife's 50th birthday and I saw all these numbers everywhere, and I just started taking pictures of numbers – like address numbers and here and there, and I bought one of those big cheap print things for ten bucks form Homesense or whatever, and I pasted all of these photographs over top of it as a present for my wife, and here's our entire Paris trip on one canvas, and you could see us in some of them, and some of the pictures were tiny, and I have no idea the compulsion that drove me to do that, but it felt like something I needed to do.
JAMES
Do you think that's what your plays are like? Like in terms of your process it reflects what you're doing with your photography, because you've got all these different ideas, all these little bits, and now you're putting them together, and the play itself when the audience comes to it is the experience of all these little pieces.
NEIL
Yes, and the take away will be different for everyone, you know, I think. Especially with this. There's so much crazy content in this play. There's an artistic epiphany in my play John Doe Jack Rabbit. There's a moment where the TV's broken and they're stuck in this cabin they're on the lam and this one guy Gordy is reading a book – it's this trashy horrible romance novel called Ravaged at Rush Hour. But then he gets so sucked into this book – as if he's never read a book before – and he has this moment where he's like, the person who wrote this book wrote it down so I would know what it feels like to be Jessica in the cab or whatever it was, right? And that was one of those things. That's what playwriting is about. What art is about. This is what it's like to feel like I feel, and I put it into this painting for you to grasp that concept, or I put it in this play for you to go – wow that's what's going on in your head.
And here are Neil's answers to my three final questions.
JAMES
What makes a good friend?
NEIL
Reliability.
JAMES
The world needs more…
NEIL
Honesty
JAMES
What's your favourite flavour of ice cream?
NEIL
Butterscotch Ripple
***
You can read Neil's entire interview by following the link: Interview with Playwright Neil Fleming: Spare Parts
Interview with Playwright Wendy Froberg: A Woman of a Certain Age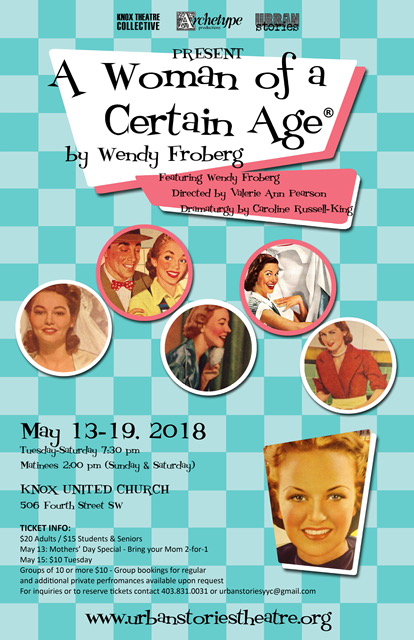 Wendy Froberg is an actor, playwright, and psychologist and whose one-woman award-winning play, A Woman of a Certain Age, won "Best of Fest" at the 2015 Calgary International Fringe Festival and since then has received strong reviews and successful runs at the Edmonton, Lethbridge, Regina and Winnipeg Fringe Festivals.
The play is an entertaining and insightful story about six women who are trying to cope with the demands of family and career as they struggle with the physical and emotional challenges of growing older in a culture obsessed with youth and beauty. I sat down with Wendy to talk with her about her play and playwriting.
JAMES HUTCHISON
Can you tell me about the genesis of your play, A Woman of a Certain Age?
WENDY FROBERG
As you know, as a playwright, often whether we intend to or not, parts of ourselves end up being in the play. Whether they're done literally or whether they're done from our emotional experience. As I became older and passed out of the ability to play the ingénue roles and got married and had children I began to realize that I was beginning to have a different currency in the world. I wasn't looked upon the way that I was when I was younger. There are a lot of issues about growing older that have to do with the physical aspects of aging. It's when you go from being someone who can turn a head when you walk into a room, to being someone that becomes somewhat invisible. And that's actually a tagline I use when I'm promoting my play and talking about it. The women that I'm portraying are struggling to age with meaning and grace in a culture that's obsessed with youth and beauty and wants to make them invisible.
JAMES
You've done some talkbacks with the play. What sort of conversations have you had with people after they've seen the play? When it's the actor-playwright sitting there – what are some of the themes that get discussed?
WENDY
It's different things for different people. There's a character in the show who's a widow as well as an aging mother and she's suffering from dementia and living in a care home and I get a lot of women who say, "I'm going through exactly that with my mother." And often, they're tearful and they say, "That's exactly how she behaves." And they're grateful for the fact that somebody recognizes how difficult it is to watch your parent go through that.
I also have a theme that runs through the show about physical appearance and women often say, "Yeah I'm struggling with the concept of whether or not I should get Botox or should I get a facelift or should I have the courage to let my hair go gray and be natural and embrace the concept of aging because that's a difficult thing to do, because if you acknowledge that you're older then people will make assumptions about you and think you're ready to go out to pasture." And in the play I'm never judgmental about whether someone wants to do that or not. I think a good play poses questions. You never want your play to be preachy. You never want your play to simply be about your point of view that you're forcing on your audience.
JAMES
When we see acting that is truthful and sincere it has impact. But what about life itself and theatre's reflection of life – do you think that life is a search for truth?
WENDY
Is life a search for truth? I think ideally it is. I think people that go off into the light happily – however you want to say it – those are the people that have somehow discovered the more profound fundamental truths about life. I always tease people and say, "No one is lying on their death bed saying they wished they'd worked at the office more or wished they'd partied more." You know generally what gives people a sense of peace and meaning – again because we're talking about aging meaningfully – is that they made those profound human connections. They struggled, but they overcame. They had loss, but they healed from that. They were transformed. And I think the happiest people are the ones who live most truthfully.
Interview With Playwright Wendy Froberg: Queen of the Ring – The Story of Johnnie Mae Young
Queen of the Ring by playwright Wendy Froberg is the story of Johnnie Mae Young who spent over seven decades of her life slamming, punching and clawing her way to the top of the women's professional wrestling world. Despite her pin-up good looks, she was a trash-talking bad girl the crowds loved to hate. From the carnival sideshows of the dirty thirties to the glitz and drama of the WWE, Mae Young rose to fame as the toughest, most dangerous female and one of the top attractions in the rough and tumble, disreputable world of old-school pro wrestling.
JAMES HUTCHISON
Well, why did you feel this need to tell the story of Johnnie Mae Young and write a play?
WENDY FROBERG
Johnnie Mae and other female wrestlers like her lived in a time when women were supposed to be demure ladies in heels and make-up, and not down-and-dirty, ass-kicking fighters. They broke the rules about how women were supposed to behave sometimes at a great cost to themselves. These women were feminists before we had a name for it. They were trailblazers who proved that despite the theatricality and fakery involved in wrestling it's a true sport and they were bona fide athletes.
JAMES
What sort of message do you think Mae's story has for the people of today?
WENDY
There has always been a history of people in power, often white men, taking advantage of those with less power, often women and people of colour, and so I think Mae's story is very timely considering the greater awareness and growing power of the #metoo and #timesup movements. Mae and her colleagues fought back against their exploitation and rose to create lives of truthfulness and empowerment. She knew she had skills, talent, ambition, and drive and didn't let anyone stand in her way which sometimes led to real fights outside of the ring as well as in. But it's also true that she used her sexuality as a source of power and this brings up another question we grapple with today and that's if a woman chooses to use her sexuality to get ahead, is she still being exploited because it's largely men who want what she has? That's something I'll let the audience decide for themselves.
JAMES
If Mae were alive today and could come to see the show you've created what do you think she'd say – or what do you hope she'd say?
WENDY
Well, I'd be scared shitless if I got it wrong and she didn't like it, because that woman – literally – wouldn't pull any punches about letting me know what she thought. I do think—or hope—she'd see that we've recognized the depth of her skill and tenacity, the obstacles that she and her fellow female wrestlers had to overcome to survive and thrive in a tough, unfair world, and the fact that she didn't care about being nice or liked, as so many women do. We didn't sugar-coat anything or cover up any ugly realities about her less-than-perfect behavior. We captured her strength, resilience, and love of the sport as both an athlete and an entertainer. Mae Young truly did it her way and I think she'd agree that we showed that.
***
And here are Wendy's answers to my three final questions.
JAMES
What do you think makes a good friend?
WENDY
Loyalty—someone who is there for you in good times and bad. Truthfulness—someone who will tell you what you need to know, not necessarily what you want to hear! Adventurousness—someone who says 'yes' more than they say 'no' and who will be my partner in crime – although nothing serious – as we look for the humour in life.
JAMES
What do you think the world needs more of?
"Love, sweet love". Because if we don't come from a place of love, then we are coming from a place of fear–and people do hurtful things when they are afraid. They shrink, they defend, they blame, they become self-preoccupied and in survival mode. Love allows us to grow, to be responsible, to care about others and see their point of view.
JAMES
What's your favourite flavour of ice cream?
WENDY
Chocolate-peanut butter
***
You can read Wendy's entire interview by following the link: Interview with Playwright Wendy Froberg: A Woman of a Certain Age
You can read Wendy's entire interview by following the link: Interview with Playwright Wendy Froberg: Queen of the Ring – The Story of Johnnie Mae Young
Interview with Braden Griffiths: 21st Annual Betty Mitchell Awards
On Monday, June 25th the Calgary Theatre community came together to celebrate the Twenty-first annual Betty Mitchell Awards. I sat down with actor, playwright, and at that time President of the Betty Mitchell Board Braden Griffiths, who was just finishing his run as Sherlock Holmes in the Vertigo Theatre production of Sherlock Holmes and the American Problem, to talk about the awards and theatre in Calgary.
JAMES HUTCHISON
What is the purpose of the Bettys?
BRADEN GRIFFITHS
The awards were started by Grant Linneberg, Johanne Deleeuw, Mark Bellamy, Donna Belleville and Doug McKeag those five, and Diane Goodman might have been there as well. One of them joined in the second year. They started it as a way to recognize the excellence that they saw happening in this community and as a way to earmark that excellence in a more official way so that the Calgary theatre community could be a bigger player in Canadian Theatre either by exporting that excellence or by becoming a destination for excellence to be imported into Calgary.
JAMES
So, how do you think the plays we're producing at a particular time reflect the times we live in?
BRADEN
I'm always mystified by how Christmas Carol just sells out every year, but at its core, Christmas Carol, is a simple message about man's ability to change and so there is still a desire for that simple hope. So, Christmas Carol or shows of that ilk and ilk sounds like a negative word but it's not, I love Christmas Carol. I adore it. I wouldn't have done it for seven years if I didn't. But there is still a desire, and I think there always will be a desire, for that simple human message of hope. And yet theatre is starting to change. We are starting to be a more interactive society because of platforms like YouTube and Twitter where you can send a Tweet to Brad Pitt and he might respond to that Tweet.
BRADEN
And so, there's a desire for more interactivity in the art or the media that we indulge in. I think to a certain degree, the magic of a play like The 39 Steps is that we're all in on the joke. That this is just two ladders and a bunch of crates on a stage and yet those things will become a plane chasing someone through a field, or the crates will become the boxcars in a train or whatever it is, and so we're all in on the joke and so there's a greater sense of interactivity. Which is why I think 39 Steps, even though it's an old play now, has great relevance because the audience is involved in creating that joke.
And then you have things like Inner Elder by Michelle Thrush which talks about what it means to be a first nations member of the Canadian Zeitgeist. What it means socially to be a first nations member. And to actually hear that story told by the person who should be telling that story. And so, if theatre is holding a mirror up to nature then by watching Inner Elder I learn something about what it means to be Braden by watching and hearing the story of someone who is living with much, much, much, less privilege than I. And then hopefully, if I'm open to that…if my ears are open to that…and if the theatre companies are providing a platform for those stories to be told then I will become a more complete human, and I will become a better community member, and by community, I mean the community of the world by understanding the stories of those who are around me and understanding something greater about myself.
JAMES
So, one of the challenges is how do we get new audiences in there. How do we foster that? How do we reach these people?
BRADEN
I think people are more liable to go see themselves, and so I think part of the reason we see a lot of white middle class, upper-middle-class human beings in theatres is partially because it requires a certain amount of disposable income to go to theatre and partially because those are the stories that for a very – very long time were being told. And so, when we talk about Inner Elder I think it's more likely that someone of first nations decent might go and see Inner Elder because they see something very specifically that is their story being told in a theatre. And once somebody has seen something in a theatre that has affected them profoundly it's far more likely that they're going to go to the next show that may not tell a story that specifically speaks to their lived existence, but like I said earlier, me seeing Inner Elder speaks to my existence whether it speaks to it specifically or not. I think we need to do a better job of telling a wider array of stories in the theatre and if we're producing Shakespeare we need to start casting artists that come from different lived experiences. And I think the fact that we're seeing Michelle Thrush direct Honor Beat by Tara Beagan as the first show of the season at Theatre Calgary means we're moving in the right direction, but we need to continue to do the hard work of providing those opportunities so that we can create a theatre community that is representative of the greater community and the Bettys is a part of that, I think.
***
And here are Braden's answers to my three final questions.
JAMES
What makes a good friend?
BRADEN
A good friend is someone who sees your humanity and can engage with that mess openly and with empathy… and who would invite you to do the same.
JAMES
The world needs more …?
BRADEN
The world needs voters.
JAMES
What is your favourite flavour of ice cream?
BRADEN
My favourite flavour of ice cream is mint chocolate chip.
***
You can read Braden's entire interview by following the link: Interview with Braden Griffiths: 21st Annual Betty Mitchell Awards
Interview with Artistic Director of Verb Theatre Jamie Dunsdon: The Wolves
David Rooney from the Hollywood Reporter describes The Wolves by Sarah Delappe as "A dizzying whirl of attitude, anxiety and adolescent hormonal volatility…" He goes on to say that DeLappe's "…dialogue has the unwritten sound of real conversation, much of it inconsequential, even banal or endearingly silly. But out of that jumble of words comes an imperceptibly shaped snapshot of the tricky gulf separating girlhood from maturity, a portrait spilling over with humor, insight and, in the closing stretch, searing pathos — all of it undiluted by the distorting filters of the male gaze."
That sounds like a good evening of theatre to me and Calgary audiences were rather fortunate because The Wolves was produced and directed last fall by Jamie Dunsdon the Artistic Director and founder of Verb Theatre. I sat down with Jamie to talk about The Wolves, her experiences running a local theatre company and her approach to directing.
JAMES HUTCHISON
So, what is it about theatre and running your own company that keeps you going because it's a lot of work…it's a lot of time and energy…what's the big payoff?
JAMIE DUNSDON
I believe in the work! I work really hard to pick plays that I feel are important or valuable or ground-breaking in some big way, at least to me, and there is an immense satisfaction in sharing that kind of experience with others. I've been transformed by theatre, and I want to offer that gift to others. And although I don't think theatre is the most efficient tool for social change, I do think it's a high-impact tool for inquisitive thinking. We need more complex thinking and feeling in this universe, and I truly believe that if you can open an audience member's heart or mind just enough, it will stay open after the show.
But I'll be honest with you. There are days where it's hard to see the payoff, as you put it. Those days are rough. They happen often.
The other thing about running my own company is that I get a lot more control over what kind of ideas are being put into the universe, and how they are being delivered. I get to pick the stories that are valuable to me. If I went freelance, I probably wouldn't have as much agency in that, and I'd probably get restless and end up self-producing my own work as well anyway.
JAMES
This year you'll be directing The Wolves by Sarah Delappe – this play was a winner of the 2015 Relentless Award for Playwriting which was established to honour Philip Seymour Hoffman and it was also a finalist for the Pulitzer Prize in 2017. Those are both extraordinary honours and the play has received wide praise and positive reviews. What was it that attracted you to this particular play?
JAMIE
I found it very funny. I found it very real and resonant. This play is surgical in its exploration of female relationships. No detail is too small. One of the characters is described as "wearing eyeliner" as defining character trait, and I don't know if you can appreciate the significance of that, but it's huge and it's different than describing a girl as "beautiful in that next-door-neighbour kind of way" as we often see in casting calls. A girl who wears eyeliner on the soccer field is a very particular kind of person, and the playwright allows for her to be that and be rich and three dimensional. And this play asks questions about what breaks girls apart and what brings them together in ways that I've never heard vocalized before.
But I also just needed a play like this.
I took the loss of Hillary Clinton in 2016 pretty hard. I have a ton of empathy for her as a woman in leadership, a woman who has been misunderstood, as a woman whose passion is often obfuscated by fear and misogyny in those around her. I was finding certain roadblocks in the theatre world that resembled in some small ways the roadblocks she stumbled on. Plus, I kind of look like her. Anyway, I read The Wolves shortly after Donald Trump began his presidency. It was like I was feeling solid ground under my feet after treading water for a year. These were real teen girls speaking the way real teen girls speak and I work at Calgary Young People's Theatre as well, so I know a thing or two about how teen girls speak. And this script allowed them to be real. They were allowed to be smart and stupid, insightful and oblivious, moral and immoral. And I think I needed that. After 2016, I needed to see girls being allowed to be themselves. I'd grown weary of watching girls have to fit into someone else's mold.
JAMES
Theatre and television and movies have focused on male stories for a long time but now we're starting to see more stories about women and their struggles and challenges in life. Do you think The Wolves might be the start of a movement towards more female stories and if so have you seen other playwrights and theatre companies that are working to give those stories a platform?
JAMIE
I'm seeing it more in film and TV, with all-female treatments of certain stories or with female-dominated worlds like Orange is the New Black or GLOW, which both have some pretty amazing female perspectives in them. But there's also a lot of sexual objectification in those worlds as well. The pilot episode of GLOW has Alison Brie take off her shirt for absolutely no reason.
In theatre, we're certainly seeing a push toward gender equity and ethnic diversity, which is encouraging, but I don't know if there's a movement toward more complex female characters just yet. I think a lot of female actors have been culturally trained not to think that way, so it might take some time.
***
And here are Jamie's answers to my three final questions.
JAMES
What makes a good friend?
JAMIE
Trustworthiness.
JAMES
The world needs more…?
JAMIE
Curiosity.
JAMES
What's your favourite ice cream?
JAMIE
Anything with real raspberries on it.
***
You can read Jamie's complete interview by following the link: Interview with Artistic Director of Verb Theatre Jamie Dunsdon: The Wolves
Interview with Lauren Thompson – Director of Marketing & Communications for Lunchbox Theatre – Follow your gut!
You know it's not true. The whole idea that all you have to do is build it and they will come. That idea only works in metaphysical baseball stories. In the real world, if you build it – you have to tell them about it – and then they'll come.
Maybe.
Marketing is the process of telling people your story and why they should buy your product or service, and in the theatre world that means finding ways of reaching people and telling them why they should come and see your show.
I sat down with Lauren Thompson, shortly before she left her position as the Director of Marketing & Communications for Lunchbox Theatre, to talk with her about her approach to marketing and some of things she's done during her time at Lunchbox.
JAMES HUTCHISON
What is Lunchbox? And what does it mean to the community?
LAUREN THOMPSON
Well, I really think Lunchbox has changed. It's not this convenient stop in for one hour, and you don't really know what you're going to get, but it's here, and you'll have your lunch. It's now a destination. We have to program shows to make people want to put in that extra five-minute walk down Stephen Avenue to come see us.
And I think now we're really focused on Lunchbox as an incubator of sorts. We workshop new plays, but we're also a company for emerging artists, new designers, and new directors through our RBC emerging directors program and our Stage One Festival, and all these things give a place for these emerging artists to really grow, and then to move onto the Theatre Calgary stages, or the Vertigo stages, or the ATP stages.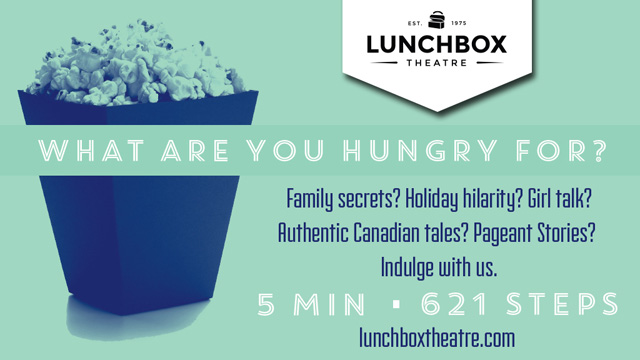 JAMES
Now days social media is one of the main ways to help spread the word. How do you incorporate social media into your marketing?
LAUREN
Social media is basically doing some of our word of mouth for us, but we can help facilitate that word of mouth a little bit. We can put out a photo, or we can put out a comment and people will share that comment or photo with their own tag and their own comment in it.
JAMES
So, what types of content are you creating? Because I notice, just for an example, The Shakespeare Company will do an interview with one of their actors and post it on their website, and then promote it through their social media.
LAUREN
Well, this year I found that the traditional media calls were not always happening. We've had a media call planned and the media has had to cancel last minute, because there was an accident or something else came up or whatever, right? So, this year I said to Samantha MacDonald, our Artistic Producer, that we need to do it ourselves. I can't rely on the media to get the story of our show out there. So, I started the coffee chats that I post on Facebook and Instagram.
I would interview two people from the production. Typically, the playwright or director and then an actor from the show and ask them questions about the process, about the play, and about their characters – what would typically come out in a media call. And then I put it out in the world so we're not relying on something we have no control over. And it's worked in our favour. And we've had media coverage this year, but I think those coffee chats opened up a different side. A more casual side. A different conversation about the play that a poster or a typical social media post won't do for you.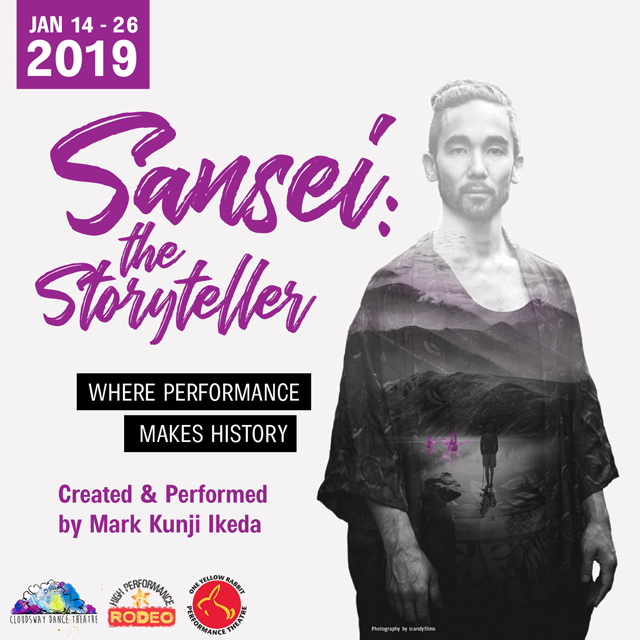 JAMES
Sounds like such an exciting time to be a part of Lunchbox, so what's going on with you?
LAUREN
And ahhh – I'm going to leave! I'm moving to Amsterdam this summer. And I really just needed a change. I don't know how else to explain it. It was this whim in February. I just sort of was like – I need to go do this. I looked into visas, and most visas in most countries are the working holiday visa, and they're only valid until you're thirty. So, I said, I don't have a mortgage. I don't have a partner. I don't really have anything tying me down. I can come back to this wonderful community – that I know will take me back when I come back – and I just need to go. I need to do this.
JAMES
What are you going to do?
LAUREN
I have no idea. (Laughs) Step one is find a place to live. I just want to work when I'm over there. I want to travel. I just want to meet people.
JAMES
Well, good for you for doing this. Do you think this explains part of your success as a marketer? I mean just even in your own life the willingness to take a risk – to try something new – to see how it works?
LAUREN
Maybe. And I'm realizing more and more, I react on my gut a lot. I follow my gut, and looking back on things and the decisions I've made – even the gut decision to take the job at Lunchbox – I've always followed that, and it's always led me in the right direction. And my gut is telling me to go to Amsterdam, and so I'm just going to do it. And we'll see what happens.
***
And here are Lauren's answers to my three final questions.
JAMES
What makes a good friend?
LAUREN
A good friend is someone who looks out for you, supports you, and is a reoccurring character in your best and most memorable stories.
JAMES
The world needs more…?
LAUREN
The world needs more belief. Belief in ourselves, in each other, and in magic.
JAMES
What's your favourite flavour of ice cream?
LAUREN
My favourite flavour of ice ream is cookies and cream!
***
You can read Lauren's entire interview by following the link: Interview with Lauren Thompson – Director of Marketing & Communications for Lunchbox Theatre – Follow Your Gut!
Interview with Michael Halfin & Dale Sheldrake – NewMarket National 10 Minute Play Festival Celebrates Canadian Theatre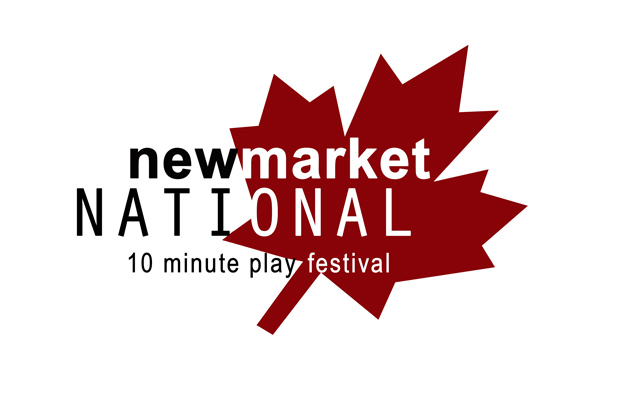 Last July my play, Valentine's Day, was one of twenty-four plays being produced at the 2018 National 10 Minute Play Festival in Newmarket Ontario. I talked with the founder and Artistic Director of the NNPF Michael Halfin and to Dale Sheldrake the director of my play about the 2018 festival.
JAMES HUTCHISON
One of the things I really like about the festival is the fact that people have a chance to see twenty-four original Canadian plays. What has been the response from the playwriting community across the country, and why do you feel it's important to showcase so many plays?
MICHAEL HALFIN
I think what's been most delightful to see in these first two years is where people are submitting scripts from. We've received submissions from every province in Canada and from Canadians from around the world. We've received scripts from China, Tasmania, Australia, Ireland, many states throughout the U.S., and so on, and I think that Canadians are catching on to the idea that this is their festival. We don't "theme" the festival. People can write whatever they want, and what we consistently find, is that Canadians are attuned to the Zeitgeist and have a kind of "collective unconsciousness" and tend to write scripts on the same themes in a given year. So, we select twenty-four and they just naturally fall into the six-pack pods we build around themes that are common in those six scripts.
JAMES
The first year was very successful and in its second year, the festival is getting bigger and better having expanded from two days to five. What is your ultimate vision of what the festival can become?
MICHAEL
Ultimately, I'd like to see us expand into divisions of the festival that would be ten-minute, one act, full-length, and even full-length musicals, but for now, the most important thing is establishing that we are a credible, committed organization that respects creative artists and wants to open the door to the diverse voices of our country. And just as importantly, honour that ten-minute format that appeals to every generation–especially the i-generation people who want information fast and to the point. If we want theatre to be viable, we have to get the youngest generations into our houses.
One of the nice things about having your play produced in a festival is you often get the chance to connect with the creative team putting on your play. And so I spoke with Dale Sheldrake, the director of my play, about his approach to play production and his thoughts on story.
JAMES HUTCHISON
You've had a rich and successful career working in film and television on lots of different shows including The Handmaids Tale and Penny Dreadful. You're a playwright and published poet, screenwriter, documentary filmmaker, a singer and a musician, and apparently make a mean Tex-Mex chili. You've worked in a lot of different mediums and have experience in a lot of different areas of production. With all these various skills what in particular do you use as a theatre director to help bring a story to life on the stage?
DALE SHELDRAKE
Everything, really. I love storytelling and can't get it out of my system. Having experience in different entertainment mediums and settings has been valuable for staging a performance and helpful with directing. As a starting point, I read the play and visualize it, considering what is connecting with me emotionally, in regards to the characters and what's happening between them. This opens up aspects of presentation that can be applied to the story. The purpose, of course, is to figure out what will make the audience best able to relate personally to these characters, feel the emotions the story conveys and understand the underlying lesson? I think most stories try to teach a lesson of some kind or offer a perspective on one.
JAMES
As a person deeply involved with the creation and telling of stories why do you think people have this deep desire to hear and tell stories?
DALE
People need and want social interaction, whether it's in person or not. Stories tell us about each other and give us a lens to look at ourselves and our behaviour. Live storytelling, like theatre, brings groups of people together, entertains us, and lets us share in emotional experiences without being personally involved. It's safe and it feels good to laugh with others, and shed a tear with these sudden communities and friendships. Telling and hearing stories keeps us in the emotional and intellectual company of one another. I think deep down, people desire to know they can rely on other people, and stories and theatre can offer that by creating a like-minded culture.
***
And here are Michael's answers to my three final questions.
JAMES
What makes a good friend?
MICHAEL
One hundred percent trust. A good friend is one whose word is their bond. That person does what they say they'll do–every time. I hope I'm that kind of friend.
JAMES
The world needs more…?
MICHAEL
Unity found in it's diversity. It's our collective Canadian mission!
JAMES
What is your favourite flavour of ice cream?
MICHAEL
Rocky Road–and I'm sure there's a metaphor in that somewhere!
And here are Dale's answers to my three final questions.
JAMES
What makes a good friend?
DALE
A good friend knows and shows: commitment, a willingness and ability to compromise, is fun to be with, painfully honest, makes an effort, and forgives.
JAMES
The world needs more…?
DALE
Patience, tolerance, then more patience; face-to-face conversations; concern for the earth and each other; good nutrition based on health concerns instead of financial ones.
JAMES
What is your favourite flavour of ice cream?
DALE
Any non-dairy chocolate or vanilla 'ice cream' because I don't eat dairy, but do put real maple syrup on it regardless of what flavour. Canadian, eh?
***
You can read Michael & Dale's entire interview by following the link: Interview with Michael Halfin & Dale Sheldrake – NewMarket National 10 Minute Play Festival Celebrates Canadian Theatre
Uncensored, Unexpected, Unforgettable Theatre: Calgary Fringe 2018 – Interview with Michele Gallant Fringe Festival Director and Producer
The Calgary Fringe has become part of the cultural fabric of the city and is a welcome addition to the theatre season providing Calgarians with the opportunity to see and experience local, national and international artists. I spoke with the current Festival Director and Producer of the Calgary Fringe Michele Gallant.
JAMES HUTCHISON
What is it about the Calgary Fringe that you personally love and keeps you motivated to do all the work and organizing required to present the festival every year?
MICHELE GALLANT
I love the fact that the fringe is an all-inclusive, embracive, and that there's no segregation. Everyone from all backgrounds of life can be involved and participate. All are welcome. I love that artists are free to choose what they want to perform, in what style, and on what topic. I love that patrons have a wide variety of acts to choose from, and how willing they are to take a chance on something new. I love the passion of our volunteers to support the arts and to have fun while doing it. I love that the artists support each other and that one-hundred percent of the artist set ticket price goes directly back to the artist.
JAMES
The fringe festivals are great places for young artists to get a start. What advice would you give a young artist starting out about getting into the fringe festival circuit and maybe the Calgary Fringe specifically?
MICHELE
I don't think it's just a great place for young artists. I think it's a great place for any artist of any age to get their start. The best advice I can give newbies is to plug themselves into the collective fringe hive minds via fringe festivals such as Calgary and others around the world. Talk with other fringe artists and don't be afraid to ask questions about how they got started and what works or doesn't work. Then plan a production and figure out a travel budget and start putting money towards that. Do some research and find out what funding is available to support what you do. Learn how to market and promote yourself.
And here are Michele's answers to my three final questions.
JAMES
What makes a good friend?
MICHELE
Someone who actively listens without judgement, who accepts you for who you are, who are always there for you, no matter what, and who are your biggest cheerleaders in life.
JAMES
The world needs more…?
MICHELE
Hugs!! Loads of loads of hugs! Did you really need to ask?
JAMES
What's your favourite flavour of ice cream?
MICHELE
Anything with dark chocolate and peanut butter or dark chocolate and salted caramel.
***
You can read Michele's complete interview by following the link: Uncensored, Unexpected, Unforgettable Theatre: Calgary Fringe 2018 – Interview with Michele Gallant Fringe Festival Director and Producer
Interview with Barb Mitchell – Do What You Love
You might know Barb Mitchell as the cohost of Calgary's first morning show for Global back in the early nineties. Or you might remember her as Miss Calgary back in the early eighties. Or more recently you might have seen her on television as a judgmental church lady in the gritty Depression-era drama Damnation. I sat down with Barb, just after this year's Calgary Stampede, to talk with her about her experiences as a broadcaster and her career as a stage and television actor and a former member of the Young Canadians.
JAMES HUTCHISON
So, what were some of your lessons learned during your time with the young Canadians? What were some of the takeaways – some of the things that maybe helped you with your life?
BARB MITCHELL
Well, in general, it's just being kind to everyone and accepting everyone for who they are. It's important to find your people – your crowd and do what you love and the more you do something the better you get at it. Being in the arts is a lifelong commitment. You're always learning and the more you invest the more you get out of it. The most talented person doesn't always make it as a career performer the hard workers do and the risk takers do. I learned that Calgarians are incredibly lucky to have an organization like The Young Canadians that provides free training and performance opportunities to young people.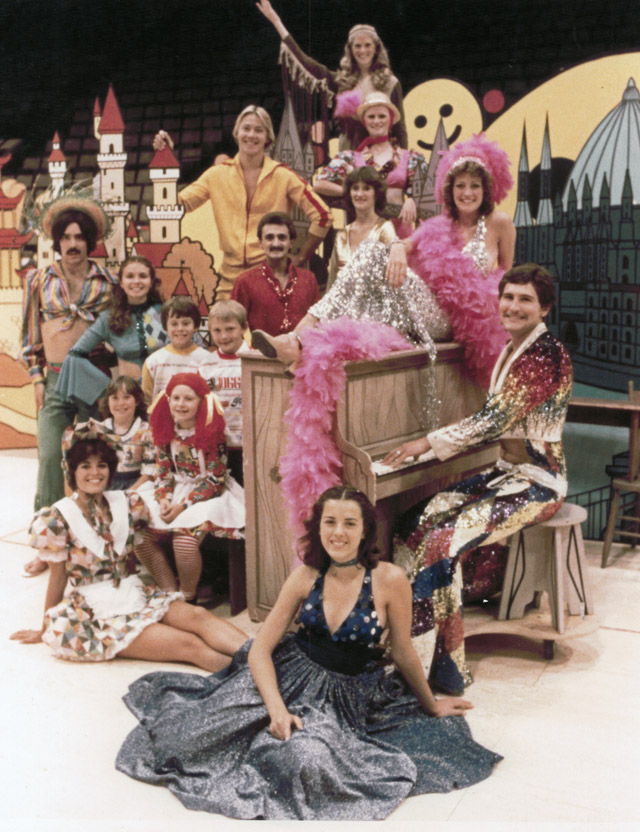 JAMES
So, you eventually decided that broadcasting might be a good career choice. How did that come about?
BARB
Well when I was Miss Calgary CFCN was the sponsor and they broadcast the pageant, and I spent quite a bit of time at the station because we did some commercials and a variety of things and Darryl Janz, who was the news anchor for CFCN, was fantastic. I'd hang out in the newsroom, and he'd give me the tour and let me sit in and watch everybody work, and he told me about the industry, and I thought this is kind of cool and it's kind of performing on camera but its smart and you're writing and doing lots of interesting things and so it peaked my interest enough to check out and enroll in the Broadcasting Program at SAIT.
JAMES
After starting your career at CFCN you moved to Global Television 2 & 7 and even became the national news Alberta Correspondent from 91 to 93…then you had a chance to co-host Calgary's very first morning show with Gord Gilles. How did that opportunity come about?
BARB
I don't think there were a lot of people that wanted to get up that early, to be honest. The news director basically just asked me if I would be interested in doing this show.
JAMES
It was a pretty wacky show when it started.
BARB
Oh, it was. The whole morning television experience was an experiment and we had a lot of freedom to do what we wanted. It ended up being a little chaotic. We had cooking segments, we had live bands, we even had a live audience the first couple of years. It was a lot of fun, and we interviewed lots of local people and anybody who came through town that was famous. It was kind of a mishmash of everything.
And everybody who worked on the show wanted to make it enjoyable and fun and that was what I really liked about the morning show – it was more light-hearted than the news because news can really pull you down. News can be so awful sometimes and absorbing the news every day and then regurgitating the awful things that have happened in the world kind of weighs on you so the opportunity to do something that's light and fun where you send people off in a good mood for their day was a nice opportunity. It was also the advent of live television too, so we had a truck with a satellite where we could do live interviews and Angela Kokott was our live roaming person.
JAMES
Now days people use their cell phones and a Facebook account to go live.
BARB
The technology is crazy.
JAMES
It's almost – if you think about it – like the whole world is participating in the morning show.
BARB
Everyone on Instagram is doing their own newsfeed.
JAMES
So, in 2001 you left the morning show and continued to write and produce programs, and then you spent a year at Citytv covering Tara McCool's maternity leave cohosting Breakfast Television with Dave Kelly. Also, around the same time, you returned to the stage taking your first acting class in 2005 with the Company of Rogues here in Calgary. So, what motivated you to take acting lessons and hit the stage at forty-two?
BARB
I knew covering Tara MaCools maternity leave was a temporary gig, and I had just always wanted to act, and I thought this is my opportunity – I'll give it a shot and take some classes, at least, and see what it's like. And so I went down to Company of Rogues and took a few acting lessons with Joe Norman Shaw, and I was encouraged to audition for things. And I saw this posting for an audition for Mrs. Robinson in The Graduate but I never thought that I was even remotely qualified, but I decided to audition anyway and I got the part.
BARB
I've been very fortunate to have been in some great productions. I did Habitat by Judith Thompson for Downstage and directed by Simon Mallett. It was wonderful because I got to watch and learn from local greats Stephen Hair and Sharon Pollock and a young Julie Orton – fresh out of school. Their focus is amazing and boy did Sharon live the "On with the show" mentality as her house burned down one day during the run and she still showed up at the theatre without shoes and smelling of smoke and did the show.
I think the most magical was Dirty Rotten Scoundrels for Theatre Calgary. Having a big budget allows for all of those things you dream about in theatre – gorgeous sets, incredible costumes, a big orchestra. It challenged me far beyond my comfort zone for dancing – I was exhausted – but I felt like I was part of something really beautiful, hilarious, and special.
JAMES
What are some of the top movie or television experiences you've had?
BARB
Well probably my favourite was the last thing I worked on Damnation which was a USA Network series and I'm so sad it got cancelled because it was a really great show set in the depression era and it had fantastic actors, fantastic writing, and a beautiful setting. You're out in the glorious landscape of Alberta in a period piece in the old town that they built as a set for Hell On Wheels originally I think, and we adopted that and updated it to the 1930s, and it was just a great experience all around. It was created by Tony Tost, and he's amazing to work with. He's just a brilliant guy. Very quiet gentle writer. He did the Longmire series, and he's a poet originally, and he got into screenwriting and has done very well.
JAMES
What are your hopes for the future as far as acting goes?
BARB
My perfect job would be to do a series here in Alberta similar to Damnation – something challenging with good characters. Theatre is tough when you're doing film work because theatre is a real big time commitment. It's a long stretch where you're not able to do other projects but the money's not as good as in a film where you can work for a week and make good money but unless you're on a series where you have a meaty part it's not as fulfilling as being on stage. So there's a kind of a yin and yang to theatre and film, but I love them both and I'll take whatever work I can get.
And here are Barb's answers to my three final questions.
JAMES
What makes a good friend?
BARB
Someone who knows how to listen and not always give advice. I'm a ventor so when I get upset I just like to spew things out and I don't think my husband can always handle it. You don't need to say anything I just need to get it out of me when I'm upset, you know. I think that's important – being there and being a good listener.
JAMES
The world needs more…?
BARB
Oh, love, compassion, empathy. The world is scary right now with the way politics are going in the United States it's very frightening.
JAMES
What's your favourite flavour of ice cream?
BARB
Ohhhhh – tin roof. It's got nuts in it and chocolate
***
To read all of Barb's interview follow the link: Interview with Barb Mitchell – Do What You Love
Interview with Haysam Kadri: Artistic Director The Shakespeare Company

Hamlet will be haunting several Calgary stages over the coming theatre season as The Shakespeare Company along with Hit & Myth Productions have partnered with Vertigo Theatre, The High Performance Rodeo, and Alberta Theatre Projects, to bring Calgary audiences four different tellings of the melancholy Dane's tragic tale. It's a full season of Hamlet!
I sat down with the Artistic Director of the Shakespeare Company Haysam Kadri to talk about Hamlet, theatre, and just how the Shakespeare Company's Madness in Great Ones season came about.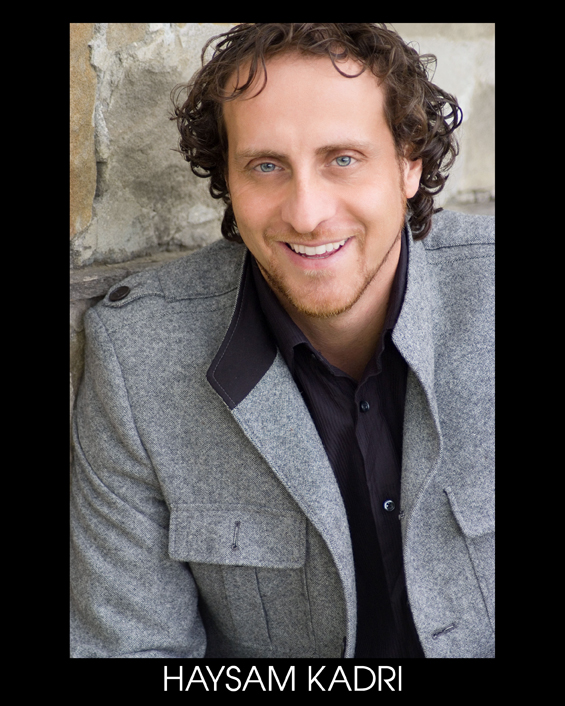 JAMES HUTCHISON
You took over the company in 2012. How have the last six years gone in terms of what you wanted to do with the Shakespeare Company and where you're at now?
HAYSAM KADRI
You know when I took over the company in 2012 I had never run a company before, so I had a clean slate and I was able to start building the culture that I wanted. I really wanted to build and increase the skill set of the performers and the performances. So, I felt it was really important to start developing a strong core of equity actors to comprise half the company. That's a very expensive initiative but I felt it was really important.
The other important thing was to make Shakespeare much more accessible to a larger audience. All our Shakespeare plays are two hours with a fifteen-minute intermission and since I took over we've increased our audience by four-hundred and fifty percent and we've extended all our runs to three weeks and we hire on average six equity actors per show and we've developed and built a core audience.
We really wanted to key in on those young students in high school that get a bad taste in their mouth for Shakespeare because they think it's three hours long and it's boring and it's in a foreign language and so we've done everything we can to make it really accessible. And you know that's one of the benefits of being in the studio theatre. You see the blood on the Scottish King's face and it's visceral and it's present and it's intimate and so we benefit from a small space even though we'd love to expand to a bigger space which we will be doing for Rosencrantz and Guildenstern.
And as our high school contingent has grown into young professionals or gone on to university they've been coming on their own. They're not coming in school groups anymore they're single ticket buyers and they've become part of the fabric of our patronage. So, our 18 to 25 demographics are unreal and amazing and has been our biggest success.
JAMES
So, let's talk about the new season since you mentioned Rosencrantz and Guildenstern are Dead and that's the first play of your season focused on Hamlet. Where did the idea for Madness in Great Ones originate?
HAYSAM
I'll confess, I didn't think I was going to do an all Hamlet season, it wasn't an epiphany that I had. What happened was I was in talks with Craig Hall the Artistic Director at Vertigo Theatre and we wanted to collaborate again because Mackers was such a big success and we would be totally remise if we did not entertain another partnership. And Craig and I had always wanted to do Hamlet because Hamlet is a ghost story and Vertigo Theatre is a mystery theatre and so we started with Hamlet and Vertigo.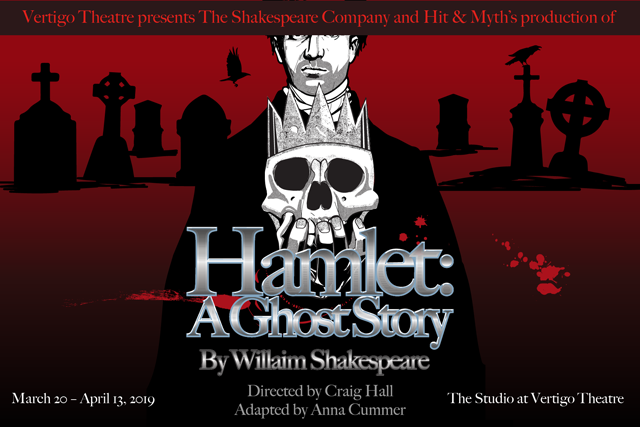 HAYSAM
And then I talked to David Fraser the production manager over at ATP and I said, "Hey, what would it take for us to be in your space?" And David and I just started talking and then he talked to the artistic team and the artistic team came back to me and they said give us a couple of proposals for plays. And I've always wanted to do Rosencrantz and Guildenstern are Dead and I thought well we could always have Rosencrantz and Guildenstern are Dead and Hamlet in the same season so I pitched Rosencrantz and Guildenstern are Dead to the artistic team at ATP and they thought it was great programming for Alberta Theatre Projects.
JAMES
So, now you've got these two plays in place – then what happened?
HAYSAM
Well, then I was talking to the High Performance Rodeo because I wanted to partner with the Rodeo and I've always wanted to do Drunk Shakespeare. Negotiating Shakespeare sober is a challenge in itself but adding another element to it, I think, is really exciting. So, we're going to create Hammered Hamlet and if I do Hammered Hamlet I can't just stop there I have to go full throttle on this and so I thought of creating a season based on Hamlet where you see four different interpretations of a story.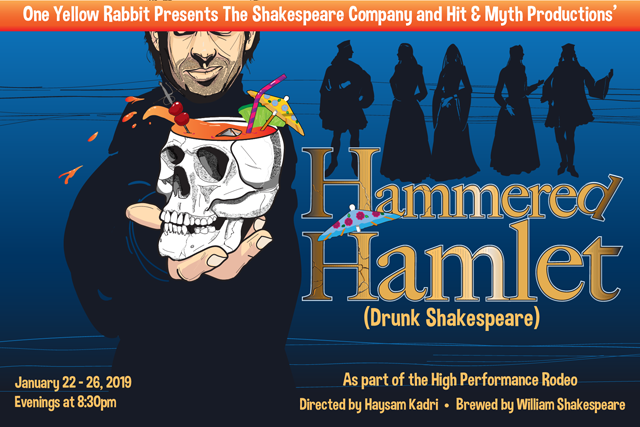 HAYSAM
Then I got this idea to do a movement piece and I phoned Denise Clarke who is a genius and a Canadian legend and truly a gem in our city and I just pitched the idea. I said Denise, I love your Radioheaded series they're fresh and innovative and I want to see if you can transplant that into Shakespeare's Hamlet. And her eyes and ears and everything just lit up and we went back and forth on it and we decided we wanted to do Hamlet Frequency which is an ensemble piece and a reimagining of Shakespeare's story choreographed and staged by one of Canada's greatest choreographers.
So, it's a bold season and I think it's exciting and I'm really curious to see how it's going to unfold and I think a lot of people are really excited about the idea of doing four different interpretations of the same play.
And here are Haysam's answers to my three final questions.
JAMES
Three final questions. What makes a good friend?
HAYSAM
Unconditional love.
JAMES
The world needs more…?
HAYSAM
Compassion
JAMES
And this is probably the most important question I've asked you in the last hour. What is your favourite ice cream?
HAYSAM
My favourite ice cream is caramel cone explosion.
***
You can read Haysam's complete interview follow the link: Interview with Haysam Kadri: Artistic Director The Shakespeare Company
***
***