Here it is Friday the 13th. Are you superstitious? Well, whether you're superstitious or not here are 13 Links to 13 Things on Friday the 13th.
"Applicable to drama or comedy, these obvious faults aren't any laughing matter. As a young screenwriter hoping to open doors with a script or your first film based on that script, you can metaphorically shoot yourself in the foot. There are simple mistakes that will say to potential investors, agents, producers, distributors, directors and others that you are not quite ready to enter the world of feature filmmaking."
There are a lot of "facts" out there that we think are true that aren't, but as Adam Conover from CollegeHumor points out they all tell a good story and people like a good story.
My favourite Tweet from the list, "My New Year's resolution is simply to remember to write 2017 instead of 2016."
Okay since we're talking Friday the 13th it only seems appropriate that we look at Halloween – especially since Halloween is only a couple of weeks away. I have a strong suspicion that Wonder Woman costumes are going to be very popular this year.
"Halloween all started as a pre-Christian Celtic festival called Samhain (which means "summer's end") held around the first of November. It celebrated the final day of the harvest, and was also believed to be the day spirits of the dead would cross over into the other world."
"In reflecting on the annoying things parents should never say to non-parents, however, I also began to think about things non-parents should never say to parents."
My favourite:
3. In everything in life, all you have control over is how hard you tried and if you acted with grace and integrity. So take a risk, jump in with two feet, do whatever it takes to fight for what you want – so at the end, you know you tried your best.
"In her book, "13 Things Mentally Strong People Don't Do," author Amy Morin writes that developing mental strength is a "three-pronged approach."
It's about controlling your thoughts, behaviors, and emotions."
My favourite:
10. They don't give up after the first failure.
Success isn't immediate, and failure is almost always an obstacle you will have to overcome. "Take, for example, Theodor Giesel — also known as Dr. Seuss — whose first book was rejected by more than 20 publishers," Morin writes. And now Dr. Seuss is a household name.
Thinking that failure is unacceptable or that it means you aren't good enough does not reflect mental strength. In fact, "bouncing back after failure will make you stronger," Morin writes.
My favourite:
3. Get more juice from a lemon by microwaving it.
Heat up your lemon (or any citrus fruit) for 20 to 30 seconds. Apply pressure by rolling it on the counter or in your hands before cutting it in half and juicing. The fruit will be softer and easier to squeeze.
Wilt Chamberlain, Dan Marino, Alex Rodriguez, Steve Nash – need I say more. These athletes clearly don't think 13 is unlucky. Far from it.
Most interesting for me:
10. Pine cones are nature's barometer for wildfires and severe winters.
A pine cone on the forest floor is an indication of moisture and wildfire risk. Closed scales on a cone mean damp conditions while open scales mean the forest floor is dry. In autumn, pine trees produce more of the larger cones before a severe winter to ensure seeds will make it through squirrel and bird feeding frenzies.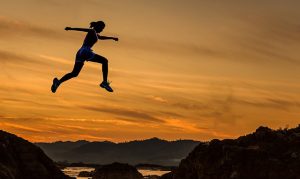 My favourite:
8. Give Up Multi-tasking
"You will never reach your destination if you stop and throw stones at every dog that barks." ― Winston S. Churchill
Successful people know this. That's why they choose one thing and then beat it into submission. No matter what it is — a business idea, a conversation, or a workout.
Being fully present and committed to one task, is indispensable.
My favourite:
4 It rocks to have been a self-help author.
I used to have a chip on my shoulder because I wasn't a literary author. Now I proudly claim that I have published 8 self-help books. I wrote them; I marketed them. I did that. That matters.
The film is based on a short story by Philip Van Doren Stern, a writer and historian who was moved to write after having a dream based on Charles Dickens's A Christmas Carol. He called it The Greatest Gift, and the plot follows a very similar path to that of It's A Wonderful Life.
It took him four years to write 4,000 words, and when he finally finished, in 1943, he struggled to find a publisher. Instead, Stern printed 200 copies himself and sent them to friends as a Christmas card that December.