***
If you have ambitions of pursuing a career as a screenwriter or television showrunner then I'd highly recommend you attend the Austin Film Festival. I attended the 2018 Austin Film Festival Writer's Conference and found it to be a very rewarding and exciting opportunity to connect with industry professionals as well as up and coming writers. This interview with Matt Dy, the Director of Competitions about the 2018 Austin Film Festival will give you a comprehensive overview of what the festival is about and why you should enter the competition. The 2019 Austin Film Festival runs from October 24th to the 31st.
***
We all have favourite stories – favourite films – favourite television shows and books and plays – because these stories somehow reach us. They make us laugh, or cry, or reflect more deeply about life, or simply give us a momentary escape from our troubles.
That's why I'm really excited to announce that my play Masquerade is a finalist in the stage play competition at this years Austin Film Festival – which is a festival that's dedicated to story. Masquerade is about an empty nest couple, Sarah and Glenn, that have drifted apart. They were talking divorce and selling the house until they discovered a book called: A Good Marriage is Just a Fantasy by Dr. Ravi Shasta. Basically, it's a book about exploring your sexual fantasies with your partner. Unfortunately, sometimes what is real and what is fantasy can become blurred and what was intended to bring a couple closer together can sometimes drive them apart.
My play gets a workshop reading on Saturday, October, 27th from 2:45 pm to 4:15 pm in the InterContinental Stephen F. Austin, State Boardroom. There are a total of nine scripts that have been selected for readings at this year's festival and you can check out the complete schedule of readings at the Austin Film Festival website.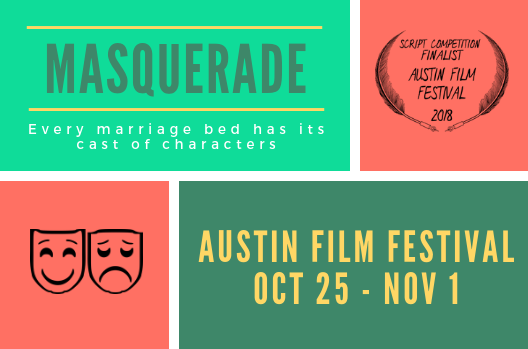 The Austin Film Festival runs from October 25th to November 1st and is a celebration of film and television that focuses on story and the people who write the screenplays and teleplays. The festival features industry professionals as well as up and coming writers. I'll be flying down to Austin to participate in the festival as well the staged reading of my play. I gave Matt Dy, the Director of Competitions for The Austin Film Festival, a call to talk to him about how the festival began and what participants can expect.
JAMES HUTCHISON
The Austin Film Festival was founded in 1993 by Barbara Morgan, who still serves as Festival Director, for the purpose of furthering the art and craft and business of screenwriting and filmmaking. So, I'm curious over the last twenty-five-year history of the festival how have those founding goals been developed?
MATT DY
The Festival was also co-founded by Marsha Milam who is still involved in a limited capacity, but Barbara Morgan is sole Executive Director for the Festival now. The two of them started the festival because they felt there was a need for a community like this. There really wasn't a writer's festival let alone very many screenplay competitions at the time. There were maybe a handful and now there are hundreds of them in existence, but we're one of the original ones which is a really nice thing to be able to say.
The thing that still remains intact over the twenty-five-year history of the festival is our goal and mission to champion the screenwriter. We're now open to playwrights and eventually we may become more of a hub for all forms of story because we're also expanding into fiction podcasting and we have a digital series component as well – content for the web – so there's a lot of different formats that we've embraced over the years but the mission to champion the writer is still the same.