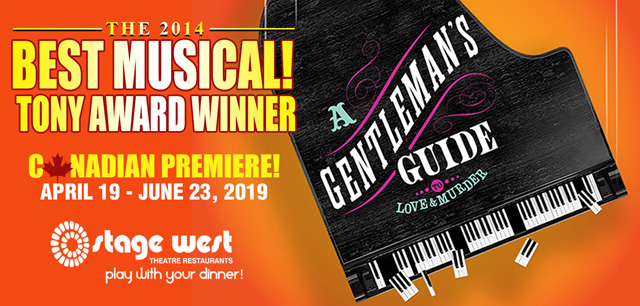 A Gentleman's Guide to Love and Murder by Robert L. Freedman and Steven Lutvak at Stage West Calgary is one of the most entertaining and fun shows I've seen on a Calgary stage. This production is outstanding, and I guarantee you'll be delighted and amused and laughing at the exploits of Monty Navarro as he plots and murders his way into high society. The show runs until June 23rd and tickets are available by calling the box office at 403.243.6642 or online at www.stagewestcalgary.com
The Tony Award winning A Gentleman's Guide to Love and Murder tells the story of Monty Navarro whose mother was cast out and disinherited by the D'Ysquith family when she married for love. Monty and his mother are forced to live in poverty as the D'Ysquith family remains unmoved by his mother's appeals for reconciliation. When Monty's mother dies and Monty learns the truth of his birth and that he's eighth in line for an earldom he sets about to avenge his mother's death and take his rightful place as head of the family.
The book, songs, and music from a Gentleman's Guide are smart, fun, and witty, but having great source material only works if you have an exceptionally talented cast to pull it off, and director Mark Bellamy's production has assembled a stellar cast that works seamlessly together. Kate Blackburn as Sibella and Ellen Denny as Phoebe are pitch perfect and hilarious as the women in Monty's life who tempt him, tease him, and manipulate him based on their own desires and ambitions. Tyler Murree shows he has a real gift for farce as he portrays every member of the D'Ysquith family with an air of comic pomposity and entitlement. And Sayer Roberts plays Monty Navarro with all the charm of Cary Grant and the elegance of Fred Astaire making Monty one of the most gracious and likeable rogues you'll ever meet.
The play is filled with memorable and smart songs including, I Don't Understand the Poor, Better With a Man, and I Will Marry You as Monty knocks off his relatives one by one on his quest to become the Ninth Earl of Highhurst. Will Monty succeed or will he get caught? Will fate lend a hand? Will he marry Phoebe? Will he always love Sibella? You'll have to see it in order to find out.
This is easily a five-star production and worthy of two thumbs up. In fact, it's so good I'm seeing it again, and I'd highly recommend you see it before it closes, because you'll have a darn good time, and this production won't be available on demand. Theatre and live performance is the ultimate "here for a limited time" experience.
I sat down with the director of the show Mark Bellamy and actor Sayer Roberts who plays Monty, the Wednesday before the finale of Game of Thrones, to talk with them about the play, musical theatre, and our predictions of who will sit on the Iron Throne. [Read more…]