"I guess the other thing that I love so much about our industry is the amazing people who have all, for better or for worse, made this decision to become a part of this crazy thing that we do. And they give their hearts, and their souls, and their blood, and their sweat, and their tears, and we all have our crazy stories about the crazy hours and the hard work and all of the things that go into making theatre, but at the end of the day we get each other, and we come together in this almost spiritual way and support each other and make something beautiful – and then it's gone. It's like poof, and it's gone, and I just love that – I love the temporary nature of what we do. And sometimes it's heartbreaking, but it's a big part of what I love about theatre."
Samantha MacDonald, Artistic Producer – Lunchbox Theatre
Samantha MacDonald has been a part of the Canadian theatre scene for thirty years and has spent a substantial part of that time as both a director and theatre administrator. She was the Co-Founder and Co-Artistic Producer of Project X Theatre Productions in Kamloops BC from 2004 to 2010 and was the Artistic Producer of Theatre North West in Prince George BC from 2010 to 2014, and for the last five years she's been a vital part of the Lunchbox Theatre team. MacDonald joined Lunchbox in 2014 as the Production and Operations Manager and then became the Associate Artistic Producer from 2015 to 2017 and for the last two years she's been leading the company as the Artistic Producer.
In addition to her administrative and arts leadership work, she's an accomplished director having directed several Shakespeare plays including, Two Gentlemen of Verona, The Tempest, and Hamlet for Project X and more recently As You Like It for Shakespeare by the Bow. She's also directed several contemporary plays including To Dream Again for Storybook Theatre and several productions for Lunchbox Theatre including the very touching and poignant Flight Risk by Meg Braem, the smart and complex In On It by Daniel MacIvor and the very funny and successful Guttenberg! The Musical! which was the final play in the 2018/19 Lunchbox Theatre season.
I sat down with Samantha to talk with her about her love of theatre, Lunchbox, and her plans for the future.
JAMES
So, I've listened to and read other interviews with you and sometimes you'll say, "Oh dear, I've gotten on my soapbox about theatre." But I want to hear you on your soapbox. I want to hear what it is you love about theatre. What is it?
SAMANTHA
Oh God, how long do you have? (Laughs) There are a number of things, but I think the first thing I fell in love with about this medium and what we do is just telling a great story. It's the opportunity to put a bunch of people together in a room and touch them emotionally and to allow them all to feel something and to connect to something in a way you can not do in any other medium. Live theatre is the one place where we all share something so visceral and engaging in one space and we all experience it together at the same time, and part of that experience is how we respond together in a dark space to whatever we're watching. And I love that.
SAMANTHA
Two weekends ago I had the great pleasure of adjudicating the Provincial High School Drama Festival in Red Deer, and my partner in crime was designer Anton de Groot, and one of the things he talked a lot about in his adjudications was exactly that and how on stage you are able to do things that you can't do on film in terms of engaging an audience. So, you can take a piece of fabric that was once a parachute and turn it into waves or into a mountain or whatever, and the audience goes with you on that journey, and I love how you can tell a story in such an incredible way that maybe you would never have imagined.
And I guess the other thing that I love so much about our industry is the amazing people who have all, for better or for worse, made this decision to become a part of this crazy thing that we do. And they give their hearts, and their souls, and their blood, and their sweat, and their tears, and we all have our crazy stories about the crazy hours and the hard work and all of the things that go into making theatre, but at the end of the day we get each other, and we come together in this almost spiritual way and support each other and make something beautiful – and then it's gone. It's like poof, and it's gone, and I just love that – I love the temporary nature of what we do. And sometimes it's heartbreaking, but it's a big part of what I love about theatre.
JAMES
When did you decide to go into this profession?
SAMANTHA
When I was in elementary school I was an actor, and I'm not an actor now, and I never ever will be, but I was an actor in elementary school and I loved it. I loved being on stage. I was Sir Joseph Porter in H.M.S. Pinafore. I was Tiny Tim in Christmas Carol. I did all these things and as I got a little older I used to see shows whether it was my sister in a high school production or whatever, and when I would watch theatre there was always this hole in my chest that I could never explain and that I never understood, but I would watch theatre, and I would just have this kind of pain.
After high school I decided I was going to be a corporate lawyer and work for Coca Cola, and because I'd worked on a couple of theatre productions in high school I took a technical theatre class my first year of college, and the second day of this class we went to the Sagebrush Theatre, which is where we would do most of our learning in Kamloops, and I walked into the theatre, and I stood on the stage, and that hole I had been feeling went fwump. And I went, "I'm never going to be a corporate lawyer." (Laughs) And that was it. The joy of this medium just filled that empty space in me and I was in love. And you know, here we are thirty years later and I still love it. I still absolutely love it. And whatever that hole in me was it never reopened. It went away that day and it's never come back.
JAMES
Let's talk a little bit about the unique story of Lunchbox because lunch-time theatre was a big thing in the seventies. I was doing a little research about it and I was reading that in London you could see great actors like Bob Hoskins on stage, and interestingly enough there does seem to be a bit of a resurgence of lunchtime theatre going on now, but a lot of the original theatres have disappeared. So, what do you think it is about Lunchbox – because Lunchbox has had good times and tough times and it's still here – what do you think it is about this theatre company that has made it possible to last for forty-five years?
SAMANTHA
I think there are a few things. I think the organization has always been very good at listening to its audience, and I think we've done very well over that large span of time of making sure that we are growing and changing with what our audience needs and wants. And our audience as a result of that has trusted us, and so even when we offer them something that's maybe a little more challenging or a little different than they're used to they will go on that journey with us because they trust us and what we're giving them.
SAMANTHA
And I think there's something really lovely in terms of being able to come for an hour and eat your lunch and watch great entertainment and then go away again. You know it's a great story, but it's not a huge commitment, and I think that's something – particularly in our day and age – that a bite-sized bit of theatre is a great way for people to connect. It's also, if you're new to theatre, a really nice way to check it out without a huge commitment.
JAMES
Looking at this last season what have been some of the highlights for you at Lunchbox?
SAMANTHA
One of the big highlights for us was the opportunity to premiere a brand-new musical which we commissioned from a young local playwright. Emily Dallas is incredibly talented and a lovely young woman and so to have an opportunity to say to her, "I want you to write a piece of theatre and these are the parameters I need you to write within," and then for her to come back with a piece like Brave Girl, which was our Remembrance show was really exciting, and our hope is she'll be able to take it and expand it beyond a one act.
JAMES
How did you two connect?
SAMANTHA
I directed Emily in As You Like It for Shakespeare by the Bow a couple of summers ago, and for one of her audition pieces she sat down at the piano in the Theatre Calgary rehearsal hall and played this beautiful song she'd written about a young person's struggle in high school and about being your own hero. And by the end of the song, both Susan McNair Reid and I were in tears and then having worked with her all summer long I had a strong sense of both her ideals as a theatre creator and also her talents as an artist. I mean, I would say I took a risk, but it wasn't really a risk, because I knew she would come up with the goods.
JAMES
Brave Girl is, as you mentioned, a one-act play and Lunchbox does one-act plays. What is it you're looking for when you select a one-act play for your season? What jumps out at you?
SAMANTHA
It has to have heart. The content and story arch can be about anything, but at the end of the day what we know is that our audiences really connect with and are engaged with stories that have heart. And by that I mean it has to be a piece that connects to our audience in a positive emotional way so whether it's something that affirms their beliefs, or something that reminds them that there is good in the world, or something that takes them on a journey – at the end of their sixty minutes with us – even if it's a dark piece – even if it's a piece that takes them to a place that's more challenging – it still, at the end of the day, leaves them feeling better off than they did when they arrived.
So, for example, I directed In on It by Daniel MacIvor which was a challenging piece for our audience because it was nonlinear, and it was darker, and there was a character who died in it, and it was about dealing with grief and death, but I think our audience really liked being engaged in those ways. And in Brave Girl there's the story of these two sisters and their struggles and how it tears them apart, and then of course at the end it puts them back together again, and it's also the story of the mother who loses her spouse, and then she watches this rift develop between her two children, and it's her journey as well, and so Brave Girl has lots and lots of heart in it.
JAMES
Let's talk a little bit about the season coming up. I'm curious, as an artistic producer, how do you balance your artistic vision with the business realities of running a theatre?
SAMANTHA
Well I mean obviously, as you know, financially it's always a huge challenge, so when I was programming the 18/19 season, which is just wrapping up, part of what I was really aware of was that we needed to try and find a way to balance things financially in order for us to survive. So part of that was bringing in some shows because they tend to cost a little less, but I was really adamant that moving forward we were going to find a way to get back to producing more local work and hiring more local artists for our 45th season.
And in terms of programming, I always listen to the kinds of things my audience is saying, and I'm always looking at the things that do well for us and what people are talking about. And I suspect over the years we've lessened the number of actors over the course of our season so for us a big show is six. It's a Wonderful Life was a six-person show and that was massive for us, but we also knew that show would sell really well so at the end of the day it wasn't a risk. People really love the Remembrance show and the Christmas show, and so it is a bit of a challenge in terms of continuing to find new works that fit into both of those two categories.
JAMES
You're doing Last Christmas by Neil Fleming next year and I was wondering how you arrived at that play as the right choice for next season?
SAMANTHA
I was looking for a Christmas show, and I went back over our history, and we had decided as a team that for our 45th season we wanted to look back in order to look forward a little bit. So with the Remembrance show and the Christmas show we said, "Okay, let's look back at some of the stuff we've done in the past." And Last Christmas had gone through our Stage One Festival, and it had an original production that had done very well for us, and now here we are ten years later and I think it's a relevant family story with heart.
JAMES
And it's funny. Even though it deals with some very serious issues like cancer it's actually very humourous.
SAMANTHA
It is yeah. And it has that family connection between grandkids and grandparents which I think is relevant, and that's a connection we don't see a lot on stage. So, it's nice to have that multi-generational story. And then similarly we picked Flanders Fields for this year's Remembrance show because it was our very first Remembrance show that we did and it did really well for us. It also came through Stage One and it has a very clear affiliation with us as an organization, and it's another moment of looking back to look forward.
JAMES
You've also got a world premiere coming up called Old Man the Napi Project can you tell me a little bit about that?
SAMANTHA
Yes, and that won't be the real title that's just the working title. So, Justin Many Fingers and I connected about this time last year, and we started to talk about what we can do and one of the things we're going to do is have an artist in residence program. So, the intention is to take an Indigenous artist and offer them the opportunity to devise a brand-new show under Justin's mentorship under the auspices of Justin's company and Making Treaty 7 with Lunchbox as the production side of things. And Justin has now chosen that artist and it's going to be Zachary Running Coyote, and he will create a show. And the intention is to take the trickster character Napi from the Blackfoot and to look at the trickster character from a variety of different nations perspectives and legends. I'm super excited that it's going to be Zach because he is a super talented young guy and just a lovely – lovely human and a great storyteller.
JAMES
You're ending your season with Nashville Hurricane with Chase Padgett who came here a couple of years ago to do his Six Guitars show. And for anybody who hasn't seen him, he is the most amazing talented performer you're ever going to see. I even went up to the Fringe in Edmonton last summer just to see Six Guitars, so I'm thrilled to see him coming back to Lunchbox.
SAMANTHA
Our season catchphrase is Together. The whole season is really about togetherness and acceptance and it's about being all in this together and from the first show to the last show in the season that's the message. And so in that last moment in Nashville Hurricane where he talks about his epiphany and realizing that we're all here together and we're all a miracle – that was for me – a beautiful way to wrap up this season which is really an encapsulation of who we are as Lunchbox Theatre and who we want to be in our community so yeah, it was the perfect show.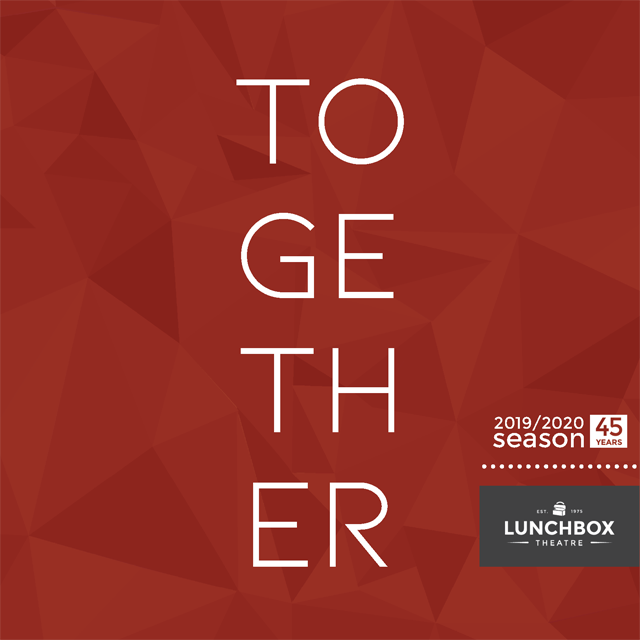 JAMES
So, after five years at Lunchbox you've made a decision to say goodbye and when it was announced that you were leaving I had this little moment of, "Oh, no not again." Because you've brought Lunchbox to such a good point, and it's healthy, and the seasons are good and they're entertaining, and I was like who are they going to get?
SAMANTHA
When I announced to my team that Shari Wattling was my replacement and they cheered I went, "Yeah, okay we're good. I can leave you guys and you're in good hands and you're happy so that's what matters to me." And Shari is such a smart lady, and she has really great ideas about where Lunchbox is going, and she has a significant history with the company. Her first professional gig was here. She's directed for us. She's dramaturged for us. She's acted on our stages a number of times, and she was in the office for a period of time, so she has a really good love and understanding of the organization, and I think that's super important.
JAMES
So then, what brought you to this point in your life? Why did you make the decision to leave?
SAMANTHA
There are a couple of things. I should be super clear that I am not leaving Lunchbox. It has nothing to do with this organization. I love this company, and I love the work that we're doing, and my team is amazing, and if it were ten years ago and I still had the energy and the space in my life that I had then – then I would stay.
But I have been running companies solo essentially for about seventeen years without a break, and I just turned forty-seven, and what I became very aware of in the last couple of years is – that as much as I love the work that we do and as much as I love this industry – my own well has begun to run dry, and I needed to take steps to do a little self-care to refill that well before I started getting bitter and before I started getting angry. Before I stop loving what I do.
And another part that plays into that is when I was twenty-two my mom died of cancer at forty-eight and as I approach that milestone I am aware that in her forty-eight years she lived a vast life, and she raised five children, and she volunteered and studied and had a very rich life. She was an exceptional human. And as I look at my own life in my forty-seven years I'm aware that there's something a bit lacking for me, because all I've done is work and that's meant the end of a marriage of fifteen years and a lot of stress. So, I made a commitment to myself that I'm going to do something different and see if I can figure out how to live a little bit of life for the next little while. So it's not about leaving Lunchbox, or even necessarily leaving theatre, it's about finding a way and a space for me to have a life with a capital L and to re-evaluate things and then move forward from there, and I don't know what that will look like but that's the plan. And I've been saying for years, "I'm going to get a life one of these days," and I finally just went, "No I actually have to do something in order to make that happen. No one's going to hand it to you." And I always say the Universe provides, and it always has in my thirty years in this industry. I've never been without a job, and there are lots of opportunities sort of floating around out there, and I'm just waiting to see what the next thing is that the Universe offers.
+++
You can check out the entire 2019/20 Lunchbox Theatre season below. Individual tickets to Lunchbox shows are just $25.00 or save some money and purchase a play pass which gives you seven flexible admissions for the price of six. Complete season details and ticket information can be found at LunchboxTheatre.com.
Lunchbox Theatre 2019/20 Theatre Season
The Pink Unicorn
By Elise Forier Edie
September 14 to October 5
Some battles only a mother can fight. When Trisha Lee's daughter announces that she is genderqueer, the small-town Texas widow's world is upended. Suddenly at odds with her faith and her family, Trisha must struggle to understand and accept her daughter's truth. Hilarious and heartfelt, The Pink Unicorn explores a mother's boundless love for her child.
In Flanders Fields
By Rober Gontier & Nicky Phillips
October 19 to November 9
This stunning work was our inaugural Remembrance play in 2010, when it received a Betty Mitchell Award nomination for Outstanding Production of a Musical. Based on the extraordinary life of Lt.-Col John McCrae, In Flanders Fields sweeps from rural Ontario to the mud of the French trenches, revealing the brotherhood, love, and true humanity of one of Canada's most famous poets.
Last Christmas
By Neil Flemming
November 23rd to December 21st
Last Christmas, Jake's wife Marge was still alive and every ritual was observed. This year, between two feuding daughters and a delinquent grandson, Jake's holidays will be anything but traditional. This heartwarming comedy offers a contemporary look at the joys and challenges of the season, and reminds us that family just might be the greatest gift of all.
Good Morning Viet Mom
Created and Performed by Franco Nguyen
January 11 to January 25
Filmmaker Franco Nguyen travels to Vietnam seeking inspiration for his first feature film and finds an unexpected subject – his mother. Good Morning, Viet Mom is a comedic and bittersweet gem from a first-generation Canadian raised by his single immigrant mother. Nguyen shares stories about childhood; his relationship with his mother; and their emotional trip to Vietnam.
Old Man: The NAPI PROJECT
A Partnership with Making Treaty 7 Cultural Society
The culmination of a co-operative Artist in Residence program with Making Treaty 7 Cultural Society, this project will explore the tradition of Trickster, and stories that examine our morals and the choices we face. The project will be an exploration of what this cultural character evokes and inspires in an Indigenous artist.
A Tender Thing
By Ben Power
March 21 to April 11
What if Romeo and Juliet had lived? This is the question Ben Power poses in this delicate and profound "remix" of the greatest love story ever told. The premise is simple – rather than taking their own lives, the young lovers have grown old together, their dazzling love undimmed, to endure a more commonplace tragedy. Shakespeare's timeless poetry creates a new, deeply romantic and powerful play, and a strikingly different love story.
Nashville Hurricane
Written by Chase Padgett & Jay Hopkins
April 18 to May 09
Forty years ago a mysterious guitarist appeared from nowhere, conquered the music industry, and then vanished without a trace… until now.
Hot on the heels of his smash hit 6 Guitars, virtuoso actor and musician Chase Padgett becomes a manager, a mother, a mentor, and the guitar prodigy himself as each one tells their side of the rise, demise, and resurrection of the best damn guitar player you've never heard of: the Nashville Hurricane.
509
By Justin Many Fingers
October 3 to October 12
Season add on in Partnership with Making Treaty 7
Still in creation, 509 is an examination of a young man's connection to his Blackfoot ancestors, a connection he only discovers as he lays dying. The show will be a dance theatre piece, mostly in the Blackfoot tongue. This piece is part of a triptych created by Justin Many Fingers, supported by Making Treaty 7 Cultural Society and Lunchbox Theatre. This show is an add on to the 2019/2020 season, presented at The GRAND Theatre.
+++
LUNCHBOX THEATRE: Lunchbox Theatre is one of the most successful noon hour theatre companies in the world. It aims to provide patrons with a unique theatre experience by producing one-act plays that engage and entertain audiences. Lunchbox Theatre produces six plays per season, as well as the Stage One Festival of New Canadian Work and the RBC Emerging Director's Program. It is one of Calgary's longest-running professional theatre companies and is located in the heart of downtown at the base of the Calgary Tower.
+++
If you enjoyed this interview please share and check out some of my other interviews and blog posts:
+++
This interview has been edited for length and clarity.