***
"Have fun and be creative. If you won't find it interesting to read why is your audience going to find it interesting to read? If you don't like the way it looks, chances are your audience won't like the way it looks. So, trust you and do what you want to do. Marketing is the place where you can be creative and do your own things. Financial people have to follow a budget – have to follow numbers, but marketing is that world where you can have your creative juices flow, if you will."
***
You know it's not true. The whole idea that all you have to do is build it and they will come. That idea only works in metaphysical baseball stories. In the real world, if you build it – you have to tell them about it – and then they'll come.
Maybe.
Marketing is the process of telling people your story and why they should buy your product or service, and in the theatre world that means finding ways of reaching people and telling them why they should come and see your show.
I sat down with Lauren Thompson, shortly before she left her position as the Director of Marketing & Communications for Lunchbox Theatre, to talk with her about her approach to marketing and some of things she's done during her time at Lunchbox.
JAMES HUTCHISON
So tell me what you noticed when you first started as the marketing manager for Lunchbox Theatre three years ago?
LAUREN THOMPSON
When I first started I noticed that although Lunchbox had moved into the Calgary Tower location in 2008 a lot of people still didn't know we were there. The theatre people did. The theatre community people did. But our normal audience, of the downtown working crowd, either thought we'd shut our doors or knew that we'd moved, but they didn't really know where we were, or they had stopped paying attention.
JAMES
The move really hurt Lunchbox in terms of people going to it?
LAUREN
It wasn't convenient for the typical audience that they were seeing. And convenient in the sense that before the move they were in Bow Valley Square. There were five other buildings, or whatever, connected through the plus 15s and it was right in the middle of a food court and there was a lot of foot traffic. There were a lot of positives going on over there. And there are so many positives that have come out of the move here, but the audience, and the traffic, and the regular patrons, and what defined Lunchbox was changing.
JAMES
Okay then, what is Lunchbox? And what does it mean to the community?
LAUREN
Well, I really think Lunchbox has changed. It's not this convenient stop in for one hour, and you don't really know what you're going to get, but it's here, and you'll have your lunch. It's now a destination. We have to program shows to make people want to put in that extra five-minute walk down Stephen Avenue to come see us.
And I think now we're really focused on Lunchbox as an incubator of sorts. We workshop new plays, but we're also a company for emerging artists, new designers, and new directors through our RBC emerging directors program and our Stage One Festival, and all these things give a place for these emerging artists to really grow, and then to move onto the Theatre Calgary stages, or the Vertigo stages, or the ATP stages.
JAMES
I was doing a little reading and it was talking about people needing to think about the theatre experience beyond the performance. It's not just the show. It's the whole atmosphere. It's everything.
LAUREN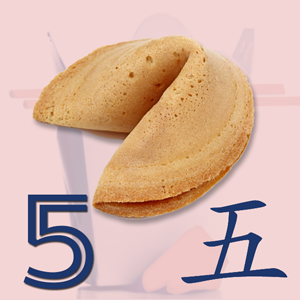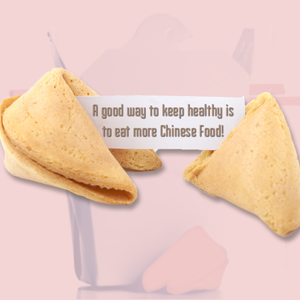 It is everything. I had a lot of fun with Ai Yah! Sweet and Sour Secrets this year. That was Dale Lee Kwong's play that went up over the Chinese New Year. I specifically remember that one because it was this culture that I didn't know a lot about. And it was so specific to Chinese New Year and those traditions. Dale was super supportive and teaching us everything, and she gave me this forty-page document about all the traditions that they do and what red and gold means and what these symbols mean and why they do these things. I really wanted people to enter the theatre and read these quotes and fun facts along the wall about Chinese New Year and just be immersed in this new culture and this new experience. And on Instagram I did little fortune cookies, so you had a little image of a fortune cookie and you had to slide the image and it would be a different fortune every day. It was just fun posts that aren't directly promoting the show, but it's creating awareness and fun and excitement.
JAMES
You have a ten-dollar Thursday night. What was the genesis of that?
LAUREN
The first Thursday night show of every run was our lowest selling show. So, we were hey, what can we do to entice people to come see the show and see what works? We didn't know if it was going to work the first year we did it, but it did, and it blew up, and now it's consistently the first show that sells out.
JAMES
Why do you need a full audience in there?
LAUREN
In Calgary people are waiting for word of mouth. So, we need full theatres that first week to help get the word out, and by the time the first week's over and the word of mouth has gotten out our second and third weeks fill up.
JAMES
Of course, now days social media is one of the main ways to help spread the word. How do you incorporate social media into your marketing?
LAUREN
Social media is basically doing some of our word of mouth for us, but we can help facilitate that word of mouth a little bit. We can put out a photo, or we can put out a comment and people will share that comment or photo with their own tag and their own comment in it.
JAMES
So, what types of content are you creating? Because I notice, just for an example, The Shakespeare Company will do an interview with one of their actors and post it on their website, and then promote it through their social media.
LAUREN
Well this year I found that the traditional media calls were not always happening. We've had a media call planned and the media has had to cancel, last minute, because there was an accident, or something else came up, or whatever, right? So, this year I said to Samantha MacDonald, our Artistic Producer, that we need to do it ourselves. I can't rely on the media to get the story of our show out there. So, I started the coffee chats that I post on Facebook and Instagram.
I would interview two people from the production. Typically, the playwright or director and then an actor from the show and ask them questions about the process, about the play, and about their characters – what would typically come out in a media call. And then I put it out in the world so we're not relying on something we have no control over. And it's worked in our favour. And we've had media coverage this year, but I think those coffee chats opened up a different side. A more casual side. A different conversation about the play that a poster or a typical social media post won't do for you.
JAMES
You know what I'm seeing that I really like? I'm seeing you and Theatre Calgary, and ATP, and The Shakespeare Company, and Vertigo are all using your social media to help each other.
LAUREN
This past season a few of the marketing directors from the different companies Theatre Calgary, ATP, Lunchbox, Vertigo, and I think Stage West just got together to chat and see how things were going and what are the trends and we realized – the same thing is happening across the board – and that we weren't alone. And then the conversation turned to how do we support each other and get the word out about your show even though our shows on. Our show has the same actor that is in your next show coming up, so how do we do something about that, and let's talk about that, and it's become so wonderful to have that community of people who want to see all of us succeed.
JAMES
When you're making your marketing decisions how much of your decisions are based on instinct and how much on research?
LAUREN
I personally am a much more instinctive person. I go with my gut, a lot. We tagged this season as, "What are you hungry for?" You know, are you hungry for culture? Are you hungry for family stories? Are you hungry for Canadian stories? And along with that – I don't even know where it came from – I heard about the importance of taking time to take a break and getting away from your desk and taking an hour to take in arts and culture. And I ran with that idea before the season started. Yes, Lunchbox is one hour, it's not expensive, it's great theatre, but really like what is it doing for your life? It is giving you one hour of culture. It is giving you a one-hour break from a screen. It is giving you an hour to be with people and to watch live theatre and that has so many positive effects on you as a person. And I did all this research on workplace mental health and taking breaks and the importance of that but then channeling that into easily fun digestible posts or ads. And one of the ads – we did a bunch of ads in surrounding corporate towers and literally my promo was Lunchbox is a five-minute walk and it's 621 steps. Get your steps for the day. Come to Lunchbox for an hour. And get your steps on your way back to the office.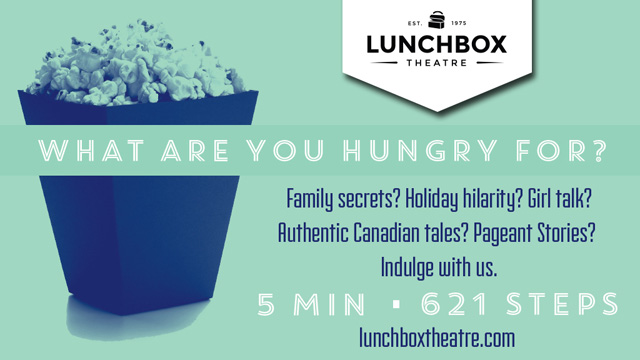 JAMES
One of the things we talked about before the interview was based on your experience do you have any tips or lessons learned that people could take away in regards to marketing?
LAUREN
I do, but there are a million others. I would say, be open to ideas is number one. Be open to exciting new technology that's coming out to apps to trends. The trends that are coming out are trends for a reason. Try them and see if they work for your company and your audience. Everything moves quickly. So, react to it all. And take it on your own spin.
Tip number two would be have fun and be creative. If you won't find it interesting to read why is your audience going to find it interesting to read? If you don't like the way it looks, chances are your audience won't like the way it looks. So, trust you and do what you want to do. Marketing is the place where you can be creative and do your own things. Financial people have to follow a budget have to follow numbers, but marketing is that world where you can have your creative juices flow, if you will.
JAMES
It's a bit of magic.
LAUREN
Totally. My third one is to have a consistent voice. Know your brand. Know your company and your voice regardless. It might have a different tone for your different mediums. Our Instagram has a different tone than our Facebook, but it's still a consistent voice, and I still know what the brand is and you're always pushing that. Whatever you do it has to fall under that umbrella.
JAMES
Alright, lets talk about the importance of a healthy box office. How much do you think having a healthy box office impacts the overall company specifically your ability to get donations and other funding?
LAUREN
I don't think it's a secret that arts in Calgary are suffering. And we're very aware. Sam does a preshow chat to the audience before every single show, and in the later half of the year we started to add in – you know obviously we're struggling like everyone else, and it was just an awareness of it, and if you want to ask more questions and you want to help please come find us after the show. It's just being transparent about it, and then people come and see the shows and support the shows and leave the shows talking about how much they love it and how much they want it to be around. We had some people come to Girl Crush with Sharron Matthews which was the first Lunchbox show they had ever seen, and next thing you know we're getting cheques of money, because they loved it so much.
JAMES
Now, Girl Crush, just because you mentioned it, was a really interesting show.
LAUREN
Yes.
JAMES
Because it turned Lunchbox into a cabaret.
LAUREN
It did.
JAMES
And it did very well.
LAUREN
It was a gamble and it paid off.
JAMES
It was an entertaining and successful show and it showed that you can do a lot in that space. It expands in the consumers mind your venue as an entertainment venue rather than just theatre. Are there plans to do more?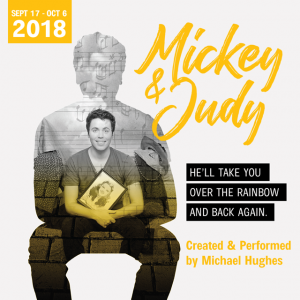 LAUREN
Yes, we have a cabaresque show starting the season called Mickey and Judy by Michael Hughes.
JAMES
Traditionally September is a tough sell. Is that one of the reasons you're going with the cabaret to see how it does?
LAUREN
Yes. September is hard on every theatre. This year we had Book Club II. The sequel to Book Club by Meredith Taylor-Parry. And it did well, but it also struggled just with it being in the September slot – nothing to do with the show. Mickey and Judy is a show that we're really excited about – it being a musical and having a different style to it – the Cabaret feel you know. It's a different exciting start to things.
JAMES
Okay then, lets talk about next season. I really like the art work.
LAUREN
I am obsessed with the art work.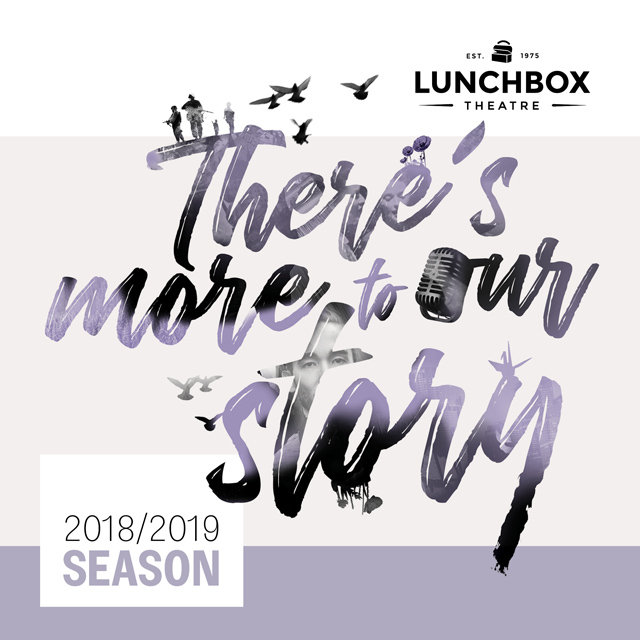 JAMES
Tell me the story behind this.
LAUREN
So, last season we found a new graphic designer. And she did all of the artwork for the 17/18 season. The two-tone kind of colours and the single image kind of graphic look and it was similar to what Lunchbox had been doing but just a little more mature a little more modern. And this year our programming is taking a new shift, and we're doing different styles and kinds of shows, and this is Sam's first programmed season as artistic producer, and so we sort of chatted with her and said we're open to new ideas.
JAMES
So, you went to the graphic artist?
LAUREN
We went to the graphic artist. Her name is Kimberly Wieting, and she's young, and she's so good at what she does.
JAMES
She has her own company?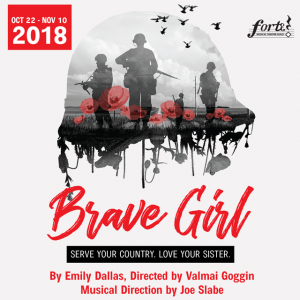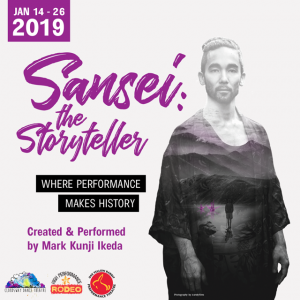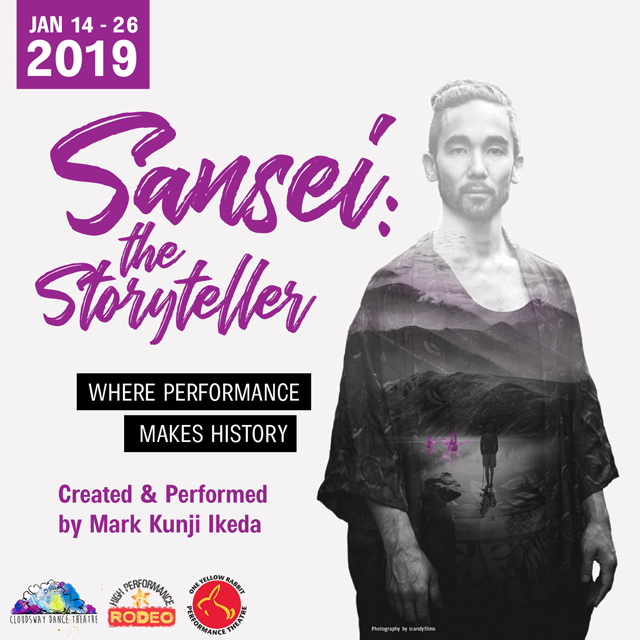 LAUREN
Yeah, she's an individual contractor, and she's incredible. Her company is Gritt Media. We sat down with her, and Sam and I chatted about the season. We gave her a brief synopsis of everything and said, "Tell us what you want to do." And she pitched this concept of this image on image and black with a pop of colour and it was a lot of work, but it was so worth it. And it's just a totally different look for Lunchbox.
And it's like we've said, Lunchbox has been around forever. Everyone knows Lunchbox, but now you're looking at it differently. And we want them to. Our shows are different. Our production quality is different. Our outlook on what we're doing, the projects we're taking on, the scripts we're developing, everything is different, and we're shifting, and we want the imagery of Lunchbox to shift with us, and we think it's gone in the perfect direction.
JAMES
Sounds like such an exciting time to be a part of Lunchbox, so what's going on with you?
LAUREN
And ahhh – I'm going to leave!
JAMES
So, tell me what's the opportunity for you?
LAUREN
I'm moving to Amsterdam this summer. And I really just needed a change. I don't know how else to explain it. It was this whim in February. I just sort of was like – I need to go do this. I looked into visas, and most visas in most countries are the working holiday visa, and they're only valid until you're thirty. So, I said, I don't have a mortgage. I don't have a partner. I don't really have anything tying me down. I can come back to this wonderful community – that I know will take me back when I come back – and I just need to go. I need to do this.
JAMES
What are you going to do?
LAUREN
I have no idea. (Laughs) Step one is find a place to live. I just want to work when I'm over there. I want to travel. I just want to meet people.
JAMES
Well, good for you for doing this. Do you think this explains part of your success as a marketer? I mean just even in your own life the willingness to take a risk – to try something new – to see how it works?
LAUREN
Maybe. And I'm realizing more and more, I react on my gut a lot. I follow my gut, and looking back on things and the decisions I've made – even the gut decision to take the job at Lunchbox – I've always followed that, and it's always led me in the right direction. And my gut is telling me to go to Amsterdam, and so I'm just going to do it. And we'll see what happens.
***
Lunchbox Theatre is located at the base of the Calgary Tower. Regular season shows run Monday to Saturday at 12:00 pm with a 6:00 pm show on Thursday and Friday. Individual tickets are just $25.00. Group discounts, play passes and regular tickets can be purchased on line at Lunchbox Theatre or by calling the box office at 403-265-4292 x 0.
***
Mickey & Judy – September 17 to October 6, 2018
Playwright Michael Hughes
Performer Michael Hughes
As a young boy, Michael Hughes was obsessed with musicals and liked to dress in women's clothing. His parents, confused by his behaviour and determined to cure him, sent him to the Clark Institute in Toronto. Mickey & Judy offers a wildly funny and touching account of Michael's real-life journey from the psychiatric ward to Off-Broadway. With a score that spans from Broadway classics to the best of the Judy Garland songbook, this inspiring cabaret show will have you laughing, crying, and singing along like no one is listening.
Brave Girl – October 22 to November 10, 2018
Playwright Emily Dallas
Directed by Valmai Goggin
Musical Direction by Joe Slabe
In 2002, Sam and Amy lose their father to the war in Afghanistan. Determined to follow his legacy and do their father proud, the sisters enlist and support each other through the joys and hardships of military training. As the two girls advance, their individual journeys take a very different course. Will their friendship survive? At what cost? Taking its inspiration from the life of Sandra Perron, Canada's first female infantry officer, this beautiful new Remembrance musical examines the life of women in power and the sacrifices that must be made.
It's a Wonderful Life: A Live Radio Play – November 26 to December 22, 2018
Playwright Joe Landry
Directed by Craig Hall
Back by popular demand! It's Christmas Eve and the unimaginable has happened. George Bailey is on the edge of ruin; thousands of dollars are lost and with seemingly no way to save the old Bailey Savings & Loan, George wonders if the world would be better off had he never lived? With the help of a rookie angel and a cast of charming characters, It's a Wonderful Life reminds us that we are each precious and important. Conceived as a live 1940s radio broadcast, this classic holiday story of love and redemption will be brought to life on stage by our Betty Mitchell Award-winning ensemble.
Sansei: the Storyteller – January 14 to 26, 2019
Playwright Mark Kunji Ikeda
Performer Mark Kunji Ikeda
On December 7, 1941, an attack on Pearl Harbour triggered events in Canada that may easily be described as among the darkest in our history – the internment and dispossession of tens of thousands of Japanese Canadians. Through an engaging blend of dance, spoken word and loads of humour, Mark Ikeda weaves a tale that is illuminating and profoundly personal. Sansei: The Storyteller offers Ikeda's observations about the internment, his own discovery of where he came from, and how Japanese Canadians found peace.
Assassinating Thomson – February 11 to March 2, 2019
Playwright/Performer Bruce Horak
Directed by Ryan Gladstone
Bruce Horak is a critically acclaimed visual artist, actor and playwright who lives with just 9% of his vision. In this, his one-man tour-de-force, Horak delves into the mysterious death of famous Canadian painter Tom Thomson and the subsequent rise of the Group of 7. Art, politics, ambition, love and murder all take the stage in Horak's compelling work. As he explores the facts and fictions around Thomson's death, Horak shares his own story and the unique way in which he sees the world. And if that weren't enough – while mesmerizing them with his words, Horak paints an original portrait of the audience at every show.
Gutenberg the Musical – April 1 to 20, 2019
Playwright Scott Brown & Anthony King
Directed by Samantha MacDonald
Bud and Deb are aspiring playwrights about to give the performance of their lives. It's a backer's audition, and in a desperate, bravely hopeful bid to fulfill their dreams of a Broadway production, Bud and Deb, with an overwhelming supply of enthusiasm will sing all the songs and play all the parts in their "big splashy" musical about Johann Gutenberg, inventor of the printing press. Will all their dreams come true? Gutenberg! The Musical! is a raucous spoof of all things musical and is guaranteed to mildly offend everyone equally.
***
Lunchbox Theatre was founded in Calgary, Alberta, Canada by Bartley and Margaret Bard and Betty Gibb in 1975. Lunchbox produces one-act plays that deliver a fun and unique theatre experience in an intimate and comfortable black box theatre space. Patrons are encouraged to eat their lunch while they enjoy the show. Lunchbox is one of the most successful and longest running noon hour theatre companies in the world.
***
Lauren Thompson has a degree in Tourism Management and Marketing from the Haskayne School of Business at the University of Calgary. She grew up singing and performing with the Youth Singers of Calgary and is now a teacher for the Youth Singers as well as a choreographer and performer who has worked with numerous local companies including Storybook Theatre, Lunchbox Theatre, Forte Musical Theatre, The Shakespeare Company and Theatre Calgary. Lauren became the Director of Marketing and Communications for Lunchbox Theatre in 2015 which has allowed her to utilize her degree and educational background with her love for the arts.
***
If you enjoyed this interview with Lauren Thompson, Director of Marketing & Communications for Lunchbox Theatre, you might also enjoy the following:
This Interview has been edited and condensed for clarity and was last revised on August 16, 2018
***