***
"It's been my goal to have a play at Lunchbox Theatre since 1978. I was in grade twelve when the Stage One program first started, and I don't even know how I ended up going to all the Stage One readings but I did, and I made a mental note to myself that someday I would like to have a play at Lunchbox."
***
One of the things I love about Lunchbox Theatre is that many of the productions you see on their stage feature local playwrights whose work was developed through the Stage One Festival of New Canadian Work. This season alone features several plays that were developed through the festival including Book Club II: The Next Chapter by Meredith Taylor-Parry, Flight Risk by Meg Braem, and the upcoming and very funny Ai Yah! Sweet and Sour Secrets written by Dale Lee Kwong.
Dale not only writes plays but also writes poetry, essays, and creative non-fiction. Her essays have been published in Somebody's Child: Stories of Adoption, A Family By Any Other Name: Exploring Queer Relationships, and the Malahat Review. Her poetry has appeared in Canadian Literature, Modern Morsels, and The Calgary Project: A City Map in Verse and Visual. Dale often performs at local literary events and sometimes speaks at inclusive churches and organizations like PechaKucha, TALES and The Coming Out Monologues.
I spoke to Dale about her dream of having a play performed at Lunchbox and the journey her play, Ai Yah! Sweet and Sour Secrets, took to go from page to stage.
JAMES HUTCHISON
When did you get into writing?
DALE LEE KWONG
I've always been a writer. I have poems framed in cardboard and typed on Manila paper from 1971 that I gave to my family at Christmas. I wrote a community column for about ten years when I lived in Crescent Heights that was told from the point of view of my dog, Magoo. And in my family I'm always the one that gets called upon to do the toast to the bride or the speech. But my real writing career started about fourteen years ago at the end of a relationship. I went to a writing workshop in Edmonton called Women Who Write and took some introductory writing classes. Classes which didn't actually critique your material so much as just read it back to you and say what struck them.
JAMES
So, it's a workshop to encourage the writing process?
DALE
Yes, it's very much for emerging writers. And I realized I had things I wanted to say and so, the first year after my break up I started enrolling in creative writing courses at the University of Calgary. I took three poetry classes with Tom Wayman, and he's an awesome professor. During that time I won the CBC Poetry Face Off in Calgary, and that got recorded and aired nationwide, and that got voted on by listeners, where it placed third.
JAMES
What a fabulous boost for the ego.
DALE
It was. At the same time Alberta Theatre Projects and the Alberta Playwrights' Network ran a 24-hour playwriting competition. I entered, and my first play, which was really just a scene, was called – Is Normie Kwong Your Uncle? And it won a special merit award which gave me a free dramaturgical session with Ken Cameron at the Alberta Playwrights' Network.
I wasn't even sure what APN was, but after I met with Ken I sent a proposal for an as-of-yet unwritten play to Rona Waddington at Lunchbox Theatre and she commissioned the play in the fall of 2005. I wrote notes and outlines, but I didn't actually write the play until February 2006 in another 24-hour playwriting competition, which is so well suited to me because I worked in television as a news editor. In television we don't start cutting the news for the six o'clock show until around three in the afternoon. And then from three to six you hit the ground running, and it's intense, and that's the kind of scenario I love. So my writing is always last minute and rushed. I've tried to change that, but it's just part of my process.
JAMES
So, was that the play that became the play being produced at Lunchbox this season?
DALE
Yes, this play has been in development since it was first commissioned in the fall of 2005 and written in February 2006. It's taken twelve years to get to the stage. And some people think it's autobiographical, but it's actually not. There are elements of truth in it, and there are true stories in it.
JAMES
So, what you've done is taken personal experience as an inspiration and then created the play out of that. What are some of your thoughts about this twelve-year journey?
DALE
Well, when I started I didn't know what the hell I was doing. I'd never written a play before. But one thing that worked to my benefit as a playwright was my day job as a news editor. A news editor takes the raw material that a reporter shoots with her photog (cameraman) and helps it become a better product. And one of the things that entails is taking interviews that are five to twenty minutes long and pulling out 20-second sound bites. So in a sense – I've been working with dialogue for twenty-six years.
I'd also taken a writing workshop at the Banff Centre from Fred Wah about a form of Japanese poetry called Utanikki. In Utanikki you take two pieces of text and chop them up and then you put them back together in some form, and just by taking two completely different subjects – for example, a recipe for making scrambled eggs and a piece about coming out to your family and mashing them together a relationship is created between these two topics that didn't previously exist. Many of my writings employ this method. Two types of writing blended together. I have poems where there's haiku blended with free form.
In the play I had this story about a lesbian and her girlfriend, and eventually they decide to move to Vancouver to get away from her family. But in between those scenes I had another entire play. It was a reality game show like Survivor where the lesbian girlfriend was being forced to come out to her family through a competition. There was a character like Jeff Probst, and there was this ancient Chinese sage character named Connie-fucius who would spout out fortune cookie lines.
Over the years I worked with a lot of different directors and dramaturges who encouraged me to remove the Survivor scenes from the play, but it was honestly my favourite part. I loved it! And I loved the character of Connie-fucius.
Rona Waddington never scheduled it for a production, and after she left Lunchbox I resubmitted it to Pamela Halstead when she was artistic director, and she was really interested in it, but by then she had already submitted her own resignation. So she set up a meeting between me and Glenda Stirling who was the incoming artistic director. Glenda had already programmed her first season, but she was interested in it for the following year, but then Glenda left. So I'd submitted the play to three different artistic directors and it had fallen through the cracks each time.
The other thing you need to know is that it's been my goal to have a play at Lunchbox Theatre since 1978. I was in grade twelve when the Stage One program first started, and I don't even know how I ended up going to all the Stage One readings but I did, and I made a mental note to myself that someday I would like to have a play at Lunchbox.
JAMES
But isn't that fascinating – that there's that connection from thirty years ago – no forty years ago.
DALE
78, 88, 98, 2008 – oh my God, forty years!
JAMES
Four decades.
DALE
That makes me tear up thinking about that. That's why this play is so special to me. Lunchbox is my favourite theatre company, and I make no bones about saying that. I've been donating to them for years, and I've been volunteering there, and I think they're one of the best treasures in Calgary.
JAMES
So what happened next?
DALE
After Glenda left, in comes Mark Bellamy. I knew Mark vaguely from Vertigo Theatre – and you'd think I'd show him my script right away, but I was gun shy having experienced several disappointments. So, I got to know Mark better, and he got to know me better, and I finally said to Mark, "You know, I've got this script that was workshopped here, and it kind of fell through the cracks." He asked me what it was about and after I told him he said, "Send it to me." So then I had this opportunity to send it to him, and do you think I sent it to him? No, because by that time it had been workshopped so much I didn't know where I was at, and I thought I should get him a clean version. So, it took me a year to revise it and send it to him and he got back to me within a month, and gave me a workshop.
At the workshop Mark gave me the choice of a couple of directors and I chose Trevor Reuger from APN whom I had prior dealings with. He had helped me with another script I had started. I told Trevor my creative process and how I'm late with everything and not to worry because I was a news editor, and I'm used to tight deadlines, but before we started the workshop, Trevor suggested, that for the sake of time, we leave the Survivor bits out for now and he said, "If you can show me how they advance the storyline then we'll start putting them back in." I was sort of reluctant to do that.
JAMES
Sounds like a clever strategy from your dramaturge.
DALE
Yeah, so the first day we missed two Survivor scenes, and they were funny, and I was like – how can I justify getting them in?
JAMES
So, for the whole workshop you were trying to push them back in?
DALE
Well by Thursday I knew Survivor wasn't coming back. The play had changed. Everything was fluid. I was doing rewrites every day. But there was this fight scene between Jade and her mother which I'd always struggled with because I didn't have that fight with my mother in real life when I came out.
DALE
When I first came out it was in '93, and I wrote the play twelve years later. I came out before Ellen Degeneres came out, and that was big news. She came out on the cover of TIME magazine. I came out to my family – all in one day – at my mom's house. I told my cousins first, and at dinner I told everybody's parents. The ones who had the most trouble with it were the cousins in the 50 to 70 year range, but everyone over 70 was fine with it. In my experience of coming out – senior citizens don't care that much – you know – life's too short – do what you want. I had one relative who was ecstatic to finally have a lesbian in the family – that was surprising too.
So, anyway, I had written the play forward to the fight scene and written the play backwards from the fight, but I couldn't actually write the fight scene. There was just a blank page.
And we got to Friday, before the public reading, and we were reading the script, like we did every morning, and the actor basically went from the last line before the blank page to the first line after the blank page and I went, "No wait. There's a fight scene there." And they all went, "What?" And I said, "Well that's what the blank space is." And Trevor said, "Where are the words?"
And I said, "I was hoping we could workshop this and get something out." And Trevor said, "Dale, there's an audience coming in an hour and a half to see your play. You have to have some words there." And I said, "Well yeah, but I've struggled all the way forward and all the way back – I just need some help."
Finally Chantelle Han who was playing the mother said, "I think I would ask them to leave, but I need to say something first." Then the actor playing Jennifer or Jade said, "Well maybe such and such could happen." And that gave me a little bit. And I think we all worked it out together. I was scratching out lines and adding lines and telling them things. I have no idea what that page looked like on their scripts, and when they actually read it at the reading it wasn't typed. It was just hand written notes. That script literally got written an hour before it was read.
JAMES
But the audience didn't know that, and I saw that reading, and it was a lot of fun. There were a lot of laughs. People loved the play, and I remember mentioning to you how much clarity had come into the play from when I had read it probably a year and a half to two years before that if not more. So now that the play is being produced are you excited about going into the rehearsal process?
DALE
Even though I'm not as much of a green horn as I was twelve years ago I'm still a newbie. This is my first big production. So, there's a bit of a learning curve, but I'm really lucky because one of my mentors in the theatre community is Sharon Pollock whom I've known since 2006, and over the last few years we've become really good friends because we walk our dogs together.
Sharon is wonderful. Last year she had her own new play Blow Wind High Water at Theatre Calgary and she had a revision happening on another play at Stratford and I was going through stuff on my end and so I could ask her questions like, "Should I go to the rehearsals?" And Sharon was the first to say, "It's your right to go to the rehearsal. Not all playwrights do. In fact, most directors would probably discourage it, but you're emerging – you're a rookie – you should go to them all." She said, "Just take a book, and be there if they need you, and listen once in a while, and see what things they struggle with, and you'll learn."
You know I always say to emerging artists, particularly artists in their 20s, I say, "You have age on your side. You can plead complete ignorance. You can say, I don't know. I've never been to a dress rehearsal? Can I come to your dress rehearsal? I've never been to a first read. Can I come to your first read?"
DALE
The other thing you can do if you're an emerging writer or artist is volunteer. I have been ushering at Calgary theatres for more than ten years. Almost every theatre company in the city uses ushers, and if you usher you get to see the play for free, and you meet the people behind the scenes. So there are all these people that I've met along the way, and I've been supporting them for ten years, and I finally have something they can come to.
JAMES
And genuine friends are happy for you.
DALE
Yes, I get that. I feel the love. At the official season announcement last February I just burst into tears. My best friend got a picture of it, and it's one of my favourite pictures. Like you say it was a forty year journey. I didn't even do the math. I'm bad at math. I'm not a good Asian.
JAMES
You can say that joke, I can't.
DALE
You can credit it to me.
***
Ai Yah! Sweet and Sour Secrets runs from February 19th to March 10th at Lunchbox Theatre. Performance times are Monday to Saturday at 12:00 noon plus a 6:00 pm show on Thursdays and Fridays. Tickets are $26.00 for adults and $21.00 for students and seniors. Tickets can be purchased on-line at Lunchbox Theatre or by calling the box office at 403-265-4292 x 0.
***
Dale also wanted to take this opportunity to thank the many people who have contributed to the development of her play over the years. Here is a list of the actors, directors, and dramaturges who have offered their time, talent and support in the creation of Ai Yah! Sweet and Sour Secrets.
Lunchbox Theatre – Stage One workshop, May 2006
TV Host/Charlie Wong – Steve Gin
Lillian Wong/Connie-fucius – Jacey Ma
Jade Wong – Elyn Quan
Jennifer Smith – Karen Johnson Diamond
Dramaturg/Director – Ken Cameron
Alberta Playwrights' Network – Writing in the Works excerpt, Oct 2006
TV Host – Grant Lunnenburg
Lillian Wong/Connie-fucius – Sharon Pollock
Jade Wong – Laura Parken
Jennifer Smith – Francine Wong
Director – Sharon Pollock
Alberta Playwrights' Network – Discovery Prize workshop and reading, Nov 2006
TV Host/Charlie Wong – Steve Gin
Lillian Wong/Connie-fucius – Michelle Wong
Jade Wong – Francine Wong
Jennifer Smith – Nicole Zylstra
TV Host/Stage Manager – Patrick MacEachern
Dramaturg/Director – Brenda Finley
filling Station Magazine – flywheel reading for Chinese New Year, Feb 2008
Charlie Wong– Ben Tsui
Lillian Wong– Jasmin Poon
Jade Wong – Francine Wong
Jennifer Smith – Elan Pratt
Connie-fucius – Jade Cooper
TV Host – Emiko Muraki
Director – Dale Lee Kwong
Lunchbox Theatre – Stage One workshop, June 2016
Charlie Wong – Mike Tan
Lillian Wong – Chantelle Han
Jade Wong – Ali DeRegt
Jennifer Smith – Julie Orton
Dramaturg/Director – Trevor Rueger
***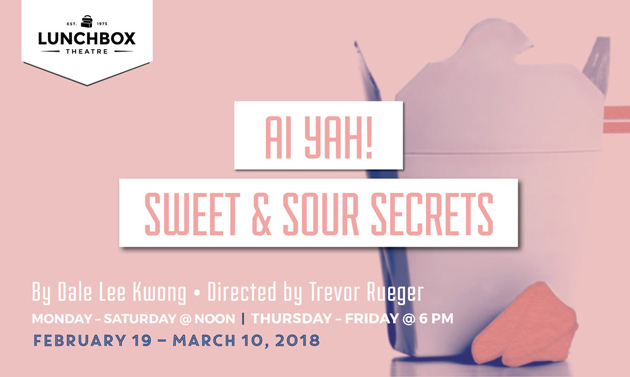 LUNCHBOX THEATRE: UPCOMING SHOWS
Ai Yah! Sweet & Sour Secrets by Dale Lee Kwong
Dinner is served. So are juicy family secrets.
February 19 – March 10, 2018
More than one family secret comes out of the closet in this cultural comedy with a fortune cookie twist! Chinese-Canadian Jade Wong is caught between being true to herself and living up to her family's cultural expectations. When her father invites a surprise guest to celebrate Chinese New Years, secrets are revealed and family bonds are tested. Winner of the Discovery Prize in the 2006 Alberta Playwrighting Competition, this funny and heart-warming coming out story speaks to anyone who has ever faced an awkward family dinner!
CAST
Kelsey Verzotti – Jade
Chantelle Han – Lillian
Ben Wong – Charlie
Jamie Matchullis – Jennifer
CREATIVE TEAM
Dale Lee Kwong – Playwright
Trevor Rueger – Director
Chris Stockton – RBC Emerging Director
Terry Gunvordahl – Scenic & Lighting Design
Rebecca Toon – Costume Design
Aidan Lytton – Sound Design
Ashley Rees – Stage Manager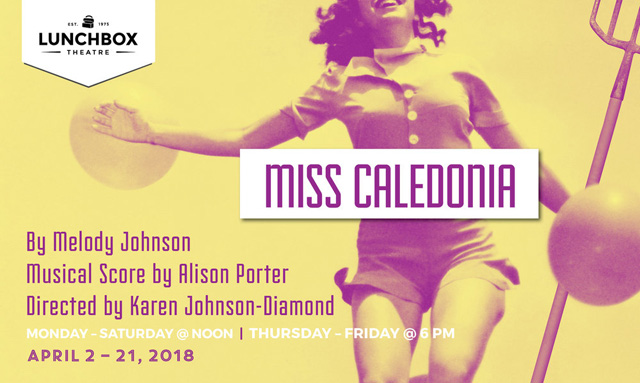 Miss Caledonia by Melody Johnson
This story will be over in an hour. Her Hollywood dreams may be too.
April 2 – 21, 2018
Peggy Ann Douglas dreams of becoming a Hollywood movie star and leaving behind all the stall cleaning, hay-baling drudgery of her 1950's life on Rural Route 2. Step one is to sing, twirl and pivot her way to being crowned Miss Caledonia in the local pageant!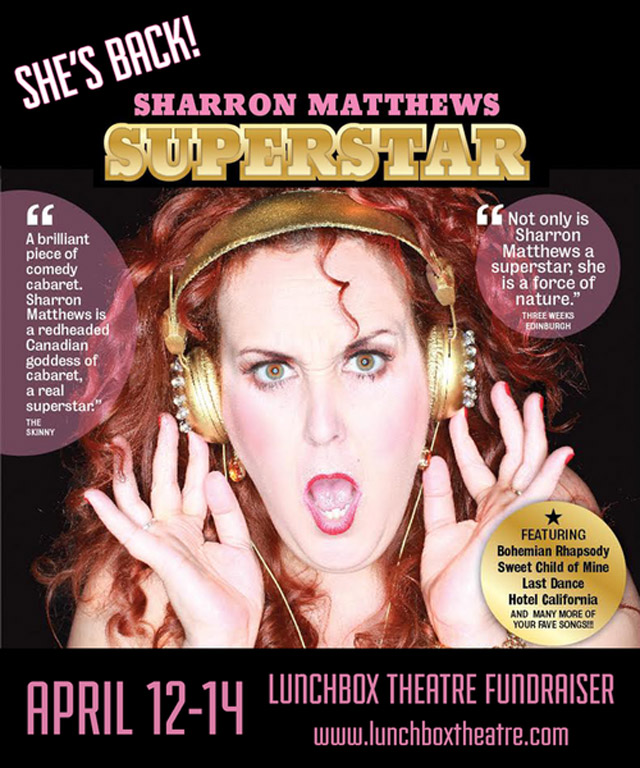 SUPERSTAR by Sharron Matthews
A Lunchbox Theatre Fundraising Event
April 12-14, 2018
Sharron Matthews is back for a special 3-night performance of her new show Superstar!
She's picked the very BEST songs, stories, mash ups, medleys and songologues from her celebrated tours, creating a thrilling show that delivers jaw-dropping vocals, pop-culture punches and hit-melody mash ups in a one-of-a-kind concert experience that defies age and gender barriers.
***
Dale Lee Kwong writes poetry, plays, and creative non-fiction. Third-generation Chinese-Canadian, her work explores Chinese-Canadian history, diversity & inclusion, adoption, and LGBTQ issues. Dale is passionate about the importance of Chinatowns across North America, and the fight to save them from gentrification. Dale plans to keep writing about the past and present, in hopes of shaping the future!
Dale also has a number of literary and speaking events coming up this spring including:
May 4th: Chinatown Walking tour for Jane's Walk
June 22nd: Inner City Stories chapbook launch at Loft 112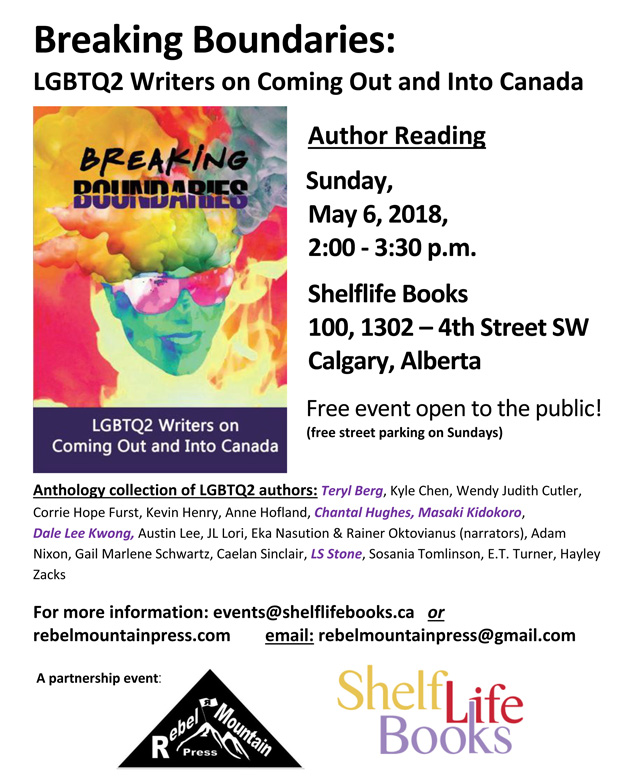 ***

Lunchbox Theatre is one of the most successful noon hour theatre companies in the world and produces one-act plays that provide patrons with an engaging and entertaining theatre experience. Lunchbox produces seven plays per season, as well as the Stage One Festival of New Canadian Work where many of the plays produced by the company are developed. Lunchbox is one of Calgary's longest running professional theatre companies and is located in downtown Calgary at the base of the Calgary Tower.
***

Tung Bui is a Calgary photographer and videographer that is passionate about visual story telling. He love the challenge of trying to shoot outside the lines of the viewfinder. So if you're looking to capture your memories in a unique way…let his imagination work for your vision.
***
If you enjoyed this interview with Playwright Dale Lee Kwong you might also enjoy the following interviews:
This Interview has been edited and condensed for clarity.