"I believe that no matter what part we're playing we have a part of ourselves in that character so you need to find that part of you that fits best with the character. It's just you at a new address. It's you exploring yourself in a different place and I think that's the only way for me to make it honest. In school and in rehearsals, they always go, "Be honest. Be honest. Be honest." And when I read the script – the first time I read it as me. I'm not reading it as a character. I'm reading it as I would read it. And I think the only way to bring out an honest performance is for you to bring it out from inside. I don't think it makes sense to put something on because then that becomes acting."
Ahad Raza Mir, Hamlet
Last September, I interviewed Haysam Kadri the artistic director of the Shakespeare Company about their season of Hamlet which included, Rosencrantz and Guildenstern are Dead with ATP, Hammered Hamlet at the High Performance Rodeo in January and now Hamlet: A Ghost Story in partnership with Vertigo Theatre. The Shakespeare Company and Vertigo had previously collaborated on a highly successful production of Macbeth and were looking to repeat that success.
Now Calgary audiences will have a chance to see a thrilling new adaptation of Shakespeare's most famous play as the tormented prince of Denmark seeks vengeance for the murder of his father at the hands of his Uncle Claudius. The tale is a ghost story, a detective story, and a revenge story all packed into one unforgettable night of theatre. This is a Hamlet for the modern age as The Shakespeare Company, Hit+Myth Productions, and Vertigo Theatre team up for a ghostly re-imagining of one of the Bard's greatest works.
This is part two of a two-part series about Hamlet: A Ghost Story. In part one, I interviewed Director Craig Hall and Playwright Anna Cummer, who penned the adaptation, about their unique take on one of Shakespeare's most famous and most produced play. In part two I sit down with actor Ahad Raza Mir who has returned to Calgary from his native Pakistan to play the title role and to talk with him about his approach to acting and his thoughts about playing Hamlet.
JAMES HUTCHISON
Ahad, you've achieved a lot of fame in your native Pakistan but you're returning to the Shakespeare Company here in Canada for an opportunity to play Hamlet. So, what is so compelling about the character that brought you back to the stage here in Calgary?
AHAD RAZA MIR
In high school and university, you always hear the name Hamlet. You always hear "To be or not to be" and you kind of go what's the big deal? And then you read it – and you go, "Wow, this is a beautiful piece of literature." And I think as you mature as an actor and the more work you do you realize that Hamlet is a kind of rite of passage that you have to cross. And for me as an actor I've been doing a lot of film and TV and I think this was the perfect opportunity for me to come back and explore how I've matured and how I've developed as an actor.
And I also have some very selfish reasons to come back to a place where I originated. The Shakespeare Company and Calgary is what has shaped me to be the actor that I am – not even just the actor but the person that I am. You know I think this place is what groomed me. Canada groomed me. Being at the University of Calgary. Living in Canada.
JAMES
Your father, Asif Raza Mir, is also a well-known actor and has had a high degree of fame. Did he have any words of advice to you that have helped you balance the work with the fame?
AHAD
He has advised me about how to handle people. How to handle crowds. But he's tried to make it a point for me to figure it all out on my own and that's because he thinks I tend to be easily influenced and he thinks that the realities I see about showbiz I need to realize on my own or they won't truly make sense to me.
And he comes from a different time. A time when there was just one television channel in Pakistan so if your show was a hit then the whole nation went crazy about you. There was a show my dad did back in the eighties and the streets would literally be empty because everyone was home watching that show. Now the time is very different. There are multiple channels. There are digital platforms. But the exposure is just as high now because of social media. Sometimes I feel there's this constant need to inform your fans about what you're doing on social media whereas my argument is if you're watching me in a show where I'm in the 1940s and the next second you're seeing me at the beach with a coffee in my hand it throws your audience off.
JAMES
Breaks the illusion of what you're trying to create as an actor.
AHAD
I want people to appreciate the performances and appreciate the stories.
JAMES
Focus on the stories and not necessarily on what you're having for lunch.
AHAD
Exactly.
JAMES
You know Hamlet spends a lot of time contemplating life and thinking about existence and looking up into the stars and examining motivations and what's going on. Is that a characteristic you have yourself? Do you find yourself contemplating all those big questions?
AHAD
I have. I'm someone who struggles to decide between shampoos and what to eat so I hope Hamlet can teach me something. Although if you read the play he doesn't really figure it out in the end, but I think as Craig our director has mentioned he's a man of the new age. And that means you have to give up certain values and certain customs of a time before and then kind of adapt to new things. So, that's the struggle for him in the play. I know how I should act but there must be some other way for me to approach this. And that option is what confuses him. That thought is what confuses him. And similarly, for me when I have too many options about deciding what do I do with my life that's a struggle. Being at the University of Calgary I remember I was in business. I was a business student and I was still doing shows with the drama department there. And I was going, I want to do business, but I love theatre. And then one day I went I need to decide and that decision was so difficult to make but when I finally made it – when I switched to drama my life changed.
JAMES
Do, you think that's one of the appeals then of Hamlet is the fact that he struggles with questions and that we in our lives as an audience watching him struggle somehow relate to that?
AHAD
Yes, because that's what being human is all about. It's about making choices. Making mistakes. Making the right decisions. It's all about the right person to get married to, the right choice for post-secondary. It could be anything and I think that's relatability. He's struggling to make one choice – being that's it's to murder somebody or not.
JAMES
It's a big choice.
AHAD
It's a big decision and I think we all struggle with that and I think we all struggle with it on a daily basis.
JAMES
What are you hoping to bring to your Hamlet?
AHAD
I'm hoping that I can bring something relatable to the new age of viewers. To make him feel contemporary so that the eighteen-year-old coming to see the show from first-year University can get it and feel what Hamlet's feeling. Plus, I'm just trying to make him human.
JAMES
I'm curious when you're playing a character like Hamlet how much of your performance do you know going in and how much is developed through the rehearsal process?
AHAD
I think I had a very kind of clear idea of what I wanted to do with Hamlet. I wanted him to be, for lack of a better word, a bro.
JAMES
Hey bro.
AHAD
Hey bro, what's up? You know somebody you want to hang out with. And as soon as we sat down and started doing the table work, I found out the text supports that he is this kind of melancholy, brooding, depressed soul. And I think he's almost like a child who is feeling certain emotions for the first time.
JAMES
Because he's lived this charmed life.
AHAD
A perfect life.
JAMES
For thirty years he's been the son, he's been the prince, and he's been allowed to study and then suddenly his dad is murdered.
AHAD
And it's not just one thing. It's mom's married your uncle. Your uncle's killed your father. You've seen the ghost of your dad. And then there's Ophelia and all these things are happening and he's feeling these emotions for the first time. I actually think he's feeling anger and grief all together at once. And feeling it for the first time again like a child that's getting upset and all they can do is scream because they don't know what to say and they don't know what to do so that's kind of what he's going through.
JAMES
So, the new production at Vertigo is a ghost story.
AHAD
Yeah.
JAMES
And I'm wondering if you yourself believe in the supernatural and have you ever had any encounters with spirits or ghost?
AHAD
I have. I have. I didn't really believe in them in the beginning, but I remember one time I visited my grandmother's grave and I hadn't seen it before and I went on my own. And I couldn't find it and so I went to the guy who knows whose grave is whose and I said I'm looking for this lady and he goes, "Okay let me go look." And he goes back to his little office and he's looking at his books and I felt this kind of pull. And I've never been here. I felt this pull towards this one grave and I just went up and I approached it and I didn't think anything of it at the time. And I was looking at it and there were some rocks on it and stuff, and some little painted flowers and the guy comes up and he goes, "Okay, here's the number." And I'm like, "Okay, where is it?" And he goes, "It's right here. You found it." And I just said, "Okay." I said my prayers and went back to the car and I just started crying because that feeling…was terrifying to be honest…it was just scary out of hundreds of graves I just started walking one way and there it was.
JAMES
You feel that she reached out to you?
AHAD
Yeah, I am a hundred percent sure, but it was freaky.
JAMES
She must be happy for your success.
AHAD
I hope so, yeah.
JAMES
So, how do you stay grounded and focused now that you're dealing with the fame and you're dealing with trying to focus on the work?
AHAD
I think my father is a big part of that because his father was a cinematographer and a director so fame has been part of the family for a long time. So, any time I let it go to my head my Dad goes, "Big deal." And my Dad, for example, is the same guy in the house that he is outside when he's working and when he's interacting with fans. Whereas I've seen people one way outside of work and when they're at work they're something else. So, I think seeing that has made me realize that at the end of the day it's all about the work and being true to yourself and being honest.
JAMES
So, how do you approach the work?
AHAD
I believe that no matter what part we're playing we have a part of ourselves in that character so you need to find that part of you that fits best with the character. It's just you at a new address. It's you exploring yourself in a different place and I think that's the only way for me to make it honest. In school and in rehearsals they always go, "Be honest. Be honest. Be honest." And when I read the script – the first time I read it as me. I'm not reading it as a character. I'm reading it as I would read it. And I think the only way to bring out an honest performance is for you to bring it out from inside. I don't think it makes sense to put something on because then that becomes acting.
JAMES
Tell me about the actors you're working with here – what are you excited about in terms of working with these folks?
AHAD
There's a connection that is sometimes lacking in film and TV. Not to put film and TV down. I mean, it's because of film and TV that I am where I am. But I think the connection you create – I won't even say with another actor – I'll say with another individual – another human being during rehearsal and during a scene, there's a kind of magic behind it. There's no retake. The moment is the moment. And I'm working with actors I remember seeing in productions when I was in University and when I was starting out professionally and now I'm getting a chance to work with them and that's exciting.
JAMES
Why should we come to see the show?
AHAD
I think at the end of the day Shakespeare is always relatable but the reason you should come watch our show is because we're going to give it not just a modern contemporary spin but then there's the whole ghost element and the supernatural and the thriller vibe that comes in with Vertigo. We're doing it in a way that I don't think has been seen before and I think it will be interesting because you've got somebody who is coming from a very different background performing Hamlet. And I can't believe I forgot to tell you this, but one of the other reasons I'm back is that you know in Canada we're really focused on diversity and diversity on the stage. You know our cast should reflect our society and even though we're good at it I don't think we push that enough. I remember being in University and there were a bunch of white people and me and I know so many Pakistanis and Indians and whatever it might be that live in Canada and want to explore music, dance, art and all these things and sometimes it's sad to say their parents don't let them explore those avenues even though being in Canada is one of the best places to do it because outside those options aren't there. So, I want to set an example for the young minorities and say, "Hey if I can do it you can do it." You know maybe I'll inspire somebody to go, "I don't want to do biomechanics I want to learn how to play the guitar and do music."
JAMES
And I don't think the arts and theatre are going to survive unless we diversify the audience and in order to diversify the audience one of the things we have to show is people of different backgrounds performing these roles.
AHAD
And I think Canada is still doing a good job about that, but the issue is even before all that. It starts at the home. It starts with allowing that child to explore what he wants to explore. And maybe some young Pakistani guy goes, "Hey, he did it, why can't I do it?" And hopefully, he goes and argues with his parents and hopefully his parents will be supportive.
JAMES
But first he'll take business and then he'll realize he's in the wrong thing.
AHAD
Yeah, but if I didn't do that, I wouldn't have realized it. So, maybe that's what it takes.
***
Vertigo Theatre presents the Shakespeare Company and Hit and Myth's Production of Hamlet: A Ghost Story which runs from March 20th to April 13th in the Studio at Vertigo Theatre. Performance times are evenings at 7:00 pm, no performance on Monday, 2:30 pm matinees on March 23, 24, 30 and April 6,7, and 13th. Tickets are $35.00 and are available by calling the Vertigo Theatre box office at 403.221.3708 or online at www.vertigotheatre.com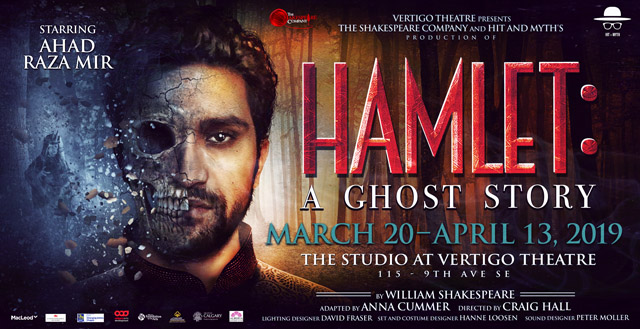 ***
CAST: Ahad Mir as Hamlet – Joel Cochrane as Ghost, Player King, Priest – Meg Farhall as Marcella, Rosencrantz, Player Queen – Karen Hines as Polonia – Allison Lynch as Horatia – Curt McKinstry as Claudius – Behrad Moshtagh as Laertes, Guildenstern – Graham Percy as Barnardo, First Player, Grave Digger – Natasha Strickey as Ophelia – Daniela Vlaskalic as Gertrude
CREATIVE TEAM: Craig Hall, Director – Anna Cummer, Playwright – Hanne Loosen, Set & Costume Designer – David Fraser, Lighting Designer – Peter Moller, Sound Design – Karl Sine, Fight Director – Jane MacFarlane, Text & Vocal Coach – Claire Bolton, Stage Manager – Chandler Ontkean, Assistant Stage Manager – Derek Paulich, Production Manager – Rebecca Fauser, Assistant Director
***
Vertigo Theatre has entertained audiences for 42 years with high-quality programming, evolving into a truly unique organization. We are Canada's only fully professional theatre company dedicated to producing plays based in the mystery genre. Vertigo is located at the base of the Calgary Tower in the heart of downtown Calgary and is home to the organization its two performance venues and the BD&P Mystery Theatre Series. Our artistic mandate allows exposure to a broad demographic and our diverse audience includes all walks of life. We build strong partnerships through our various student and professional outreach initiatives that are designed specifically to help meet our community investment objectives. Vertigo Theatre is a member of the Professional Association of Canadian Theatres (P.A.C.T.) and engages artists who are members of the Canadian Actors' Equity Association.
The Shakespeare Company is Calgary's lean and mean classical theatre company, highlighting the best of the Bard in all his comedy, tragedy, and bawdiness. Founded in 1995, by Richard Kenyon and LuAnne Morrow, TSC has brought the Bard alive for Calgarians through both Shakespeare and Shakespeare inspired plays. We are committed to making Shakespeare accessible through innovative performances and inspired directing.
Hit & Myth Productions is a professional independent theatre company based in Calgary, Alberta. Hit & Myth was established in 2006, and since that time has produced over 30 professional shows, engaging numerous local actors, directors and designers. Hit & Myth has produced musicals, comedies and cutting edge dramas, a genre that we lovingly call "commercial alternativism." From musicals like Urinetown and Evil Dead, to hard-hitting dramas like Martin Mcdonagh's The Pillowman and David Mamet's Race, to dark comedies like Neil Labute's reasons to be pretty; to vibrant adaptations of both Shakespeare (Titus Andronicus and All's Well That Ends Well) as well as Shakespeare inspired (William Shakespeare's Land of the Dead and Equivocation) works. Hit & Myth seeks to entertain, while always packing a serious theatrical punch. Hit & Myth collaborates with small to mid-sized sized theatre companies and independent artists to co-produce theatre that is provocative, modern, sensational, and above all else, entertaining. Our productions strive to reflect the dynamic and diverse theatrical community of Calgary and Calgary audiences.
***
Other media
If you enjoyed this interview here are some other interviews you might enjoy:
***
This interview has been edited for length and clarity. Last updated April 18, 2019