Hamlet will be haunting several Calgary stages over the coming theatre season as The Shakespeare Company along with Hit & Myth Productions have partnered with Vertigo Theatre, The High Performance Rodeo, and Alberta Theatre Projects, to bring Calgary audiences four different tellings of the melancholy Dane's tragic tale. It's a full season of Hamlet!
I sat down with the Artistic Director of the Shakespeare Company Haysam Kadri to talk about Hamlet, theatre, and just how the Shakespeare Company's Madness in Great Ones season came about.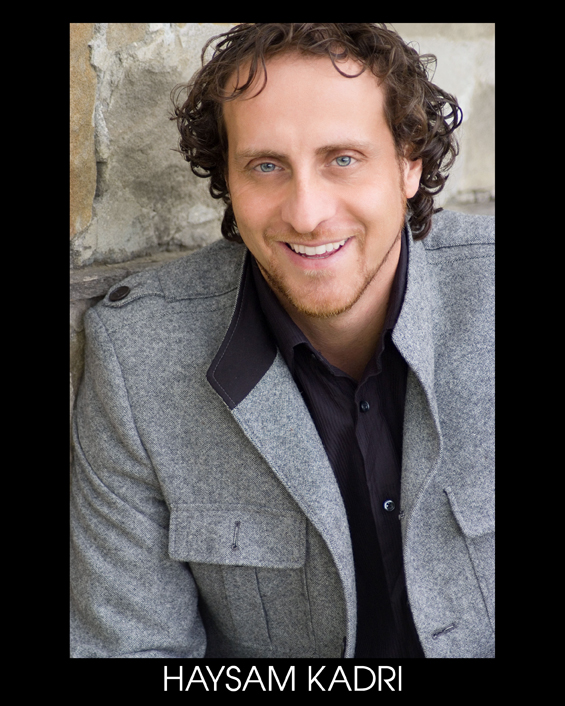 JAMES HUTCHISON
I was wondering as the Shakespeare Company what are some of the challenges you face mounting a large cast show with a really short rehearsal period?
HAYSAM KADRI
We have the best mandate and the worst mandate at the same time because we always have to populate the stage with ten to fifteen people which always has its challenges. Anytime anybody does Shakespeare you never have enough time, but what the Shakespeare Company has found out is that brevity is the soul of wit. When you trim some of the fat that Shakespeare gives you we find it makes the plays more accessible to an audience and we find that it's better for the process technically of rehearsing and putting up a play. Because it's not a kitchen sink drama. There are a lot of things going on. There are supernatural elements. There's war. There's fight scenes. There's these extraordinary characters in extraordinary circumstances.
JAMES
These are big stories.
HAYSAM
They are big stories. It's never easy to put them up in three and a half weeks let alone five weeks or six weeks. When it comes down to it it's about money and ultimately you have to be lean and mean which is our company motto and as efficient as possible.
JAMES
When you're mounting a play you've done before and you're familiar with it as an actor or director does getting a second or third chance at it make it easier to mount?
HAYSAM
The first time we remounted a play was when we put on The Scottish Play with Vertigo Theatre. The Vertigo patrons just loved it and so what happened was they snatched up a lot of the tickets and then our patrons came on board and the run was already sold out. So, it was incumbent upon the Shakespeare Company and myself to reprogram it for the following season. Number one because there were a lot of our patrons that didn't get a chance to see it and number two as a company for efficiency. The sets were already built. The production is in hand. The rehearsal process is shortened. And so it was a no-brainer and you know it's been the most successful show in the history of the company.
JAMES
You took over the company in 2012. How have the last six years gone in terms of what you wanted to do with the Shakespeare Company and where you're at now?
HAYSAM
You know when I took over the company in 2012 I had never run a company before, so I had a clean slate and I was able to start building the culture that I wanted. I really wanted to build and increase the skill set of the performers and the performances. So, I felt it was really important to start developing a strong core of equity actors to comprise half the company. That's a very expensive initiative but I felt it was really important.
The other important thing was to make Shakespeare much more accessible to a larger audience. All our Shakespeare plays are two hours with a fifteen-minute intermission and since I took over we've increased our audience by four-hundred and fifty percent and we've extended all our runs to three weeks and we hire on average six equity actors per show and we've developed and built a core audience.
We really wanted to key in on those young students in high school that get a bad taste in their mouth for Shakespeare because they think it's three hours long and it's boring and it's in a foreign language and so we've done everything we can to make it really accessible. And you know that's one of the benefits of being in the studio theatre. You see the blood on the Scottish King's face and it's visceral and it's present and it's intimate and so we benefit from a small space even though we'd love to expand to a bigger space which we will be doing for Rosencrantz and Guildenstern.
And as our high school contingent has grown into young professionals or gone on to university they've been coming on their own. They're not coming in school groups anymore they're single ticket buyers and they've become part of the fabric of our patronage. So, our 18 to 25 demographics are unreal and amazing and has been our biggest success.
JAMES
So, let's talk about the new season since you mentioned Rosencrantz and Guildenstern are Dead and that's the first play of your season focused on Hamlet. Where did the idea for Madness in Great Ones originate?
HAYSAM
I'll confess, I didn't think I was going to do an all Hamlet season, it wasn't an epiphany that I had. What happened was I was in talks with Craig Hall the Artistic Director at Vertigo Theatre and we wanted to collaborate again because Mackers was such a big success and we would be totally remise if we did not entertain another partnership. And Craig and I had always wanted to do Hamlet because Hamlet is a ghost story and Vertigo Theatre is a mystery theatre and so we started with Hamlet and Vertigo.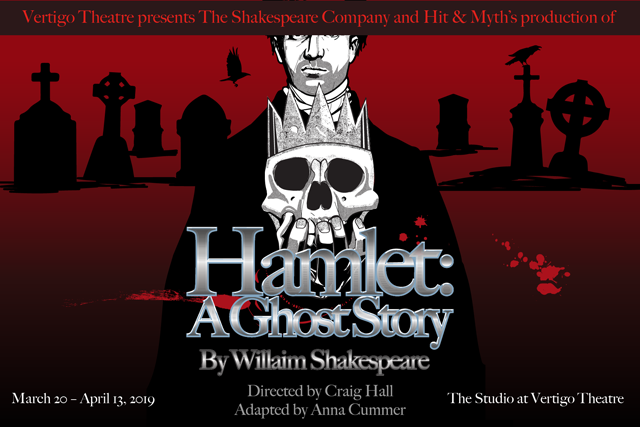 HAYSAM
And then I talked to David Fraser the production manager over at ATP and I said, "Hey, what would it take for us to be in your space?" And David and I just started talking and then he talked to the artistic team and the artistic team came back to me and they said give us a couple of proposals for plays. And I've always wanted to do Rosencrantz and Guildenstern are Dead and I thought well we could always have Rosencrantz and Guildenstern are Dead and Hamlet in the same season so I pitched Rosencrantz and Guildenstern are Dead to the artistic team at ATP and they thought it was great programming for Alberta Theatre Projects.
JAMES
A good fit.
HAYSAM
Yeah, and for us.
JAMES
Let's talk a little bit about that one because it's coming up right away here and interestingly enough it's being directed by the same director you worked with on The Virgin Trial and The Last Wife.
HAYSAM
Yes, Glynis Leyshon.
JAMES
So that's exciting and you've got quite the cast lined up.
HAYSAM
It's pretty stellar.
JAMES
You've got Julie Orton and Myla Southward and I see Mark Bellamy in there as well…
HAYSAM
…Christopher Hunt…
JAMES
…and Tenaj Williams is going to be Hamlet.
HAYSAM
Julie and Myla are a dynamic duo together on stage and they're a perfect fit for the characters. And Glyniss Lyshom is a big Tom Stoppard fan and a great mentor of mine and a great director and someone that I trust implicitly with everything especially with text and the classical works and I had her in mind before we knew it was going to be an ATP coproduction. I really wanted to bring her on board and it just worked out perfectly. It's a really exciting cast and I just think this play is ridiculously brilliant and funny.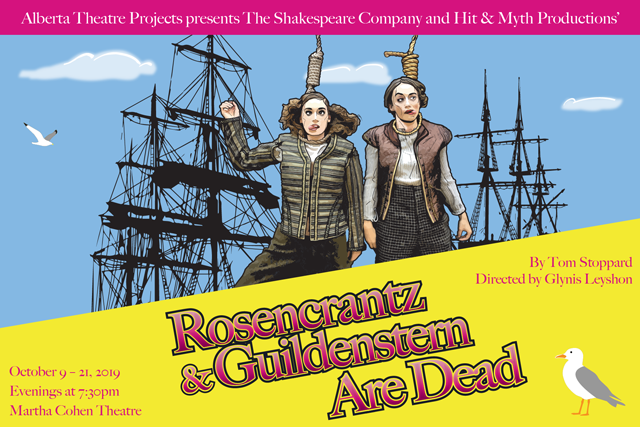 JAMES
So, now you've got these two plays in place – then what happened?
HAYSAM
Well, then I was talking to the High Performance Rodeo because I wanted to partner with the Rodeo and I've always wanted to do Drunk Shakespeare. Negotiating Shakespeare sober is a challenge in itself but adding another element to it, I think, is really exciting. So, we're going to create Hammered Hamlet and if I do Hammered Hamlet I can't just stop there I have to go full throttle on this and so I thought of creating a season based on Hamlet where you see four different interpretations of a story.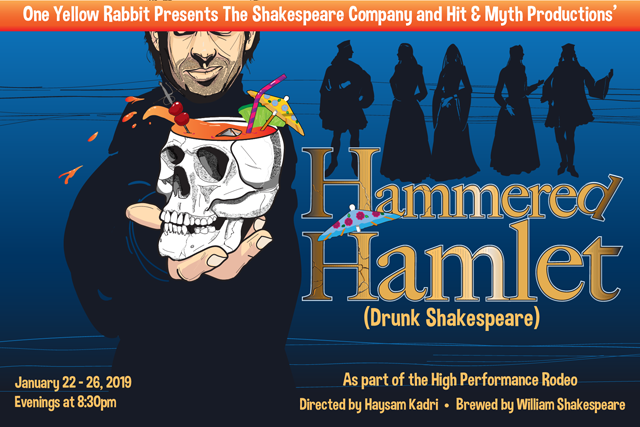 HAYSAM
Then I got this idea to do a movement piece and I phoned Denise Clarke who is a genius and a Canadian legend and truly a gem in our city and I just pitched the idea. I said Denise, I love your Radioheaded series they're fresh and innovative and I want to see if you can transplant that into Shakespeare's Hamlet. And her eyes and ears and everything just lit up and we went back and forth on it and we decided we wanted to do Hamlet Frequency which is an ensemble piece and a reimagining of Shakespeare's story choreographed and staged by one of Canada's greatest choreographers.
So, it's a bold season and I think it's exciting and I'm really curious to see how it's going to unfold and I think a lot of people are really excited about the idea of doing four different interpretations of the same play.
JAMES
What are some of the things the Shakespeare Company has done marketing wise to sell tickets?
HAYSAM
Well, we're constantly trying to find more ways to be creative with social media and to get people in the door. The other thing – partnerships – partnerships are the way of the future because if you cross-pollinate your audience you maximize your resources because you're collaborating – there are many benefits to being partners with other organizations.
JAMES
One of the companies that you partner with is Hit and Myth productions how did that partnership evolve?
HAYSAM
Joel Cochrane who is the Artistic Director of Hit and Myth productions is passionate about theatre and particularly Shakespeare and so he's been an amazing partner and supporter of our company and he's been a huge part of the success of our organization. Joel has a strong business background and so you know as an Artistic Producer you have to balance the left and the right brain. You're not just worrying about the art you're worrying about how you make the art happen and so a guy like Joel who has a strong – business acumen I value because I've learned so much from him and many other companies.
JAMES
And he's a pretty good actor too.
HAYSAM
Yeah, he's a great actor. He's really cut his teeth over the last ten years – now he's a force on stage, and I really like watching him and working with him.
JAMES
So, is Hamlet mad or is he playing mad? What is your own personal take on the madness of Hamlet?
HAYSAM
I think Hamlet is thrown into an extraordinary situation. Just imagine yourself in a situation where you find out that your dad was poisoned by your uncle and now your uncle is married to your mom and you're a prince and you live in a castle and the tabloids are all around. So, to me, I can't help but not think that there is a touch of madness that permeates his being because he's faced with the task of taking action and revenging his father's death. And to me, Hamlet's a bookworm. He's doing his Ph.D. over at Wittenberg University and he's a head case – literally, he's in his head. He's cerebral and then he's asked to use his body, his heart, and his soul.
JAMES
He's asked to put down the pen, and pick up the sword.
HAYSAM
Put down the pen and pick up the sword and therein lies the great conflict and the exciting dramatic action where he takes all his time to get the courage to do something that other people would have done the second they heard.
JAMES
One of the brilliant things about Shakespeare is when you look at different forms of storytelling – the novels great strength is that it can go into the mind of its character right – often we say a play is dialogue driven but by using monologues Shakespeare is able to let the audience in on the mind of the character. He uses the device of novels in stage plays.
HAYSAM
I think that's why when the Richard the thirds and the Iagos of this world turn to the audience and they go, "I'm a complete asshole now watch me do this." audience members walk away going, "Oh my God, I loved Richard the third!" But how could I love a guy who is hell-bent to kill and murder, but it's because you're complicit – because he invites you in – because he shares his plot with you – and so you become a part of that story as you watch it unfold. That's why you connect with these characters because of this device. And it's exciting to explore those types of characters. Characters who explore the darker sides of their humanity. Those are fun characters to play.
JAMES
Well, look at Walter White in Breaking Bad.
HAYSAM
Walter White is the perfect parallel.
JAMES
It's not his good side that we're fascinated by its that evil bit that nasty bit. Or Dexter
HAYSAM
The serial killer who kills serial killers.
JAMES
These are interesting guys.
HAYSAM
And that's the Richard the third that we were talking about. You watch this underdog character navigate his way through the world in a very unconventional way. Those are interesting people to me.
***
The Shakespeare Company & Hit & Myth Productions' Madness In Great Ones 2018/19 Season
Rosencrantz and Guildenstern Are Dead By Tom Stoppard – October 9 – 21, 2018
Up first and in partnership with Alberta Theatre Projects is the Tony Award Winning comedy Rosencrantz and Guildenstern are Dead by Tom Stoppard. It's the story of Hamlet as seen through the eyes of Hamlet's ill-fated university friends Rosencrantz and Guildenstern. The show is running in the Martha Cohen Theatre and ATP has a pay what you can preview plus that $10.00 ticket thing for students. Regular tickets start at just $30.00 and can be purchased online at the ATP website or by calling the box office at 403.294.7402.
Additional previews, interviews, and reviews about Rosencrantz & Guildenstern Are Dead:
CAST: Julie Orton as Guildenstern, Myla Southward as Rosencrantz, Mark Bellamy as Polonius/Ensemble, Daniel Fong as Alfred/Ensemble, Natascha Girgis as Gertrude/Ensemble, Braden Griffiths as Horatio/Ensemble, Christopher Hunt as The Player, Robert Klein as Claudius/Ensemble, Natasha Strickey as Ophelia/Ensemble, and Tenaj Williams as Hamlet
CREATIVE TEAM: Glynis Leyshon – Director, Scott Reid – Set & Properties Designer, David Fraser – Lighting Designer, Hanne Loosen – Costume Designer, Allison Lynch – Musical Director, Composer & Sound Designer, Haysam Kadri – Fight Director, Jane MacFarlane – Text & Vocal Coach, Ailsa Birne – Stage Manager, Ian Lane – Assistant Stage Manager, Derek Paulich – Production Manager
Hammered Hamlet January 23 – 26, 2019
Then the fun continues at this year's High Performance Rodeo with Hammered Hamlet – in the tradition of the John Barrymore school of acting actors will try to navigate the tricky plot and intricate text of Shakespeare while consuming enough shots to trip up even the most well-trained tongue. Tickets will go on sale in November.
Hamlet: A Ghost Story Adapted by Anna Cummer – March 20 – April 13, 2019
Then Vertigo Theatre and the Shakespeare Company reimagine one of the Bard's greatest works by presenting Hamlet as a ghost story, a detective story and a revenge story all rolled into one classic plot. Agatha Christie would be proud. Brought to you by the same creative team that created the chilling and supernatural Macbeth. Hamlet: A Ghost Story is a macabre reimagining of one of the Bard's greatest works. Tickets are just $35.00 and available online at the Vertigo Theatre website or by calling the box office at 403.221.3708.
The Hamlet Frequency Directed and Choreographed by Denise Clarke – May 16 – 25, 2019
For the final show of the season you'll meet Hamlet and the rest of the murderous and murdered ghosts of Elsinore as they wander and haunt the halls of the theatres that play them and stagger to their feet on an electromagnetic wave, ready to start all over again only this time they will grieve, plot and rage through the music of their minds in this reimagining of Shakespeare's story, choreographed and staged by Denise Clarke with One Yellow Rabbit's education troupe beautifulyoungartists. Tickets are just $35.00 for adults and $25.00 for students and are available through the Shakespeare Company website.
***

***
The Shakespeare Company is Calgary's lean and mean classical theatre company, highlighting the best of the Bard in all his comedy, tragedy, and bawdiness. Since 1995, we have brought the Bard alive for Calgarians through both Shakespeare and Shakespeare inspired plays. We are committed to making Shakespeare accessible through innovative performances and inspired directing. Alongside our mainstage productions, we have two community initiatives: Page to Stage Outreach Program and DiVerseCity.
***
Haysam Kadri has been with The Shakespeare Company since 2012 and has worked to elevate its main stage productions and outreach programs in Calgary. A graduate of the Birmingham Conservatory for classical training at the Stratford Festival, Haysam spent six seasons as a company member with the Stratford Shakespeare Festival of Canada. He has worked extensively as a Theatre Arts instructor with Red Deer College, Mount Royal University, and the University of Calgary. Haysam is an Actor, Director, Fight Choreographer, and Teacher. Since 2012, The Shakespeare Company has enjoyed countless nominations and rewards under his leadership.
***
Hit and Myth Productions is a professional independent theatre company based in Calgary, Alberta. Hit & Myth was established in 2006, and since that time has produced over 30 professional shows, engaging numerous local actors, directors and designers. Hit & Myth collaborates with small to mid-sized sized theatre companies and independent artists to co-produce theatre that is provocative, modern, sensational, and above all else, entertaining. Our productions strive to reflect the dynamic and diverse theatrical community of Calgary and Calgary audiences.
***
Additional media related to the Shakespeare Company and Hit + Myth's Madness in Great Ones Season
If you enjoyed this interview with Haysam Kadri from The Shakespeare Company you might also enjoy the following blog posts:
***
This interview has been edited for length and clarity. Last revised October 14, 2018.