We go to the theatre to experience something about the complexity, beauty, heartache, joy and tragedy of life. So when you see a play that delivers…that has a wonderful script, mesmerizing performances and takes you along for a ride, where you completely forget about the time, you have to tell others. You have to share the news. You have to let people know they need to go and see this show before it closes.
So, before you do another thing go see Montparnasse by Lethbridge's Theatre Outré at the Motel Theatre in the Arts Commons. The play runs 75 minutes without an intermission and does contain nudity, strong language and mature themes – so it's for an adult audience. But it's also for an audience that loves theatre. An audience that wants to see a play that dives into ideas about the creation of art with complex characters presented in a wonderfully theatrical way.
The play takes place in the Paris of the 1920s. A Paris that has survived the death and devastation of the First Great War and the ravages of the Spanish flu. Millions have died and Paris is being reborn – it's an era of Jazz where writers like Hemingway and Fitzgerald mingle with painters such as Picasso and Matisse.
The story focuses on Margaret (Mag) and Amelia two Canadian girls who find themselves part of this hedonistic and artistic world. Mag has been living in Paris and earning her living as a model. Amelia arrives from Canada intent on pursuing her dream of becoming a painter. Eventually Amelia also ends up modeling, but both women see themselves as more than simply models. Instead they see themselves as collaborates in the creation of art. Eventually Amelia gets an opportunity to present a painting at an exhibition but she struggles to find inspiration and subject matter for her painting until Mag says, "paint me." And while the play is about the creation of art it's also about the complicated relationship between Mag and Amelia and their feelings of love and friendship towards each other.
Both Kathy Zaborsky as Mag and Carolyn Ruether as Amelia give rich and emotionally true performances. The play is wonderfully staged making use of four main acting areas that divide the audience into four sections. The Motel is a small theatre and that simply works to make the experience of the play even more intimate. The script is rich and layered and filled with humour and passion. Plus, there's music! Live music. From the moment we enter the theatre and throughout the play Nicolas Bohle, who also plays a number of characters, has composed a beautiful score that enhances the overall experience of the play. This is a great ensemble production and director Jay Whitehead has brought all the elements together to create a memorable and moving piece of theatre.
So, if want to see a great show at a fantastic price hurry down to The Motel Theatre at the Arts Commons and catch Montparnasse. The show runs until September 2nd at 8:00 pm nightly with a Saturday matinee at 2:00 pm. Tickets are just $25.00 for adults and $20.00 for students – cash only. Tickets can be reserved at kzaborsky@hotmail.com or purchased at the door prior to performance.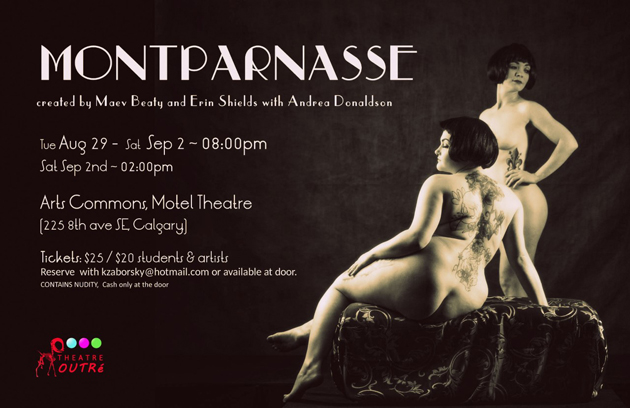 MONTPARNASSE
created by Maev Beaty and Erin Shields with Andrea Donaldson
CAST
Katharine Zaborsky as Margaret/Sylvia
Carolyn Ruether as Amelia/Queen
Nicolas Bohle as Artists & Writers
CREW
Director Jay Whitehead
Designer Deonie Hudson
Sound Designer Nicolas Bohle
Technical Support Conner Christmas
Dialect Coaching Douglas MacArthur