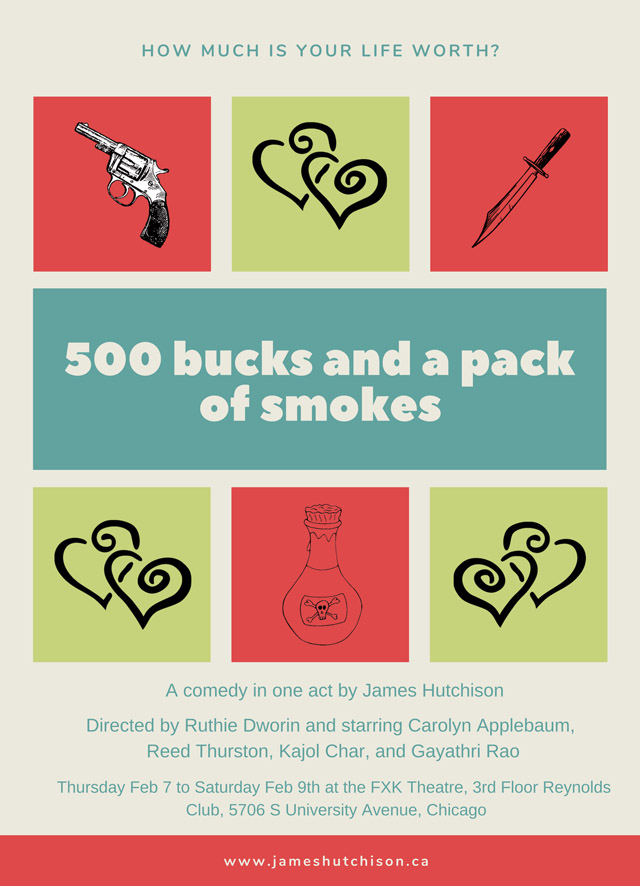 "I think the most important thing comedy provides is catharsis – especially with farce – like this is a tragic situation that we get to laugh at Donny being a fool and we get to laugh at everyone else on stage being horrible and we get to live out some ridiculous aspects of human nature and laugh at it and not take it seriously and that makes the world a little bit lighter. And then there's also the communal experience of being in a theatre and hearing everyone else laugh around you and that's why live theatre still exists."
My one-act comedy, 500 bucks and a pack of smokes, is one of two student productions at the University of Chicago this weekend. 500 bucks and a pack of smokes is the story of Donny Bracco who after being told by his doctor that he's dying puts out a contract on his own life. So, when his doctor calls him on his birthday and tells him the lab made a mistake, Donny is more than a little upset. Making matters worse, the original killer Donny hired, subcontracted the hit to another killer – who subcontracted it to another killer – who subcontracted it to another killer – who doesn't know Donny is the one who put the hit out on himself. With time running out, Donny has to find the killer and convince him to call off the hit, otherwise, this might be the last birthday he ever celebrates.
The production stars Carolyn Applebaum as Donny Bracco; Reed Thurston as hitman Vinnie Torelli, Officer Powell, Detective Murphy and Stubby the hobo; Kajol Char as widow Sophia Falco and butcher Sid Valencia; and Gayathri Rao as Sid's sister Carmen. Ruthie Dworin is directing. The production is being stage-managed by Jessica Robinson with sound design by Ro Redfern. Tickets are just $6.00 in advance or $8.00 at the door and are available online at the University of Chicago Box Office. Plus you can catch a free preview on Thursday, February 7th.
I gave Ruthie Dworin a call a couple of weeks ago to talk with her about the University of Chicago, the production, and her approach to directing.
JAMES HUTCHISON
As a director what type of culture do you try and create for your actors in the creation of a play?
RUTHIE DWORIN
I grew up doing a lot of acting so I've seen a lot of different kinds of rehearsal rooms. I've seen a lot of directors who create good rehearsal rooms and bad rehearsal rooms and everything in between. So, I'm a student director and I'm still honing my craft and figuring out how to create the rehearsal room that I want but the best rehearsal rooms that I've been in as a director and actor have been one where the director sets forth a clearly stated vision so that everyone knows what we're all working towards and to provide a framework and a container for the actors to fill. And that allows for a lot of creativity from the actors and from the designers and that allows for a lot of play too which I feel is very important.
And then I like to use Viewpoint exercises to build an ensemble. Ensemble work I think is good for any kind of play. We use ensemble building for helping people to feel comfortable and physically liberated which allows them to explore how the characters move in different ways and also allows them to take a lot more risks. Viewpoints can also be more helpful for exploring character relationships with different kinds of boundaries and with different kinds of constraints than a typical rehearsal room using scene work and what the script offers.
JAMES
You mentioned before our interview that you were part of a commedia dell'arte troupe and that's a particular kind of comedy with a long tradition behind it. How does your work with the commedia dell'arte help you in terms of putting on a contemporary play like 500 bucks and a pack of smokes?
RUTHIE
Commedia's been helpful in a lot of different ways. It's been helpful in allowing me to think of emotions on a much higher scale because what makes a commedia show funny is that it takes every day human emotions and then takes them up beyond the scale often even bigger than 10. I explicitly said those words in rehearsal and I think that's going to help the actors a lot. It also frankly gives me a lot of exercises that I can use with actors that are unfamiliar with taking emotions to that kind of height and I can help them get more comfortable with amplifying reality and amplifying realistic emotions.
RUTHIE
It's also helpful for thinking about each character. So, I wrote down for each of the characters in the play who their commedia character would be because it's helpful for me to think about the show and it's helpful for me to think about helping actors in crafting their characters. So, I'm calling Donny – Tartaglia because the person who plays Tartaglia in my troupe plays him very much like a straight man where everything is happening to him and he's just trying to gain some control in that environment and he's very nervous and falling over all the time which are some of the characteristics for Donny.
JAMES
As the playwright, I'm curious about what attracted you to the play?
RUTHIE
I like that the script moves so quickly. I like the dry humour. I like that everything is huge and that a lot of the humour allows for the actors to get up and play a lot more with the words. And the characters were so clearly delineated, and I have one guy playing Vinnie, Murphy, Powell and Stubby and he's having a lot of fun creating all those characters.
JAMES
From a student point of view, what are some of the things you really like about the University of Chicago?
RUTHIE
There's a million ways for students to get involved. Our shows are entirely student-produced – all our main stages, all of our workshops, every single small production is student-produced so students are making everything happen from start to finish. Students are acting, students are directing, students are designing, students are production managing, students are stage managing, and students are picking the shows that actually get produced.
JAMES
What kind of experience do the professors and instructors and support staff bring with them that you think is really beneficial for students?
RUTHIE
Basically, every single person who works as a professional staff member here is involved in the professional theatre community in Chicago – one of my professors is a senior ensemble member at a theatre uptown and I've gone to see a couple of shows that he's directed at that theatre and I've learned a lot from them.
And for the mainstage shows we have professional staff for each of the areas of design and for production management and stage management and for direction. So, student directors have a weekly cohort where they sit down with a professional director and workshop things to make their shows work well and look good and the student designers do a lot of the same things. It's very helpful and they also teach classes as well.
That's why Chicago is the first and only place I applied because I just fell in love with the school and I'm not majoring in theatre I'm majoring in linguistics because the linguistics program here is very good, but I also wanted to be able to do theatre with an exciting group of people without having to go to a conservatory.
JAMES
You mentioned you're taking your degree in linguistics and since you're looking at language how does that focus on language influence the directing and staging of a play.
RUTHIE
I think a lot about language in terms of specific word choice because it informs all of the characters and it also informs a lot about how all the people talk differently to each other. Does Donny talk differently to Sophia than he does with Vinnie? Those things are very important. Linguistics is a scientific abstract version of things and theatre takes that knowledge and applies it to a specific situation which I think is fun and very useful.
JAMES
Do you have a preference for comedy or drama?
RUTHIE
I don't really have a preference. The last several things I have worked on have been dramas and have been very heavy on symbolism and so I was specifically looking for a comedy this time around.
JAMES
What do you think comedy provides us in terms of its snapshot of the world?
RUTHIE
I think the most important thing is catharsis – especially with farce – like this is a tragic situation that we get to laugh at Donny being a fool and we get to laugh at everyone else on stage being horrible and we get to live out some ridiculous aspects of human nature and laugh at it and not take it seriously and that makes the world a little bit lighter. And then there's also the communal experience of being in a theatre and hearing everyone else laugh around you and that's why live theatre still exists.
JAMES
Why should people come out and see your production?
RUTHIE
The show is going to be a lot of fun. We're going to laugh a lot and we're going to throw things around on stage. Things are going to break and the actors are going to have a lot of fun on stage creating a lot of very huge characters that people can laugh at and enjoy and audiences will be able to relate to the small seeds of truth in it.
***
Tickets for 500 bucks and a pack of smokes directed by Ruthie Dworin and Outlook written and directed by Eren Ahn are available at the door or online at the University of Chicago Box Office. The show run from Thursday, Feb 7 to Saturday, February 9th. Showtimes are 7:30 PM nightly with a 2:00 pm matinee on Saturday. Thursday is a free preview. No ticket required.
***
Ruthie Dworin is a second-year student at the University of Chicago majoring in Linguistics. Her theatrical background is mostly acting, but she discovered directing sophomore year of high school. She has assistant directed in her hometown, Louisville, KY, and at the University of Chicago on productions like A Bright Room Called Day by Tony Kushner, Julius Caesar, and Animals Out of Paper by Rajiv Joseph. In Louisville, she directed 26 Pebbles by Eric Ulloa and at UChicago she has directed Love, Loss, and What I Wore by Nora and Delia Ephron and short pieces by local playwrights for the annual New Work Week.
***
The Committee on Theatre and Performance Studies supports innovative work at the intersection of theory and practice across a broad spectrum of disciplines. The University of Chicago's undergraduate and graduate programs in TAPS stand out for the intellectual commitment they demand, the interdisciplinary perspective they require, and the extraordinary collaborative opportunities they provide with theatre, dance, and performance companies in Chicago, across the country, and around the world.
***
Commedia dell'arte was an early form of professional theatre, originating from Italy, that was popular in Europe from the 16th to the 18th century. The characters of the commedia usually represent fixed social types and stock characters, such as foolish old men, devious servants, or military officers full of false bravado. The characters are exaggerated "real characters", such as a know-it-all doctor called Il Dottore, a greedy old man called Pantalone, or a perfect relationship like the Innamorati. (Source Wikipedia)
***
Viewpoints is a technique of composition that acts as a medium for thinking about and acting upon movement, gesture and creative space. Originally developed in the 1970s by choreographer Mary Overlie as a method of movement improvisation, The Viewpoints theory was adapted for stage acting by directors Anne Bogart and Tina Landau. Bogart and Overlie were on the faculty of ETW at NYU in the late 1970s and early 1980s during which time Bogart was influenced by Overlie's innovations. Overlie's Six Viewpoints (space, story, time, emotion, movement, and shape) are considered to be a logical way to examine, analyze and create dances, while Bogart's Viewpoints are considered practical in creating staging with actors. (Source Wikipedia)
***
500 bucks and a pack of smokes was partially developed through the Alberta Playwrights Network Wordshed Program. Many thanks to actors Elinor Holt, Eric Wigston, Jennica Grienke and Trevor Rueger for their participation and assistance in developing the play. The Alberta Playwrights' Network exists to nurture Albertan playwrights and provide support for the development of their plays. APN promotes the province's playwrights and plays to the theatre community while building and fostering a network of playwrights through education, advocacy, and outreach.
***
Other blog posts you might want to check out include:
This interview has been edited for length and clarity.