"I have always been fascinated by the 10-minute format. I find it exciting and I had my senior students write 10-minute scripts for production every year. I came to see that this was a format akin to the studies visual artists do before they explore a concept on a larger canvas. Playwrights such as 'Tennessee Williams and William Inge explored these short versions of plays before they expanded them into full-length scripts. So, what is wonderful about the format, is that it is an invitation for EVERYONE to write. For EVERYONE to have a voice because it's a format wherein even the novice playwright can find success."
Michael Halfin, Artistic & Executive Director NNPF
"For me, one of the themes the play explores is the traditional corporate structure and goals such as getting the corner office and the expense account at the cost of perhaps personal integrity and values. Changing the genders allows us to question how women have perhaps succumbed to following these traditions in order to take their place in the business world both as employee and owner. I'm hoping that an all-female cast will start people talking about and questioning female roles and power within a corporate structure, especially as God is presented as a woman."
Heather Dick, Director Written in Stone
I'm very excited to announce that for the second year in a row I have a play being produced in the Newmarket National 10 Minute Play Festival. Last year my drama Valentine's Day which is a story about a recently widowed old man named Tom remembering the day fifty years ago when he met the love of his life, Heather, was part of the festival. This year my short comedy, Written in Stone, which is about the creation of the Ten Commandments is one of twenty-four new plays being premiered from Monday, July 22nd to Sunday, July 28th. The NNPF is a festival dedicated to Canadian plays and the diverse voices of this country and takes place forty minutes north of Toronto in Newmarket Ontario.
It took Charlton Heston, Cecile B Demille, and Hollywood $122,000,000 million dollars, adjusted for inflation, and 220 minutes to tell a story I can tell in 10 minutes with a much smaller cast and budget. Of course, I didn't really cover the part of the story where Moses is set adrift as a baby into the reeds and grows up as a son of Pharaoh, and I didn't deal that much with the 10 plagues, although I mention it, and the Exodus doesn't really appear in my version of the story although it obviously happened because Moses is heading up Mt Sinai to get the commandments and he had to cross the Red Sea in order to get there.
The plays are grouped into four themed Pods with six plays being presented in each Pod. Tickets are just twenty bucks per Pod and each Pod is presented four times during the festival. Written in Stone which is part of the "you|TURN" Pod tells the story, as mentioned before, about the creation of the Ten Commandments but it's also about the reason man was given a soul, and how Lucifer ended up in hell. The production is being directed by Heather Dick and stars Bridget Bezanson as Michael, Meredith Busteed as Lucifer, Stephanie Christiaens as Gabriel, and Alexia Vassos as God. Other plays in the "you TURN" Pod include Running Low by Jessica Ayana-May where a misty morning jog along a mountain trail leads to a disturbing discovery and Penance by Peter Genoway where the un-cloistered truth leads two nuns into conflict. This pod is suitable for most ages and is described as: "When travelling the winding road, it's hard to see the curve that lies ahead."
If your tastes run a little more mature you might want to see the "end|RUN" Pod which has plays dealing with mature themes, and contains adult language, and violence. This Pod includes Plus ça change by Genevieve Adam where a royal romping rumpus disrupts the king's court and Not Going Nowhere by Natalie Frijia where more than a house is reduced to ashes as the fire rages on. This Pod is described as: "If the end is inevitable, why didn't we know that from the beginning?"
The third Pod called "stand|OUT" includes a story about a lonely woman who hopes a furnace repairman can restart her pilot light in a play by Jerri Jerreat called Seducing Harry and Nothing but the Tooth by Jody McColman which is an incisive story about a cash transaction that goes hilariously awry. This Pod is suitable for most ages and its description reads: "Sometimes, a door isn't locked; It's just stuck in place.
"Life belongs to the living, and he who lives must be prepared for changes." That's the description of Pod number four: "after|LIFE". Plays include Dispatch by Andrew G. Cooper about a 911 operator coping with the unceasing trauma of the job and Like a Kite by Ron Fromstein where the traditional family dinner goes up in smoke in this half-baked comedy. This pod is intended for a mature audience as it contains disturbing scenes and deals with mature themes and language.
A few weeks ago, I did an interview with Michael Halfin the Artistic and Executive Director of the Newmarket National Play Festival to talk with him about this year's festival and his thoughts about the importance of Art as well as an interview with the director of my play Heather Dick.
JAMES HUTCHISON
This is year three of the festival and it continues to grow. What have you retained from the past two years and what have you added or improved on the festival for this year?
MICHAEL HALFIN
I am very excited about our partnership with the Newmarket Group of Artists. We explored the idea of combining a visual arts interpretation of our pod themes in year one with some success but went another direction last year. This year, we've returned with more lead time to the idea of the art exhibition, and I'm thrilled that we have close to 50 pieces linked to our four themes. We are offering guided tours of "NGA-EXPLORE" that focus on the theme of one pod at a time. Patrons explore a theme—like after|LIFE—as a visual art experience, then they go up and see the performance art exploration of that same theme.
JAMES
So, every year the festival selects twenty-four plays and you put those plays into four individual pods that are focused on particular themes. And last year you told me you don't "theme" the festival and people can write about whatever they want, but what you've discovered is that playwrights are attuned to the Zeitgeist and seem to write around particular themes on any given year anyway so the plays seem to naturally group around particular themes and that seems to indicate that playwrights are responding to issues and events of the time, and so I'm wondering what do you think the themes at this year's festival tell us about what's on people's and playwrights minds?
MICHAEL
That, sir, is a great question. I don't want to be too pinned down on that one because we collocate words as pod themes. That is, a pod like After|Life can be read and interpreted in many different ways such as: Someone is after your life which is threatening; the afterlife we know from our faith systems; the pursuit of happiness and people's dissatisfaction with their life as it is because it seems like people are chasing after the life they think they deserve rather than the life they are living; a new reality such as climate change means we are now living life after a change from the way we've always lived it. And that's as much as I'm going to give you because if I deconstruct the various interpretations of each pod theme, I'm ruining the fun for the playgoer. And, in any case, there's the after-show talks where people can explore how the pod theme applied to each of the six plays in it.
JAMES
Over the last few years, I've entered a lot of ten-minute festivals and they're not all equal in terms of their treatment of writers and artists. One of the things I really appreciate and like about the NNPF is the amount of exposure and support and professionalism you offer the winning playwrights and participating artists. You put a biography online for all the playwrights, directors, actors, and production staff with links back to their websites if they have one. You promote the festival as well as individual playwrights and artists through your social media including Facebook, Instagram, and Twitter. You are a Canadian Actors' Equity Association production under the Festival Policy. You offer playwrights that can come to the festival an opportunity to do a public reading from another work. Plus, and this is a big plus, all playwrights receive a royalty for the production of their plays. To me, you really set the standard for what a 10-minute play festival should be especially when asking to premiere new work. I'm curious, how did you arrive at this vision and decide this was the way you wanted to produce the festival?
MICHAEL
Wow. You're forcing me to put as much thought into my answers as you are putting into your questions. I guess this idea had been growing in my mind for many years. As the Coordinator of the Regional Arts Program at Huron Heights Secondary School, I wanted kids to know what Canadian Culture is. To that end, I conceived what we called the Canadian Play Festival, which I ran for 25 years and the school is still producing to this day. In any given year, we produced 6-7 Canadian Plays. I would order 60 or so scripts a year from Playwrights Canada for student directors to comb through and select what we should produce. I am proud to say that Playwrights Canada told me that Huron Heights had the largest library of Canadian plays in the country.
I have always been fascinated by the 10-minute format. I find it exciting and I had my senior students write 10-minute scripts for production every year. I came to see that this was a format akin to the studies visual artists do before they explore a concept on a larger canvas. Playwrights such as Tennessee Williams and William Inge explored these short versions of plays before they expanded them into full-length scripts. So, what is wonderful about the format, is that it is an invitation for EVERYONE to write. For EVERYONE to have a voice because it's a format wherein even the novice playwright can find success.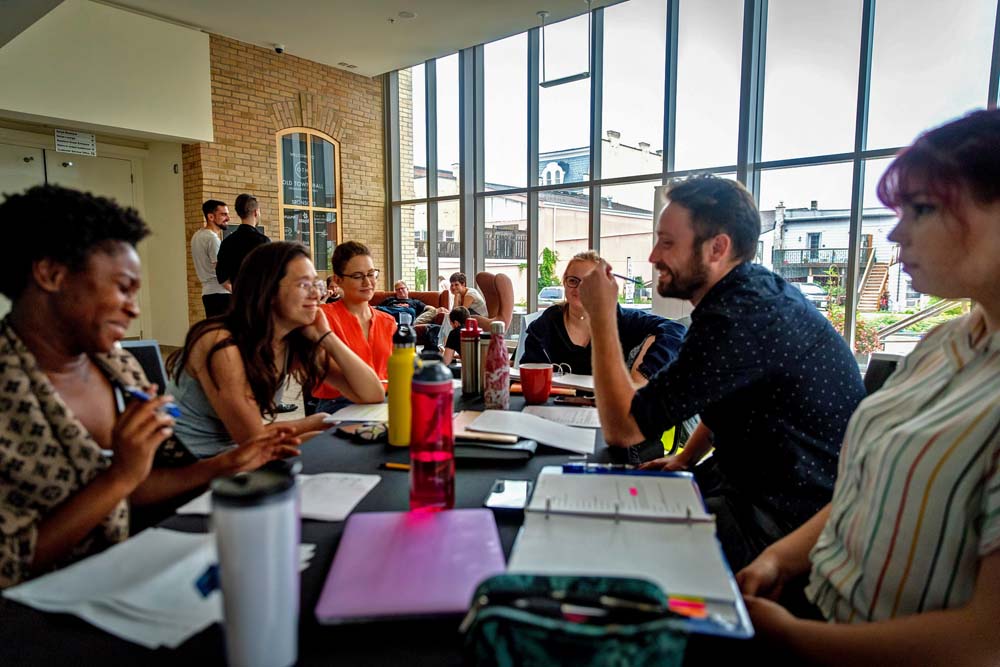 Table work and Rehearsals for this year's National Newmarket 10 Minute Play Festival. Photo Jason Wighton.
JAMES
The arts would not exist without partnerships and support from the community, local business, and governments. I think the success of your festival indicates you've spent the time and energy to develop and nurture those partnerships. How did you go about creating those partnerships and what do your partners get out of participating and supporting the festival?
MICHAEL
I couldn't ask for more from our principal partner, The Town of Newmarket. We had our table read on Tuesday, July 2nd and the Mayor and half of the town councillors came out to welcome the 24 companies. How do I get that kind of buy-in? I honestly don't know. I just believe that we can do things in better and different ways than people have done before, and others seem to want to ride along on this dream. But, honestly, it's very hard work. It's 365 days a year, it's—literally—walking up and down the same street dozens of times to talk to people, thousands and thousands of emails and phone calls, and pitching, pitching, pitching. My dad was a salesman and when he retired, my mother wanted me to take over his business. I said, "No, mom, sorry, I'm not a salesman." I realize, now, that I am very much my father's son. He said to me once, "Michael, you can't sell anyone something they really don't want to buy."
JAMES
You often hear people question the value of arts and yet music surrounds us. We hang paintings on our wall. We watch television. We go to movies and music festivals. And many of us paint and play instruments and write fanfiction or poetry. So, we are surrounded by art and consume art on a daily basis. To remove art would be to remove much of what gives life value and meaning. Because it's a national play festival how do you think the NNPF contributes to the artistic and cultural life of our country?
MICHAEL
Another great question and I'm not going to give you a cliché answer. I spent 35 years as a drama educator and the last 20 of those as a very vocal arts advocate. You'd think that the point you've made here is obvious—why wouldn't the "Everyman" realize what a huge consumer of arts and culture he really is? Well, do we actually have to concentrate on breathing, or do we just autonomically do it? Well, that's the arts. We breathe it in and out and don't realize how it sustains us and is the life's breath that permeates our collective consciousness. That's why the NNPF, through the art exhibition, the director/actor talk back sessions, the pints with the playwrights, the staged readings of plays we are helping to develop from 10 minutes to full-length scripts, the playwriting workshops, and of course, the playwright readings are all about connecting the artists with their audience and the audience with their artists. We have 16 of 24 playwrights coming to the festival this year and many of them, as you can see from their biographies, come from all over Canada. Whether it be Newfoundland or B.C, our regions shape our views. Those regional voices come together here, and I feel, help us articulate what it means to find our unity in our diversity.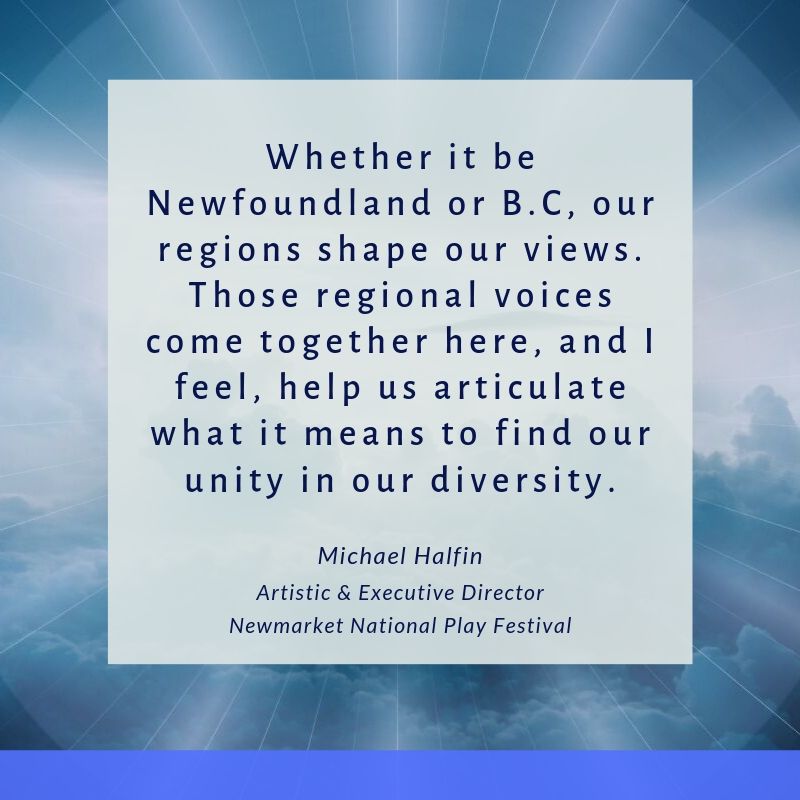 JAMES
Last year you told me a little bit about your vision for the future of the festival so I'm curious about where you're at with your vision of expanding the festival to go beyond the ten-minute play?
MICHAEL
Well, as I just referenced, we are taking two scripts that were introduced at last year's festival and are performing them as staged readings with two performances each on July 22 and 23. One show, in particular, has had a lot of dramaturgical support from us and the playwright has told me that the script has grown enormously through the process. My guess is our next step will be to do full productions on plays like this as either an adjunct to the summer festival or as part of a winter season.
JAMES
Okay, so my play in this year's festival is more or less a discussion about the Law of God and what those laws should be. If you had the power to add a commandment to God's Law what would it be? What do you think is a good guiding principle for mankind? And just so you know it can be serious or otherwise. My own favourite unserious but highly beneficial commandment would be, don't forget to floss.
MICHAEL
Yes, I do have an 11th commandment, and I'm quite serious about it. It is, "Thou shalt not be mediocre." I find wayyy too many people are satisfied with doing the minimum; that, well, that's good enough. Nothing is ever good enough. Luisa, a character in The Fantasticks, exclaims, "Oh, God. Oh please. Don't let me be normal!" That's the point. Don't be normal—be excellent!
JAMES
Final thoughts? Anything you want to add?
MICHAEL
I really appreciate your kind words about how we respect the work of the artists who participate in NNPF. This is a place where you will find respect and the freedom to create.
Actors and directors and designers all make significant contributions to bringing a play to life and no two productions are ever going to be the same so it's always fun to get a chance to talk with the people putting your work before an audience. I asked Heather Dick, the director of my play a bit about her own theatre company as well as some questions about working on Written In Stone.
JAMES HUTCHISON
Heather, you're the founding Artistic Director of the Sirius Theatrical Company. Tell me a little bit about the company and how it started and what type of theatre you generally produce?
HEATHER DICK
I founded the company in 1989 because I was interested in creating theatrical performances and working on roles that inspired and challenged me in ways that I wasn't being cast at the time. As is often the case, I was frustrated with the roles I was being offered and wanted to work on darker material and themes and to experiment with a variety of styles of theatre including traditional, site-specific, and others that would leave audiences questioning traditional perspectives. Founding the Sirius Theatrical Company gave me the opportunity to experiment and work in non-traditional ways. Now, the shows that I produce are very connected to the community in which I live and work and incorporate themes and issues that are relevant to the people who live here.
JAMES
Have you found that the themes or types of the plays you produce now compared to when you started the company are different and if so why and if not – why do you think that would be?
HEATHER
When I first began producing, I wanted to focus primarily on Canadian work and as much as possible new work. Since early 2006 I have produced large scale multi-disciplinary performance pieces that incorporate photography, dance, music and poetry as well as traditional scene work. I've also written several of the pieces, which I've very much enjoyed doing and which has sparked my work as a playwright. This work is very connected to issues that are specific to the community in which the company is located.
JAMES
You're directing two plays in this year's Newmarket National Play Festival. Buried by Sarah Anne Murphy and my play Written In Stone. Tell me a little bit about what attracted you to these particular plays and why you wanted to tell their stories?
HEATHER
I loved both Buried and Written In Stone the minute I read them. They are as different as can be from each other in style, characters, setting and story, yet both grabbed my heart in different ways.
Buried is a mother/son relationship story and, as you might imagine, touches on so many aspects of the love and ties between a mother and her son. It is bitter, sweet, loving, sometimes pain-filled and sometimes full of joy and happiness. As a mother, I understand how hard and scary it is to let a child fly on their own when all you want to do is, perhaps selfishly, keep them close. As a daughter, I understand the need to be my own person unbound by parental issues and needs. I wanted to share all of this with an audience.
Your play, Written In Stone, had me laughing but also asking myself, "Could this be the way the ten commandments were written? What if……?" I love that it makes me reflect on traditional beliefs while taking place in such a contemporary corporate setting that everyone will be able to relate to the characters, their relationships and the questions it poses. I also love all the humour. I hope that people leave the theatre chatting about it and laughing too.
JAMES
When I originally wrote the play it was about God and three angels working on the ten commandments and it was intended for an all-male cast but for the NNPF we've recast the play so that all the parts are being played by women. I'm curious to know if changing genders offered any additional insights or new takes on the themes of the play?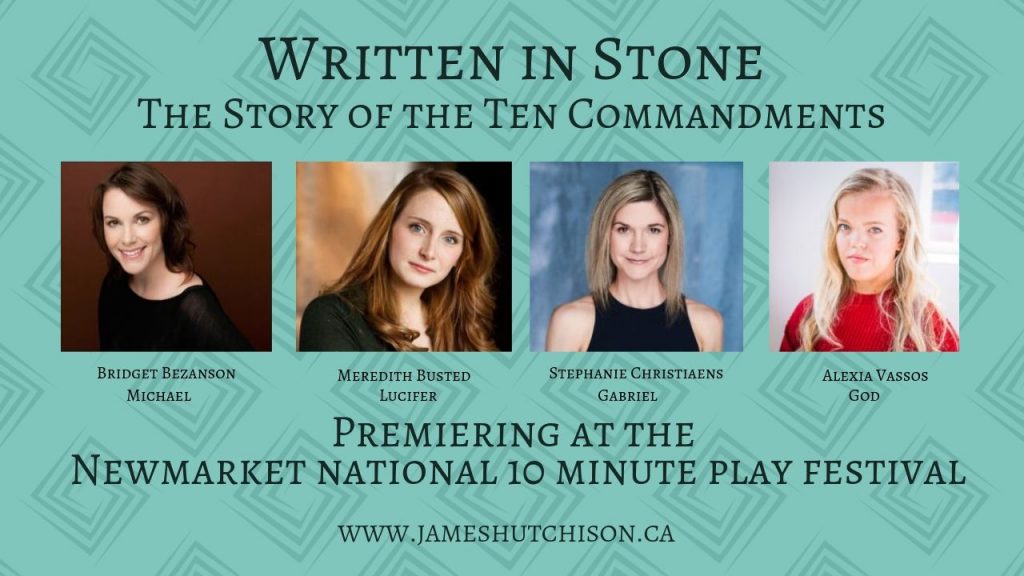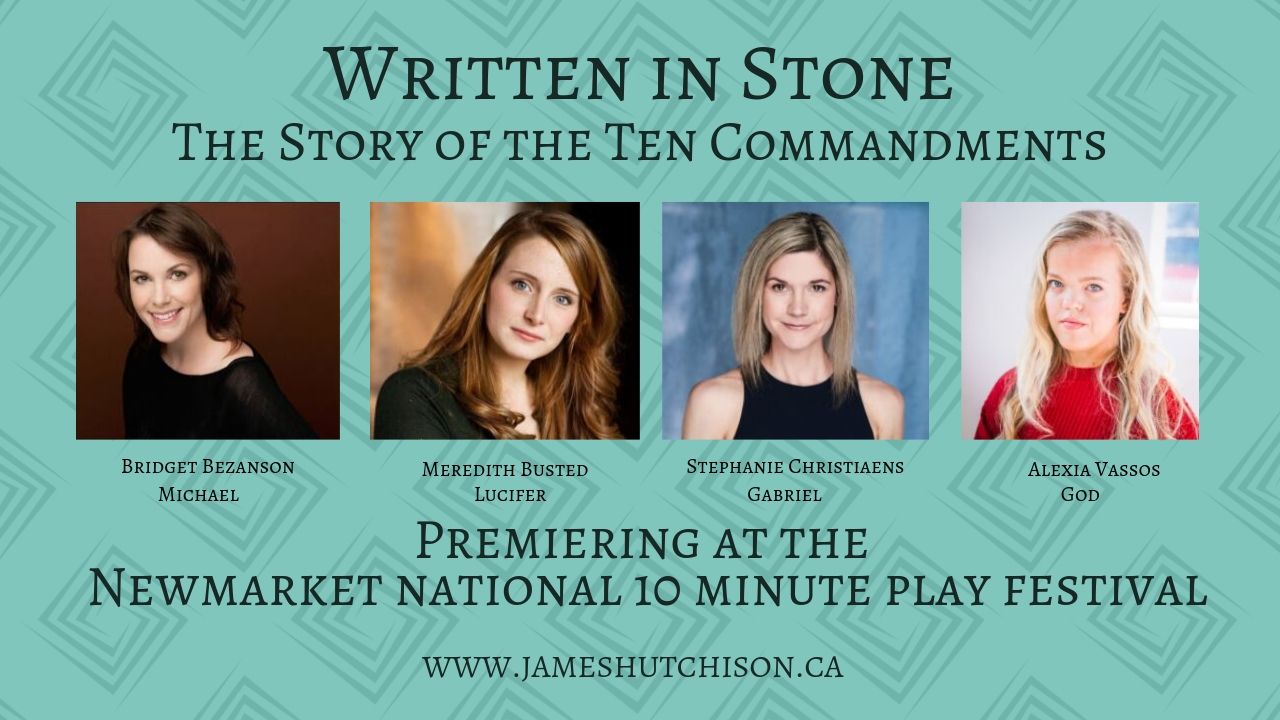 HEATHER
I'd say 'yes' and 'no'.
For me, one of the themes the play explores is the traditional corporate structure and goals such as getting the corner office and the expense account at the cost of perhaps personal integrity and values. Changing the genders allows us to question how women have perhaps succumbed to following these traditions in order to take their place in the business world both as employee and owner. I'm hoping that an all-female cast will start people talking about and questioning female roles and power within a corporate structure, especially as God is presented as a woman.
Written In Stone also looks at traditional stories/beliefs surrounding the creation of the ten commandments and asks us to reflect on whether or not they all still have value and relevance in the world as it is today, as represented by the modern corporate boardroom setting. I think this reflection stands whether the gender of the characters is male or female, so changing the gender doesn't affect this questioning.
JAMES
Okay, so my play in this year's festival is more or less a discussion about the Law of God and what those laws should be. If you had the power to add a commandment to God's Law what would it be? What do you think is a good guiding principle for mankind? And just so you know it can be serious or otherwise. My own favourite unserious but highly beneficial commandment would be, don't forget to floss.
HEATHER
Find a moment of laughter in everything you do.
JAMES
What have been some of your discussions with the cast about the play and its story and themes?
HEATHER
I'm delighted with the cast. Everyone is bringing a sense of humour and play to both the rehearsals and the production. Bridget Bezanson is playing Michael, Meredith Busteed is Lucifer, Stephanie Christiaens is Gabriel and Alexia Vassos is God. Our wonderful stage manager is Ashley Frederick who keeps all organized and on time with a light and caring touch. To date, our discussions have focussed on character relationships – employee to employee, employee to boss, and jealousy – which are all relevant to many of the commandments and how we treat our fellow human beings.
JAMES
So, I asked Michael the same question, you often hear people question the value of arts and yet music surrounds us. We hang paintings on our wall. We watch television. We go to movies and music festivals. And many of us paint and play instruments and write fanfiction or poetry. So, we are surrounded by art and consume art on a daily basis. To remove art would be to remove much of what gives life value and meaning. I was wondering what you felt arts in general and the Newmarket National play festival specifically contributes to the artistic and cultural life of our country?
HEATHER
The Festival is a gift to the actors, directors, and production crew who have an opportunity to create and learn in a generous and supportive environment. For our country, it is building a stronger Canadian cultural voice.
If you're looking for some laughter and drama and music and a great way to spend your week then check out all the plays and events happening this week at the Newmarket National Ten Minute Play Festival.
DIRECTOR, CAST, and STAGE MANAGER
WRITTEN IN STONE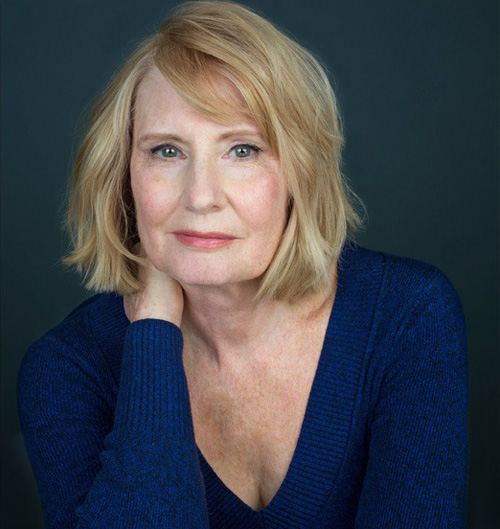 Heather Dick – Director
Heather is excited to be directing at the Newmarket National 10 Minute Play Festival for the first time. As a director, actor and voice artist she has worked across the country. Favourite directing credits include: Earth Tourist (Chandlier Factory Prods.), Forgotten Voices (World Premiere), Mail-Order Annie and Streethearts ( Sirius Theatrical Co.), The Art of Listening (Canadian Premier, Southern Mirrors Prods.), La Sante C'est Pas Sorcier (Waterwood Prods. – Ontario Tour), and The Peacemaker (Golden Horseshoe Players). For over 30 years, Heather has coached and taught workshops in acting, comedy and voice for many independent Toronto acting studios. She is also the Founding Artistic Director of the Sirius Theatrical Company (Toronto) where she currently teaches acting and voice and has produced multi-disciplinary performance pieces. Heather Dick is a member of Canadian Actors Equity Association. www.siriustheatrical.com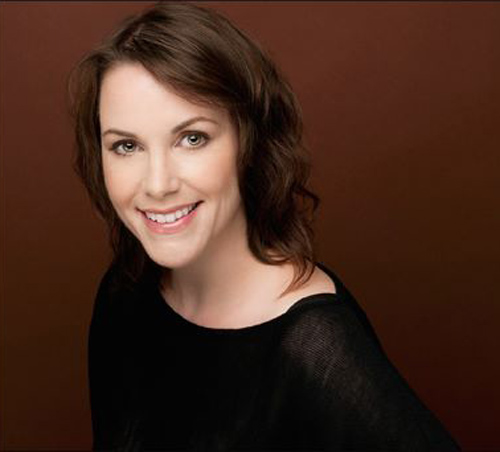 Bridget Bezanson – Buried, Seducing Harry, Written in Stone
Bridget is excited for her third summer with the Newmarket National 10 Minute Play Festival. She is an actor and classically trained singer with credits in regional theatre throughout Ontario and Atlantic Canada. Favourite performances include Funeral Sandwiches (NNPF), Rockbound (Two Planks and a Passion), Love You Forever (Stirling Festival), No Way to Treat a Lady (Festival Antigonish), and Annie (Neptune Theatre). Other credits include voice work in radio drama and animation (CBC), radio commercials, and narration. A versatile vocalist, Bridget has recently performed at corporate events for Manulife and Shoppers Drug Mart, and performs regularly as a soloist and band singer. Bridget Bezanson is a member of Canadian Actors Equity Association. www.bridgetbezanson.com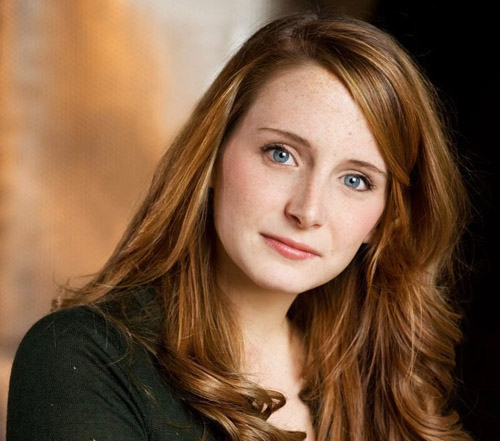 Meredith Busteed – Secret Santa, Written in Stone
Meredith is thrilled to be joining The Newmarket National Ten Minute Play Festival this summer. She is a music theatre performer with credits in regional theatre throughout Southern Ontario and the United Kingdom. Favourite performances include The Wizard of Oz (Diversified Theatre), 9 to 5 The Musical (Edinburgh Fringe Festival), Assassins (RCS), Up the River (Thousand Islands Playhouse), Anne in Anne of Green Gables (MMT), and Mary in Mary's Wedding (Theatre Kingston). Other credits include commercials with Rogers (Next Issue), Anti-mean tweets campaign (Sportsnet). A versatile performer, Meredith has also dedicated her career to teaching private voice, musical theatre and dance to the next generation of artists. @mabusteed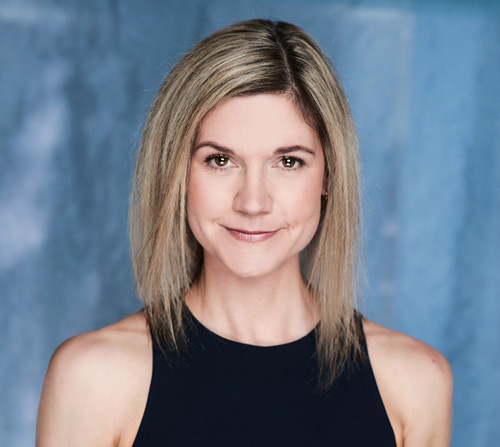 Stephanie Christiaens – Like a Kite, Written in Stone
Steph is excited to be making her debut at the Newmarket National 10 Minute Play Festival! She has been performing around Southwestern Ontario for over 20 Years and recently made her professional debut last summer at the Lighthouse Festival Theatre in Port Dover in Stage Fright. Favourite performances include The Day They Shot John Lennon (Players' Guild of Hamilton), Noises Off! (Dundas Little Theatre), The Whores (Stage 88), Key For Two (The Aldershot Players), and Don't Misunderstand Me (Act 4 Productions). Other credits include TV commercials (CTV London), independent film productions (Post-Life Productions), and reporting for Rogers Local access network.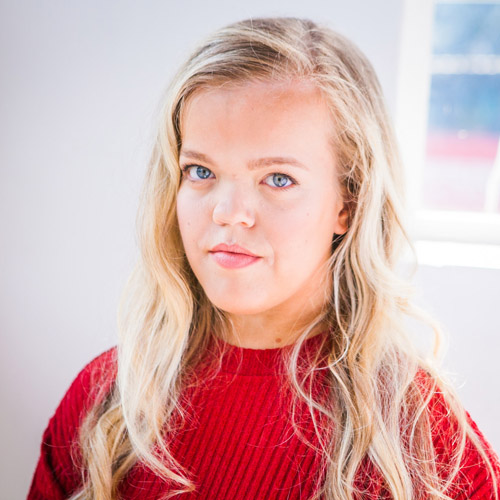 Alexia Vassos – Nothing but the Tooth, Secret Santa, Written in Stone
Alexia is delighted to be involved with the Newmarket National 10 Minute Play Festival for the very first time. She is a recent graduate from the Theatre and Drama Studies program at the University of Toronto Mississauga and Sheridan College. Alexia's credits include: Olga in Three Sisters (Theatre Erindale), Silenus/Therapist/Baucis in Metamorphoses (Theatre Erindale) and Maria in Twelfth Night (Theatre Erindale).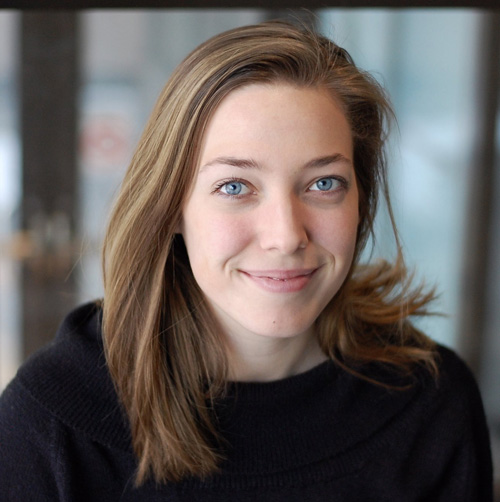 Ashley Frederick – Stage Manager
Ashley is thrilled to be participating in the Newmarket National 10 Minute Play Festival for her first time! Recent stage management credits include The Teeny Tiny Music Show (Hamilton Fringe, 2016), This Is War (York University, 2016) R.E.M. (York University, 2017), and InspiraTO Festival- Blue Show (2017). Ashley is also a performer, director, deviser, and founding member of Atomic Oddity Productions, whose first show After George premiered this year at the Devised Theatre Festival, and the Theatre Centre. Ashley will be graduating from York University's Theatre program with a specialization in Devised Theatre in January 2020.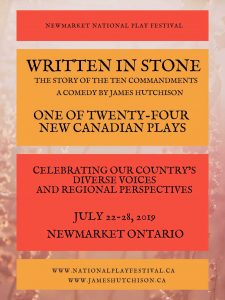 If you enjoyed this blog post then please share and check out some of the other interviews and blog posts listed below.