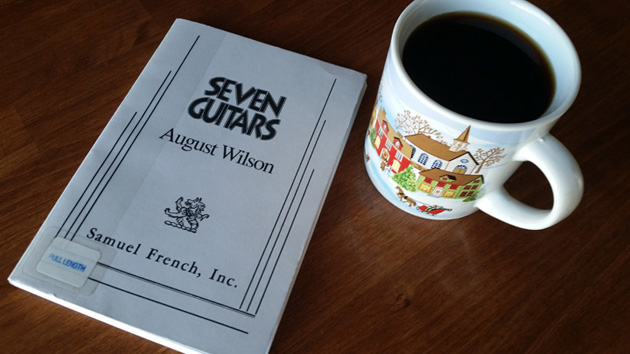 Last year I read Seven Guitars by August Wilson. He's a fine writer and a good writer to read. One of the ways you learn about your craft is to simply read other writers.
If you're a playwright read plays. If you're a screenwriter read screenplays. If you're a novelist read novels. But of course that doesn't mean that a playwright shouldn't read novels or screenplays or that a novelist shouldn't read other forms of fiction. It's all story and it's all good and when you read work by other writers you get to experience different styles.
That's important because sometimes you'll get advice like – you should keep your dialogue short. Don't let your characters speak more than a few words because that's not how people talk. But that just doesn't ring true to me. Yes, you should cut out what isn't needed. But not everything needs to be short.
I mean – think of it this way – you can paint with water colours or you can paint with oil. Both are paint and both create a finished work but the feel of the work is different because of the materials used. And while you can use short sentences when you write dialogue that's just one style. There are plenty of writers who give their characters lots to say. George Bernard Shaw (Saint Joan, Pygmalion, and Major Barbara) comes to mind as an example from the past and Aaron Sorkin (The West Wing, A Few Good Men, and The Newsroom) comes to mind as a contemporary example.
How you write dialogue is going to be influenced by your style and the needs of the story and the type of character in the story. And while stage dialogue needs to ring true to the ear – it is in no way – the way people talk. It is a representation of how people talk. After all, Shakespeare is performed all the time and no one talks like that – me thinketh.
So if your character has something to say – let them say it. If they can say it in five words fine. But if it takes a hundred words there's nothing wrong with that. So, long as what they say has truth and moves the story forward or reveals character.
Here's a beautiful example of a monologue from Seven Guitars by August Wilson where one of the characters, Canewell, sums up his feelings about love.
CANEWELL: I always did believe in love. I felt like if you don't believe in love you may as well not believe in nothing. Even love that ain't but halfway is still love. And that don't make it no less cause its only coming one way. If it was two ways it still be the same amount of love. Just like say I loved you and you didn't love me back. I can still say I'm all filled up with love for Vera. I go walking down the street people can see that. They don't know what to call it but they can see something going on. Maybe they see a man who like he satisfied with life and that make him walk more better. Make him walk like he got a million dollars in his pocket. If I loved you and this time you loved me back. I don't see where my love for you can get more bigger that it already was. Unless I walk like I got two million dollars. Sometimes people don't count it if you ain't loved back. But I count it all the same. Some women make their bed up so high don't nobody know how to get to it. I know you ain't like that. You know how to make your bed up high and turn you lamp down low. That's why Floyd don't want to lose you. I think you and Floyd ought to go ahead and see what you can make of it.
Act II Scene Seven – Seven Guitars by August Wilson
***