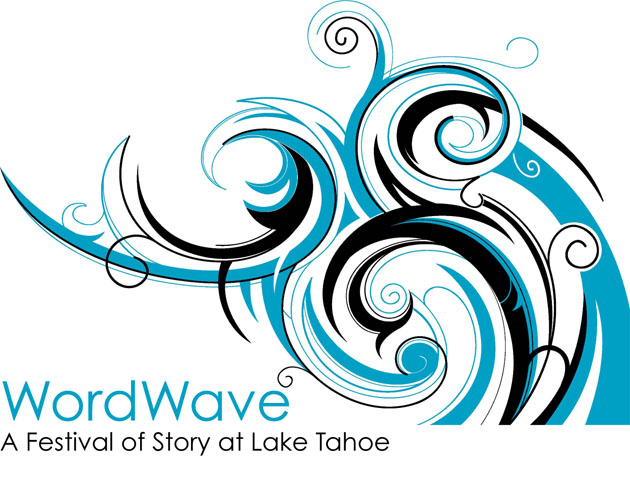 So, why do we tell stories? Is it to entertain? To pass on wisdom? To contemplate life? I think it's all those things. Stories help us to understand our place in the Universe. Stories give us context. They help us navigate life. If you don't think story is important try and imagine a world without story. It doesn't exist.
And so, I'm excited to announce that one of my stories, Death and the Psychiatrist, is going to be part of the 2016 WordWave Festival.
WordWave takes place in South Lake Tahoe at the historic Valhalla Tahoe from Friday October 21st to Sunday October 23rd. The underlying principle of WordWave is that stories in song, theatre, oral tradition, and books – change lives. The festival includes award-winning writers, artists and storytellers from South Lake Tahoe and the Tahoe basin as well as writers and performers from around the country. There are several events including readings, panels, workshops, presentations and the staged readings of the winners of this year's WordWave One Act Play competition.
My play, Death and the Psychiatrist, along with Joint Chiefs by Peter McDonough and In the Garden by Matthew Widman will be presented at the historic Boathouse Theatre At Valhalla, South Lake Tahoe on Saturday October 22nd.
Death and the Psychiatrist by James Hutchison, Directed by Mark Williams
Death and the Psychiatrist is a play about Mortimer Graves who shows up at Psychiatrist Dr. Donna Thompson's office claiming to be the Grim Reaper. Dr. Thompson believing that Mortimer is under the delusion that he is death convinces him to go into therapy in order to help him deal with his delusion as well as his loneliness and emotional issues. With the good Doctor's help Mortimer confronts his emotional issues and Doctor Thompson, with Mortimer's help, reevaluates her life priorities.
***
Joint Chiefs by Peter McDonough, directed by Rae Mathews
Joint Chiefs is a moving and funny, two scene, one-act drama, set present day inside a breakfast diner in southern Michigan, and explores the depths of respect, loyalty, and the struggle a group of male veteran friends have expressing love for one another.
***
In the Garden by Matthew Widman, directed by Meg Peart
In the Garden portrays a family in crisis. Beloved father Arthur is fighting a losing battle with Alzheimer's disease and his three grown children, Peter, Karen, and Jamie, have gathered at the family house to decide how to best take care of him. But the choices are not easy. While Arthur may wander off or lash out in anger or forget the names of his grandchildren at times, at other times he is lucid, funny and wise. Long-ingrained familial tensions boil to the surface as Peter, Karen, and Jamie struggle to treasure their father's last cogent moments before he is lost to them forever.
***
The WordWave One Act Play Competition is sponsored by Lennard and Cynthia Carlson.
***
Headlining this year's WordWave Festival are authors Galadrielle Allman, Alice Anderson and Melissa Cistaro.
Galadrielle Allman is the author of the memoir Please Be With Me, A Song for My Father Duane Allman," published by Spiegel & Grau in March, 2014. It was chosen by Amazon as a Best Book of 2014. Her story, Only Women Bleed, is included in the forthcoming collection of 20 music themed noir short stories: Crime+Music. Galadrielle studied writing at Sarah Lawrence College and lives in Berkeley. She is currently working on a novel about teenage love and punk rock music.
Alice Anderson is the author of Human Nature: Poems, awarded both the Best First Book Prize from the Great Lakes Colleges Association and the Elmer Holmes Bobst Prize for Emerging Writers from NYU. Her second collection of poems, The Watermark, is nominated for the Forward Prize and the T.S. Elliot Prize, and is being published by Eyewear Books. Anderson lives in Sacramento and is currently at work on a third poetry collection and a novel.
Melissa Cistaro is the author of the memoir Pieces of My Mother. Her essays, interviews, and stories have appeared in The New Ohio Review, Brevity, The Huffington Post, PBS: To the Contrary, Good Housekeeping and the anthologies Love & Profanity and Cherished. She also works as a writing mentor and an event coordinator at Book Passage, the esteemed independent bookstore in Northern California, where she has introduced hundreds of authors.
***
The weekend kicks off with a champagne reception with Galadrielle Allman on Friday followed by the Steampunk Themed Tall Timber Ball in the Grand Hall.
Other WordWave Festival events include Native storyteller Ralph Burns who has spent more than two decades, teaching the Numu (Northern Paiute) language to both Native American and non-Native American people sharing traditional stories that not only stretch back many generations, but also relate to today's environmental issues.
Galadrielle Allman will be sharing and talking about her memoir, Please Be With Me: A Song for My Father Duane Allman, Melissa Cistaro will discusses what sustained her through the long journey of writing her memoir, Pieces of My Mother, and the publishing experience that made it all worth while in a presentation called: The Twelve Years it Took for My First Book Deal. And Alice Anderson author of Human Nature: Poems will be holding a poetry workshop.
Plus if you've got your own story to tell there will be Agent Pitch Sessions on the side balcony of the Valhalla Grand Hall where Fuse Literary Agents will meet one-on-one with writers. Writers get to spend ten minutes pitching their book idea to a top literary agent and then get professional feedback and suggestions on their projects.
That's only a small sample of the many events happening over the weekend. For a complete list of all the events, workshops, and opportunities check out the WordWave web site for details: WordWave: A Festival of Story.
***
WordWave Sponsors and Supporters include