So, last year around the holidays I decided to watch the movie August: Osage County. Maybe I'd had enough of It's a Wonderful Life and Miracle on 34th Street and was in need of something a little darker. After all you need to balance the sweet with the sour – don't you?
August: Osage County is a gathering of the clan to say farewell to the family patriarch, poet, and drunk Beverly Weston. It's a gathering of the clan that brings up old wounds and explosive confrontations. You know – your typical holiday family gathering.
Anyway, not everyone liked the movie – it has a 64% positive rating from the critics and a 65% positive rating from the public at Rotten Tomatoes. I'm one of those 65%. I liked it. Loved it in fact. I read the play and I watched the movie and I think Tracy Letts did a fantastic job of adapting his play for the big screen. Although I saw it at home on the small screen. Which isn't that small anymore. Do you remember when a 26 inch television was considered big? Do you remember how happy we were to get a remote control…which meant we didn't have to get off the couch to change the channel? But you know what, now that I think about it, maybe the invention of the remote control coincides with the obesity problem I've heard so much about over the last decade. Maybe getting up and changing the channel was a good thing. Yes, clearly we must outlaw remote controls for televisions. There's a logic to that. A dumb logic, but a logic never-the-less.
Anyway, I loved August: Osage County and what a cast. A cast that includes Meryl Streep, Julia Roberts, Chris Cooper, Margo Martindale, Ewan McGregor, Benedict Cumberbatch, and Sam Shepard. It was a terrific ensemble. And I think they'd be my dream cast for a big screen version of Gilligan's Island. Can you imagine Meryl Streep as Mrs. Howel? Benedict Cumberbatch as Gilligan?
So, a few weeks after I saw the movie I went out with some other playwriting friends who didn't share my opinion. They didn't like the movie. They felt something was lost on the big screen. They felt the stage play was more powerful because the action takes place in one location. I didn't agree. I've never been to Nebraska but it was an environment I knew. I understood it. It reminded me of my own boyhood when we'd visit my Uncle and Aunt in Salmon Arm during the hot Okanagan summers. But I think the main reason I connected with the film on an emotional level was because of how the characters were all coping with lives that were unhappy. How many people stay together as a couple when a relationship is dead or work at a job they hate or search for meaningful relationships and can't find them or simply have to deal with the daily pain of being out of sync with life?
And that's what all the characters in August: Osage County are doing – they're coping. Some of the characters are taking action to change things – some of those actions are drastic – and in the end – well if you haven't seen it I don't want to give away the end – but I liked the ending. And I found it satisfying – I found there was an emotional journey for each of the characters and for me that's one of the things that makes the play and the movie work so well. And in particular I liked Julia Roberts' performance because it was through her character that I most identified with the story.
So, like all films that touch us on some personal level they do so because we can identify with them and they reflect some aspect of our own world view and or experience. Which surprised me – because I didn't think August: Osage County was about how I felt about the world. But it is. Because it made me reflect on my life and and the choices I've made.
I just have one wish though…and that's for the Lifetime channel to commission an August: Osage County Christmas Special – who the hell needs the Waltons – I'd rather spend Christmas with the Weston family – can't wait to see them fight over the wishbone.
***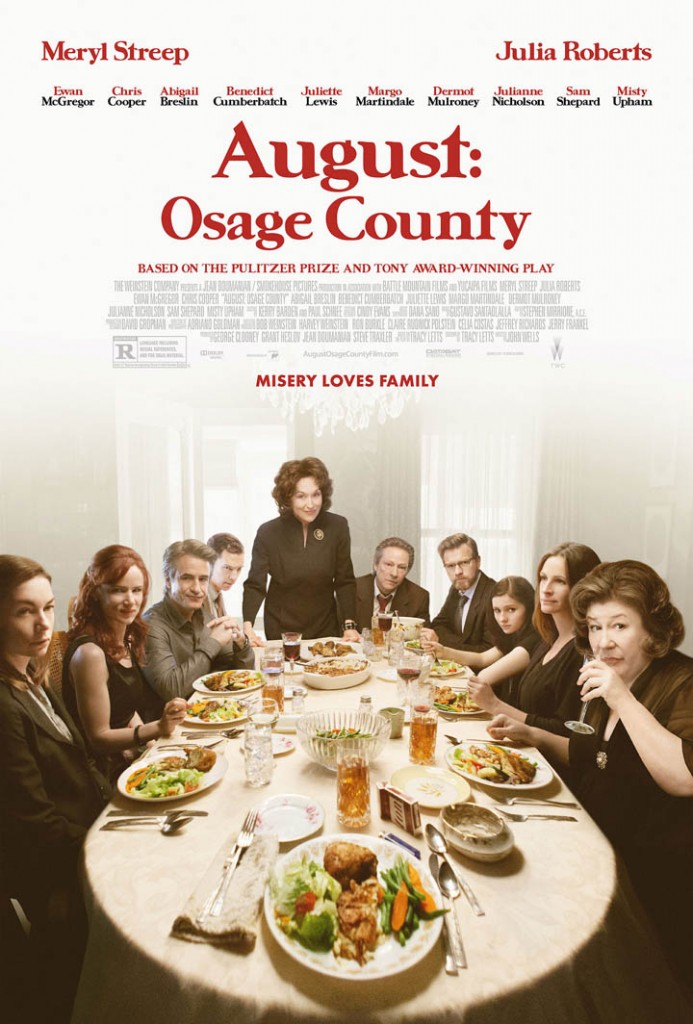 Directed by John Wells
Screenplay by Traci Letts
Original Play by Traci Letts
Meryl Streep – Violet Weston
Julia Roberts – Barbara Weston
Chris Cooper – Charlie Aiken
Ewan McGregor – Bill Fordham
Margo Martindate – Mattie Fae Aiken
Sam Shepard – Beverly Weston
Dermot Mulroney – Steve Huberbrecht
Julianne Nicholson – Ivy Weston
Abigail Breslin – Jean Fordham
Benedict Cumberbatch – Little Charles Aiken
Misty Upton – Johnna Monevata
Music by Gustavo Santaolalla
Cinematography by Adriano Goldman
Edited by Stephen Mirrione
Joe Morgenstern – The Wall Street Journal
***
To subscribe to my blog just enter your e-mail at the top of the page and hit subscribe.
***