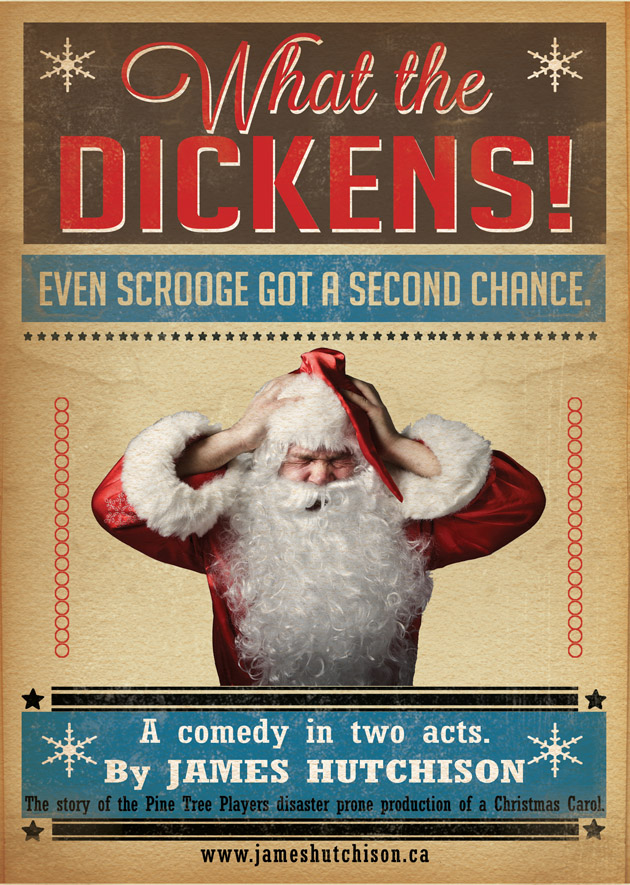 What the Dickens!
Even Scrooge Got a Second Chance.
Two Act Comedy, 6M 3F, Multiple Sets, 120 minutes – FREE TO DOWNLOAD
Marty Fisher has doubts and fears about getting married and staying in Pine Ridge with his fiancée Tami Cooper and so he's been focusing on directing the Pine Tree Players Production of A Christmas Carol instead of helping his fiancée plan their wedding. On opening night when his Uncle, who's playing Scrooge, turns up drunk, half the cast gets food poisoning, and Marty gets caught kissing his stage manager Samantha both the production and Marty's relationship with Tami are on thin ice. As the curtain rises and the show lurches forward Marty will do all he can to save his show while trying to salvage his relationship with Tami.
CAST
Marty Fisher – Director of the play mid to late 20s
Tami Cooper – Marty's fiancée playing Belle and Lucy mid to late 20s
Kate Cooper – Tami's mother and Mayor of Pine Ridge playing Mrs. Cratchit and Mrs. Fezziwig 50s
Kevin Fisher – Marty's Uncle and the Chief of Police playing Scrooge 50s
Peter Bingham – Marty's best friend and lighting director mid to late 20s
Samantha Banger – Stage Manager 19
Jayson Moore – Playing Young Scrooge and Topper mid to late 20s
Ed Barker – Playing Bob Cratchit late 30s
David Owens – The town Doctor playing Mr. Granger, Ghost of Jacob Marley, Fezziwig, the Ghost of Christmas Present and Cousin Herb 50s
SETTING
The entire action of the play takes place at the Grand Theatre in the city of Pine Ridge
TIME
DECEMBER
Act 1: The Day Before Opening Night
Act 2: Opening Night