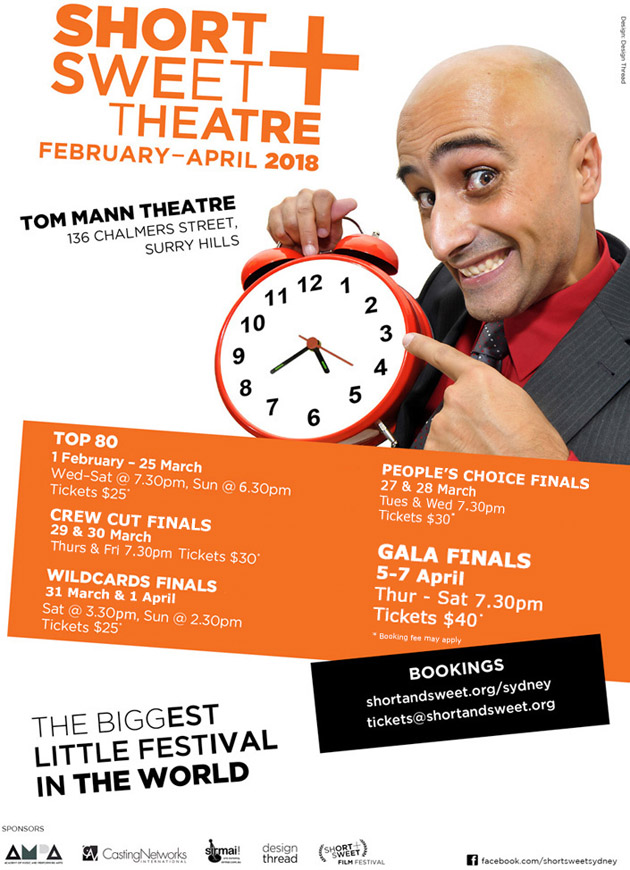 ***
I'm happy to report that my play Valentine's Day is part of the Crew Cut Finals at this year's Short+Sweet Festival in Sydney Australia. One hundred and sixty plays were produced over the eight weeks of the festival with the top plays advancing to the People's Choice Showcase, Crew Cut, Wildcard, and Gala Finals.
Valentine's Day is one of eleven plays being presented on Thursday March 29th and Friday March 30th at the Tom Mann Theatre in Surry Hills. The play is about Tom who remembers the day fifty years ago when he met the love of his life Heather. The production is being directed by Sarah Purdue and stars Les Asmussen as Old Tom, Jayden Muir as Heather, Abbie Gallagher as Karen, and Murray John Curtis as Young Tom.
Short+Sweet Sydney 2018 The Crew Cut Finals
Valentine's Day
Written by James Hutchison
Directed by Sarah Purdue
Cast: Les Asmussen as Old Tom, Jayden Muir as Heather, Abbie Gallagher as Karen, and Murray John Curtis as Young Tom.
A lonely old man faces Valentine's Day without the love of his life.
Gladys Grundy
Presented by The Performance Crew.
Written & Directed by Wendy Crew
Cast: Amanda Lieber as Gladys
Gladys organizes her special birthday party.
Tiger
Written by Robert Gilbert
Directed by Jessica Phoebe
Cast: Paris Change as Tiger, Hannah Moy as Lily.
Tiger and Lily are siblings born to their teenage mother, Marg. They are at the Mercy of their domineering father, Barry, who struggles in his unwanted role as parent.
Petal
Written by Marko Mustac
Directed by Valwyn McMonigal.
Cast: James Sugrue as Carlo, and Facundo Herrera as Pete.
A powerful story of a father's revenge against the abusers and killers of his daughter.
Another Dead Body Play
Presented by Pumphouse Productions
Written and directed by Steven Williams
Cast: Lucy Tassell as Deckhard, Remy Danoy as McClusky, and Nigel Malcolm as The Mysterious Third Cast Member.
Short play festivals have a wonderful tradition of dead body plays. Within this seemingly evergreen premise, our heroes find themselves with a stiff and must unravel a web of intrigue and deceit. This is a foul play about foul play.
Three Little words
Written and directed by Anthony J. Langford.
Cast: Tom Harwood as Elvis.
A man faces up to his own alcoholism. Or does he?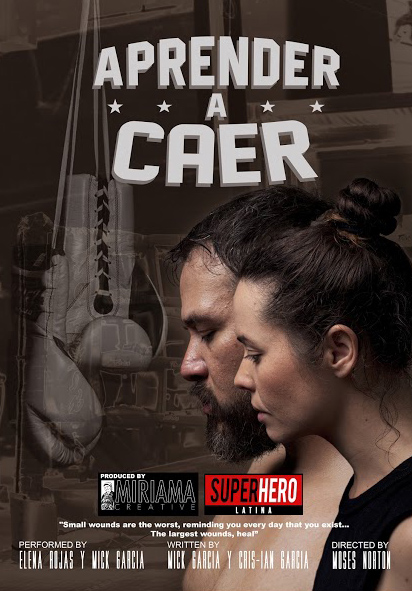 Learning to Fall (Aprender a Caer)
Special Presentation of the winning play from the recent Short+Sweet Hollywood LATINO
Written by Mick & Chris-Ian Garcia
Directed by Moses Norton
Cast: Elena Rojas (Colombia) & Mick Garcia (Mexico)
A Muay Thai fighter is knocked down in her championship fight. During the 10-second countdown, she recalls a conversation with her father and all those important moments that have taken her to this one.
My Scale Is Lying To Me
Written by Scott Mullen.
Directed by James Stubbs
Cast: Meg Corbett as Wanda, Mary Caldwell as Shelly, and Lara Balken as Cindy.
Wanda attempts to return a faulty and rather abrasive bathroom scale, much to the disinterest of store owner, Shelly.

Even Educated Fleas Do It
Written by Karen Lothan
Directed by Margaret Theophanous
Cast: Louis Regan and Raman Mondraty
Amoebas search for love and romance.
Together
Written by Michael Sams
Directed by Alys Gwillim.
Cast: Alexandra Fricot as Lauren and Shaw Cameron as Kyle.
A Sydney twist on the classic 'boy meets girl' love story.
Balls Alive!
Written by Brian Wallace
Directed by Zoe Tomaras
Cast: Suriya Ticehurst as Bobby, Tyler Cross as Jason and, Matthew Bartlett as Jon.
A very passionate air band decide whether they have what it takes to make it to the top, or if they're trying to hold on to something that isn't really there.
***
Other Production Posts