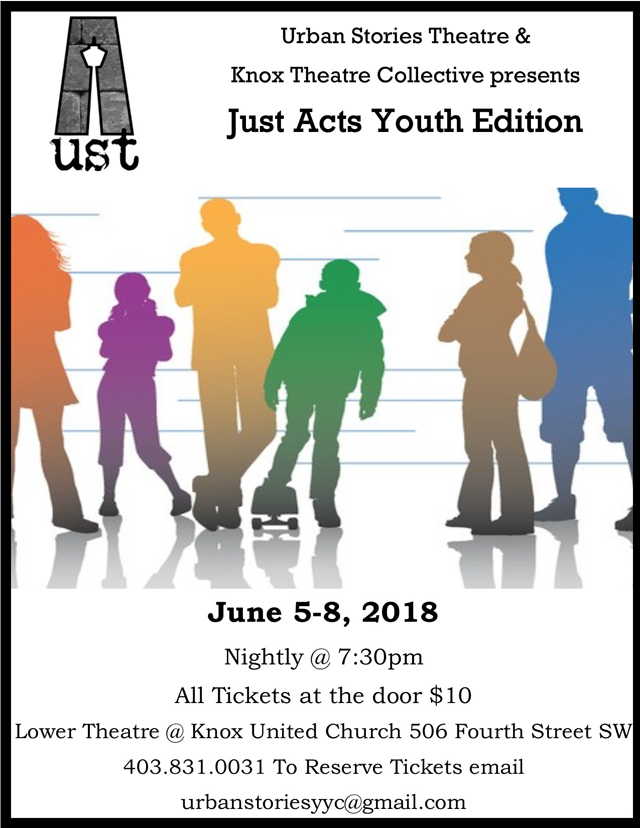 "We're all in this world together, and it's always easier to deal with what life throws at you when you have a good support system. Many of us take our friends and families a little bit for granted. If people walk away from this show and talk about it or go hug a friend, then I've done my job."
***
Urban Stories Theatre supports local playwrights who write about social justice issues and helps these playwrights go from first draft to finished production. The company is made up of a core group of local artists who oversee all productions and workshops.
Urban Stories and the Knox Theatre Collective are presenting, The Just Acts Youth Edition from June 5th to 8th at Knox United Church. The Just Acts Youth Edition is a showcase for young writers to develop and present their work on stage.
Helen Young is the Artistic Director and one of the founders of Urban Stories Theatre. Her theatre, film, and television work goes back more than 30 years and includes acting, singing, dancing, stunt work, writing, teaching, and directing. I spoke to Helen about her thoughts on theatre's place in our culture and this year's festival.
JAMES HUTCHISON
I'm wondering where you think theatre fits into our society and culture now that we have so many other ways of communicating ideas and engaging in conversations with others such as Twitter, Instagram, YouTube, and of course Facebook.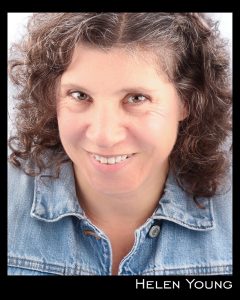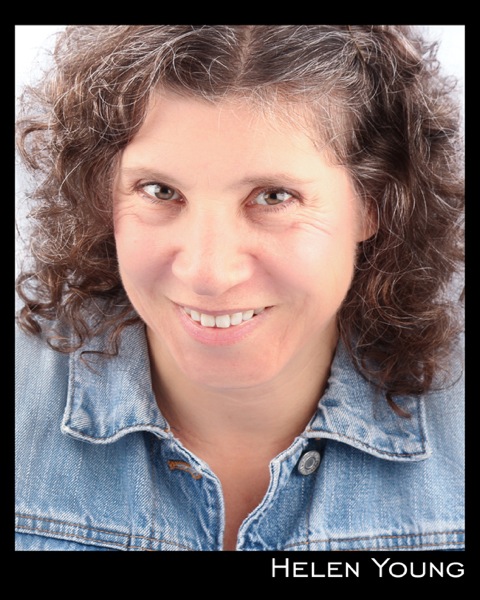 HELEN YOUNG
I think theatre will always be important and necessary, because we need to connect in person. I do and see a lot of theatre, and nothing beats an audience reacting to live theatre. Or leaving the theatre and hearing people discussing what they've just seen. I would rather see a live show than a movie. We need human contact, and that's one of the things that's driving Urban Stories Theatre to move towards a more socially aware focus starting now.
JAMES
People go to the theatre to be entertained, but they also go to be enlightened about some aspect of humanity. However, if a show isn't entertaining it won't draw an audience. How do you balance your desire to entertain an audience with your desire to deliver a message?
HELEN
That's a good question. It's a fine line to walk. We have a couple of shows that have been submitted that are very dark. They're good plays about important issues, but a play like that has to be handled very carefully. We try to find a balance with the shows we do. The play fests are a bit easier because we can do a dark play followed by a lighter one, it allows the audience a chance to breathe. But sometimes, a very dark play can take the audience on a journey that they would never normally experience so that's a good thing. Amanda Wheeler (my voice of reason) and I decide together what plays we will do, so we look at all sides of the play before moving forward.
JAMES
You have a play festival coming up called Just Acts Youth Edition. What is the Just Acts Youth Edition?
HELEN
Every year we do the Just Acts Play Fest in February where we invite playwrights to submit short plays on a common theme that changes each year. It has been running for about 8 years now and is very popular. So, we decided to do a Youth Edition for younger writers. UST works with the Encore Junior High Drama Fest each May and we perform the student written plays. Last year we did a show of the plays from the festival. This year we are moving to a more social justice, humanity theme. So, we looked for more socially aware plays and performance pieces.
JAMES
Where did the idea for the festival come from?
HELEN
Young voices are often taken for granted or not heard at all, so we wanted to offer a platform for them to be heard. I have been going to Youth Riot for a few years now and watching the faces of the writers and performers when an audience reacts to a piece they wrote. I wanted to offer another avenue for these creative young artists to express themselves.
JAMES
What was the response to the first year?
HELEN
Our first year we didn't really have the advertising in place so we didn't get as many people as we had hoped for. The feedback was very positive and the young writers were thrilled. This year we are more focused on getting the word out and getting more audience feedback.
JAMES
You have two very different offerings this year. First up is The Make Believer Project which is being created and performed by the girls in this year's festival. What is that show about?
HELEN
The Make Believer Project is a spoken word piece that the girls have been working on with playwright Eugene Stickland over the past few months. They have been journaling and reading the pieces to each other. Eugene put all the pieces on paper and handed them to me. I gave the girls parts to read and divided the show into three parts. So, the show is about their lives and their hopes and dreams. It's very moving and sometimes a bit hard to listen to.
JAMES
What do you think audiences will take away from the show?
HELEN
These twelve to sixteen-year-old girls have lived through so much in their young lives. As aboriginal girls they are often stereotyped and/or ignored. But they have hopes and dreams and wants and needs just like any other girl. I want audiences to see them and hear their stories. Maybe we'll think twice before judging someone on their appearance. That's what I would like to happen, to have people walk away thinking about them as girls first.
JAMES
The second offering is a play you've written called, Touch of Grace, which deals with the teen sex trade. How did this project evolve?
HELEN
I have a degree in sociology, and my focus was woman's correctional facilities. Many of the women I spoke with were forced to grow up too fast. That's where Grace began, girls growing up too fast and doing whatever it takes to survive. I also focused on the people who help these girls. Social workers who burn out fast. The play doesn't deal with facts, it deals with an almost mystical sense of love and empathy that Grace has towards others. Something that touches them and allows them to open up their hearts and souls. The people at the group Home need Grace as much as she needs them.
JAMES
What do you hope audiences will take away from this show?
HELEN
We're all in this world together, and it's always easier to deal with what life throws at you when you have a good support system. Many of us take our friends and families a little bit for granted. If people walk away from this show and talk about it or go hug a friend, then I've done my job.
***
Urban Stories Theatre and the Knox Theatre Collective present The Just Acts Youth Edition from June 5th to June 8th at 7:30 pm at Knox United Church. (506 – 4th Street SW) Tickets are just $10.00 and available at the door or can be reserved by e-mailing urbanstoriesyyc@gmail.com.
The Just Acts Youth Edition
The Make Believer Project: A 20-25 minute performance of spoken word, poetry and storytelling. The Make Believer Project gives these young aboriginal girls a much deserved and sorely lacking voice. Written and Performed by Summer 16, Savannah 17, Nicole 17, Gemini 17, Shelby 14, Krisdena 14, Maegan 15, Sapphire 12, Aurora 12, Kailynn 12, Kiara 14, Tamika 15, Rayanna 13, Kaylie 11, Aaliyah 13, Brooke 12, Halona 14, Lyric 11 and presented by The Stardale Women's Group.
A Touch of Grace by Helen Young is a play that tackles the teen sex trade by showing how the tragedy of a 14 year old sex worker helps a case worker find a sense of hope and belonging. This is a sneak peak at a section of the play. Cast: Belanna Internoscia, Krista Stephens, Adrianna Rabeda- Kowalczak,Emily Sharp, Ben Wild, Brandan Severtson
***