I assume that if you're reading this blog then you've read the two previous blogs and I don't need to explain what's going on. Of course, if you haven't read the two previous blogs then you won't have a clue about what I'm talking about. I'm talking about assumptions.
We make assumptions every day. We make assumptions about people and their motives, desires, and character. The assumption is one of the most powerful tools of comedy. Who doesn't chuckle to themselves when they watch the ending scene of Romeo and Juliet where Romeo thinks Juliet is dead, but she isn't, and Romeo kills himself. Okay, well maybe that's not funny but it shows – how on stage – and by extrapolation life – jumping to conclusions can have deadly consequences. But this isn't a blog about tragedy it's a blog about comedy – and nobody dies in a comedy – or is that an assumption?
I think I'll have to reconsider that. There is a body or two in Arsenic and Old Lace and an old man dies in Groundhog Day and Bill Murray dies in Zombieland… I guess, now that I think about it, people can die in comedies. Funny.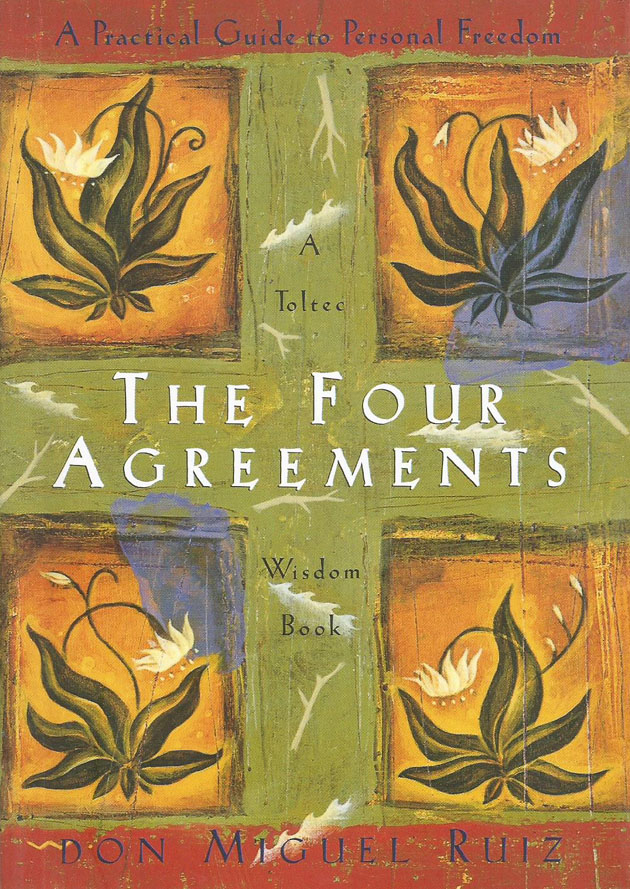 Anyway, there's a book by Don Miguel Ruiz called The Four Agreements. The Four Agreements offer four rules that he claims, if you follow them, will make your life happier and more content and help to make the world a better place to live.
The first three of the Four Agreements are to summarize:
Don't lie.
Don't take anything personally.
And don't make assumptions. Communicate with others as clearly as you can to avoid misunderstandings, sadness, and drama.*
These are good rules for living a happier life but if you do the opposite they make great rules for comedy and conflict.
The first three of the Four Agreements of comedy are:
And make assumptions. Make assumptions about people's motives and desires. Never ask questions. Assume that all gossip is gospel and that there could never be another explanation for things than the one you believe.
In my opinion, the assumption is one of the most powerful tools a comedy writer can use to create laughter. Assumptions fuel misunderstandings and create characters working at cross purposes. But its real power for fun lies in the comic potential when you let the audience in on the secret. The audience in most cases should know what the characters believe to be true in order to appreciate the comic misadventures.
Tootsie, Mrs. Doubtfire and Some Like it Hot would lose a lot of comedy if we didn't know that Tootsie was in reality Dustin Hoffman, Mrs. Doubfire was actually Robin Williams, and Daphne was really Jack Lemmon. Other characters operate from the assumption that each of these characters is what they appear to be – a woman. But we know better and the thrill comes from the possibility of discovery.
Of course this doesn't mean you can't hold something back. After all Sleuth would lose a great deal of its fun if we knew from the start exactly what was going on. I'm assuming, of course, that you've read Sleuth. You have read Sleuth haven't you? Seen the movie? Not the Michael Cane – Jude Law version but the Michael Cane – Laurence Olivier version. If you haven't go see the movie or read the play or at the very least ad it to your bucket list.
And a great example of a television series that uses assumptions to power the humour is Arrested Development. How many times are the characters working at cross purposes? How many times does Michael Bluth assume one thing when something else is actually going on. Half the humour in this show comes from the narration which provides insights and explanations into the motivations and actions of the characters. And because the narration keeps us up to speed on the internal thoughts of the characters and the misunderstandings between them a lot can be packed into a single episode. Without the narration the actual motivations of the characters and their actions would have to be explained with dialogue. And dialogue is not as quick or nimble.
Next week, I'd assume, not wrongly, I think, that we'll be talking about the fourth and final Agreement of Comedy: Always do your worst.
***
To subscribe to my blog just enter your e-mail at the top of the page and hit subscribe.
***
* The Four Agreements – A Toltec Wisdom Book – A Practical Guide to Personal Freedom by Don Miguel Ruiz Amber-Allen Publishing San Rafael, California Copyright © 1977 by Miguel Angel Ruiz, M.D.