The Blood of a Thousand Chickens, my ten minute comedy about the classic Greek tale of Oedipus, is being given its world premiere from January 20th to 24th, 2016 at the Short+Sweet Short Play Festival in Sydney Australia.
Now I know it's not easy to be a world leader, or a king, or a politician. Not in modern times. Not in ancient times. You try and do what's right for your people, but you're flawed. Sometimes you do things you shouldn't.
I mean look at Anthony Weiner – he got caught with his pants down – more than once – but even though we might not approve of his behaviour that's nothing compared to what poor Oedipus did. I mean Weiner didn't murder his father and marry his mother and gouge out his eyes as a penalty for his actions. And don't get me wrong, I'm not saying just because Weiner's sins were less than murder that he shouldn't be held accountable for his Tweets, but I have to wonder if Sophocles were alive today and writing about Anthony Weiner instead of Oedipus the King how much more extreme the penalty might have been for poor Tony.
And so I turn my attention back to the earliest beginnings of theatre and my take on the story of Oedipus. My little tale could not have been written without Sophocles sitting down to tell his tale 2500 years ago. So I suppose, if I was to dedicate my play to anyone, it should be to him – because I owe him a debt of gratitude for telling the tale and helping to set in motion this whole wonderful thing we call the theatre.
And one of the things I love most about live theatre is its ability to respond to the moment. Anyone who has ever been on stage knows that no two nights of a performance are exactly the same. A play responds to the moods and emotions of the audience – just as much as the audience responds to the moods and emotions of the actors.
I wish I could be in Sydney to see the production but even though I can't be there physically I can be there in spirit and in Tweets and in Facebook updates and blogs. Because in this day and age of social media I think it is the responsibility of every playwright to support those that produce their work.
The Blood of a Thousand Chickens is about Phallus, the son of Oedipus and Jocasta, the King and Queen of Thebes, who wants to marry Clitoris the woman he loves. Unfortunately unknown to Phallus, Clitoris is actually his sister and Oedipus and Jocasta believe that their son's love for Clitoris is why the Kingdom was cursed by a pox and now faces a terrible drought and possible starvation. And so, in order to save his people from the wrath of Zeus, Oedipus must offer the Gods the blood of a thousand chickens and maybe even the life of his own son.
You see being a leader is tough. Sometimes you have to make sacrifices. Although most of the time you don't have to sacrifice your children.
***
The Blood of a Thousand Chickens by James Hutchison
January 20th to 24th at the Short+Sweet Short Play Festival Sydney
Directed by Glen Pead
Nathan Bennett as Oedipus the King
Keira Bird as Jocasta the Queen
Sebastian Lopez as Phallus the Son of Oedipus and Jocasta
Warren Glover as Cretin the Priest and the Oracle
Nicole Carney as Penurious the Farmer
***
The Blood of a Thousand Chickens was partly developed and workshopped through the Alberta Playwrights Network Wordshed program in March 2015 with the participation of Trevor Rueger, Laura Parken, Roberta Mauer-Phillips, and Julie Orton. While The Alberta Playwrights' Network does not produce plays, the organization assists in the development of plays and playwrights with the ultimate goal of production.
***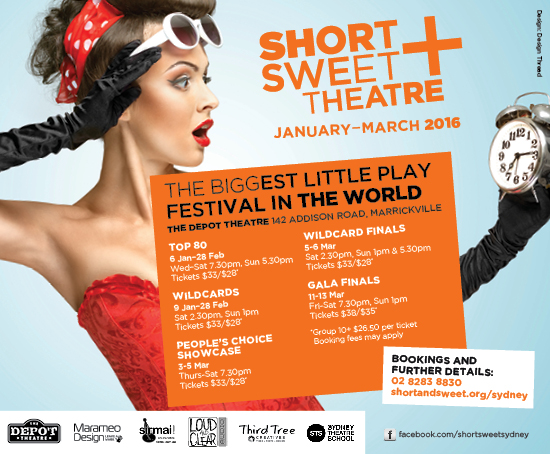 Short+Sweet is the world's largest short play festival with a mission to build the theatre-going audience around the world by presenting theatre, dance, cabaret and song festivals that provide audiences with exciting and contemporary works that challenge and entertain. The 15th edition of Short+Sweet Sydney features 160 scripts from Australian and international writers and will run from January 6 to March 13.
***
You can subscribe to my blog by following this link and entering your e-mail.
***