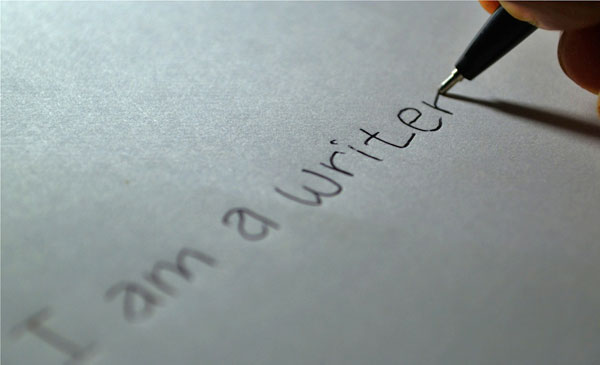 Well, that's easy all you have to do is write. But then you ask yourself, "What should I write? Should I write novels? And if I do write novels what sort of a novel should I write? Science fiction? Young adult? Romance maybe?"
And what if you discover you don't really like writing novels – what then?
Do you give up? You could. Because there are those people who give up because it's too difficult or because it's not perfect enough or because they're really, really, really good at giving up. But if you're not the sort of person that likes to give up then maybe you're simply the sort of person that needs to try writing something other than a novel. So try poetry. Or advertising copy. Or fortune cookies.
And even though there are plenty of talented writers – many with a great deal more talent and ability than I – that are very good at several different types of writing – I'm not one of them. They can write novels, and speeches, and technical manuals. I tend towards dialogue and a rather casual style of expression. Not the best style for an instruction manual – I think. But now that I think about it most people in most professions gravitate towards a certain level of specialization.
A musician will likely prefer one musical instrument to another. Perhaps they like the tuba or the accordion or the banjo maybe? And in sports athletes show more talent in one type of sport as opposed to another. Tiger Woods is an amazing golfer. I'm not sure, but I'm guessing he's not much of a tuba player. I know I'm not a good tuba player and I'm certainly not much of a golfer.
I think what I'm trying to say – in a rather convoluted way – is that writers like musicians and athletes must find out what they do best. Just because someone is a great novelist doesn't mean they know how to write a great movie and just because someone is an amazing screenwriter doesn't mean they know how to write an amazing novel or a great commercial. Being a writer doesn't necessarily mean you're good at every form of writing.
A writer needs to discover what type of story teller she is. And she can only do that by taking quill in hand and writing.
That's all you have to do – just start writing.
It doesn't matter what you write – all that matters is you begin because your heart will lead you in the right direction. Be true to yourself and write what you want – not what society or your friends or your mom wants – but what you want. Take a writing class, write in your journal, write short stories, poetry, novels, comic books and blogs. Write fiction and nonfiction. Write a lot and often and soon you'll discover that one particular form of writing feels more natural for you than others. And once you've made that discovery – dive in. You won't drown. Far from it. You'll find you love the deep end and how it feels to be in your element.
So, what are you waiting for? Jump in – get writing and discover what you do best.
***
To subscribe to my blog just enter your e-mail at the top of the page and hit subscribe.
***