Times are tough, and if you're like me, you're keeping an eye on your money. The good news is, there are always bargains to be found. So with one hundred dollars to spend in January I was able to buy tickets to see six shows. Here they are in chronological order plus a list of additional shows worth checking out.
"Written and performed by Chase Padgett, 6 Guitars is a pitch perfect blend of music, comedy, and characters. In a virtuosic performance, Chase Padgett becomes 6 different guitar players each with their own distinct voice, views, and musical style. Each of the characters (ranging from a 19 year old rock prodigy to an 87 year old blues man) share their journey with music, from discovery to mastery, through songs and stories that leaves every audience laughing, crying, and falling in love with music all over again."
Starring Chase Padgett
Directed by Jay Hopkins
Playwright: Chase Padgett & Jay Hopkins
Ticket: $10.00
Promotion: Lunchbox Theatre runs a first Thursday for $10.00 promotion. Most people know about Lunchbox but a lot of people are unaware that Lunchbox offers a noon show on Saturday as well as 6:00 pm shows on Thursday and Friday. That means if you don't work downtown you can catch the show when parking is a little more reasonable. It's a terrific date night idea because the show runs less than an hour and that gives you lots of time to do a show and have dinner or drinks. And even at full price, which is only $25.00, Lunchbox offers great value. I've seen 6 Guitars twice before and it's so good I'm going again. Highly recommended. You can read more at my previous blog post 6 Guitars: a fun and uplifting tribute to music
Venue: Lunchbox Theatre
Performance Dates: January 9 to 28, 2017
"During the course of this 75 minute one man masterpiece the audience learns about Henry Waltrip (the Nashville Hurricane) from his humble trailer park beginnings alongside his white trash mother, Brenda to the crazy gigs on the road with his blues playing mentor, Tyrone. The stories and songs unfold into hilarious rants on love and music, a riveting tale involving the dark side of show biz, and blazing guitar work any audience is sure to rave about such as the finale; a one man acoustic 'Devil Went Down to Georgia.'"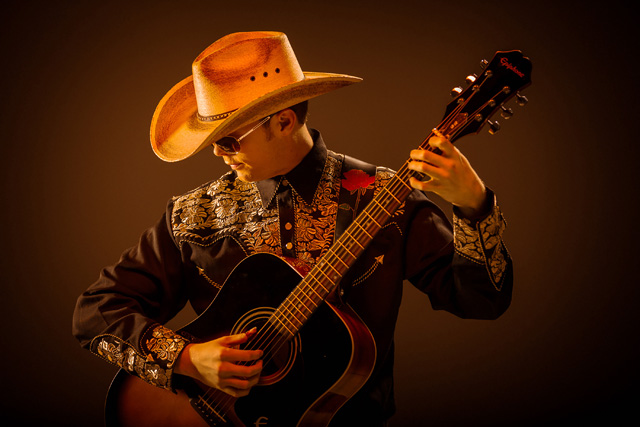 Starring: Chase Padgett
Playwright: Chase Padgett & Jay Hopkins
Ticket: $16.00
Promotion: No promotion for this one. $16.00 is the full price for the performance. One night only. When I decided to spent one hundred bucks in January I started to look at what was playing and I checked out Arts Commons, Theatre Calgary, ATP, The High Performance Rodeo, The Jubilee, Storybook Theatre, The Pumphouse, The CPO, Stage West, – among a bunch of others and when I came across Chase doing another one of his shows I couldn't resist going. And lets face it, $16.00 – that's a hard price to beat and the show is another showcase for his storytelling, music and acting abilities.
Venue: Bert Church Theatre, Airdrie
Performance Date: Saturday January 14, 2017
Nashville Hurricane – Audience Reactions from Chase Padgett on Vimeo.
"Every Brilliant Thing may be the funniest show about depression you've ever seen… about finding reasons to live rather than reasons to die. And those reasons can be as minute as wearing a cape and as big as falling in love." New York Post
Starring: Johnny Donahoe
Playwright: Duncan Macmillian
Ticket: $15.00
Promotion: One Yellow Rabbit's High Performance Rodeo is offering a special $15.00 ticket price to shows on Wednesdays and this is one of those shows. So, I checked out the video – you can watch it below – and I looked at the web site which had links to several reviews. I picked this show, not just because of the price, but because I wanted to see a show that brings humour and empathy to a topic that has had such a major impact on the lives of so many people.
★★★★ The Guardian – "Heart-wrenching, hilarious…possibly one of the funniest plays you'll ever see, full stop."
★★★★ Time Out London – "Filled to the brim with joy…beautiful, heart wrenching and very funny."
★★★★ The Scotsman – "A piece that demonstrates why life is worth living… you'll leave feeling elated."
Venue: Pumphouse Theatre
Performance Dates: January 17 to the 21, 2017
"Meticulously crafted… Jones covers a multitude of topics, unapologetic and resplendent in her skintight leather pants and Kirk Cobain t-shirt….From Facebook and relationships, to Tindr and Newfoundlanders, there is something that almost everyone in the audience can relate. …A combination of personal insights and characters, Stranger to Hard Work is funny and smart. Mark Robins, Vancouver Presents
Starring: Cathy Jones
Directed by Ann-Marie Kerr
Playwright: Cathy Jones
Ticket: $25.00
Promotion: ATP has $25.00 tickets for most of their shows. The first couple of rows up front and some seats off to either side on the main level. The nice thing about having that price is you can get a ticket to any of the shows during the run.
They also have a special promotion on the other end of the scale. On Friday January 27th you can Meet Cathy Jones at a special post-show event. Your ticket includes food, drinks, admission to the show and the chance to rub elbows with Cathy Jones – an experience – which I believe – is priceless. Although, if you had to put a price on it I'm guessing it would be $125. Tickets are limited, so check out the details at the link above. And just a note: much of the time when people think of promotions and special offers they think of bargains, but in addition to creating special deals to make theatre affordable you have to create premium events which leverage some unique aspect of the show you're doing. People have different levels of disposable income so you want to have something for the wealthy patron as well as for the student or person on a tight budget.
Venue: Martha Cohen Theatre, The Commons
Performance Dates: January 17 to 29, 2017
"When a blind woman living in New York City's iconic Greenwich Village finds herself terrorized by a trio of men, she's in a desperate situation – until she discovers her blindness might just prove to be her secret weapon. This new adaptation of Frederick Knott's classic thriller is sure to turn down the lights and turn up the thrills."
Starring: Anna Cummer, Stafford Perry, Tyrell Crews, Paul Cowling, Michael Tan and Emma Ross
Directed by Simon Mallet
Playwright: Frederick Knott
Ticket: $20.00
Promotion: Vertigo offers $20.00 tickets to the director's preview on the first Sunday of the run. You can't reserve a seat but at twenty bucks you can't beat the price. Plus Vertigo offers $29.00 tickets on two rows at the back of the theatre which are available for any performance. I'm going because I like mysteries and suspense. I like The Maltese Falcon, Sleuth and Marathon Man and Vertigo Theatre always does a fantastic job of bringing mystery and suspense to the stage. Their production of Dial M for Murder a couple of years ago was outstanding and the sets and technical elements are always a terrific part of the evenings experience. Plus I'm doing a rewrite on one of my own plays called: Heart of Stone: A Jessica Quinn Mystery and I like to see detective fiction and suspense on stage just to inspire my own writing.
Venue: The Playhouse
Performance Dates: January 21 to February 19, 2017
"All's Well That Ends Well is a romantic tale about Helena, in love with the requiting Bertram and the great lengths she will go to win his affection. Known as one of Shakespeare's darker comedies, it is the fusion of folk and fairy tale woven through the battlefield of love, betrayal, and seduction."
"Iconic and provocative Canadian playwright Brad Fraser and esteemed Canadian theatre director Peter Hinton, join forces to bring Shakespeare's lesser known romantic tragi-comedy to life."
Starring: Joel Cochrane, Brett Dahl, Myron Deardon, Caleb Gordon, Braden Griffiths, Allison Lynch, Elizabeth Stepkowski-Tarhan, John Ullyatt, Sarah Wheeldon, Tenaj Williams
Directed by Peter Hinton
Playwright: William Shakespeare adapted by Brad Fraser
Ticket: $15.00
Promotion: Part of the One Yellow Rabbit's High Performance Rodeo $15.00 Wednesdays. And besides who wouldn't want to see some iconic, provocative and esteemed Canadian Theatre creations. Plus, I've never seen All's Well That Ends Well on stage and plays are meant to be staged not read and The Shakespeare Company always does a fantastic job so at that price I'd be crazy not to go.
Venue: Studio at Vertigo Theatre
Performance Dates: January 20th to 28th
Those are the six shows I've picked for January. Total cost, not counting GST and service fees: $101.00.
I think that's an acceptable cost overrun, don't you? A loonie.
And speaking of loonies you'd have to be loony not to check out One Yellow Rabbit's High Performance Rodeo. Four of the productions I'm going to see and several of the productions I list below are part of this year's rodeo. There are so many good shows to see that even if I had the money to see them all I wouldn't have the time. So here are some other productions coming up in the next few months that caught my eye that you might want to check out.
And if you see a show you love; tell your friends; Tweet about it; post to Facebook and Instagram; help spread the word and keep the arts alive and a vibrant part of our community.
An incomplete but worth checking-out list of upcoming Calgary productions.
"Audiences will delight in the twists and turns in the re-imagining of this passionate and tragic tale."
January 18th to 28th
---
Written by Karen Hines
"Karen Hines turns her protean and funny mind to the subjects of protein (in the form of charcuterie), the Bechdel-Wallace test, killer trolls and eavesdropping waiters." Bruce Weir, Swerve
January 10th to 21st
---
"Theatre Smith-Gilmour presents a darkly comic tour-de-force, in an original adaptation of Faulkner's As I Lay Dying."
January 12th to 14th
---
Alberta Ballet presents:
"With a much-anticipated new show, the Trocks are back with their hilariously gender-bent, sublime and marvelously funny take on the most popular ballets of all time. These extraordinarily skilled pros don't cut corners, dancing on pointe and making a satirical point, they always leave Alberta audiences in fits of laughter. It's physical for the performers, but for the audience too. Stomachs hurt, minds are blown and mouths are left open in awe of what is happening."
January 12th to 14th
---
"Ottawa's Mi Casa makes performances that straddles genres – part theatre, part music, part community hang outs, always live. With spoons, water glasses, whirly-winds and a madolin, the performers create the sounds and images of a landscape forever altered by regret."
January 13th and 14th
---
Theatre Replacement and Neworld Theatre in association with Crow's Theatre.
"Winners and Losers is a staged conversation that embraces the ruthless logic of capitalism and tests its impact on our closest personal relationships as well as our most intimate experience of self. As each of the characters seeks to defeat the other, the debate becomes highly personal, as they dissect each other's individual, familial and class histories."
January 25th to 28th
---
2016 Juno Nominee for Best Instrumental Album
Chris Derksen is an Aboriginal cellist/composer known for building layers of sound into captivating performances.
January 14th
---
Playwright: Peter Morgan
"For sixty years Queen Elizabeth II has held a private weekly meeting with each of her many Prime Ministers. Politicians have come and gone, but she has remained a constant. Through this riveting drama, we get a glimpse of the woman behind the crown and what it's like to be one of the most famous, and yet most private people in the world. Expect visits from Churchill, Cameron, and Thatcher, among others. Elegant, majestic, and highly illuminating."
January 24 to February 18
---
By Kevin Murphy & Dan Studney
"This satirical cult classic, based on the 1936 propaganda film of the same name, takes a darkly comedic look at the politically-charged topic of marijuana use."
January 6th to 21st
---
Known as "The Ambassador of Soul," Ellis Hall is a master of classic R&B in the style of the genre's greatest legends.
January 13th & 14th
Christoph Konig, conductor
Timothy Chooi, violin
Mendelssohn's immensely popular Violin Concerto is beautifully interpreted by rising Canadian talent Timothy Chooi.
January 20th & 21st
Hugely respected on the Canadian music scene, Joel Plaskett makes his debut with the Calgary Philharmonic Orechestra. Plaskett's songwriting and charismatic live performance is illuminated beautifully through the power of orchestral arrangements.
January 24th
---
Written by Catherine Trischmann
"Faith and science collide in a small room when a science teacher from Manhattan starts work in a small rural Kansas town that's been ripped apart by a tornado. When one of her pupils – Micah – takes offence at an off-the-cuff remark about how life on Earth began, Susan is thrown into an ethical firestorm about evolution and creation."
A thoughtful, compassionate drama.
February 1st to 5th
---
by John Estacio and John Murrell
"In celebration of Canada's 150th birthday, we invite you to get swept up in this true story of bootlegging, murder and an execution in the Crowsnest Pass during the prohibition in the 1920's."
February 4th, 8th and 10th
---
4 new plays by Calgary playwrights
A Picture Paints a Thousand Words by Kas Nixon
Le Mere/La Mer by Maria Crooks
Car Keys by Chelsea Shortall
(un)convention by Jessica Gurnsey
February 14th to 19th
---
The University of Calgary presents an Ellipsis Tree Collective Production
COLOURS: A Black History Month Series: Four dynamic, provocative and engaging events. ALL FREE!
Gallery Night: featuring work by Jess Szabo, Chantal Chagon & others. February 23rd
History in a Box: The Trailblazer Series: featuring live performances and a panel discussion with Jazzkib Collective (HipHop MCs, producers), Chantal Chagnon (Indigenous singer, drummer, storyteller), Sabrina "Naz" Comanescu (dancer, choreographer) and Eileen Kosasih (violinist, pianist, orchestra conductor). Hosted by playwright and actor Makambe K Simamba. February 24th
Two Sisters by Makambe K Simamba: a workshop reading of her latest play, featuring Keshia Cheesman and Lennette Randall. February 25th
Pay It Backward: with a sneak peek of her new documentary film and special musical guests, playwright Cheryl Foggo brings her next installment in her exploration of the life of legendary cowboy and rancher John Ware. An evening of image, music and dialogue about the man who put the "story" in Alberta's Black history, and his impact on the author's life as an Albertan. With Miranda Martini and Janelle Cooper. February 26th
February 23rd to 26th
---
By Katherine Paterson, Stephanie S. Tolan and Steve Liebman
"This powerful adaptation, supported by a lyrical score, focuses the humor, warmth and emotional intensity of Katherine Paterson's Newbery Award winning novel. Jesse, alienated from the pragmatism of his family and rural Virginia culture, draws and dreams of becoming something special. Leslie, the new girl from the city and the ultimate outsider, opens a world of imagination, art and literature for him. Together they create Terabithia, a fantasy kingdom where they are safe from those who don't understand them. Their friendship grows as Jesse's world expands. When tragedy strikes, the strength gained in Terabithia takes Jesse forward on his own and lets him share the magic of his dreams."
February 3rd to 18th
---
By Dan Needles
Starring Rod Beattie
"The Wingfield Farm series is a popular set of Canadian stage comedies about city stockbroker Walt Wingfield who quits the rat race to buy a hundred acre farm in fictional Persephone Township an hour or so north of Toronto."
"powerhouse acting skills… could very well be the best of the bunch… It doesn't matter if you haven't seen any other installments of the series. Wingfield On Ice is theatrical magic that needs no introduction." – David Lennan, Weekend Edition
February 23rd to February 25th