Are you happy? Is this the life you wanted? How the hell did you end up with this life anyway? So what are you going to do about it? How are you going to change it?
Well it's the end of the year so you could start by making a few New Year's resolutions.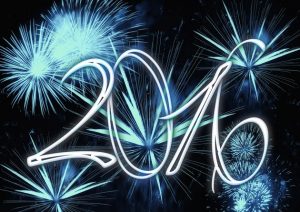 Maybe it's time to get in shape or learn the accordion or take that trip to that temple in Tibet where they teach you to live in the moment and to be at one with the Universe. And yes there are people who diminish the value of New Year's resolutions but those people are the sort of people who love to stomp on dreams – spew poison into the world – undercut your confidence – put you down so they feel good – and I say screw them – don't listen to them – cut them out of your life – get rid of them – if they don't support your dreams and goals you don't need them.
Instead you need to make a plan and making resolutions is one way of planning and it's always better to have a plan than to not have a plan. And even if you don't follow through on everything you want to do you're at least looking at your life and thinking about where you've been and where you want to go. So go forth and make your list. Be bold – go for what you want – build the life you want – then figure out how to do it.
If you want to be a writer then make a resolution to write. Write that poem or that blog or that novel or that screenplay or that stage play you've always wanted to write. And start today. Don't delay. Writing that novel could be a ten year journey from idea to publication. Yeah, sure it might be shorter but it could be longer too. Chances are it's not going to happen the way you think it will. And if you've never written a novel you don't know how to write a novel and you need to learn how to write a novel. And that takes years and the best way to learn is by doing. The more your write the more you learn and the better writer you become.
And if you're already writing good for you!
Now if you're having problems with some of your characters – why not make a list of New Year's resolutions for them? Yes, you've done the typical character chart – talking about their childhood and the career and what their favourite colour is but resolutions are different. When we talk about resolutions we're talking about hopes and dreams and that's the secret to motivation. Have your hero or your villain or your heroine make their New Year's Resolutions. Of course your hero doesn't need to be a guy it could be a girl – same goes for the villain – and same goes for the heroine – she can be a he. So, whatever gender – sexual orientation – religious faith – body size – world view – all your characters have needs, wants, and desires and what better way to express them than with a list of New Year's Resolutions.
It's a different doorway into understanding your characters and what they want. Plus it's fun. You can be as serious or as silly as you want and the insights you'll get will inform your story and your writing.
The one thing you need to do if you make new year's resolutions and you want a shot at keeping them – is to share them. Share your dreams and aspirations. Share them with someone who believes in you – who will support you – who will encourage you – keep those people in your life and get rid of the rest.
Happy New Year!
***
For a few more thoughts about writing check out my blog entry: So You Want to be a Writer.
***
To subscribe to my blog enter your e-mail at the top of the page and hit subscribe.
***