Now, you might have figured out after reading my last blog, Mr. Trump Goes to Washington, that I like satire. Well you'd be right. In fact, I love satire. Dr. Strangelove or How I Learned to Stop Worrying and Love the Bomb by Stanley Kubrick is one of my all time favourite films.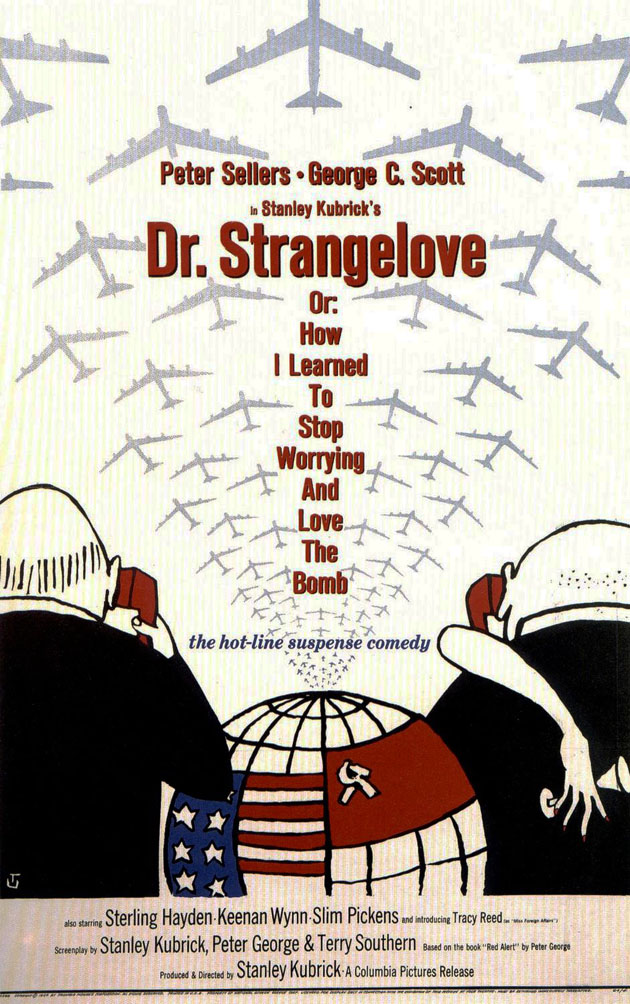 I first saw Dr. Strangelove at the movies with a full audience in the mid eighties when tensions between the US and Russia were spinning out of control. Unfortunately, the film has become all too relevant once again by recent world events and the rising tensions between Putin and and the US. Yes, there are serious films about Nuclear War like Fail Safe but they don't have they same punch as Dr. Strangelove. Dr. Strangelove stays with you and manages to explore a serious topic while revealing the absurd nature of nationalism and this nuclear nightmare we live in.
That's because comedy allows us to examine serious issues in a safe way. That's why the first thing authoritarian governments do is control the press and the media. They don't want to be examined. They want to control the message. They want to dictate. They don't want to be mocked. They want to be obeyed.
A film like Dr. Stangelove can only exist in a country that allows for free speech. Strangelove would have never been made in the Soviet Union because it would have been mocking the leadership of the country. The sure sign of a dictator is someone who has no sense of humour about themselves. Instead Dictators and bullies – because they're basically the same thing – laugh at others. They mock others. They ridicule and belittle others.
That's why in the United States and Canada and Britain and all the free nations of the world you need a free press in order to hold those in power accountable for their decisions and actions. And that means you need free speech. And that means you should be wary of any leader that mocks the institution of free speech and a free press.
Of course if you allow free speech then that means that sometimes things are going to be said or done that are going to offend you. But that's okay. It's okay to be offended. Being offended is part of the price you pay for living in a free country where you get an equal opportunity to express your own opinion.
Do I ever get offended? Of course I do.
I'm not a big fan of profanity, for example, even though I sometimes swear and get mad and get colourful in my own speech. But that's because I think that profanity, like any words you use to communicate ideas, should be used for effect.
So when a movie or comedy routine is filled with profanity just for the sake of profanity I don't much like it.
Although now that I think about it I'm not really offended so much anymore as I'm bored by the use of too much profanity when it seems unmotivated.
After all, I liked Glengarry Glen Ross and I still think Blazing Saddles says a lot about people and race and both of those films have their fair share of colourful words. And I loved Dead Pool. Dead Pool is the first Superhero movie that I've really liked. Well Dead Pool and Antman. I'm just not the audience for most of the marvel universe. But having said that can you imagine a screenplay or novel that just randomly added the word garfunkel all over the place? And while garfunkel is a fun word to read wouldn't it get kind of tedious to read it if it was used all the time? Of course it would. The same is true of the F word. So Fuck that!
Anyway, being offended doesn't give you the right to limit freedom of speech. And I know there needs to be a balance. And I know not all speech is free speech. There are such things as hate speech, and defamation of character and outright lies and these things should be challenged but in general people should be free to express an opinion. To make a joke.
The problem is now days that can be a hard thing to do because of political correctness and our fear that we might offend someone. Was my joke in my last post about China building the wall racist? Did it offend people? Maybe. But would I remove it? No. Because it's there in order to juxtapose Trumps attacks on China with the fact that many of his own products are actually manufactured in China. The joke is more about Trump than it is about anything else.
And I'm not saying that freedom of speech gives you the right to say absolutely anything but for the most part in a free society you have to let other's have their say and if you're offended by what they have to say then you have the right to speak up and tell your side of the story.
And in that spirit I'd like to give John Cleese a chance to voice his opinion. I came across this interview with John Cleese where he gives a brilliant explanation about his position on comedy and political correctness. This clip is about two and a half minutes long and it's worth having a listen to and sharing with others.
***
In my next blog post I'll be talking about my play, Never Give Up, which is part of this year's 6th Annual Seoul Players Ten Minute Play Festival as well as passing along some sage advice from a few playwrights including Arthur Miller, Henry David Hwang and Paula Vogel.