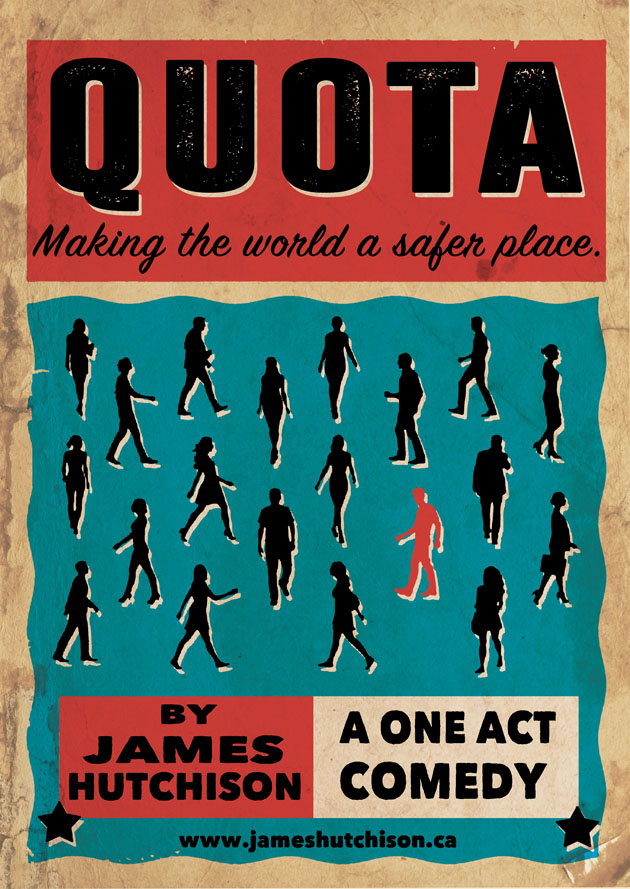 "All societies are based on codes of behaviour and when someone deviates from that code there has to be a way to handle the situation otherwise chaos would reign supreme and we don't want that now do we. We want everything nice and tidy. All the socks in the sock drawer and all the undies in the undie drawer."
That's a line from my play QUOTA. It's what Dave Dixon gets told by Kathie, the Civic Census taker, after he gets flagged for corrective action.
I wrote QUOTA last year while I was doing a little research about the internment camps that the Canadian government ran during World War One and World War Two. It's always bothered me that we were fighting dictatorships that put people in camps while we were doing the same thing. Of course our camps weren't concentration camps but once you have a different set of laws and rules applied to one group in your society – how do you keep it from going to the extreme?
Maybe you keep it from going to the extreme by making sure the rule of law applies to everyone equally regardless of race, gender, religion, sexual orientation, or ethnicity.
Of course that's only if you believe that everyone is equal. Not everyone believes this. And if you've seen Avenue Q you know that we're all a little bit racist. We're all human and we make assumptions and have distorted beliefs about people and sometimes we're not even aware of our own prejudice. But that's a lot different than laws being enforced by a government that are intended to limit the rights and freedoms of a particular group simply because of of that group's differences.
But governments are not composed of robots. Governments and Prime Ministers and Presidents and Kings and Dictators are all people. And so I have to wonder what kind of people are they? Are they good leaders? I think not if they allow such laws to be passed and enforced.
But what makes a good leader? I think good leaders don't seek power for themselves but instead seek to empower others. Bad leaders are afraid of diversity. They're afraid of others having power. They see the cup as half full and they want what's in the cup all for themselves. And while I know there are lots of different definitions of leadership I think great leaders enlarge the world they don't limit it. They share.
You know one of the purposes of theatre and story is to provoke discussion. Discussion about politics, morality, relationships, love, religion, and power. And comedy allows us to shine a light on attitudes and behaviours in a way that drama doesn't. That's why I wrote QUOTA. I wanted to take a look at how individuals go from being a member of society to becoming an identified minority and having their rights violated.
So, I'm pleased to announce that this October QUOTA will be given it's world premiere as one of the winning plays presented at the 2015 Warner International Playwrights Festival.
QUOTA is the story of Dave Dixon who – while looking for a job on-line – is interrupted by the Metro City Census Taker. This is unlike any census Dixon has ever taken and when he's asked whether or not he was spanked as a child he refuses to answer. That causes the Census taker to call for police back up and Dixon finds himself being targeted for corrective action because of his unemployment and the fact that he's left handed. When a 2 kilo bag of white sugar is found on the premises and Dixon is facing jail time for trafficking he has to make a choice between naming names and protecting himself.
The Warner International Playwrights Festival recognizes the work of emerging and established playwrights from across the country and around the globe. The Festival gives playwrights a forum for production of their one-act plays that engage and entertain audiences through exploration of the human experience and the human spirit.
The 2015 festival takes place at the Nancy Marine Studio Theatre in Torrington, Connecticut from Thursday October 15th to Saturday October 17th. Tickets and complete festival information is available at: www.warnertheatre.org
***
To subscribe to my blog just enter your e-mail at the top of the page and hit subscribe.
***
Winning Plays 2015 Warner International Playwrights Festival
Program: PASTICHE – Thursday October 15, 2015
Program: MOMENTS – Friday October 16, 2015
Program: DUET – Saturday October 17, 2015
Check out some of my other blog posts below: