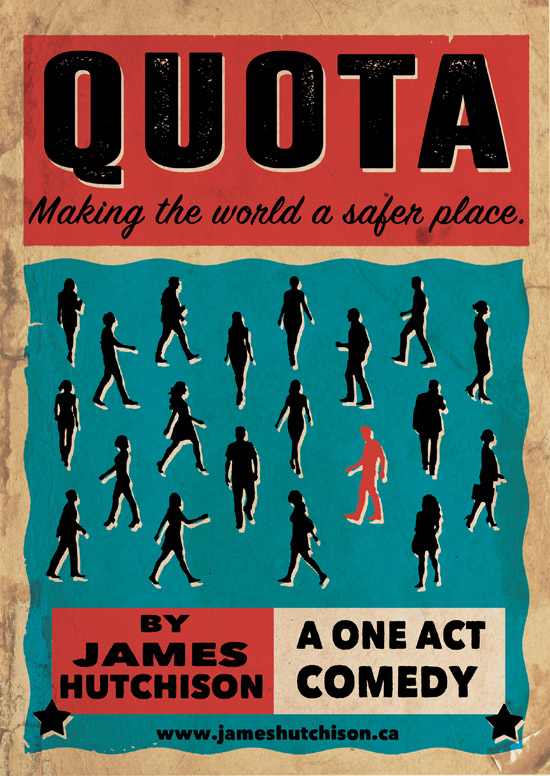 "All societies are based on codes of behaviour and when someone deviates from that code there has to be a way to handle the situation otherwise chaos would reign supreme, and we don't want that now do we. We want everything nice and tidy. All the socks in the sock drawer and all the undies in the undie drawer."
That's a line from my play QUOTA. It's what Dave Dixon gets told by Kathie, the Civic Census taker, after he gets flagged for corrective action.
I wrote QUOTA while I was doing a little research for another play about the internment camps that the Canadian government ran during World War One and World War Two.* It's always bothered me that we were fighting dictatorships that put people in camps while we were doing the same thing. Of course our camps weren't concentration camps but once you have a different set of laws and rules applied to one group in your society – how do you keep it from going to the extreme?
Maybe you keep it from going to the extreme by making sure the rule of law applies to everyone equally regardless of race, gender, religion, sexual orientation, or ethnicity.
Of course that's only if you believe that everyone is equal. Not everyone believes this. And if you've seen Avenue Q you know that we're all a little bit racist. We're all human and we make assumptions and have distorted beliefs about people and sometimes we're not even aware of our own prejudice. But that's a lot different than laws being enforced by a government that are intended to limit the rights and freedoms of a particular group simply because of of that group's differences.
But governments are not composed of robots. Governments and Prime Ministers and Presidents and Kings and Dictators are all people. And so I have to wonder what kind of people are they? Are they good leaders? I think not if they allow such laws to be passed and enforced.
But what makes a good leader? I think good leaders don't seek power for themselves but instead seek to empower others. Bad leaders are afraid of diversity. They're afraid of others having power. They see the cup as half full and they want what's in the cup all for themselves. And while I know there are lots of different definitions of leadership I think great leaders enlarge the world they don't limit it. They share.
You know one of the purposes of theatre and story is to provoke discussion. Discussion about politics, morality, relationships, love, religion, and power. And comedy allows us to shine a light on attitudes and behaviours in a way that drama doesn't. That's why I wrote QUOTA. I wanted to take a look at how individuals go from being a member of society to becoming an identified minority and having their rights violated.
So, I'm excited to announce that the Sky Blue Theatre Company will be producing, my play, QUOTA as part of The British Theatre Challenge – Act II. The British Theatre Challenge is an annual international playwriting contest run by the Sky Blue Theatre Company and this year, in addition to the ten winning plays produced in December 2016, an additional six plays will be produced on Friday April 7, 2017 at the Lost Theatre in London, England. If you happen to be in London check it out.

Quota by James Hutchison
QUOTA is the story of Dave Dixon who – while looking for a job on-line – is interrupted by the Metro City Census Taker. This is unlike any census Dixon has ever taken and when he's asked whether or not he was spanked as a child he refuses to answer. That causes the Census taker to call for police back up and Dixon finds himself being targeted for corrective action because of his unemployment and the fact that he's left handed. When a 2 kilo bag of white sugar is found on the premises and Dixon is facing jail time for trafficking he has to make a moral choice between naming names and protecting himself.
Guilty by Pete Barrett
Guilty takes Alice Golding one step through the looking glass into a bizarre courtroom scene, peopled by men, where she is tried for her many failures: her failure to get on with her own mother, her neglect of her children, her failure to find a job and contribute to the family budget, her failure to maintain her looks and figure and the consumption of an entire cheesecake in one go, thereby robbing her family of a Sunday treat and leaving them bereft. Of course there can only be one sentence: life.
A first year high school English teacher meets with the school's administrators for what he believes is his mid-term job evaluation. However, as the meeting progresses, he soon discovers that the evaluation is actually an interrogation…
Threatened Panda Fights Back by Rex McGregor
As the World Wildlife Fund's poster boy for endangered animals, Ling enjoys a comfortable life full of adulation and all the bamboo he can eat. But when a rival species challenges him for the role, he risks losing everything.
Mother's Ruin by Michelle McCormick
As new parents, life for Esther and Tom has become a continuous cycle of miscommunication and long waits for invitations that never arrive. Then one simple question threatens to change everything. 'Where's the baby?'
The Waiting Room by Steve Shapiro
This is the place where you wait between lives. Barbara and Helmut arrive separately and must be assessed to see if they have fulfilled their pre-incarnation pledges, and while The Girl and Dinesh negotiate a better life next time. One of them is destined to make a mark in history.
***
Sky Blue Theatre strives to produce diverse and relevant works as well as being a hub of creativity and professional development for emerging artists.
***
Lost Theatre is dedicated to promoting and developing young and emerging talent through regular productions, festivals, training, workshops and showcases in addition to year round education and outreach activities.
***
* Internment in Canada – World War I & World War II
At the beginning of World War I the Government of Canada enacted the War Measures Act which gave the it the power to suspend and limit civil liberties as well as the right to incarcerate "enemy aliens". Enemy Aliens were citizens of states at war with Canada and who were living in Canada during the war. The camps were operated from 1914 to 1920. Twenty-four camps housed 8,579 men which included 5,000 Ukrainians and 2009 Germans. The camps provided forced labour which was used to build infrastructure as well as some of Canada's best-known landmarks such as Banff National Park.
During the Second World War 40 camps held an estimated 30,000 to 35,000 prisoners. This included Germans and Italians and after Pearl Harbor approximately 20,000 Japanese Canadians were taken from their homes on Canada's West Coast without any charge or due process and placed in remote areas of eastern British Columbia. The Canadian Government stripped them of their property and pressured them to accept mass deportation after the war ended. Most of the Japanese Canadians that were placed in camps were Canadian Citizens.
Links & Sources:
Internment in Canada: The Canadian Encyclopedia
Controversy dogs exhibit on First World War internment: The Globe and Mail June 10, 2013
Parks Canada: Enemy Aliens, Prisoners of War: Canada's First World War Internment Operations, 1914-1920
Interment of Japanese Canadians: The Canadian Encyclopedia
Japanese Canadian History – The War Years