Elvis is Dead in New York City
Well, he's dead. Not just in New York City but everywhere. But this isn't about Elvis. This is about my play Elvis is Dead and the The Puzzle Theatre Festival.
My play is among eleven ten minute plays being presented as part of the 6th Annual The Puzzle: a festival of theatre being held at the Marble Collegiate Church, in New York City, from June 20th to June 25th.
The festival is produced by Brian Hampton with artistic direction by Marya Spring Cordes.
Elvis is Dead is about time travellers Dr. Fred Bunson and Commander Robert Frump who have travelled back in time to retrieve a lost book and save the world. Unfortunately, with no library card and the book already signed out things look dim for our intrepid time travellers until librarian Sally Knowlton comes to the rescue.
The production is being directed by Jillian Robertson and stars Zach Wobensmith as Dr. Fred Bunson, Korland Simmons as Commander Robert Frump, and Lizzy Miller as Librarian Sally Knowlton.
This year the festival received 251 plays from 36 States, Canada, Chile, and New Zealand. The winning entries are: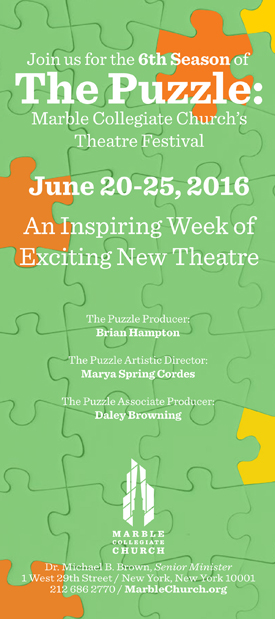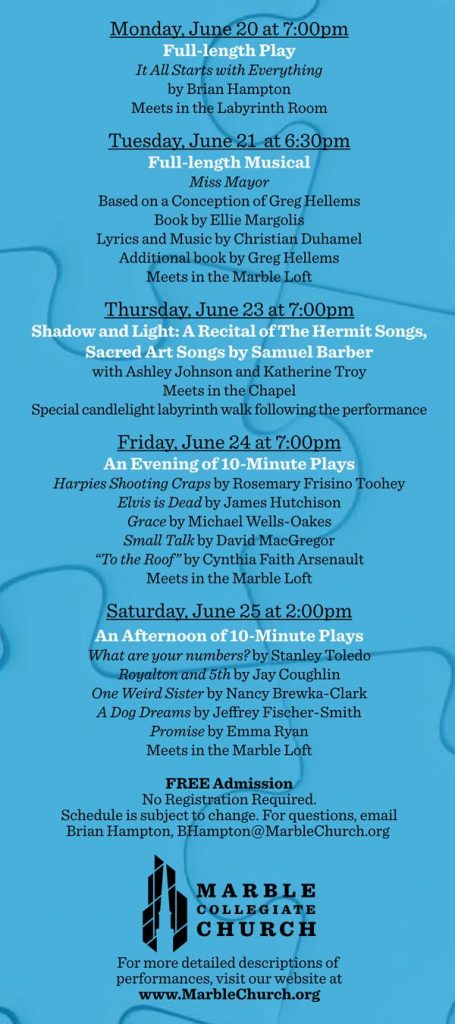 Link: The Puzzle: Marble Collegiate Church's Theatre Festival.
***
Producer Brian Hampton is a published playwright, producer, and actor whose NYC and worldwide credits include The Jungle Fun Room, Gossip, and Checking In.
Artistic Director Marya Spring Cordes is a performing artist, director, Alexander Technique teacher, and on faculty in the BFA Acting and Musical Theatre programs in Wright State University's Department of Theatre, Dance, and Motion Pictures.
Never Give Up
Never Give Up, my ten minute comedy about going after your dreams, is one of eight plays premiering at the King's Shorts Festival of Ten Minute Plays in Annapolis Royal, Nova Scotia from June 17 to 19th. You can read my previous post about the play and the festival by following this link: Never Give Up at King's Shorts.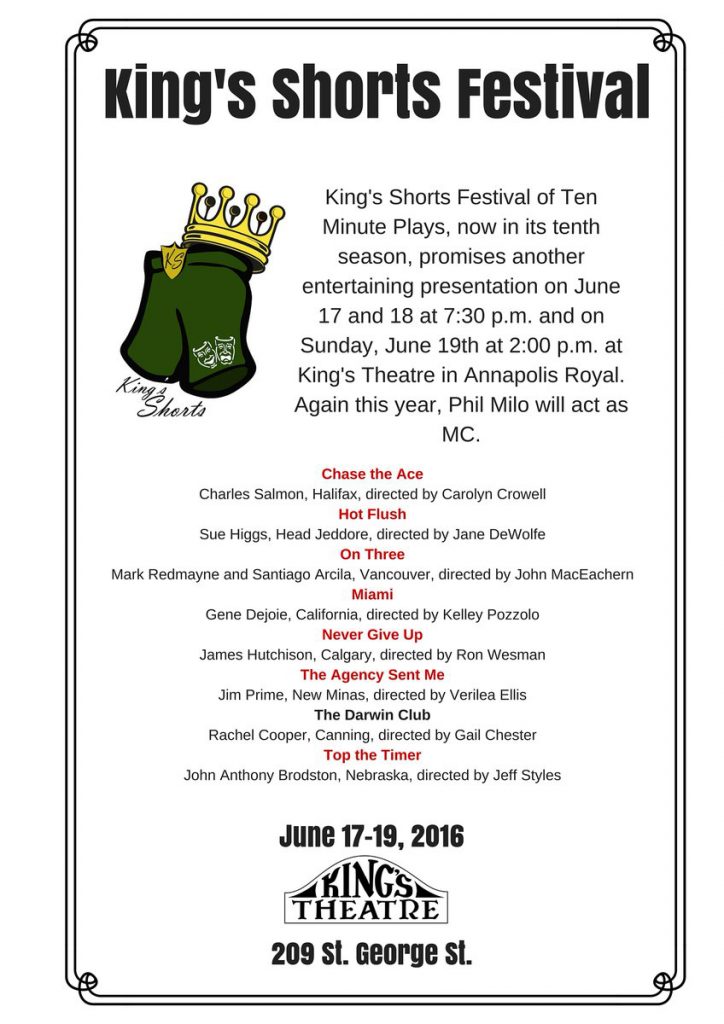 congress2016
An exciting event occurred in Calgary at the start of the month: congress2016. What is congress you ask?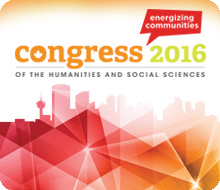 "Unrivaled in scope and impact, the annual Congress of the Humanities and Social Sciences is the convergence of approximately 70 scholarly associations, each holding their annual conference under one umbrella. Now in its 85th year, this flagship event is much more than Canada's largest gathering of scholars. Congress brings together academics, researchers, policy-makers, and practitioners to share findings, refine ideas, and build partnerships that will help shape the Canada of tomorrow."
As an alumni I enjoyed returning to the University of Calgary and spending a week surrounded by academics – most of whom have a burning desire for knowledge and understanding. They like to ask questions. And I like to think that a university is, first and foremost, a place where you are free to ask questions and explore ideas.
I've been a playwright, a sociologist, and a commercial writer/producer but in each of these incarnations what I'm exploring is human behaviour.
I want to know what motivates a people or a person to behave the way they do. How do we decide what is right or wrong? How much is nature and how much is nurture? Why do good men do bad things, and conversely why do bad men do good things?
Science explores behaviour with the scientific method and a writer explores behaviour through story. Writers and academics explore the tension between the individual and society. Between self-interest and the greater good. Between freedom and tyranny. Between love and hate. We explore these things by asking questions. Our curiosity and desire to know drives us.
Maybe, in the end, both the artist and the scientist are seeking truth. A story that speaks to us and reveals a truth about life is powerful. A scientific discovery that reveals a truth about the nature of existence is also powerful. Both story and science have the power to change the course of history because story and science can change our understanding of the universe.
***
"The important thing is not to stop questioning. Curiosity has its own reason for existence. One cannot help but be in awe when he contemplates the mysteries of eternity, of life, of the marvelous structure of reality. It is enough if one tries merely to comprehend a little of this mystery each day." Albert Einstein
"Old Man's Advice to Youth: 'Never Lose a Holy Curiosity'" LIFE Magazine (2 May 1955) p. 64
***
To subscribe to my blog enter your e-mail at the top of the page and hit subscribe.
***