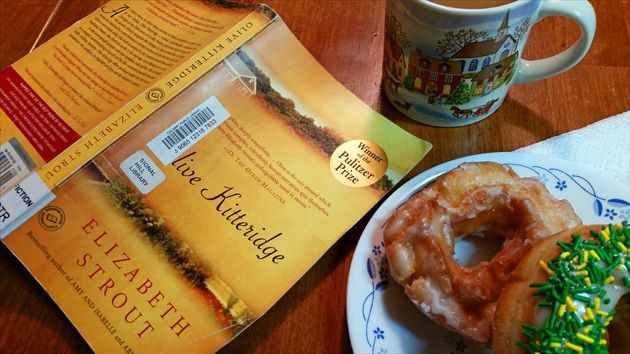 Olive Kitteridge is a hard woman to love. But she's one of the most interesting and complex characters you're ever going to see or read.
I stumbled across the mini-series Olive Kitteridge last year. I hadn't heard about it. Apparently I've been living under a rock. I mean it won a lot of Emmy's and a whole sack full of other awards so it's not like nobody knew about it. But in my defense I don't tend to watch award shows. Actually the last awards show I sat down and watched – commercials and all – was the 1978 Oscars. I was disappointed Citizen Kane didn't win Best Picture. I wonder if it will win this year? Probably not. I'm guessing it won't even get nominated.
Olive Kitteridege is 25 years in the life of someone who makes other people's lives miserable. And yet, this person is not a villain – they have a heart – they've felt pain – they've been hurt – and they do good and help others but are often blind to their own destructive behaviours and actions.
I watched Olive Kitteridge and from the opening credits and music I was hooked. Frances McDormand is brilliant as Olive. There's a profound sadness and anger and yet a glimmer of hope and love in her performance. This is a complex woman. I watched the first episode – took a break because there was a lot to absorb and then binged on the remaining three the following night. You know a series is good when you can't stop watching.
So, I got out the novel – from our fantastic Calgary Public Library – because I wanted to compare the novel to the mini-series. The novel is different. The mini series tends to focus more on Olive whereas, in addition to Olive, the novel gives us more stories about other characters in the town. I thought the novel was fantastic. Well worth reading.
And after reading the novel I decided to watch the mini-series again – and I liked it even more. The acting, directing. and writing are brilliant – there's no other word for it. A strong cast with Frances McDormand, Richard Jenkins, John Gallagher Jr., Zoe Kazan and Bill Murray just to name a few. But of course you can't have great performances without a great director and Lisa Cholodenko has done a marvelous job of creating moments of truth and revelation between her cast.
And what an incredible job of adaptation by Jane Alexander of the Pulitzer Prize winning novel by Elizabeth Strout. It's not easy to adapt a novel for the screen but this adaptation is true to the book while using the strengths of visual story telling to create an amazing mini series.
Did I like?
I loved it!
And if you love good drama, you'll love it too.
Just a word of warning – if you're going to watch the mini-series or read the book stock-up on doughuts. Doughnuts play a central part in the story. Life is tough and sometimes we need that old-fashioned-sour-cream-glaze to get us through the day.
***
One of the reason's I was interested in Olive Kitteridge is because it's about Olive but it's also about the community where she lives and I've been working on my own play about a place called Stories From Langford: Every town has its secrets. I'll be talking more about this play down the road but I think knowing the place where your characters live and exist is important.
Place can define character. It can shape character. A place has a huge impact on the dramatic structure of your play.
Do you remember the movie Who's Afraid of Virginia Woolf? The stage play takes place at the home of George and Martha but in the movie they move the action to a diner for a few scenes. On stage they never move to a diner. The move to the diner was motivated by "film thinking" In other words, "We need to move the characters because the audience will get bored if we stay in one location for the entire film."
When I watched the film that change of location feels completely unmotivated – it feels wrong. And, from what I've read, Edward Albee, the author of the play thought the change of location was wrong as well.
Why is it wrong? Because the home of George and Martha is the battleground. The home is personal. The cafe isn't. The cafe is a public space. Why would you set a family battle in a cafe? It makes much more sense to stage the action in the space that the characters call home.
It's a small flaw in an otherwise brilliant film version of the play. A small flaw that can be forgiven considering the performances and the script. But when it comes to your own settings – when it comes to where you want to place your characters – as often as possible set the action some place personal. Does that mean it always has to be in a home – no of course not. The play can be anywhere you want so long as there's a personal connection to the characters. If it's going to be in a restaurant for example then that restaurant should have a personal connection to the characters in your story. Otherwise keep them home.
***