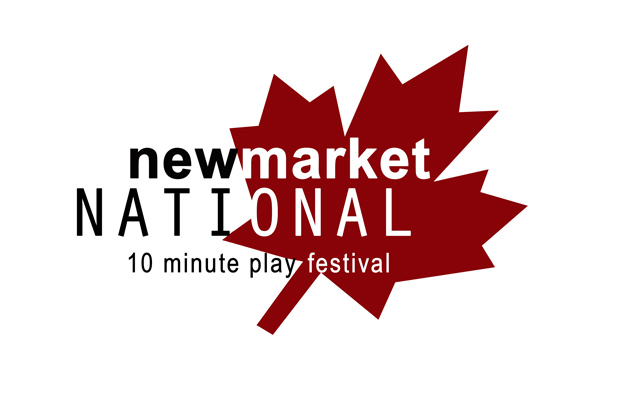 "We've received submissions from every province in Canada and from Canadians from around the world. We've received scripts from China, Tasmania, Australia, Ireland, many states throughout the U.S., and so on, and I think that Canadians are catching on to the idea that this is their festival."
Michael Halfin, Artistic & Executive Director NNPF
"Telling and hearing stories keeps us in the emotional and intellectual company of one another. I think deep down, people desire to know they can rely on other people, and stories and theatre can offer that by creating a like-minded culture."
Dale Sheldrake, Director Valentines' Day
***
I'm very excited to announce that my play, Valentine's Day, is one of twenty-four plays being produced from Wednesday, July 25th to Sunday, July 29th at the 2018 NewMarket National 10 Minute Play Festival. The NNPF is a festival dedicated to Canadian plays and the diverse voices of this country and takes place forty minutes north of Toronto in Newmarket Ontario.
The plays are grouped into four themed Pods with six plays being presented in each Pod. Tickets are just twenty bucks per Pod and each Pod is presented four times during the festival. Valentine's Day which is part of the "off BALANCE" Pod is about Tom who remembers the day fifty years ago when he met the love of his life, Heather. The production is being directed by Dale Sheldrake and stars Dan Karpenchuk as Old Tom, Tiffany Deobald as Heather, Kyra Van Den Enden as Karen, and Ilya Iyashyk as Young Tom.
Other plays in the "off BALANCE" Pod include Hero by Peter Cavell a sweet romantic comedy where even heroes need a hero and Funeral Sandwiches by Greg White where a grieving Barbara learns the truth about her husband and another woman. This pod is suitable for most audiences and is described as: "In life's ledger, what we lose and what we gain always affects the balance."
If your tastes run a little more mature you might want to see the "side KICKS" Pod which deals with mature themes, coarse language and sexuality and includes If the Shoe Fits by Genevieve Adam where a loyal knight, a glass slipper, and a pig farmer provide a new twist on an old tale and The Kiss by Janet Kish where Panda learns about the give and take of love in an innocent clown-like world. This Pod is definitely meant for a mature audience and is described as: "Best Buddies. Sidekicks? Boon companion or boot the companion? Relationships are so complex!"
The third Pod called "social ORDERS" includes a story about two unlikely refugees who encounter unanticipated obstacles when they try to cross the border in a play by Guy Newsham called The Other Side. This Pod is suitable for most ages and its description reads: "Independence. Interdependence. When there's no comfort in conformity, something's out of order."
"Sometimes we get what we've longed for. Sometimes, what we get, is long overdue." That's the description of Pod number four: "past DUE." Plays include Daphne of Evora by Samantha Machado which is about Daphne who faces a forced marriage to an English duke after being stolen from her homeland and Cataloguing the Stars by Andrew Lee where Agnes and Alex's relationship is catalogued in notes that reach across the chasm of space and time. This Pod contains mature themes and is therefore intended for a mature audience.
I talked with founder and Artistic Director of the NNPF Michael Halfin and to Dale Sheldrake the director of my play about this year's festival.
JAMES HUTCHISON
Michael, I understand you had retired and when we think of retirement most of us think of golf courses and trips to Europe and working in the garden, but after eight months of retirement, you decided to create a national festival of ten-minute plays. Where did the idea for the festival come from, and why did you take on the challenge of putting the festival together?
MICHAEL HALFIN
I've always been fascinated by the ten-minute play format, and as a drama teacher, I'd found it to be a great format to teach students dramatic structure, acting process, characterization…really the whole package that full length plays offer, without having to deal with pages and pages of text that kids are resistant to reading. Moreover, I'd read these plays and sometimes find myself weeping at the end – and they were only 10 pages long! It wasn't long before I was getting kids to write their own ten-minute scripts and inviting professional playwrights into my classroom to dramaturge with them. The results were outstanding. I knew this was a format for writers, actors, and audience, and so the opportunity to create a national play festival exclusively for Canadian writers would be so inviting to playwrights because of the format's tight structure and huge dramatic pay off just seemed logical to me.
As for retirement, I felt after 35 years it was time to leave teaching and apply all I'd learned in a different way. I've always been a creator, and I guess, it's just impossible for me to stop.
JAMES
One of the things I really like about the festival is the fact that people have a chance to see twenty-four original Canadian plays. What has been the response from the playwriting community across the country, and why do you feel it's important to showcase so many plays?
MICHAEL
I think what's been most delightful to see in these first two years is where people are submitting scripts from. We've received submissions from every province in Canada and from Canadians from around the world. We've received scripts from China, Tasmania, Australia, Ireland, many states throughout the U.S., and so on, and I think that Canadians are catching on to the idea that this is their festival. We don't "theme" the festival. People can write whatever they want, and what we consistently find, is that Canadians are attuned to the Zeitgeist and have a kind of "collective unconsciousness" and tend to write scripts on the same themes in a given year. So, we select twenty-four and they just naturally fall into the six-pack pods we build around themes that are common in those six scripts.
JAMES
The first year was very successful and in its second year, the festival is getting bigger and better having expanded from two days to five. What is your ultimate vision of what the festival can become?
MICHAEL
Ultimately, I'd like to see us expand into divisions of the festival that would be ten-minute, one act, full-length, and even full-length musicals, but for now, the most important thing is establishing that we are a credible, committed organization that respects creative artists and wants to open the door to the diverse voices of our country. And just as importantly, honour that ten-minute format that appeals to every generation–especially the i-generation people who want information fast and to the point. If we want theatre to be viable, we have to get the youngest generations into our houses.

JAMES
How is the community of Newmarket involved in the production and running of the festival?
MICHAEL
At the board level, all of us are volunteers. We don't take a single cent from gate receipts for ourselves. Last year, we were overwhelmed by volunteers and we couldn't find enough work for them to do. This year, we've identified our areas of need more clearly to make the best use of people's time during festival week. We've also had tremendous buy-in by the restaurateurs and merchants in the downtown core who are giving ticket holders discounts on their meals and purchases. Just incredible validation from small business owners! And I can't say enough about the Town of Newmarket itself. Without their support, this festival simply couldn't happen. Lastly, we have a number of people in town who are billeting a number of our artists for the month of July. You can't ask for better community support than that.
JAMES
Why should someone come to the festival?
MICHAEL
First, I think they should come for the plays! This is theatre for people who've never liked theatre. My 22-year-old son hates theatre, but even he likes this format. He said, "Dad, I know if five minutes in I don't like the play, at least I know a new one is coming five minutes later. I don't have to sit there being bored for two hours!" For experienced theatre-goers, the themed pods of six plays give them a full diet of what they've come for. We also build the festival around the plays. Last year, local visual artists curated an entire exhibition around our four pod themes, and we'll be doing that again. We have 14 playwrights coming to do readings of some of their other work before the audience engages the performance of their ten-minute play. We have director and actor talkback sessions, historical tours, and have built Buskerfest into our program so people have lots of live performances to see on the streets. It's fun. It's great theatre and it tells us who we are as Canadians. All of these activities are free. The only thing you pay for is your theatre ticket. Somebody tell me where you can get more bang for twenty bucks?
***
***
One of the exciting things about having your plays produced at festivals is the chance to connect with the artists who are producing your play. I've made connections in England, and Australia and now in Newmarket Ontario. A few weeks ago I connected with the director of my play Dale Sheldrake.
JAMES HUTCHISON
Dale, you're directing four plays in this year's festival. Which plays are you directing and what attracted you to each particular play?
DALE SHELDRAKE
I'm directing Hero by Peter Cavell, For the Love of Austen by Stefanie Curran, Pausing At The Fringe by David Healey, and Valentine's Day. Each play has aspects of love involved in its story: the need for love, lost and found love, new love, old love, restricting love, freeing love. These aspects of love shift and evolve in each play and reveal how present and important love is to every person's day, existence and lifetime.
I was drawn to these plays because they're well told but also because three of them have messages of hope in them regarding love. That's a theme I like to share with audiences when possible. Valentine's Day is different because of its context, but still, the main character, Tom, reflects on how his life was more meaningful than he could have ever hoped for because of his love for his wife Heather. So his hope is in reflecting on the love he had which comforts him in his current lonely life. That's a nice twist.
JAMES
You've had a rich and successful career working in film and television on lots of different shows including The Handmaids Tale and Penny Dreadful. You're a playwright and published poet, screenwriter, documentary filmmaker, a singer and a musician, and apparently make a mean Tex-Mex chili. You've worked in a lot of different mediums and have experience in a lot of different areas of production. With all these various skills what in particular do you use as a theatre director to help bring a story to life on the stage?
DALE
Everything, really. I love storytelling and can't get it out of my system. Having experience in different entertainment mediums and settings has been valuable for staging a performance and helpful with directing. As a starting point, I read the play and visualize it, considering what is connecting with me emotionally, in regards to the characters and what's happening between them. This opens up aspects of presentation that can be applied to the story. The purpose, of course, is to figure out what will make the audience best able to relate personally to these characters, feel the emotions the story conveys and understand the underlying lesson? I think most stories try to teach a lesson of some kind or offer a perspective on one.
JAMES
As a person deeply involved with the creation and telling of stories why do you think people have this deep desire to hear and tell stories?
DALE
People need and want social interaction, whether it's in person or not. Stories tell us about each other and give us a lens to look at ourselves and our behaviour. Live storytelling, like theatre, brings groups of people together, entertains us, and lets us share in emotional experiences without being personally involved. It's safe and it feels good to laugh with others, and shed a tear with these sudden communities and friendships. Telling and hearing stories keeps us in the emotional and intellectual company of one another. I think deep down, people desire to know they can rely on other people, and stories and theatre can offer that by creating a like-minded culture.
JAMES
You had a table read with all the actors a few weeks ago where all twenty-four plays were read. What was that experience like for the people involved in the festival?
DALE
The full company table read was super! There are actors who would never have met each other during the festival because of different schedules so it worked as an introduction. It gave a depth and shape to what a huge commitment and undertaking it is to put this festival together. It gave an overview of all of the terrific writing and talent involved. Everyone loved it!
JAMES
What do you find most inspirational about the NNPF and want people to know about the festival?
DALE
The Newmarket play festival preparations are incredibly professional, and having everything creative in one place: rehearsals, set design, wardrobe, staging, props, it all just buzzes like a beehive on certain days. Most inspiring is the growing presence of the magic of theatre, of numerous people working together to build something visual, thought-provoking, heart-grabbing and grand from the words on the page. Excitement grows a little day by day as we near opening night.
***
The Newmarket National 10 Minute Play Festival runs from July 25 to July 29th. Tickets are just twenty bucks per show and there are four shows of six plays based on a common theme available to see. You can get tickets and check out the complete festival schedule at the Newmarket National Play Festival Website.
***
Man, I wish I could be there. I'd love to see all the plays and meet the other playwrights and actors and directors and I'd definitely be heading to the Chip+Malt for some fish and chips. The Chip+Malt is just one of the many restaurants and retailers offering discounts during the festival. But that's what festivals are – they're about going out with friends, making new friends, seeing some shows, talking about those shows, having something to eat, and exploring the community. And the great thing is the world wide web expands that community and it lets me offer my support to the festival and help spread the word. In fact, anyone with a Twitter, Facebook or Instagram account can help support the arts by just letting people know about the festivals they attend and the theatre they see. I have no doubt this year's festival will be a huge success and Michael's plans to grow the festival beyond the ten-minute format to a celebration of all theatre formats is an exciting prospect for Candian playwrights. In the meantime, I want to acknowledge the creative talent working on my show and all the actors, directors, designers, stage managers, and volunteers that make this festival possible. Bravo!
***
Cast and Director for Valentine's Day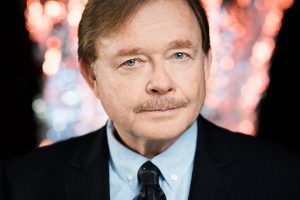 Dan Karpenchuk – Old Age and Treachery; The Other Side; Valentine's Day: After spending a lifetime as a broadcast journalist in Canada and Europe, about fifteen years ago, Dan turned to his other great love, acting. His film credits include: MurdochMysteries, Taken, Forensic Factor, Mayday and Masterminds. His most recent theatre credits include; Oakes in The Prince of Naples at the Kingston Fringe Festival, Kris Kringle in Miracle on 34th Street at Upper Canada Playhouse in Morrisburg, Falstaff in the Merry Wives of Windsor the Humber River Shakespeare, Ivan in Drinking Alone at the Rose Theatre, Brampton, and Andrew Wyke in Sleuth also at the Rose. Dan's Shakespeare credits include Othello, As You Like It, The Taming of the Shrew, A Midsummer Night's Dream, Macbeth, Much Ado About Nothing, and All's Well That Ends Well. Dan heads back to Morrisburg this winter for the Upper Canada Playhouse production of The Christmas Express which opens on November 30. Dan is thrilled and grateful to be a part of this year's Newmarket National Play Festival.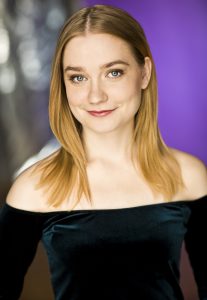 Kyra Van Den Enden: Daphne of Evora; Late Romances; Valentine's Day: Kyra Van Den Enden is a Ryerson University Theatre Performance graduate. She is thrilled that she will be continuing her theatre education at the Ecole Internationale De Theatre Jacques Lecoq this fall. Her Acting credits include: The Rover (Dir. Banuta Rubess, 2018); Jack and the Beanstalk (dir. Andrew Lewis Smith, 2017); Eurydice (dir. Robynne Harder, 2017); The Artful Widow (dir. Adam Paolozza, 2017). She also performed in several original works as a part of the 2018 New Voices Festival including two of her own works, DINGBAT DODO DOWN DISCO! which she co-created and directed with Veronica Hortiguela, and Now Presenting the Really Cool, and Totally Awesome Girl On Fire: ANALEISE. She couldn't be happier to be performing in the Newmarket National Ten Minute Play Festival for a second year.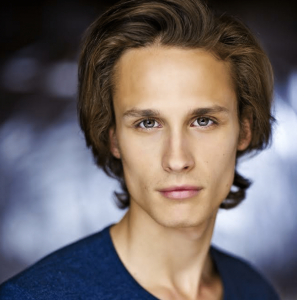 Ilya lyashyk – For the Love of Austen; Valentine's Day: Born in Poltava, Ukraine, Ilya Marvin Ilyashyk, is an actor living in Toronto. He has recently graduated with a BFA-Acting degree from the University of Windsor. Previous credits: Pete- On the Rocks (Small But Mighty Productions), Earnest- The Anger in Earnest and Earnestine (OPIA), Nick- The Plausibility of Teleportation in an Oxygen Deprived Environment (Get-Go), Man- Best Before (Hamilton Frostbites Festival). At the University of Windsor: Bill- The Driver (self-written), Gerry- Dancing at Lughnasa, Fire chief – The Bald Soprano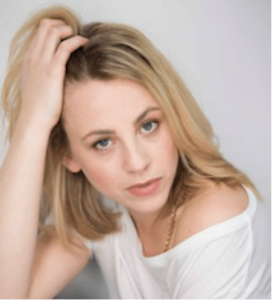 Tiffany Deobald – Daphne of Evora; The Pipe Test; Valentine's Day: Tiffany Deobald is an actor from North Battleford, Saskatchewan. She holds an advanced diploma from George Brown College's Theatre Arts Program (2014). Theatre credits include: Sex&This (Aim for the Tangent), Much Ado About Nothing (Single Thread), The Tempest (Theatre Calgary) and The Mourning After the Night Before (Alumnae Theatre). Film credits include: A Walk in the Park (Aries 6), Outfield (York University), #R.I.P. (Eden Films), INCONTROL (Umbrella Collective Films), Cody Fitz (Umbrella Collective Films). Tiffany is very excited to be working with these new pieces in the 2018 NewMarket Play Festival and she hopes you enjoy the shows!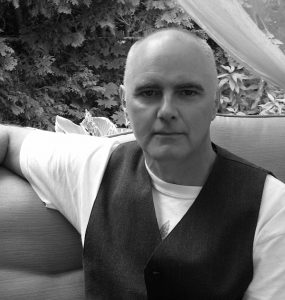 Dale Sheldrake: Director – For the Love of Austen; Hero; Pausing at the Fringe; Valentine's Day: An ADR Supervisor in film and television for over 30 years, Dale works closely with incredible writers and actors on productions such as Vikings, The Tudors, The Borgias, Crash, Barney's Version, Penny Dreadful, and The Handmaid's Tale. He's won several awards for his work and loves that theatre direction and ADR are such compatible aspects in entertainment, both building on the importance of performance, dialogue, storytelling and emotion. He is also a playwright, published poet, author, screenwriter, documentary filmmaker (Helldrivers, OLN 2007), singer and musician, and makes a mean Tex-Mex chili. Theatre directing credits: Of Mice and Men; Standing at The Edge of the Universe of Disunity; The Author; Crazy; Day Care; Brother, Brother (InspiraTO Theatre Festival); Tuesdays With Morrie (Theatre Aurora). Dale is thrilled and inspired to be part of the 2018 Newmarket National Play Festival. He thanks Michael Halfin for the wonderful opportunity, the marvelous crew and actors for their amazing energy, professionalism and talent, but most of all, his wife, Petra, for her love, patience and keeping the fire going.
***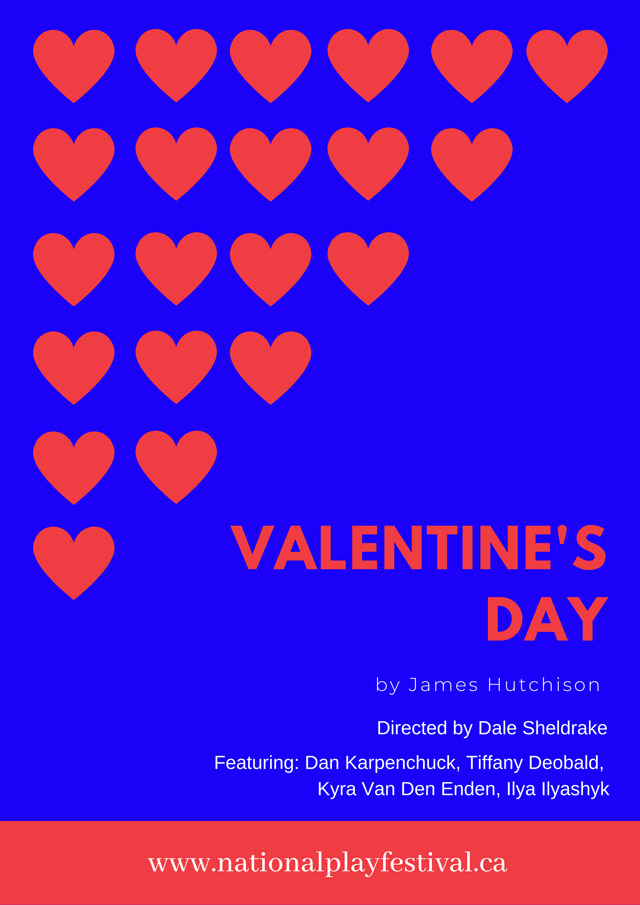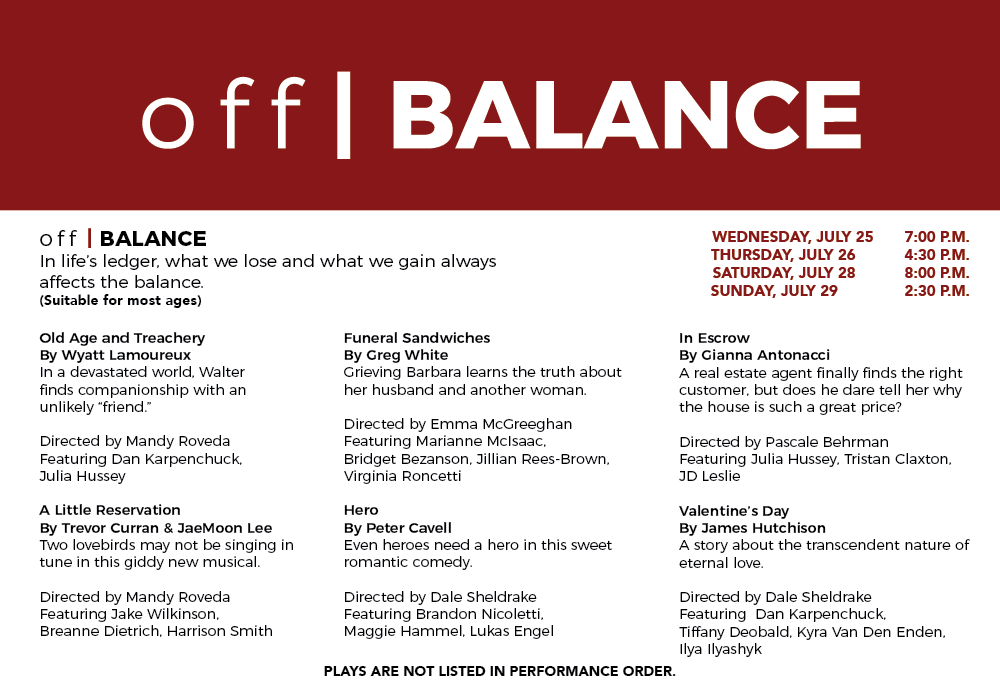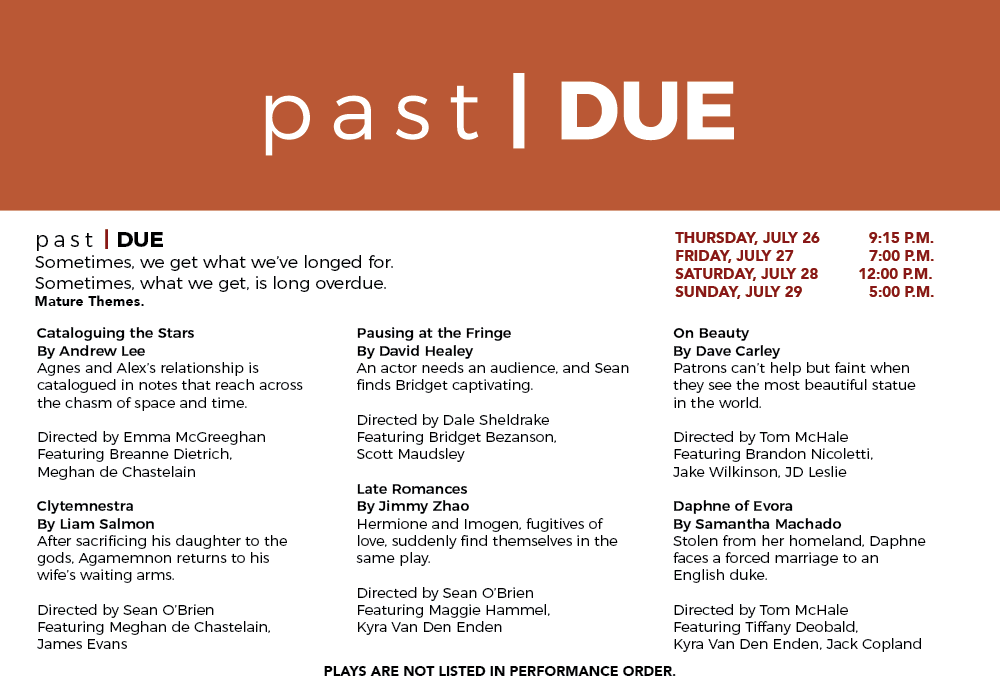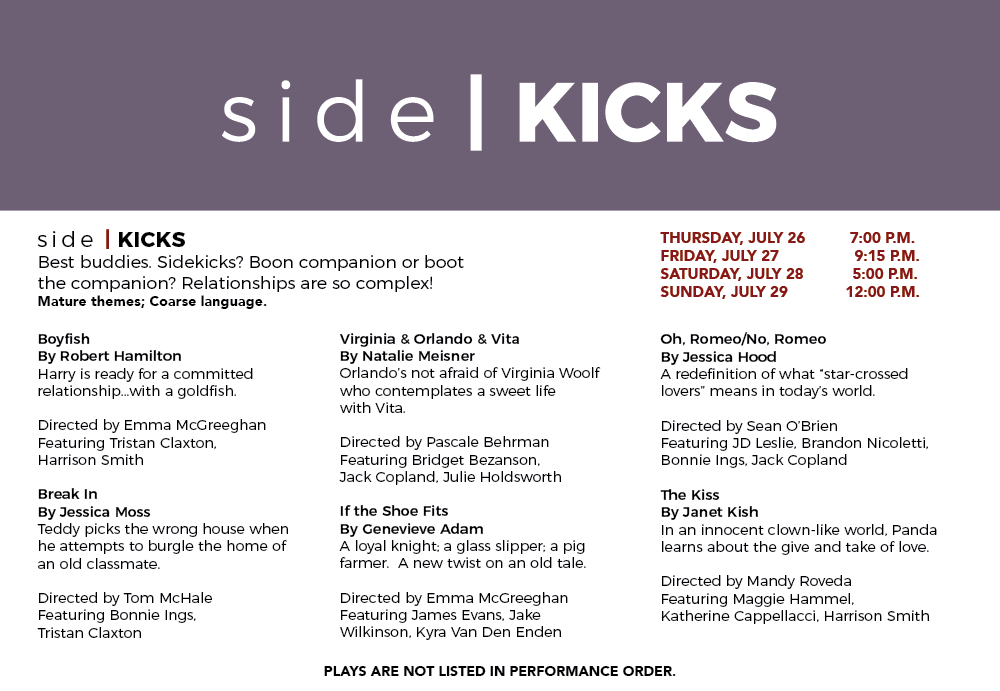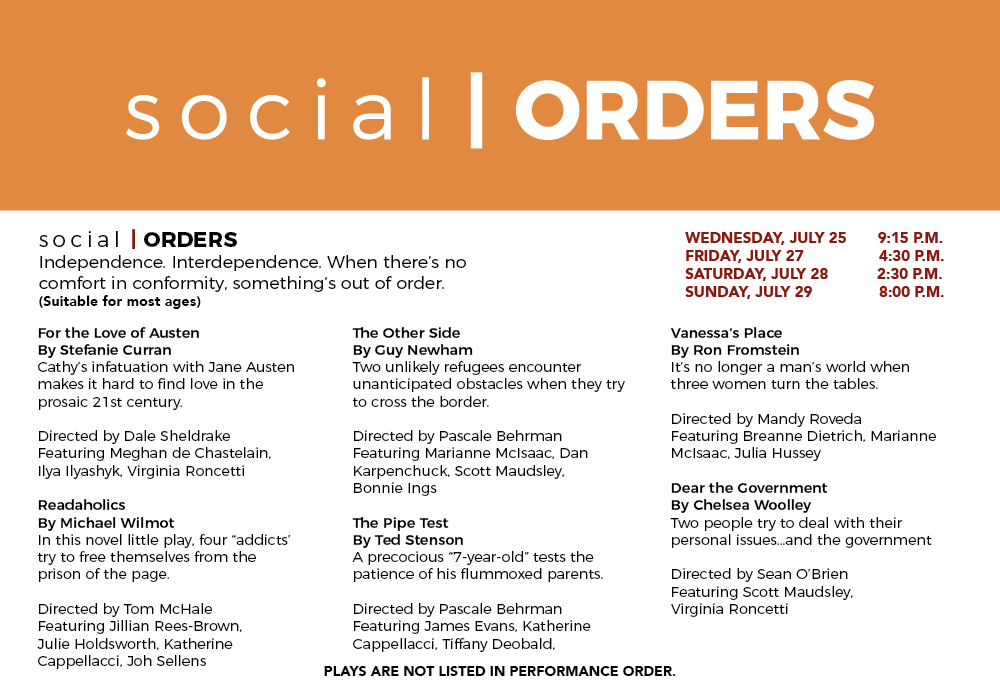 If you enjoyed this post about the NewMarket National 10 Minute Play Festival you might also enjoy the following.
Other media related to the NewMarket National 10 Minute Play Festival