6th Annual Seoul Players 10 Minute Play Festival
My short comedy, Never Give Up, is one of 16 plays being presented at this year's 6th Annual Seoul Players Ten Minute play Festival in Seoul, South Korea from November 12 to 19th. The production is being directed by Ernest Lee and stars Chris Gilmore as Nigel Davenport and Garen Fitzgerald as Todd Sparks.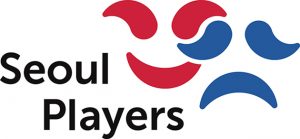 Seoul Players is an English-speaking volunteer-run theatre company founded in 2001 by Australian Roman Zolnierczyk and is dedicated to bringing English-language theatre to Seoul. The company produces one or two main stage shows a year, an annual shadow cast production of The Rocky Horror Picture Show around Halloween and a 10 Minute Play Festival every fall. Productions are presented with Korean subtitles and are intended to help increase awareness of foreign theatre in Korea.
Never Give Up is about playwright Nigel Davenport who has been entering the Short Cuts Playwriting Festival for years. He's never won, in spite of submitting hundreds of plays. When Nigel gets a call from Artistic Director Todd Sparks, he thinks his luck has finally changed, until he meets with Todd and Todd tells him that they'd like him to stop submitting to the Festival because he's a terrible playwright. In fact, three members of this year's reading committee resigned, two were treated for depression and one tried to commit suicide all because of Nigel's plays. But instead of giving up this only inspires Nigel to try harder and figure out how to write an award winning play that will win the festival.
Download a free copy of Never Give Up by clicking on this link: Never Give Up
Never Give Up is about perseverance and perseverance is an important life lesson. That's why you always hear about the overnight success that took twenty years to achieve. It takes time to learn your craft and then it takes time for the world to notice you. And every successful artist or businessman or athlete knows that failure is just part of the process. It's tough to write a novel or start a business or stay on a diet. It's tough because there's always going to be obstacles to overcome. But in order to have a chance at success you have to persevere. You have to get up in the morning and try again.
And I can understand that sometimes the battle can get to you. Sometimes you don't feel like getting out of bed. Sometimes you want to give up. And when you want to give up sometimes a few words of encouragement can give you the strength and perspective to go on. So in keeping with the spirit of my play, Never Give Up, here are some words of encouragement that I hope you find inspirational, insightful and humourous from those that have fought the battle and won.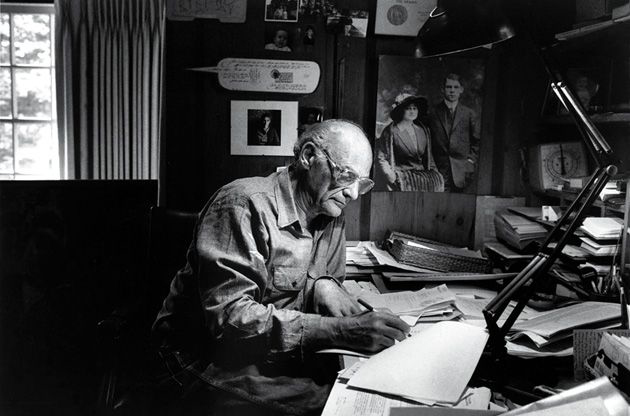 ***
I always drew a lot of inspiration from politics, from one or another kind of national struggle. You live in the world even though you only vote once in a while. It determines the extensions of your personality. I lived through the McCarthy time, when one saw personalities shifting and changing before one's eyes, as a direct, obvious result of a political situation. And had it gone on, we would have gotten a whole new American personality—which in part we have. It's ten years since McCarthy died, and it's only now that powerful senators dare to suggest that it might be wise to learn a little Chinese, to talk to some Chinese. I mean, it took ten years, and even those guys who are thought to be quite brave and courageous just now dare to make these suggestions. Such a pall of fright was laid upon us that it truly deflected the American mind. It's part of a paranoia which we haven't escaped yet. Good God, people still give their lives for it; look what we're doing in the Pacific.
ARTHUR MILLER, Paris Review The Art of Theatre, No 2
***
For a long time my playwriting career was going nowhere, and I felt very bitter and very angry. I thought I was losing my mind. So I said, "Okay Vogel, this is a choice that you're writing plays, nobody's making you do it. Get out of New York and go and teach, and find out if you believe in it anymore." And when I went into the classroom, there were these amazing, talented young artists, all of whom had the future before them. I believed in all of them, and they gave me back an idealism. It was a huge gift.
For years, that was my emotional vent. Because I wasn't being produced, I wasn't being listened to. But my students listened, and I listened to them. It was like being in a rehearsal room. I took them very seriously, because I wanted to be taken seriously when I was eighteen. I basically said, there's one thing that a teacher does: you come in as my student, you leave as my peer. I want you in my world. I want to audition you. I want you to direct my work. If you're taking this route with me, it's my duty as a teacher to take the student and turn them into a colleague.
PAULA VOGEL, BOMB, Artists in Conversation
***
I believe the way to write a good play is to convince yourself it is easy to do–then go ahead and do it with ease. Don't maul, don't suffer, don't groan till the first draft is finished. A play is a pheonix and it dies a thousand deaths. Usually at night. In the morning it springs up again from its ashes and crows like a happy rooster. It is never as bad as you think, it is never as good. It is somewhere in between, and success or failure depends on which end of your emotional gamut concerning its value it approaches more closely. But it is much more likely to be good if you think it is wonderful while you are writing the first draft. An artist must believe in himself. Your belief is contagious. Others may say he is vain, but they are affected.
***
There are three primal urges in human beings: food, sex, and rewriting someone else's play.
***
Actually, the final evaluation of a play has nothing to do with immediate audience or critical response. The playwright, along with any writer, composer, painter in this society, has got to have a terribly private view of his own value, of his own work. He's got to listen to his own voice primarily.
EDWARD ALBEE, Paris Review The Art of Theatre, No 4
***
When I first started writing plays I couldn't write good dialogue because I didn't respect how black people talked. I thought that in order to make art out of their dialogue I had to change it, make it into something different. Once I learned to value and respect my characters, I could really hear them. I let them start talking. The important thing is not to censor them. What they are talking about may not seem to have anything to do with what you as a writer are writing about but it does. Let them talk and it will connect, because you as a writer will make it connect. The more my characters talk, the more I find out about them. So I encourage them. I tell them, Tell me more. I just write it down and it starts to make connections. When I was writing The Piano Lesson, Boy Willie suddenly announced that Sutter fell in the well. That was news to me. I had no idea who Sutter was or why he fell in the well. You have to let your characters talk for a while, trust them to do it and have the confidence that later you can shape the material.
AUGUST WILSON, Paris Review The Art of Theatre, No 14
***
I've got infinitely more plays in the drawer than have seen the lights of the stage. Most of them never come out of the drawer, but occasionally one will and it amazes me how long it has taken to germinate and blossom.
The best example would be Brighton Beach Memoirs. I wrote the first thirty-five pages of the play and gave it to my children, Nancy and Ellen, and Marsha, my wife at the time. They read it and said, This is incredible. You've got to go on with it. I showed it to my producer, Manny Azenberg and to Gordon Davidson, and they said, This is going to be a great play. I knew the play was a turn in style for me, probing more deeply into myself, but maybe the pressure of the words great play scared me, so I put it away.
Periodically, I would take it out and read it and I wouldn't know how to do it. After nine years I took it out one day, read the thirty-five pages, picked up my pen and the pad I write on and finished the play in six weeks. I have the feeling that in the back of your mind there's a little writer who writes while you're doing other things, because I had no trouble at that point. Obviously, what had happened in the ensuing years in my life made clear to me what it should be about. Somewhere in the back of my head I grew up, I matured. I was ready to write that play.
NEIL SIMON, Paris Review The Art of Theatre No 10
***
I think it is about time that equipped women began to take on some of the ethical questions which a male-dominated culture has produced and dissect and analyze them quite to pieces in a serious fashion. It is time that 'half the human race' had something to say about the nature of its existence. Otherwise—without revised basic thinking—the woman intellectual is likely to find herself trying to draw conclusions—moral conclusions—based on acceptance of a social moral superstructure which has never admitted to the equality of women and is therefore immoral itself.
LORRAINE HANSBERRY, The Ladder Vol. 1 No. 11 (Aug 1957).
***
I was 30 years old when M BUTTERFLY became an international hit and, while I was obviously very fortunate to have enjoyed that kind of success, it also had its down side. For several years afterwards, I felt burdened by the weight of expectations, and that sort of pressure made it difficult for me to write. Eventually, however, my next production, FACE VALUE, was such a massive failure, closing in previews on Broadway, that it burst the bubble of expectation, and I could return to simply being a writer again.
HENRY DAVID HWANG, The London Magazine, June 2013