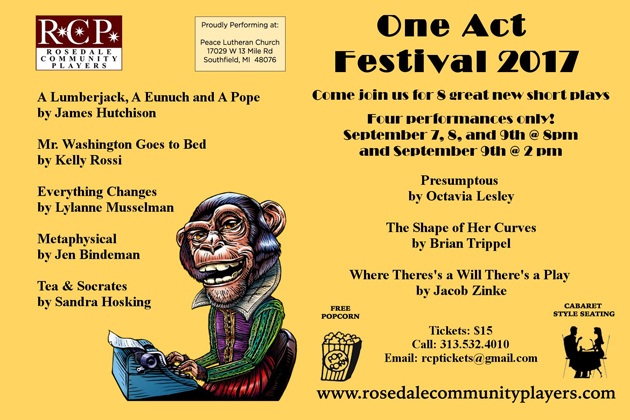 I'm pretty excited because I've got two plays, each getting two productions, in four different festivals, in three different US states, and two different countries.
My play A Lumberjack, a Eunuch and a Pope, a short comedy about the meaning of life and reincarnation, is one of eight plays being performed at this years Rosedale Community Players One Act Play Festival in Southfield Michigan from September 7th to 9th.
The play was scheduled to get a second production as part of the 4th Gary Garrison Playwriting Festival in Beaumont, Texas from September 29 to 30th. However, if you've been following the news you've probably heard that Beaumont was hit pretty hard by Hurricane Harvey and so the Festival is going to be rescheduled. So, I'm hoping that all the good people of Beaumont are safe and that recovery efforts are going well.
A Lumberjack, a Eunuch and a Pope is about a man of considerable wealth named Mr. Kensington who has died without learning the true meaning of life and must plead his case for another chance or be returned to earth as a slug.
Then my play Never Give Up, a short comedy about never giving up on your dream, is being presented at the Tenby Arts Festival on September 25 and 26th in Temby Wales as well as at the Pint Sized Plays Script Slam on September 30th in Fishguard. The play is getting a second production as part of the Warner International Playwrights Festival in Torrington Connecticut from October 13 to 14.
Never Give Up is about Nigel Davenport a playwright who has been entering the Short Cuts Playwriting Festival for years. He's never won, in spite of submitting hundreds of plays. When Nigel gets a call from Artistic Director Todd Sparks, he thinks his luck has finally changed, until he meets with Todd and Todd tells him that they'd like him to stop submitting to the Festival because he's a terrible playwright. In fact, three members of this year's reading committee resigned, two were treated for depression and one committed suicide all because of Nigel's plays. But instead of giving up this only inspires Nigel to try harder and figure out how to write an award winning play that will win the festival.
Rosedale Community Players One Act Fest 2017
A Lumberjack, A Eunuch and A Pope by James Hutchison
directed by Barbara Mathers
Metaphysical by Jen Bindeman
directed by Sarah Galloway
Tea & Socrates by Sandra Hosking
directed by Laurie Smalis
Mr. Washington Goes to Bed by Kelly Rossi
directed by Nick Rowley
Everything Changes by Lylanne Musselman
directed by Alexander Trice
Presumptuous by Octavia Lesley
directed by Casaundra Freeman
The Shape of Her Curves by Brian Trippel
directed by Laurie Smalis
Where There's a Will, There's a Play by Jacob Zinke
directed by Chuck Goddeeris
Featuring: Marcus Caesar, Brad Carter, Daniel Croft, Dave Durham, Laura Farms, Geulah Finman, Shauna Rae Hazime, Scott Johnston, David Kiley, Beverly Landau, Josh Lisiecki, Mary Long, Stanley Misevich, Julie Norback, Emily Ottaviano, AnnMarie Payne, Tom Schultz, Carol Shirley, Jen Talas, Tony Targan, Don Turner & Jessica Wilson
Thursday, Sept 7th 8pm to Saturday September 9th at 8:00 pm with a 2:00 pm matinee on Saturday.
Tickets are $15.00 and available for purchase at the Online Box Office.
To reserve tickets and pay at the door call 313.532.4010 or email rcptickets@gmail.com.

Pint Sized Plays 2017 Results
Winners:
Battle Lines Stephanie Weston
Conceited Council Consents Myles Alexander Lind
Custardy Neil Walden
Fagbutt in the Fishbowl Roy Brown
Never Give Up James Hutchison
Payback Roger Goldsmith
Runners Up:
Dead Cert Society Tracey Morley
The Internal Quadrangle Hugh Smith
The Power Of The Sandwich Grahame Roy Maclean
True To You Nicky Denovan
Performances
The six winners will be performed in Pubs at the 2017 Tenby Arts Festival. The Pint Sized Play festival culminates when all ten plays are performed at the Script Slam where the audience votes for their favourite script!
Monday September 25
7.30 pm: Normandie, Upper Frog Street
8.30 pm: Hope & Anchor, St Julian Street
9.30 pm: The Crown, Lower Frog Street
Tuesday September 26
7.30 pm: 5 Arches, St George Street
8.30 pm: The Cove, High Street
9.30 pm: The Buccaneer, St Julian Street
In Haverfordwest
Thursday September 28
8.00pm: The Mariners Hotel
Pint-sized Plays 2017 Script Slam
Saturday September 30 at 7.30 pm: Theatr Gwaun, Fishguard
Warner International Playwrights Festival
The Warner Theatre will present its 6th Annual International Playwrights Festival October 13-14, in the Nancy Marine Studio Theatre. The festival is a celebration of new works by playwrights from across the country and around the globe. Over 200 plays were submitted from across the United States and Canada and as far away as Australia. This year's festival theme is "Things Aren't Always as They Seem"
FRIDAY, OCTOBER 13, 2017 | 8PM
CRYSTAL BALL by Donna Spector (New York) |Directed by Earle "Wes Baldwin"
SIGNING OFF by Steven Otfinoski (Connecticut) | Directed by Sharon A. Wilcox
NEVER GIVE UP by James Hutchison (Alberta, Canada) | Directed by Katherine Ray
MOUNTAIN LIFE by Stanley Toledo (California) | Directed by Keith Paul
MARK MY WORMS by Cary Pepper (California)| Directed by Taryn Glasser
SATURDAY, OCTOBER 14, 2017 |8PM
ITALIAN NOW by Charlene A. Donaghy (Connecticut) | Directed by Matt Cornish
SAVING GRACE by Bara Swain (New York) | Directed by Rebecca Russo Ozerhoski
MR. ROYS' BICYCLE REPAIR SHOP by Cynthia Chapman (Massachussetts) | Directed by Lucia M. Dressel
THE MOURNING AFTER by John Ozerhoski (Connecticut) | Directed by Tony Leone
A LIGHTER SHADE OF DAVE by Reed Halvorson (South Carolina) | Directed by Sharon A. Wilcox
4th Gary Garrison Playwriting Festival
A Lumberjack, a Eunuch and a Pope by James Hutchison – Director: Adam Conrad
A Different Place by Penny Jackson – Director: Roxane Gray
A Monogamy of Swans by Playwright: John Minigan – Director: Doug Underwood
Calendar by Playwright: Ken Preuss – Director: Donny Avery