Society is inside of man and man is inside society, and you cannot even create a truthfully drawn psychological entity on the stage until you understand his social relations and their power to make him what he is and to prevent him from being what he is not. The fish is in the water and the water is in the fish.
ARTHUR MILLER, "The Shadows of the Gods"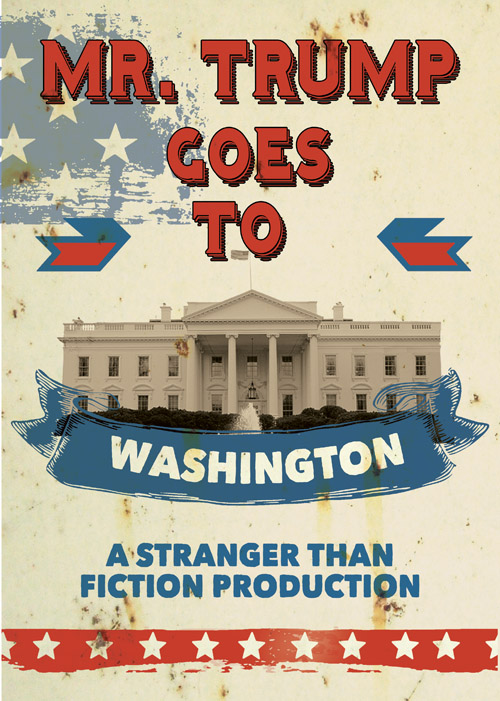 So, if you're like me you were riveted to your television set last Tuesday night for the finalé of Mr. Trump Goes to Washington. Season One ended with the election and spoiler alert…if you haven't watched it already don't read on. I'm just warning you – Trump wins.
That's what you're supposed to do, right? Warn people who haven't seen the show that there are spoilers in the article they're reading. But, I mean really…if the show has already aired and you haven't watched it and you want to avoid spoilers maybe you're the one who shouldn't go on social media; maybe you're the one who shouldn't read reviews of the program; maybe you're the one who shouldn't talk to your friends or listen to the radio or watch TV.
And if you do somehow find out what happens in one of your favourite TV shows before you've watched it – trust me – it's not a big thing. In the scope of your life, in the events of this year, in the living of this day it's not a big thing. Unless of course it's the fact that Jon Snow was brought back to life by Melisandre in Game of Thrones…uh…sorry…I probably should have put a spoiler alert up about that one – right – but I mean really it's been what six months since the end of season six. It's not like I told you Cersei ends up being Queen after destroying the High Sparrow and – uh sorry – did it again.
Anyway, getting back to Mr. Trump Goes to Washington – what a finish to a season full of surprises and twists and turns. And I have to say having all the polls indicate that Clinton would win was a great Red Herring. Yeah sure Nate Silver from FiveThirtyEight kept talking about how the race was much closer than it appeared because things were extremely tight in many of the battleground states and that there was high volatility in the electorate because there was such a high percentage of undecided voters but who listens to Nate Silver? Election Update: Don't Ignore The Polls — Clinton Leads, But It's A Close Race
The season finalé of Mr. Trump Goes to Washington, was probably a bigger surprise to me than The Red Wedding Episode in Game of Thrones. And was that ever a shocker! I sure didn't anticipate the Lannisters and the Freys killing the King of the North Robb Stark, his bride Talisa and his mother Catelyn Stark at the wedding of Edmund Tully, Lord of Riverrun and Roslin Frey at the Twins during the War of the Five Kings.
Shoot.
Sorry. I should have probably put a spoiler alert up about that, right.
But I mean really…that was how many years ago?
Anyway getting back to Mr. Trump Goes to Washington – the election results weren't a surprise to everyone. They weren't a surprise to Michael Moore. Moore predicted that Trump would win the election. And he was right. He better, than most, understood what was going on. He talked to Trump supporters to find out what they were feeling and why they were voting for Trump. And he found out they're frustrated with the system, feel like they have no voice, and are in desperate need of jobs. Moore did what the Press and both the Democratic and Republican party should have done. He talked to the people. Of course the Press now realizes that their own view of things had become distorted. Here's a clip form Morning Joe where the panel acknowledges – post election – how they missed the story and failed to understand what was going on in America and why so many American's were planning to vote for Trump.
So, Season Two of Mr. Trump Goes to Washington is set to premiere on January 20th, 2017 and there are so many directions they can take the series. Will he build the wall. Will Mexico pay for it? Personally, I think they should get China to build the wall because they have a lot more experience building walls than anyone else and you can't beat the price. And this thing's going to be huge. Way bigger than the wall in Game of Thrones.
Speaking of big things – the Anthony Weiner – e-mail scandal tie-in late in the election – brilliant! Did anybody see that coming? It's that kind of detailed plotting that separates Mr. Trump Goes to Washington from other television shows. It's so thought out and full of surprises. Only a few weeks ago everyone was expecting the Republican Party to blow up and now we have the Democrats in chaos.
Still this is all fiction, right. It's not like there's any real world consequences. I mean Donald isn't going to lock up his political opponents, shut down the free press, create a one party system and name Sarah Palin as his Secretary of State is he. That's all fiction, right? Those are just potential story lines. Instead, he's going to focus on jobs and trade and health care, right.
So, come January 20th the world will be watching. They'll be watching to see if America is still a nation where the right to free speech is protected for both the press and the individual. They'll be watching to see if America is still a nation where all men have the right to Life, Liberty and the pursuit of Happiness. They'll be watching to see if America is still a nation where all men are created equal. And they'll probably be watching to see whether or not The Donald finally starts releasing his tax returns.
***
Mr. Trump Goes to Washington
Starring Donald Trump
Written by Donald Trump
Directed by Donald Trump
Produced by Donald Trump
Edited by Donald Trump
Publicist John Miller
Catering Chris Christie
Copyright © 2016
This motion picture is protected pursuant to the provisions of the laws of Trump Nation. Any unauthorized duplication, distribution and/or exhibition of this motion picture or making fun of the size of Mr. Trump's hands may result in civil liability and criminal prosecution.
A Donald Trump, Stranger Than Fiction, Vladimir Putin Production.
*****
So, I started this blog post with a quote from Arthur Miller where he talks about the interdependence of Man and Society. Basically both influence the other. That's one of the reason's I like social psychology. I think you have to look at the individual and the group. One doesn't exist without the other. And when it comes to politics we're always trying to find that balance between the rights and needs of the individual and the rights and needs of society. So, with that in mind, and because I think this bookends things nicely, I'm going to give the last word to Arthur Miller from an interview he gave to The Paris Review in 1966.
"…I always drew a lot of inspiration from politics, from one or another kind of national struggle. You live in the world even though you only vote once in a while. It determines the extensions of your personality. I lived through the McCarthy time, when one saw personalities shifting and changing before one's eyes, as a direct, obvious result of a political situation. And had it gone on, we would have gotten a whole new American personality—which in part we have. It's ten years since McCarthy died, and it's only now that powerful senators dare to suggest that it might be wise to learn a little Chinese, to talk to some Chinese. I mean, it took ten years, and even those guys who are thought to be quite brave and courageous just now dare to make these suggestions. Such a pall of fright was laid upon us that it truly deflected the American mind. It's part of a paranoia which we haven't escaped yet. Good God, people still give their lives for it; look what we're doing in the Pacific."
ARTHUR MILLER, Paris Review The Art of Theatre, No 2 – 1966
***
In my next blog post I'll be talking about Satire, Dr. Strangelove and Profanity.
***