14th Annual North Park Playwrights Festival
My short comedy, Never Give Up, is one of 24 plays being presented at this year's 14th Annual North Park Playwrights Festival in San Diego, California. The production is being directed by Dave Fremland and stars Gunnar Ramstrum as Nigel Davenport and Sam Goldstein as Todd Sparks.
Download a free copy of Never Give Up by clicking on this link: Never Give Up
Never Give Up is about playwright Nigel Davenport who has been entering the Short Cuts Playwriting Festival for years. He's never won, in spite of submitting hundreds of plays. When Nigel gets a call from Artistic Director Todd Sparks, he thinks his luck has finally changed, until he meets with Todd and Todd tells him that they'd like him to stop submitting to the Festival because he's a terrible playwright. In fact, three members of this year's reading committee resigned, two were treated for depression and one tried to commit suicide all because of Nigel's plays. But instead of giving up this only inspires Nigel to try harder and figure out how to write an award winning play that will win the festival.
The North Park Playwrights Festival isn't a contest. Instead out of the 260 submissions in this year's festival 24 directors chose the plays they wanted to direct.
Jeff Bushnell and Summer Golden started the North Park Playwright Festival and built the North Park Vaudeville and Candy Shoppe with the intention of providing a small theatre in order to produce new plays.
"The festival provides a platform for brand new, short (ten minute), plays written by playwrights from around the world. Over the past twelve years more than 440 new plays have been produced. We encourage new directors and actors to become involved in theater through the festival as well. Through the North Park Playwright Festival over ninety playwrights, directors, and actors each year are able to showcase their talents."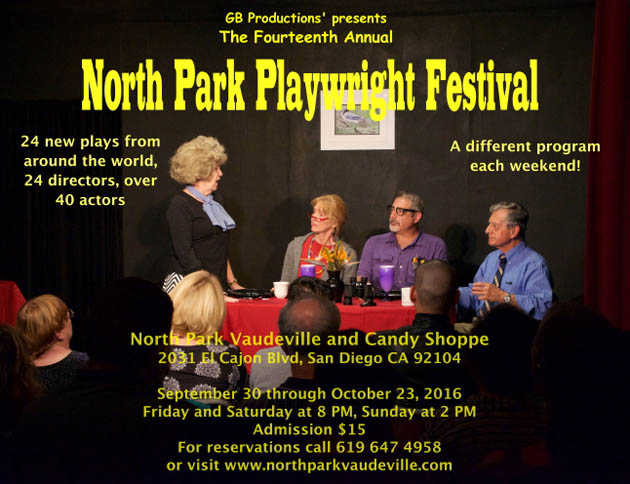 Week 1
September 30th to October 2nd
To Clever by Half by John F. Levin, San Francisco, CA
Empress of Boca by Esta Fisher, Jackson Heights, NY
Sometime by Jayme Kilburn, Ithaca, NY
The Picture Window, by Dwayne Yancey, Fincastle, VA
Character Assassination by Robert O'Connell, Coral Springs, FL
The Confession by Jerry Levitin, Napa CA
Week 2
October 7th to 9th
Waiting For the Witch by David Brendan Hopes, Asheville, NC
Dangling Participles by Jeffrey Neuman, Denver, CO
Mrs. Smasa's Brunch by Stanley Brown, Los Angelas, CA
Where is Santa Claus? by Lewis Shilane, Joplin, MO
Merry Maids by Connie Schindewolf, Bradenton, FL
Never Give Up by James Hutchison, Calgary, Alberta, Canada
Week 3
October 14th to 16th
Cocktail Party by Thomas J. Misuraca, Tarzana, CA
Ava Turns Fifty by Michael F. Bruck, New York, NY
Sentimental Value by John Molina, Chula Vista, CA
Charlie and Rose by Diane Haring, Huntington, NY
Always by Stephen Cooper, Longboat Key, FL
Don't You Think You Need a Sweater? by Lojo Simon, Laguna Beach, CA
Week 4
October 21st to 23rd
The Final Round by Patrick Castaneda, San Diego, CA
Nano Romance by George J. Bryjak, Bloomingdale, NY
Midway by Colleen Shaddox, East Haddam, CT
Ledges by Joseph Vitale, Denville, NJ
The Horses In Central Park by Paul Hufker, Union City, NJ
Audition by Richard Chin, St. Paul, MN
Writing Dialogue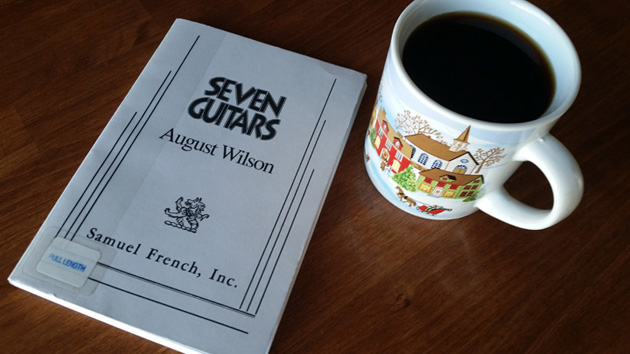 Last year I read Seven Guitars by August Wilson. He's a fine writer and a good writer to read. One of the ways you learn about your craft is to simply read other writers.
If you're a playwright read plays. If you're a screenwriter read screenplays. If you're a novelist read novels. But of course that doesn't mean that a playwright shouldn't read novels or screenplays or that a novelist shouldn't read other forms of fiction. It's all story and it's all good and when you read work by other writers you get to experience different styles.
That's important because sometimes you'll get advice like – you should keep your dialogue short. Don't let your characters speak more than a few words because that's not how people talk. But that just doesn't ring true to me. Yes, you should cut out what isn't needed. But not everything needs to be short.
I mean – think of it this way – you can paint with water colours or you can paint with oil. Both are paint and both create a finished work but the feel of the work is different because of the materials used. And while you can use short sentences when you write dialogue that's just one style. There are plenty of writers who give their characters lots to say. George Bernard Shaw (Saint Joan, Pygmalion, and Major Barbara) comes to mind as an example from the past and Aaron Sorkin (The West Wing, A Few Good Men, and The Newsroom) comes to mind as a contemporary example.
How you write dialogue is going to be influenced by your style and the needs of the story and the type of character in the story. And while stage dialogue needs to ring true to the ear – it is in no way – the way people talk. It is a representation of how people talk. After all, Shakespeare is performed all the time and no one talks like that – me thinketh.
So if your character has something to say – let them say it. If they can say it in five words fine. But if it takes a hundred words there's nothing wrong with that. So, long as what they say has truth and moves the story forward or reveals character.
Here's a beautiful example of a monologue from Seven Guitars by August Wilson where one of the characters, Canewell, sums up his feelings about love.
CANEWELL: I always did believe in love. I felt like if you don't believe in love you may as well not believe in nothing. Even love that ain't but halfway is still love. And that don't make it no less cause its only coming one way. If it was two ways it still be the same amount of love. Just like say I loved you and you didn't love me back. I can still say I'm all filled up with love for Vera. I go walking down the street people can see that. They don't know what to call it but they can see something going on. Maybe they see a man who like he satisfied with life and that make him walk more better. Make him walk like he got a million dollars in his pocket. If I loved you and this time you loved me back. I don't see where my love for you can get more bigger that it already was. Unless I walk like I got two million dollars. Sometimes people don't count it if you ain't loved back. But I count it all the same. Some women make their bed up so high don't nobody know how to get to it. I know you ain't like that. You know how to make your bed up high and turn you lamp down low. That's why Floyd don't want to lose you. I think you and Floyd ought to go ahead and see what you can make of it.
Act II Scene Seven – Seven Guitars by August Wilson
Opportunities for Playwrights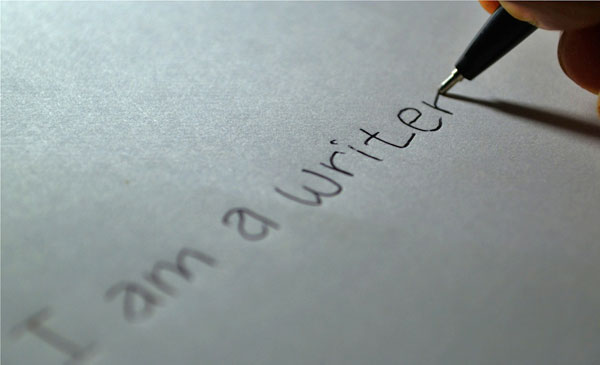 Play Lab at the Last Frontier Theatre Conference
Deadline: October 20, 2016
Location: Valdez, Alaska, USA
Submission Fee: No Entry Fee Listed
Type: 20 minutes to 2 hours
Restrictions: The play should not have received a professional production. Readings and amateur productions are acceptable.
Each playwright may submit a maximum of one script.
No musicals.
Award: Selected plays receive public readings, with both public and private feedback sessions led by theatre professionals. Authors must register for the Conference and be in attendance for their reading. This year's conference runs from June 11-17th.
Note: One submission per author.
For complete submission details and festival information refer to the Play Lab 2017 Last Frontier Theatre Conference Web Site.
Theatre InspiraTO's 12th Annual Playwriting Contest
Deadline: November 20, 2016
Location: Toronto, Ontario, Canada
Submission Fee: No Entry Fee
Type: 10 Minute Play Festival
Restrictions: This year's creative challenge: Grow Up. The theme "Grow Up"must be an integral part of the play. The story can be a comedy, a drama, a parody, absurd or anything in between but it must be written in English.
No musicals.
The contest is open to anyone without geographic or age restrictions. Submissions must be made online.
Each playwright may submit a maximum of one script.
Award: Production from June 1-10, 2017 at the 12 Annual InspiraTO Festival in Toronto. First prize $500.00 Canadian.
Note: Between 18 to 24, ten minute plays will be selected and performed.
The Cover page should have the title of the play, the playwright's name and the list of characters. The pages should be numbered. The format should be easy to read. We accept previously produced plays, but we don't accept plays that have been produced in previous InspiraTO Festivals.
For complete submission details and festival information refer to the Theatre InspiraTO's 12th Playwriting Contest Web site.
***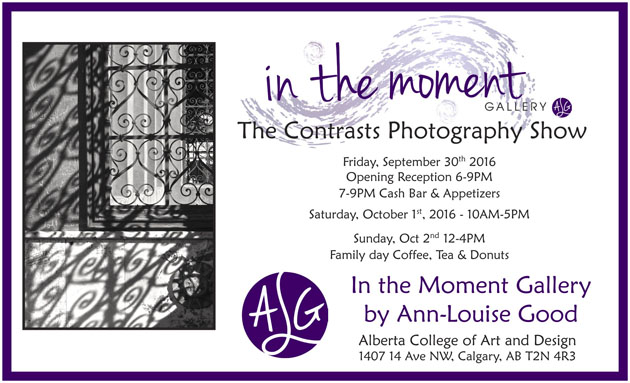 In the Moment Gallery: The Contrasts Photography Show
When you write a play you're trying to capture a moment of truth. You're trying to reveal something about what it means to be alive.
A photograph can do the same thing.
A photograph can capture a moment in time. But what it captures isn't reality it's a reflection of reality. All art reflects the world in some form. Photography, painting, music, writing, and dance are all forms of expression and each is a reflection of the world. The form and content of each kind of art is as varied and diverse as the artists who create them.
This weekend there's a photography show being put on by my friend Ann-Louise Good. It's a show of contrasts and she'll have a number of photos on display from the thousands she's shot over the years. The images are grouped according to theme. Here are just two of the photographs she'll have at the show and the story behind them: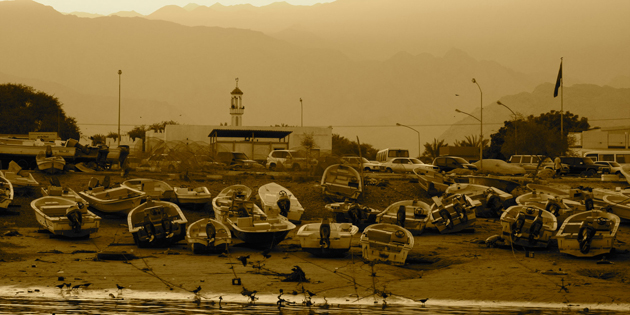 Buoyancy: The shores of Dibba in Oman. Why is this photograph so "busy"? It is full of vehicles and boats and it appears to be low tide. It is evening prayer time at the mosque. The last prayers of the day just before the sun sets. I love the story this photo tells and the feelings it brings back from experiencing the true Muslim faith during my time in the Middle East. Peaceful.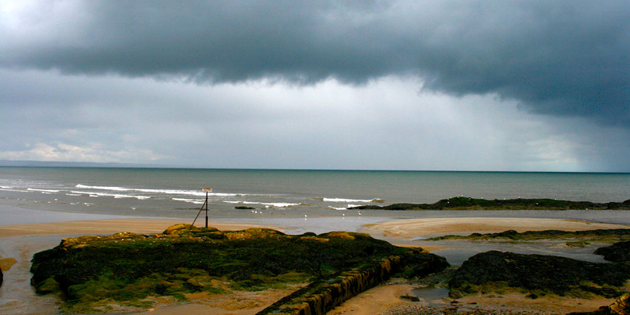 Storm: St. Andrews Scotland is famous for golf, but it also boasts some of the most spectacular stormy skylines. Going to visit the hallowed links of St. Andrews made for some amazing photos of a stormy day rolling in across the ocean.
You can check out Ann-Louise Good's website to see some of the other images she has available for purchase: In the Moment Gallery.
***
The Contrasts Photography Show @ The Alberta College of Art and Design
Friday September 30th, – 6:00 pm – 9:oo pm
Saturday October 1st, – 10:00 am – 5:00 pm
Sunday October 2nd, 12:00 pm – 4:00 pm
***
And if you want to subscribe to future blog posts just follow this link and: sign up.