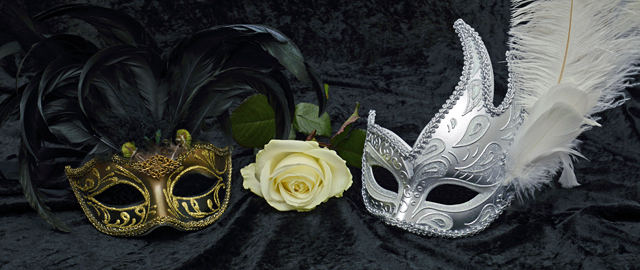 I've written a play called Masquerade about an empty nest couple, Sarah and Glenn, that have drifted apart. They were talking divorce and selling the house until they discovered a book called: A Good Marriage is Just a Fantasy by Dr. Ravi Shasta. Basically it's a book about exploring your sexual fantasies with your partner. Unfortunately, sometimes what is real and what is fantasy can become blurred. And what was intended to bring a couple closer together can sometimes drive them apart.
You know a great deal of married life doesn't involve anything particularly exciting. You need to buy the groceries and pick the kids up from school. Somebody has to cut the lawn and somebody has to do the dishes. The danger in marriage and in life is that we allow things to become routine. When that happens we begin to imagine a life outside of our marriage. A life much more satisfying and exciting. And that can lead to us becoming disconnected from our partners. And that can mean the intimacy we once felt towards the person we vowed to love until death do us part is replaced instead by tolerance. We tolerate the relationship because of the children or because of financial considerations. But we are unhappy. Unfulfilled. Not understood.
So, how do you create a long lasting intimate relationship? Well, one of the most important things for a healthy marriage is a healthy sex life. Sex while satisfying a physical need does much more. Sex helps to sustain feelings of psychological and emotional intimacy. That's partly because having sex produces two chemicals – Vasopressin and Ocytocin – both important for creating and maintaining feelings of attachment. But regardless of the chemical basis for love and sex we crave connection and when that connection is lost it's replaced by feelings of detachment and loneliness. So, what can you do about it short of getting a divorce. Make sex a priority.
So, I'm pleased to announce that my one-act comedy Masquerade is one of eight plays being workshopped at this year's 30th Anniversary Suncor Energy Stage One Festival of New Work at Lunchbox Theatre. If you happen to find yourself in the neighbourhood – as they say – drop by Lunchbox – catch one of the readings at this year's festival and see some new work, participate in a talk back after the reading and get a glimpse into the creative process.
The Suncor Stage One Festival of New Work June 9 – 21
Radioland '48
By Kirsten Van Ritzen
Director/Dramaturge: Karen Johnson-Diamond
Braden Griffiths as Bennet Burton
Ayla Stephen as Ruby P. Maxwell
Sean Fetaz as Lewis Hockley
Natalie Gautier as Melody Gautier
Free Public Reading: Friday June 9, 12:00 PM
Masquerade
By James Hutchison
Director/Dramaturge: Bartley & Margaret Bard
Curt Mckinstry as Glenn
Kira Bradley as Sarah
Free Public Reading: Friday June 9, 6:00 PM
Lest We Forget
By Joe Slabe & JP Thibodeau
Director/Dramaturge: JP Thibodeau
Eric Wigston
Selina Wong
Katherine Fadum
Free Public Reading Saturday June 10, 12:00 PM
Book Club II: The Next Chapter
By Meredith Taylor-Parry
Director/Dramaturge: Shari Wattling
Cheryl Hutton as Lisa
Anne Cummer as Ellen
Kira Bradley as Kathy
Arielle Rombough as Jenny
Curt Mckinstry as The Guy
Free Public Reading Friday June 16, 12:00 PM
Manband
By Trevor Schmidt
Director/Dramaturge: Mark Bellamy
Arielle Rombough as Mindhi
Curt McKinstry as Mark
Kevin Rothery as Allen
Chad Nobert as Curtis
Free Public Reading Friday June 16, 6:00 PM
CANCON – 1
By Arun Lakra
Music by Dan Perrott
Director/Dramaturge: Simon Mallet
Chris Hunt as Ed
Myla Southward as Claire
Jesse Lynn Anderson as Shayla
Tenaj Williams as Dr. Khan
Free Public Reading Saturday June 17, 12:00 PM
With Glowing Hearts
By Jennifer Wynne
Director/Dramaturge: Valmai Goggin
Kristen Padayas as Dorothy MacFarlar
Cheryl Hutton as Kay Carson
Amy Burks as Pavla Chytuk
Val Planche as Cecille Gauthier
Free Public Reading Friday June 23, 12:00 PM
Flora & Fawna Have Beaver Fever
By Darrin Hagen & Trevor Schmidt
Director/Dramaturge: Mark Bellamy
Darrin Hagen as Flora
Trevor Schmidt as Fawna
Chris Enright as Fleurette
Free Public Reading Friday June 23, 6:00 PM