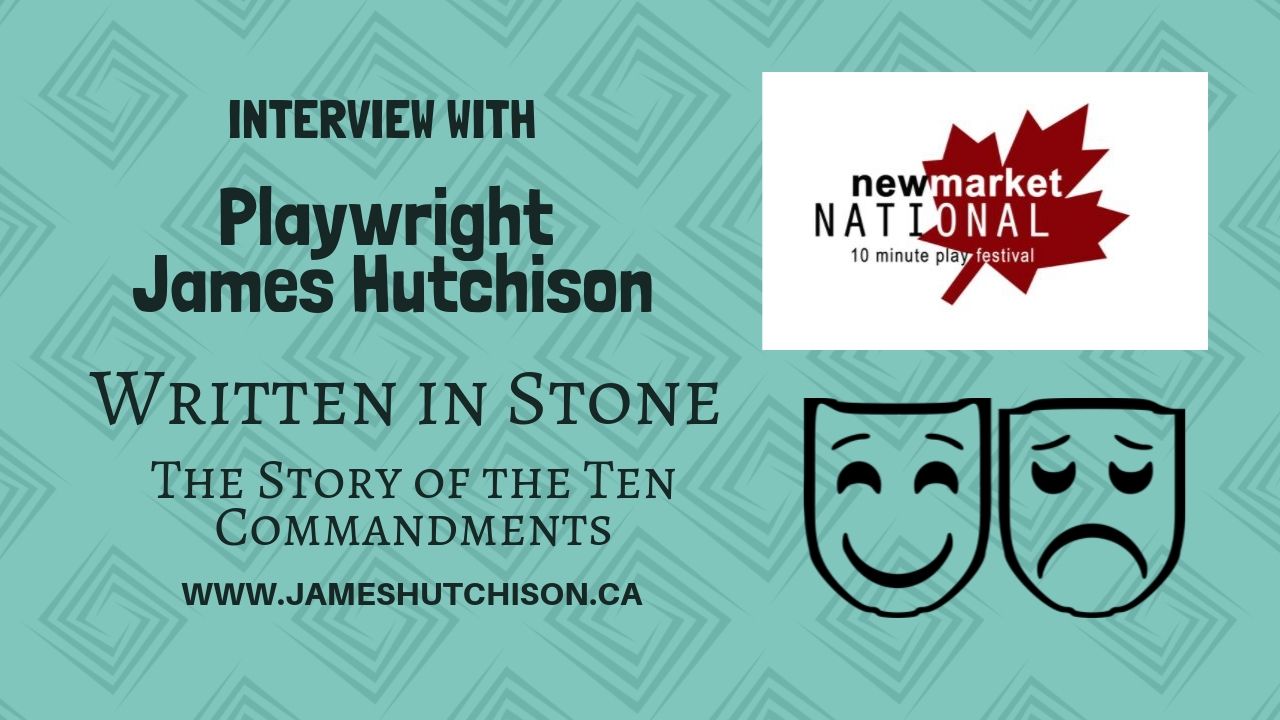 This week my play Written in Stone is premiering at the Newmarket National 10 Minute Play Festival along with twenty-four other Canadian plays. In last weeks blog, I interviewed Michael Halfin the Artistic and Executive Director of the festival and Heather Dick a director, actor and playwright who is directing my play.
The plays are grouped into four themed Pods with six plays being presented in each Pod. Tickets are just twenty bucks per Pod and each Pod is presented four times during the festival. Written in Stone is part of the "you|TURN" Pod and tells the story about the creation of the Ten Commandments and explains the reason man was given a soul, and how Lucifer ended up in hell. The production is being directed by Heather Dick and stars Bridget Bezanson as Michael, Meredith Busteed as Lucifer, Stephanie Christiaens as Gabriel, and Alexia Vassos as God.
Usually, I'm the one doing the interviewing on my blog but this week I'm answering some questions Heather asked me about my writing and specifically about what inspired me to write Written in Stone.
HEATHER DICK
What sparked your writing of Written In Stone? Was it in response to an event or interaction between people that you observed? Or something else entirely?
JAMES HUTCHISON
I was inspired by God. In a manner of speaking. I was doing a lot of reading about Greek mythology and the Bible and early Christians and I'd just written a play called The Blood of a Thousand Chickens which is my interpretation of the story of Oedipus and an examination of belief using Zeus and the ancient Greek Gods to look at customs and traditions and practices. So, I was thinking of ancient times and Gods and exploring religion and that got me to thinking about what might be the best ten commandments for creating a healthy and vibrant society where equality and environmental stewardship were the cornerstones of the law. And so while musing about all of that the idea of placing the creation of the ten commandments in a corporate setting where God is the boss and he's escaped for the weekend to go play golf while leaving his employees to do the work he's going to take credit for popped into my mind.
HEATHER
How do you approach writing a play? Do you begin with characters, an issue you'd like to explore, a theme?
JAMES
It varies. I'm a gardener when it comes to writing. I like to plant the seeds and see what grows. I'm not big into structure initially. I need the spark of an idea to get me going, and then I just sit down and start writing. Sometimes the whole play will simply emerge in a matter of a week or two or in a day if it's a short play, and sometimes it can take years where I keep coming back to a script and a story I've been working on for some time until I get it finished. The big thing for me is I need the spark or the beginning moments usually in order to start writing, and that often gives me enough to get a third of the play written. So, at that point, I'm learning about the characters and the story and what they want and who the protagonist is and who the antagonist is, but once I hit a certain point then I really need to figure out my ending. I need to know how the story ends in order to continue writing the play, because knowing the ending informs the structure of the story and all of the obligatory scenes you need to have in order to reach the end, because everything is leading towards a specific outcome.
Sometimes the story and structure of the play come earlier and sometimes it comes later, but once I know the ending then I put on my architect hat and sketch out the rest of the plot. And if I can't figure out the ending that's where the play stalls, and it goes back into the drawer maybe to re-emerge at another date or to join the millions of other unfinished stories in drawers and on hard drives around the world to forever be forgotten.
One of the other things I've discovered about my writing is that what I need to know about the character is also influenced by the story. I have a bunch of questions I will ask about my characters especially for longer plays and doing that helps me understand the history of my character and the choices they've made in life and what's important to them. Just as a side note, I never begin with the physical description of a character. It bugs the hell out of me that so many character profiles begin with hair colour and weight and all these other least interesting characteristics. What you need to do is determine the kind of a person your character is, and that means who they are and what they do for work. How they treat people. The physical person is determined by the career and ambitions of your character otherwise you are letting your physical description, which is only the surface aspects of your character, determine the very nature and soul of who your character is and what they want, desire, and need in life. Now that might mean in the end certain physical aspects might be extremely important in terms of self-identity such as a person who values their physical strength but is now growing older and feeling the effects of age. So that character in order to maintain the physical beauty and strength of their youth might be willing to do something such as sell their soul or take an experimental drug to keep what they value most.
And I don't sit down and necessarily fill out the entire character description at the beginning. I tend to go back and forth making discoveries in the writing of the play which means going back and answering more questions about my character in the character profile. So, for example, you could be writing a scene and suddenly your character mentions having worked at an all-night diner in her twenties and that isn't something you knew before so now you go back and you ask about that time in her life and who she met and what her day was like and how that has informed her life and the choices she's made and her view of people. Then having that knowledge you go back and continue the story and now the character has specific memories rather than vague ideas. It makes for a more vibrant and interesting story.
A really big thing for me – is finding the right name for a character. In fact, if I don't have the right name I can't write. I spend lots of time looking at baby names and the meaning of names and testing names out until I land on the right one. So, once I get an idea for a play then I have to discover who the characters are and what their names are and once I have the right name – boom I just start writing. So, for example in my play Death and the Psychiatrist – Death's name isn't death it's actually Mortimer Graves. Mortimer means "Dead Sea" and Graves means well – graves. And it wasn't until I had the name that I was able to write the play although the idea for that play – Death having a psychiatrist – came to me late one winter night while I was out walking my dog Zeke and a little voice in my head just whispered, "What if death had a psychiatrist." It was several years later before I actually sat down and wrote that play and that was the first play I wrote on my current journey as a playwright.
For Written in Stone the choice as far as character names go was made for me because I chose to dramatize the story by using existing characters from Christian mythology including Gabriel, Michael, and Lucifer and of course the big guy himself – God. The thing is I've played around a bit with who these characters are in order to make it more entertaining and surprising for the audience.
HEATHER
How is writing a 10-minute play different than writing a full-length play? What are the unique challenges you face?
JAMES
Written in Stone wasn't a ten-minute play. It's actually a half-hour play cut down to ten minutes. Here's one of the cut lines from the longer version of the play, "What were you doing standing in line squeezing the pumpernickel?" I love that line. Out of context, it sounds ridiculous. So, I don't always write with the intention of writing a ten-minute play. Sometimes I do. Sometimes I don't. The reason I cut Written in Stone down to ten minutes is simply because there are so many ten-minute play contests out there and I want my work to be produced and seen.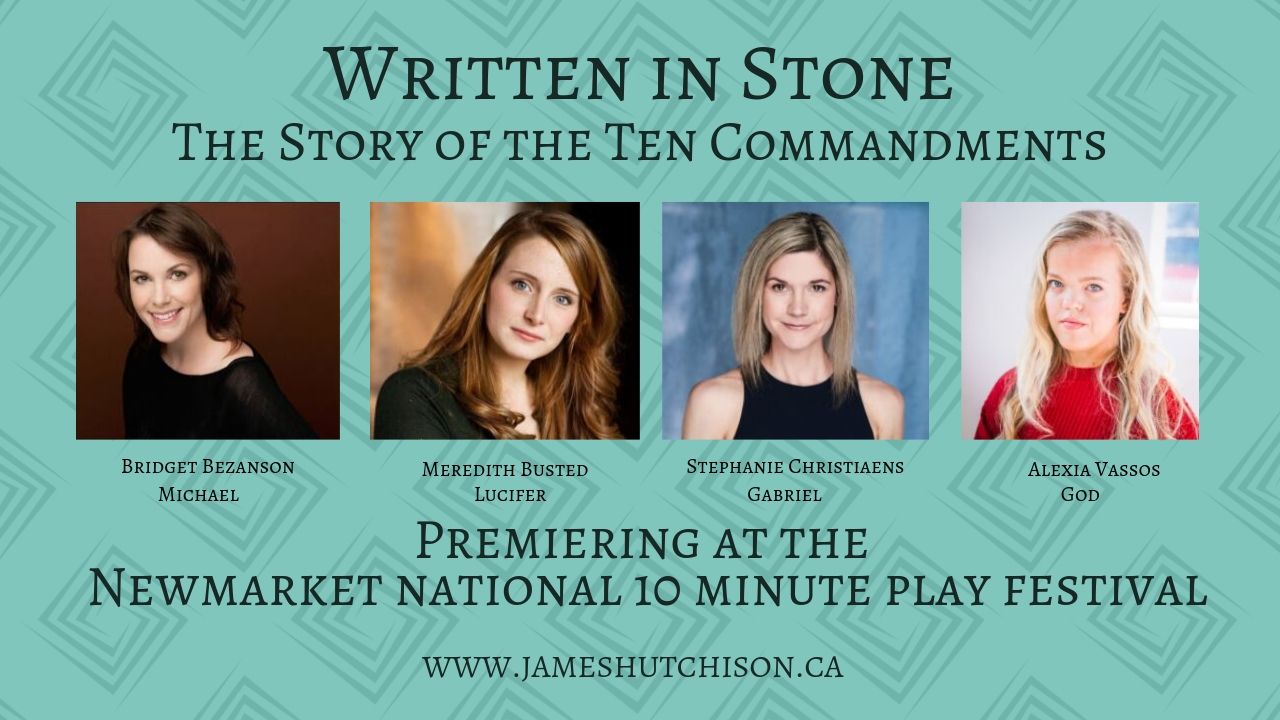 JAMES
For a lot of years, I worked as a commercial writer/producer so I'm used to telling stories in thirty seconds. Advertising is all about storytelling. It's about connecting a particular product or service to your target audience emotionally and the best way to do that is through a story that illustrates the qualities the product possesses. That's the first truth of marketing and advertising. The product actually has to deliver on the promise. Take Tim Horton's for example. They've had a terrible fall from grace as a Canadian icon because they are no longer what they were. They've finally degraded the product to a point where they've lost the loyalty of their clients. In fact, I want to write a short play about it called Glory Days where we have these two Canucks talking about the glory days of Tim Hortons where they're reminiscing about when Tim Hortons used to make the donuts in store and how amazing they were. On a personal note, my favourite Tim Hortons pastry was the walnut crunch. It was this heavy cake dough with icing and nuts, and it was awesome. And then the company that owned Wendy's bought Tim's and that was the first round of cutting quality and they brought out this revamped version of the walnut crunch that didn't have the same texture, flavour, or feel of the original and was kind of spongy and light and of course, it failed. Last year Tim Hortons went from the fourth-best brand in Canada to fiftieth, but it's been a decline that's been in the works for a couple of decades. And now I'm thinking maybe this is a time travel story and we have these two Canuck scientists who are determined to travel back in time to get a walnut crunch and a double-double and relive the glory days of Tim's.
That whole rant was simply to say that I worked for a long time in an industry where you had twenty-five seconds and sometimes less to tell a story so ten minutes is a huge amount of time. You can cover a lot and what I really like about the ten-minute format is that you don't always have to tell a conventional story – you can explore a mood or a question. It's like music. An individual song might not tell a story but it might paint a particular image and speak about the human experience on some level. I think short play formats have the power to do that as well and something that might be boring in a two-act structure might really be fascinating and compelling in ten minutes. The thing is you have to create some sort of satisfactory experience for your audience so they feel satisfied and engaged. When you work on a longer work then you need layers, so whereas a short play might be akin in some ways to a pop song a long play could very much be compared to a classical concert. So, in a full-length play, you dramatically explore a particular question and in a classical concert, you explore a particular melody with all kinds of variations.
HEATHER
What do you hope that audiences will take away from seeing Written In Stone?
JAMES
I hope they laugh. My favourite quote of all time is from George Bernard Shaw. "Life does not cease to be funny when people die any more than it ceases to be serious when people laugh." To me, satire and comedy are wonderful tools for holding up a mirror to our hypocrisy and lies. I've always liked comedy and satire and one of my favourite films is Dr. Strangelove or How I Learned to Stop Worrying and Love the Bomb by Stanley Kubrick starring Peter Sellers and George C Scott, and it's all about the insanity of living in a world where we live minutes away from Global nuclear annihilation. The first time I saw that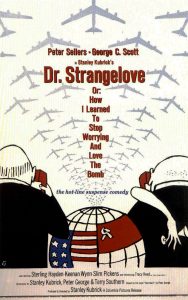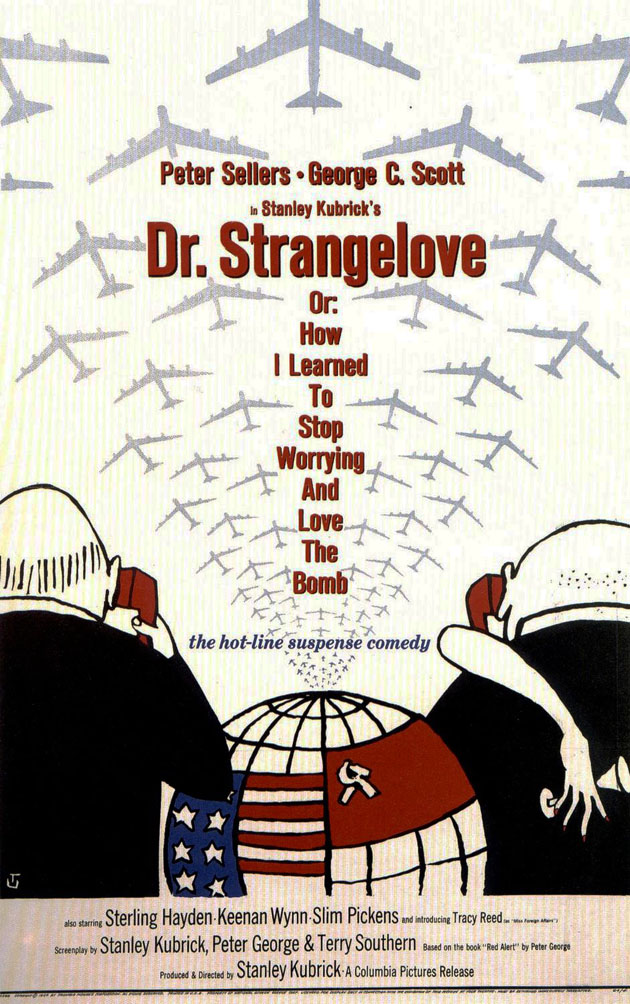 film was at an Arthouse here in Calgary called the Plaza theatre, and it was when Ronald Reagan was sabre rattling, and the USSR was burning its way through elderly communist party leaders, and so tensions were high between the two superpowers, and we were living with jets in the air ready to respond to a nuclear threat within minutes. And this is just an insane way to live, but the fact that we live in this insanity is what makes the film so tremendously funny. And now with Putin, a couple of years ago threatening to rearm his nuclear arsenal and the potential of another arms race being bantered about I have to say the film is as relevant if not more relevant today. And so, with my little play, I'm asking people to think about the ten commandments and what they say and examine them based on what we've learned about our world and our place in it. So, yes I want people to laugh, but I think if they want to go out after the play and have a pint and play God and discuss what laws their ten commandments would contain I think they'd have a terrific discussion about what is truly important in life and what if any are the guiding principles we should live by.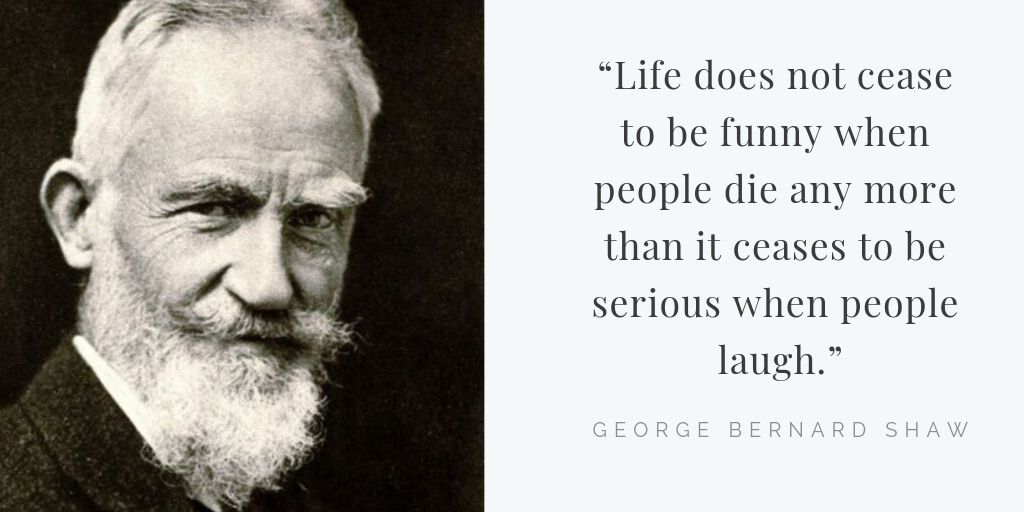 HEATHER
Are you working on a new piece now and if so, would you like to talk about it?
JAMES
I don't talk about new work until after the first draft is finished and it's sat in a drawer for some time and then come out for a polish. I find if I talk about an unfinished piece of work the feedback I get takes me down the wrong path. Now for other people – they thrive from feedback. They love to take ten pages and share them. Me, I don't work that way. In fact, nothing kills my idea quicker than getting the wrong feedback. It sabotages my creative process because I can't unhear what I've heard. So, my advice is, if you're like me, don't share your work before it's finished. That's the same advice Stephen King gives in his book On Writing which I read back in 2010 when I began this playwriting journey and have reread several times since.
Having said that I'm in the process of finishing a new two-act comedy called Under the Mistletoe. These were originally two one-act plays that I've combined into one full-length play. And this is a good example of a play that's had a long journey to completion. Early drafts of some of this work go back to 2011. It's come in and out of the drawer several times and even had a couple of workshops. The second act worked fine, but I'd had some feedback on the first act and it took me in a direction where the story died. And it's been dead ever since. I kept trying to rewrite the first act, over the years, but I could never get it to work. I'd lost the spark – the thing that gave it life, and no matter what I did I couldn't get it back. Well a few months ago I thought I'd try again, and I pulled the play out of the drawer, and I decided to rename the characters, and once I gave the characters new names it made the play feel fresh and I was able to give it a complete rewrite and recapture the magic that had been there when I originally wrote the play.

JAMES
Basically, it's similar to Neil Simon's Plaza Suite. The play takes place in one hotel, but each act is a different story with different characters. I also wanted to write a play about characters in their fifties because I'm in my fifties and life is very different now that time is short.
The play takes place at Christmas thus the name – Under the Mistletoe. In act one there's a character named Mike Riley who's unemployed, divorced, and living in his brother's basement. So, he's a little depressed especially because he's spending the holidays in the Gingerbread Suite at the Prairie Dog Inn Regina. But then he meets Claire McKenzie and they spent a romantic night together and Mike thinks his luck is finally starting to change so On Christmas Eve he purchases the Two Turtle Doves Holiday Romance Gift Basket and hopes to make his relationship with Claire more than a one-night stand.
Then in act two, I have Harvey Swanson and Nancy Potter who have been friends for years but after they kiss in a movie theatre during the ending credit of Casablanca they decide to try and make their friendship a romantic one. So, they book the Candy Cane Suite at the Prairie Dog Inn Regina for a romantic rendezvous. The only problem is Harvey is having a tough time getting over the death of his wife and he feels guilty about being with another woman. So, the big question is will Harvey and Nancy become lovers or will these new romantic feelings and Harvey's reluctance to let go of the past end their friendship?
That's going to be up on my website come January.
Otherwise, I've got a huge amount of rewriting to do and I've been spending a lot of time working on my blog and interviewing other playwrights, actors, and directors. I love doing the blog because I've always liked to learn about people and what drives them. I have a degree in sociology and had considered becoming an archaeologist when I was younger, but my life took a different path. Still, I'm interested in people and society and why we do what we do and live as we do. Sociology, archaeology, and playwriting are all just different aspects of exploring humanity.
If you'd like to read more about the Newmarket National 10 Minute Play Festival then check out last weeks blog where I interview Michael Halfin the Artistic and Executive Director of the Festival as well as the director of my play Heather Dick: Written in Stone: The Story of the Ten Commandments – Premieres at the Newmarket 10 Minute National Play Festival.
And if you're interested in reading up on Brand Rankings from 2018 see the link below to the Maclean's article on Tim Hortons. Just on a side note this year Tim Horton's was ranked 33rd. Still a long way from the position they once held and not the place you'd expect such an iconic Canadian brand. Although, is it really Canadian any longer and has it really been Canadian for some time?
The Tim Hortons brand is badly broken. Here's how to fix it.
by David Thomas May 17, 2018 MACLEAN'S
"Last year, Tim Hortons reputational brand ranking plummeted from 4th place among Canadians in 2016 to 50th, according to Leger. Another survey in 2018, from the Peter B. Gustavson School of Business in Victoria, B.C., found Tims had free fallen to 203rd spot on a brand trust basis, from 27th place a year earlier and number one overall as recently as 2015. It's a short drive from iconic to notorious, when you've driven off a cliff.
The company's owners since 2014, Restaurant Brands International (RBI), were based in the U.S. before moving the head office to Oakville, Ont., with a further move slated to downtown Toronto. And RBI is backed by Brazilian investors 3G Capital, who are legendary, if not downright notorious, themselves for their love of cost-cutting at the companies they buy."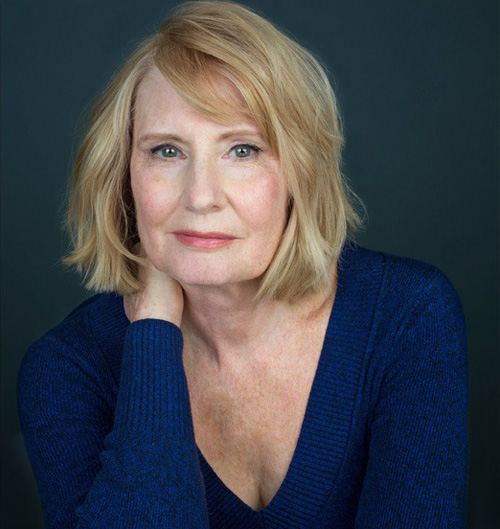 Heather Dick – Director Written in Stone
Heather is excited to be directing at the Newmarket National 10 Minute Play Festival for the first time. As a director, actor and voice artist she has worked across the country. Favourite directing credits include: Earth Tourist (Chandlier Factory Prods.), Forgotten Voices (World Premiere), Mail-Order Annie and Streethearts ( Sirius Theatrical Co.), The Art of Listening (Canadian Premier, Southern Mirrors Prods.), La Sante C'est Pas Sorcier (Waterwood Prods. – Ontario Tour), and The Peacemaker (Golden Horseshoe Players). For over 30 years, Heather has coached and taught workshops in acting, comedy and voice for many independent Toronto acting studios. She is also the Founding Artistic Director of the Sirius Theatrical Company (Toronto) where she currently teaches acting and voice and has produced multi-disciplinary performance pieces. Heather Dick is a member of Canadian Actors Equity Association. www.siriustheatrical.com