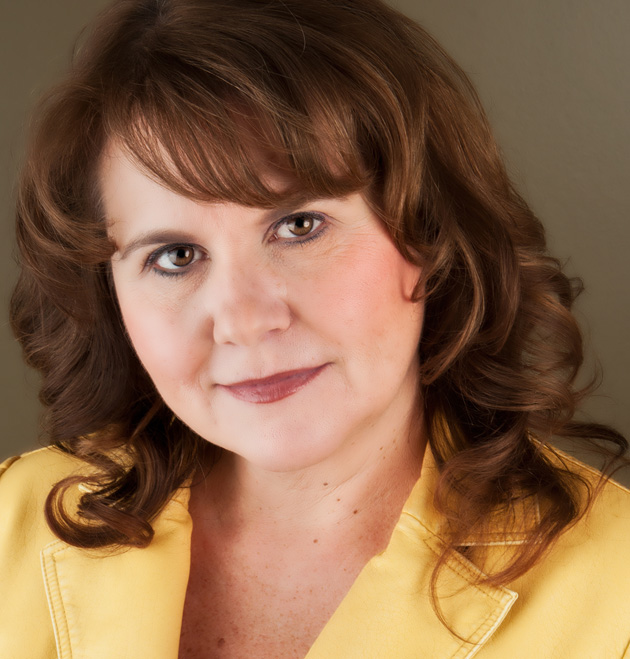 ***
You'll want to get your ringside seats for Wendy Froberg's new play, Queen of the Ring – The Story of Johnnie Mae Young being presented by Attollo Productions and running from November 15th to 24th in the Motel Theatre. Tickets are just $20.00 for adults and $15.00 for students with a special Pay What You Can Performance on Wednesday, November 14th. Please note this is a mature show and restricted to adults 18 years of age or older.
Queen of the Ring is the story of Johnnie Mae Young who spent over seven decades of her life slamming, punching and clawing her way to the top of the women's professional wrestling world. Despite her pin-up good looks, she was a trash-talking bad girl the crowds loved to hate. From the carnival sideshows of the dirty thirties to the glitz and drama of the WWE, Mae Young rose to fame as the toughest, most dangerous female and one of the top attractions in the rough and tumble, disreputable world of old-school pro wrestling.
***
JAMES HUTCHISON
So, Wendy, how did you stumble upon the story of Johnnie Mae Young?
WENDY FROBERG
I was reading my Facebook newsfeed in early 2014 and a story came up about her because she had just died at the age of 90. And even though I'm a native Calgarian and I grew up with Stu Hart's Stampede Wrestling I'd never heard of Johnnie Mae Young. The photo of this blonde bombshell throwing another woman around a wrestling ring captivated me and I just had to click on the link and once I started, I couldn't stop. Everything I read led me to the conclusion that this was one of those, truth is stranger than fiction, stories that needed to be told.
JAMES
Well, why did you feel this need to tell her story and write a play?
WENDY
This woman wrestled from the dirty thirties of the depression era right up to the post-millennium WWE. Seven decades. Can you imagine stepping into the wrestling ring and getting tossed around when you're in your eighties?
Johnnie Mae and other female wrestlers like her had to overcome incredible odds to make their mark in a world dominated by men. A lot of them escaped brutal childhoods where they were neglected or abused, and they were exploited physically, sexually and financially by the male wrestling promoters who they depended on to make a living.
These women lived in a time when women were supposed to be demure ladies in heels and make-up, and not down-and-dirty, ass-kicking fighters. They broke the rules about how women were supposed to behave sometimes at a great cost to themselves. These women were feminists before we had a name for it. They were trailblazers who proved that despite the theatricality and fakery involved in wrestling it's a true sport and they were bona fide athletes.
And as someone who writes for the theatre, you can't find anything more theatrical than professional wrestling! So, audiences coming to the show should be prepared for a lot of physicality, some sweating, and slamming, and maybe even being made to feel a little uncomfortable by the rawness of Mae's life. But don't be afraid to get involved in the moment because we all know it's always a lot more fun when you pretend it's real!
JAMES
What sort of message do you think Mae's story has for the people of today?
WENDY
There has always been a history of people in power, often white men, taking advantage of those with less power, often women and people of colour, and so I think Mae's story is very timely considering the greater awareness and growing power of the #metoo and #timesup movements. Mae and her colleagues fought back against their exploitation and rose to create lives of truthfulness and empowerment. She knew she had skills, talent, ambition, and drive and didn't let anyone stand in her way which sometimes led to real fights outside of the ring as well as in. But it's also true that she used her sexuality as a source of power and this brings up another question we grapple with today and that's if a woman chooses to use her sexuality to get ahead, is she still being exploited because it's largely men who want what she has? That's something I'll let the audience decide for themselves.
JAMES
Any time you tell a story there's a certain amount of poetic license involved. How did you balance the real story of Mae's life with the needs of creating a compelling story for the stage?
WENDY
I wanted to honour this woman by telling her story accurately, but you can't fit everything in because there's just isn't enough time in a stage play. Sometimes you have to condense characters or change the order or timing of events. But I'll say this: the characters in the show are real people and the events really did happen and the spirit of her story, the amazing contributions she made to the sport of wrestling, is one hundred percent truthful.
JAMES
Tell me about the creative team behind the production. Who is the cast and who is the director and what's it been like to work with that team?
WENDY
I've been so impressed with the professionalism of Attollo Productions. They're a new company and they've worked hard and employed all their creative skills to figure out a way to tell Mae's story in a compelling, exciting and engaging way. They've respected my script and my role as the playwright and they've honoured the actors time, skills and process. The production is being directed by Chelsea Friesen who is also a fight choreographer, so she'll be ensuring the safety of our actors while working with all the performers to make the wrestling moves believable. Brett Waring is producing the play and she's also the dialect coach and assistant fight director on the production. Chelsea and Brett and several of the other cast members had previously worked on developing Queen of the Ring so I'm grateful we've been able to keep many of the original cast and I'm really honoured they've chosen my play for their inaugural production.
JAMES
So, who should come and see the show?
WENDY
Everyone—assuming you're eighteen or over. The producers decided that since the show is raw and deals with sensitive subject matter such as sexual abuse, it would be best to limit the audience to adults. If you love a good, rollicking story, if you're interested in the history of an unusual, sometimes wild and wacky sport, if you love stories about real-life, flawed people who nevertheless inspire us as we see them overcome obstacles and live their truth—then this play is for you.
JAMES
If Mae were alive today and could come to see the show you've created what do you think she'd say – or what do you hope she'd say?
WENDY
Well, I'd be scared shitless if I got it wrong and she didn't like it, because that woman – literally – wouldn't pull any punches about letting me know what she thought. I do think—or hope—she'd see that we've recognized the depth of her skill and tenacity, the obstacles that she and her fellow female wrestlers had to overcome to survive and thrive in a tough, unfair world, and the fact that she didn't care about being nice or liked, as so many women do. We didn't sugar-coat anything or cover up any ugly realities about her less-than-perfect behavior. We captured her strength, resilience, and love of the sport as both an athlete and an entertainer. Mae Young truly did it her way and I think she'd agree that we showed that.
***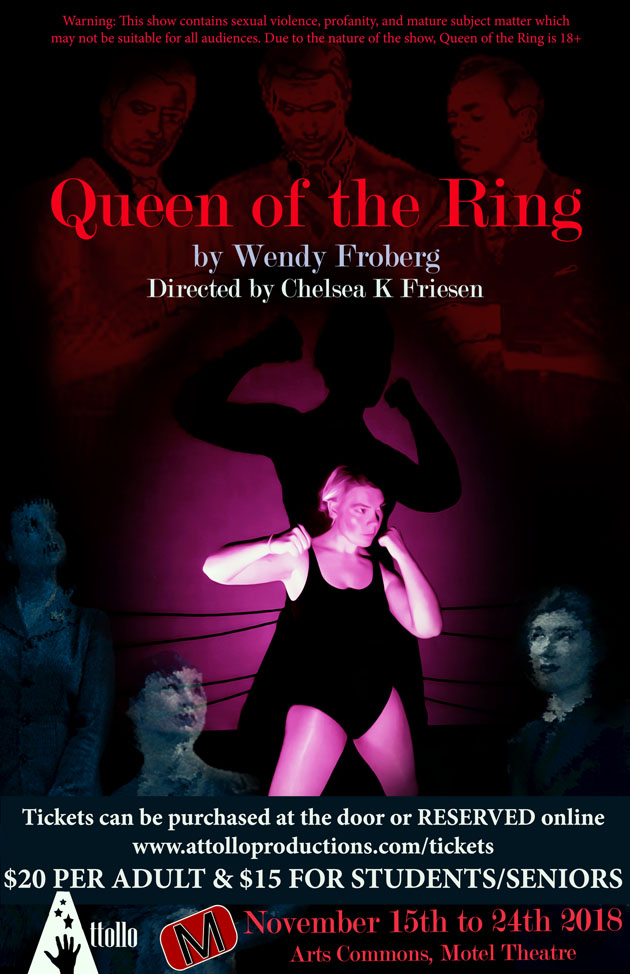 ***
CAST: Jade Benoit, Hailey Carr, Chris Gibson, Kathryn Kozody, Fred Krysko, Jesselle Lauren, Shaylea Pangle
CREATIVE TEAM: Director & Fight Director/Choreographer: Chelsea Friesen, Stage Manager: Danelle White, Producer & Dialect Coach & Assistant Fight Choreographer: Brett Waring, Intimacy Director: Anastasia St. Amand, Costume Design: Christie Johnson, Props Manager/Costume Intern: Kaylee Pratt, Dramaturg: Caroline Russell-King
***
WENDY FROBERG: Wendy's solo shows Interruptions and A Woman of a Certain Age® were each awarded "Outstanding Original Script" at the 2011 and 2013 Calgary One-Act Play Festivals, with AWOAC going on to win "Best of Fest" at the Calgary International Fringe Festival. Her plays, Riches and Best Interests, were produced in 2013 and 2014 by Urban Stories Theatre. She wrote the libretto for the 2015 Cowtown Opera Company production Annie Davidson. Wendy is also an actor who has appeared on stage with Theatre BSMT, Morpheus, Urban Curvz, Fire Exit and Scorpio theatres in a wide range of roles. In addition to working in theatre, Wendy is a registered clinical psychologist. She hopes you, like her, are inspired by the story of Mae Young and her fellow tough broads of wrestling!
***