***
"Is life a search for truth? I think ideally it is. I think people that go off into the light happily – however you want to say it – those are the people that have somehow discovered the more profound fundamental truths about life. I always tease people and say, "No one is lying on their deathbed saying they wished they'd worked at the office more or wished they'd partied more." You know generally what gives people a sense of peace and meaning – again because we're talking about aging meaningfully – is that they made those profound human connections. They struggled, but they overcame. They had loss, but they healed from that. They were transformed. And I think the happiest people are the ones who live most truthfully."
***
Wendy Froberg is an actor, playwright and psychologist and this month Calgary audiences will have a chance to catch her award winning play, A Woman of a Certain Age, from May 13th to 19th at Knox United Church. The play won "Best of Fest" at the 2015 Calgary International Fringe Festival and since then has received strong reviews and successful runs at the Edmonton, Lethbridge, Regina and Winnipeg Fringe Festivals.
"… a stellar performance… hits a nerve…what a show!"
Louis B. Hobson – Calgary Sun
"…honest, entertaining…a convincing portrayal…emotionally poignant"
Clare Clancy – Edmonton Journal
"…expertly done…astute…warm, funny…you will enjoy the hour"
Lisa Campbell – Winnipeg Jenny Revue
The play is an entertaining and insightful story about six women who are trying to cope with the demands of family and career as they struggle with the physical and emotional challenges of growing older in a culture obsessed with youth and beauty. I sat down with Wendy to talk with her about her play and how she got into playwriting.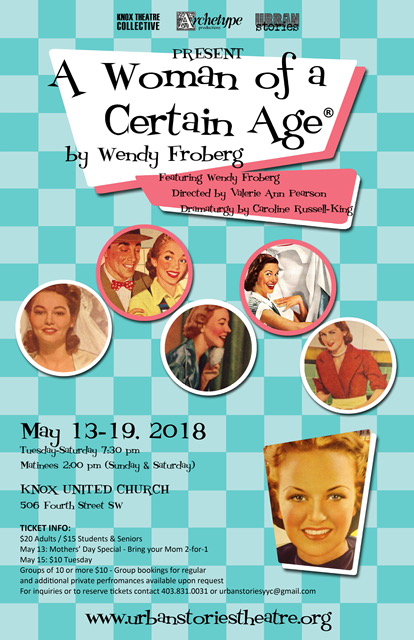 JAMES HUTCHISON
Tell me a little bit about how you got involved in playwriting?
WENDY FROBERG
I was an actor in high school, and I did a little bit of directing, but my parents weren't thrilled about me becoming someone in the arts, so I put theatre away for many years and pursued a career in psychology. But as an adult, I got back into acting, and I started auditioning, and I realizing there were limited opportunities for women. And since I had lots of stories I wanted to tell, and I'd always liked writing, I decided to try writing plays
JAMES
Well psychology isn't totally different than writing and acting, because you're looking at motivation and characteristics. Where do you see the connections between psychology and playwriting and acting?
WENDY
Well that's absolutely right, as a psychologist, or as an actor, or as a writer you're looking at human beings and their motivations. And when we talk about a character's dramatic arc, for example, the idea that a character changes from the beginning of a play or movie to the end of it that's certainly similar to what we do in psychotherapy. We want somebody to change from the beginning of the process to the end of the process. I was actually out of psychology for a number of years while I was pursing playwriting, acting, and directing, but I've always felt like I was doing psychology, because I was doing it through my art. I was digging into a character or creating a character in my writing.
JAMES
Can you tell me about the genesis of your play, A Woman of a Certain Age?
WENDY
As you know, as a playwright, often whether we intend to or not, parts of ourselves end up being in the play. Whether they're done literally or whether they're done from our emotional experience. As I became older and passed out of the ability to play the ingénue roles and got married and had children I began to realize that I was beginning to have a different currency in the world. I wasn't looked upon the way that I was when I was younger. There are a lot of issues about growing older that have to do with the physical aspects of aging. It's when you go from being someone who can turn a head when you walk into a room, to being someone that becomes somewhat invisible. And that's actually a tag line I use when I'm promoting my play and talking about it. The women that I'm portraying are struggling to age with meaning and grace in a culture that's obsessed with youth and beauty and wants to make them invisible.
JAMES
You've done some talk backs with the play. What sort of conversations have you had with people after they've seen the play? When it's the actor playwright sitting there – what are some of the themes that get discussed?
WENDY
It's different things for different people. There's a character in the show who's a widow as well as an aging mother and she's suffering from dementia and living in a care home and I get a lot of women who say, "I'm going through exactly that with my mother." And often, they're tearful and they say, "That's exactly how she behaves." And they're grateful for the fact that somebody recognizes how difficult it is to watch your parent go through that.
I also have a theme that runs through the show about physical appearance and women often say, "Yeah I'm struggling with the concept of whether or not I should get Botox or should I get a facelift or should I have the courage to let my hair go gray and be natural and embrace the concept of aging because that's a difficult thing to do, because if you acknowledge that you're older then people will make assumptions about you and think you're ready to go out to pasture." And in the play I'm never judgmental about whether someone wants to do that or not. I think a good play poses questions. You never want your play to be preachy. You never want your play to simply be about your point of view that you're forcing on your audience.
JAMES
Do you find people take away hope from the play after seeing it?
WENDY
I think they do. I always say that it's sometimes humorous, that it's sometimes poignant, but it's always truthful because that's what I want to go see. A show that's truthful and genuine.
JAMES
You mentioned truthful. That's an interesting idea – because when we see acting that is truthful and sincere it has impact. But what about life itself and theatre's reflection of life – do you think that life is a search for truth?
WENDY
Is life a search for truth? I think ideally it is. I think people that go off into the light happily – however you want to say it – those are the people that have somehow discovered the more profound fundamental truths about life. I always tease people and say, "No one is lying on their death bed saying they wished they'd worked at the office more or wished they'd partied more." You know generally what gives people a sense of peace and meaning – again because we're talking about aging meaningfully – is that they made those profound human connections. They struggled, but they overcame. They had loss, but they healed from that. They were transformed. And I think the happiest people are the ones who live most truthfully.
JAMES
You've done the play at a number of fringe festivals. Tell me a little bit about that fringe experience and travelling across Canada. What was that like?
WENDY
Well in 2012 I had been touring as an actor with a fringe show that had gone to Calgary, Regina, Winnipeg, and Edmonton. When I go to fringe festivals I work the line ups really hard. That's how we get our shows promoted to a large extent. You work the line ups for other shows. And you hand out flyers and you tell people about your show and you get them to know a little bit about you as a performer and or as a writer. And I kept noticing the demographic. The demographic was me. They were middle aged women. And there were a lot of the husbands and boyfriends with them but the women were the ones that typically decided which shows to see. And I had this play in my head because I recognized there's an audience here so I think I'm going to write it. You know it's like Field of Dreams. If you write it they will come – because we love to see ourselves portrayed truthfully and with a certain amount of dignity on stage.
JAMES
How much has the show changed from when it started?
WENDY
When I first presented the play it was at the Calgary One-Act Play Festival in 2013 where it won best script and I had a different director the first time around. My director wanted to try a lot of different things so we had projections and a lot of technical stuff and it ended up being quite cumbersome and crisis ensued with things not working the way they were supposed to.
JAMES
Projections didn't go, the lighting cue was missed, the music lost.
WENDY
Yeah things like that. When I ended up working with my next director Valerie Ann Pearson, who is a gem, I can't speak highly enough about her…
JAMES
She was my junior high drama teacher.
WENDY
She is the loveliest person ever.
JAMES
And her husband, Pat, was my radio instructor at SAIT.
WENDY
I love Pat. He's just a doll. I love them both. Anyway, I just approached her, out of the blue, because I didn't really know her, but I'd seen her on stage – you always know those people on stage more than they know you. And she liked the story and I talked to her about what I felt – which was that the story got lost in all the bells and whistles – and she said absolutely. She said, "I think this needs to be told really really simply because it's the story. If you have a strong story you don't need all that other stuff."
And since I was thinking of doing it for a fringe I was like absolutely, because another thing about the fringe is you get ten minutes to set up your show and five minutes to strike your show, because the next theatre group is coming in to perform. And so you better have a pretty lean mean machine working there especially for a one woman show where it's just me or me and my son. So now when I write things, I always write things with that in mind. Would this work at a fringe festival? Could it be transportable and quick to set up?
And because the play is easy to set up I've also gone on to perform it privately. I've done it in people's living rooms – I've done it in people's guest houses – I've even done it in hotel ballrooms.
JAMES
Have play. Will travel.
WENDY
Have play. Will travel. That's my name. I'm thinking next year, because I took this year off of fringing, I'd like to go beyond Winnipeg. This means I don't think I'm going to drive, which means I'm probably going to have to rejig my show so it doesn't even have a set – which happens a lot in fringe shows. Or, have something simple I can pick up locally.
JAMES
I like that for the title of something – Beyond Winnipeg.
WENDY
Beyond Winnipeg, I like that.
JAMES
Beyond Winnipeg, the life story of Wendy Froberg.
WENDY
Yeah, yeah I like that. Have Play. Will Travel. I like that one too.
***
A Woman of a Certain Age runs from May 13th to 19th at Knox United Church. Performance times are Tuesday to Sunday at 7:30 pm with a Saturday and Sunday matinee at 2:00 pm. Tickets are $20.00 for adults and $15.00 for students and seniors. Plus there's a "Two for One if you Bring your Mom" on Mother's Day special and a special $10.00 Tuesday promotion as well as a $10.00 group rate for groups of ten or more. For more information, or to purchase tickets, go to the Urban Stories web site, or call 403.831.0031.
Presented by Archetype Productions, Urban Stories, and the Knox Theatre Collective.
***
If you enjoyed this interview with Playwright Wendy Froberg you might also enjoy the following interviews:
This Interview has been edited and condensed for clarity.