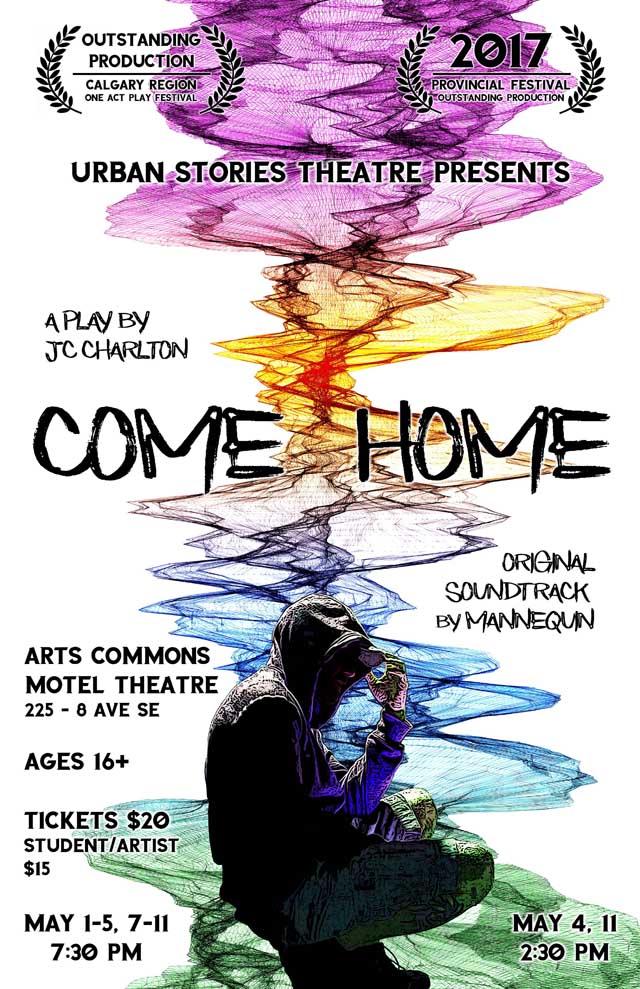 "Everything I do is to survive. What's going on out there, and what's going on in here. You think I'm not counting down the days? I can feel my mind unravelling at the seams. Waking up in the night, cold sweats, my heart pounding so hard I think my ribs are gunna' crack. I can't tell what's fucken' real anymore there's this banging and drilling on the walls like someone's hammering away – is it real? I don't know."
CONNER from the Play Come Home by JC Charlton
+++
Living in Australia and working on the oil rigs far from home Connor Evans a young Calgary man finds himself falling deeper and deeper into a life of drug abuse and criminal activity. Come Home is a raw and honest play about addiction, the importance of friendship, and second chances.
The play is based on the real-life experience of Christopher Scott who along with his friend JC Charlton presented the play at the 2017 Calgary One Act Play Festival and the 2017 Alberta Provincial One Act Play Festival where it won several awards including Best Overall Performance and Best Original Script.
Now two years later the play has been workshopped and expanded and is being presented by Urban Stories Theatre from May 1st to 11th in the Motel Theatre at the Arts Commons. Tickets are $20.00 for adults and $15.00 for students, seniors, and artists and are available online at www.urbanstoriestheatre.org
I sat down with JC and Chris, while they were in rehearsals, to talk with them about how the play came about and what message they want audiences to remember.
JAMES HUTCHISON
Come Home is inspired by your real-life experience of becoming involved in the drug trafficking world in Australia when you were there and eventually being given a second chance. Why did you want to tell your story?
CHRIS SCOTT
For the longest time, it was like a dark spot on the soul. I still held it deeply internally and it just started to eat away at me. I didn't talk about it to anyone but when this opportunity arose to tell this story as part of the Calgary Regional One Act Play Festival I thought what better way to make something creative and positive come out of something dark and negative.
JAMES
How much of the play is based on real life and how much is poetic license?
JC CHARLTON
We're saying it's inspired by a true story. We're not saying it is a true story. For example, we combined two different people from Chris's life into one character that became our antagonist. The events we show were events that happened to Chris but at different times and with different people and we just lumped them together so we changed the timeline, so we could tell a story that had a solid beginning, middle and end.
JAMES
I know it's a personal story but was there some sort of moral message you wanted to convey in the telling of the story?
CHRIS
Yes, you always have to stay positive because there's always a light at the end of the tunnel it's just sometimes you have to tough it out to get there. Looking back one thing kind of led to another and I'm surprised by how deep and dark it went. You just have to hold onto your friendships and stay away from nefarious people.
JC
You often watch a movie about drug addiction or drug trafficking or crime and it's going to have a depressing ending. It's solely a cautionary tale where you see the characters suffer and lose it all, and in this story – yes there's suffering – yes there's loss – but in the end – it's the belief in this person by his friends and family that pulls him out of it, and I think that's what separates our story from other stories.
CHRIS
The bonds that we have for each other can save us.
JAMES
The play has a whole soundscape that accompanies it. What was the process like for creating the music and sound for the production?
CHRIS
It was a lot of trial and error. We'd try to capture the feeling of what section we were working on and then we would tweak the soundscape and the music to try and enhance that feeling or that mood.
JC
There's one section where the main character is having a panic attack envisioning all the terrible things that are going to happen to him, and the only thing that pulls him out of it is his girlfriend and, we've got this lovely piano melody that comes in there that's very separate from anything else we've heard in the play up until that point. And then that melody keeps coming through the remaining pieces until we lead to the climax of the play.
JAMES
So, how different is the production that you're presenting at the Motel compared to the one you did a couple of years ago at the One Act Festival?
JC
The script was in its infancy at the one-act festival. Since then we got in touch with Helen Young from Urban Stories, and I was blown away the first time I talked with Helen, because we wanted to get it into their play festival, and she told me couldn't because the play was more than twenty minutes, but straight off the bat she said, "From the sounds of it we might want to do this for a mainstage show." So, we sent her the script and went for a coffee with her, and the next thing we knew it was all in the works. We had them producing it. We're going to be at Motel. We had a dramaturg come in, and we were fortunate enough to be given enough time to work on the script and develop it further.
JC
We workshopped the script with Caroline Russell-King, who is a very talented dramaturg, and we completely changed the vehicle for the narrative. Before it was in the form of somebody telling their story to a friend, and now it's all happening in the moment. And we've changed what the play is really about. Before it was focused on a single friendship and this friendship progressed the narrative, but now we're focusing more on the individuals that Chris knew in Australia. The ones that kept him going when he was completely isolated. We get to know more about them and that changes the outcome of the play so now we have a new emotional climax – which I'm not going to spoil – but the main difference is that we're including so many more characters and people responsible for bringing Chris home.
JAMES
So, why should people come see it?
JC
It's a unique show that combines theatre, electronic music, text and it's inspired by a true story that happened to a local Calgarian here. Helen's given us a lot of freedom to develop the play and to assemble a pretty talented production team. Our director is Nova Lea Thorne, and our lighting designer is Neil Fleming. Alexandria Inkster is designing the set, and Justin Many Fingers has come in and been a guest choreographer for us on a couple of occasions.
CHRIS
It's an excellent tool for healing and also a way for us to express and showcase ourselves theatrically and artistically.
JC
When we did the show two years ago we were lucky enough to have a police officer come and see it, and what he said to me after the show was, "You know in my job it's real easy to get jaded doing what I do, but after seeing this I'm going to remember that the next time I'm arresting a crack head or a drug dealer is that everyone has a story." And I was surprised by how many people came up to me after the show with tears in their eyes and said that they had a family member that's gone through the exact same thing. And that's really what we're trying to accomplish here. We're trying to give an entertaining performance, but we're also trying to do something that's going to change the way people see people who are going through a hard time.
+++
Urban Stories Theatre presents Coming Home by CJ Charlton May 1st to 11 in the Motel Theatre at the Arts Commons. Tickets are $20.00 for adults and $15.00 for students, seniors, and artists and are available online at www.urbanstoriestheatre.org
+++
Come Home
By JC Charlton
CAST
JC Charlton
Christopher Scott
Sally Cacic
Directed by Nova Lea Thorne
Set Designer by Alexandria Inkster
Sound Design by Christopher Scott
Lighting Design by Neil Fleming
Guest Choreographer – Justin Many Fingers
+++
JC Charlton
JC is an actor and theatre creation artist based in Calgary, Alberta. JC is a University of Lethbridge alumni with degrees in education and fine arts. He has dedicated his career to acting and the development of new Canadian works. He has trained in advanced direction under his mentor Gail Hanrahan. Selected theatre credits include; (Kaahsinnoniks, dir. Justin Many Fingers), (Moon, Moon, No Moon, dir. Blake Brooker), (Come Home, dir. JC Charlton), (Okotoks, dir. Justin Many Fingers), (The Bear, dir. JC Charlton), (509, dir. Justin Many Fingers). 2016 Calgary + Provincial One Act Best Male Actor.
Christopher Scott
Christopher is a musical artist based in Calgary, Alberta. With a passion for melodic and bass heavy electronica he aims to create unique soundscapes and exciting experiences in combination of theare and sound design. He is a part of the new electronic duo, Mannequin. Chris has worked in a variety of fields from the drilling rigs in Canada and Australia to landscaping and construction here in Calgary, he has completed his training and holds certificates in the Fundamentals of Firefighting and Hazardous materials/ WMD incidents.
Sally Cacic
Sally Cacic is a West Australian actor. She is a graduate of Company of Rogues Actors' Studio Master Class Program and StageMilk Drama School, and an ongoing member of StageMilk Drama Club in Sydney, Australia. She apprenticed in the Meisner Technique under her mentor Stacie Harrison, which she applies across her work in both theatre and film & television. Select theatre credits include Laughter (Urban Stories Theatre), How To Almost Be An Adult (Urban Stories Theatre), Late Night At The Plaza (Late Night Productions), and Australian productions A Chorus Line (The Old Mill Theatre), and Beauty & The Beast (The Ballet Company). Select film credits including Bright Hill Road (Nevermine Films), The Little Things (Shotlist Films), Joy To The World (SAIT Film Productions) 2017 AMPIA Rosie Award Finalist, and The Hundy (SAIT Film Productions) 2017 AMPIA Rosie Award Winner.
Nova Lea Thorne
Nova Lea is excited to be working on her first show with Urban Stories Theatre. She is grateful for the opportunity to direct this exceptional piece created by JC Charlton. Although much of her career, of late, has been in the area of stage management, she began her career as a performer, with Theatre New Brunswick, and has been involved in performance training and directing artist in residence programs, in Alberta, since the late 1990's. She has instructed young performers with Quest Theatre, Theatre Calgary, Triangle Theatre School, as well as Theatre Works School of the Arts, a musical theatre school that she co-owned for twelve years. Nova Lea is the proud recipient of the Duval Lang Theatre for Young Audiences Award, a Betty Mitchell Juried Award.
Alexandria Inkster
Alexandria is a Calgary-based artist comes to performance through visual arts. She obtained her BFA in Sculpture in 2014 from the Alberta College of Art + Design (now the Alberta University of the Arts), and her MFA in 2016 from the University of Calgary. In her creative|research practice, Alexandria investigates the activation of agency and collective mobilization by enacting experiences of ambivalence, intimacy, freedom, and magical ideation. These investigations most often take the form of live performance and/or sculptural installation, where somehow her body always seems to become enmeshed in the work. Come Home is Alexandria's first stint as a "set designer," and she is absolutely thrilled to have the opportunity to work with its amazing cast and crew.
Neil Fleming
Neil is delighted to be part of the Come Home artistic team helping Chris and Jeff bring this story to life. Primarily a playwright, Neil sometimes likes to stretch his theatrical design muscles. Some past design credits include: Okotoks (Niitsitapi Dance, MT7), Gruesome Playground Injuries (Ground Zero, Hit & Myth), A Mid-Summer Night's Dream (CYPT), The Vajayjay Monologues (Urban Curves), Shopaholic Husband Hunt (Lunchbox Theatre), Almost Perfect Thing, Kitchen Witches, In A World Created By A Drunken God, The Attic, the Pearls, & Three Fine Girls (New West Theatre), And So It Goes, Goodness, Bone Cage, Arm's Length Embrace (Downstage).
Urban Stories Theatre supports local playwrights writing about social justice and humanity issues by nurturing their ideas from first draft to finished production. The company is made up of a core group of local artists who will oversee all productions and workshops. Budding actors, directors, stage managers and designers will be encouraged to share their ideas by becoming part of the team on a show by show basis.
Vision: To give local artists a voice in creating theatre that tells stories about real life.
+++
If you enjoyed this interview be sure to help spread the word and check out some of my other interviews in the links below.
This interview has been edited for clarity and length.