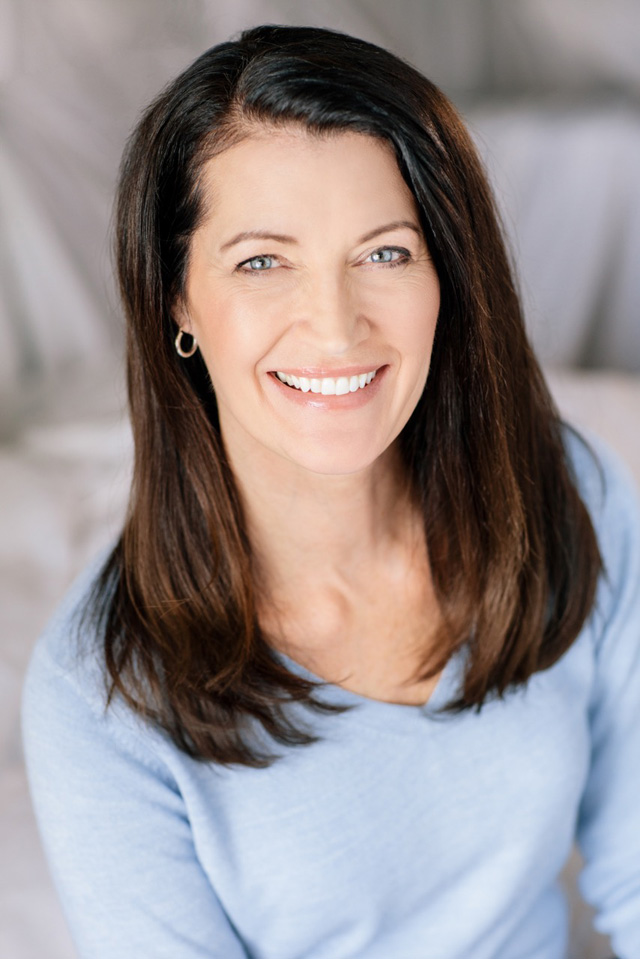 You might know Barb Mitchell as the cohost of Calgary's first morning show for Global back in the early nineties. Or you might remember her as Miss Calgary back in the early eighties. Or more recently you might have seen her on television as a judgmental church lady in the gritty Depression-era drama Damnation. I sat down with Barb, just after this year's Calgary Stampede, to talk with her about her experiences as a broadcaster and her career as a stage and television actor.
JAMES HUTCHISON
So, your first experience on stage was playing Piglet from Winnie the Pooh in Junior High – certainly one of the more complex characters in the hundred-acre wood.
BARB MITCHELL
Yes, I did a deep dive into Piglet.
JAMES
Was there anything from that performance that ignited your love for the stage?
BARB
Well, I loved my drama teacher, Miss Main. She was incredible and fun, and we got to escape and experiment and I loved it – so when they didn't have enough kids turn out for the play and she asked me to be in it I jumped in and did it.
JAMES
It's nice to be in demand.
BARB
Yeah.
JAMES
You told me that your older brother Blair was in the Young Canadians and he encouraged you to audition. Why do you think you needed that encouragement?
BARB
I was a shy kid, and I didn't have a lot of friends, and I wasn't very confident. My brother, on the other hand, was a totally exuberant guy always singing and dancing and making you laugh. I thought he was going to be on Saturday Night Live when he grew up. He's still the same way. He's hysterical, and he had confidence, and I was a shy withdrawn person, but I loved to sing and dance so being in the Young Canadians was fabulous. Everybody was so kind to each other and that was the most wonderful part because you felt accepted and then you can grow, and you can learn, and you can be yourself, and you can take your skills and do what you will with them. We just had our 50th reunion at the Calgary Stampede and people flew in from Alaska and Dallas and Toronto and all over the world to come back and experience Stampede and see friends, and it was exactly like we'd never left. It was really formative for me because I was in grade nine and never did feel like I belonged, and I found this group of people, and they got me, and I got them, and it was fantastic, and we could share anything with each other.
JAMES
So, what were some of your lessons learned during your time with the young Canadians? What were some of the takeaways – some of the things that maybe helped you with your life?
BARB
Well, in general, it's just being kind to everyone and accepting everyone for who they are. It's important to find your people – your crowd and do what you love and the more you do something the better you get at it. Being in the arts is a lifelong commitment. You're always learning and the more you invest the more you get out of it. The most talented person doesn't always make it as a career performer the hard workers do and the risk takers do. I learned that Calgarians are incredibly lucky to have an organization like The Young Canadians that provides free training and performance opportunities to young people.
JAMES
Let's talk a little bit about your modeling career. You did shoots for The Bay here in Calgary and you worked with John Casablancas. Then you moved to Chicago for a time to be a professional model, and I'm curious what those days were like for a young woman far away from home in Chicago trying to have a career as a model.
BARB
Scary. I was terrified. Because I was really young. I'd never lived away from home. It was a huge scary city and there's a lot of creeps in the modeling world. It's just the way it is. There were creepy photographers and just, you know, stuff like that. So, it was scary.
JAMES
How did you navigate that?
BARB
I didn't have any awful experiences, but I had some creepy experiences. I had an experience where an agent invites you to some event and then you show up and there's one guy that's paired with each girl and it's like – oh, is this a date – and this is kind of creepy, and you sit down, and you have dinner, and then you get out of there, and you go home. You have to learn how to protect yourself and get out of bad situations.
JAMES
But your agent booked that?
BARB
Yes, but that was a one-off. It never happened again. I let them know I wasn't happy with that. I just found with modeling that the money was good when you worked but it wasn't very stimulating mentally.
JAMES
So, what made you decide to come home?
BARB
I didn't get much work and I missed my boyfriend, Dean, who is now my husband. He actually came to Chicago to visit.
JAMES
And he supported you going to Chicago?
BARB
Dean's fantastic. He's been an amazing guy. He's supported everything I've ever done.
JAMES
Well, let's talk about something else you did. In 1982 you got to be Miss Calgary. What kind of opportunities and good things do you remember from that?
BARB
It was a good experience. I was thrown out into situations where I had to be a spokesperson for the city and meet people and greet people and shake hands and go on parades and all that kind of stuff and it was a great confidence builder and I met people in the TV industry who helped guide my career.
JAMES
But you also spent a couple of years at the University of Calgary in Fine Arts and then you switched to General Studies and after a couple of years left. You told me that you had loved the dancing and singing but didn't think it was a viable career. What was going on?
BARB
My parents wanted me to get a degree. They didn't care what it was in. And so that's why I went to University and took General Studies because I didn't know what I wanted to do.
JAMES
You were exploring things?
BARB
Yes, and of course I loved my art courses, and I loved my dance courses, but I didn't see it as an actual career. So, I started exploring other options because I was kind of lost at the University. I didn't make any friends there. I found it very isolated.
JAMES
I remember my first year at the UofC…it was a lonely year…I didn't do very well in that environment my first year either. You said you felt a little bit lost, but it's not unusual in our early twenties to be searching – to feel a little lost. Some people know from five years of age what they want to be, and some of us never figure it out.
BARB (Laughs)
No.
JAMES
So, you eventually decided that broadcasting might be a good choice. How did that come about?
BARB
Well when I was Miss Calgary CFCN was the sponsor and they broadcast the pageant, and I spent quite a bit of time at the station because we did some commercials and a variety of things and Darryl Janz, who was the news anchor for CFCN, was fantastic. I'd hang out in the newsroom, and he'd give me the tour and let me sit in and watch everybody work, and he told me about the industry, and I thought this is kind of cool and it's kind of performing on camera but its smart and you're writing and doing lots of interesting things and so it peaked my interest enough to check out and enroll in the Broadcasting Program at SAIT.
JAMES
So, mid to late eighties you're in a newsroom. You worked at CFCN while you went to SAIT and they hired you full time after you graduated. What was it like for a young female reporter to be in a newsroom back then?
BARB
The newsroom was a different place back then. It had manual typewriters, and all the guys smoked, and it was mostly men. They had just got their first female news anchor, Michelle Hogan, and I think there were two female reporters and a couple of female producers. It was a very male-dominated masculine, loud, smoky, crude kind of place, at first. I remember always having to prove myself – which was fine. I was new. But the attitude was sexist and pretty misogynistic. They gave me all of the fluffy assignments at first, but as I got experience producers began to trust that I could put together a good story.
JAMES
And then you started working for Global Television 2 & 7 and even became the national news Alberta Correspondent from 91 to 93…then you had a chance to co-host Calgary's very first morning show with Gord Gilles. How did that opportunity come about?
BARB
I don't think there were a lot of people that wanted to get up that early, to be honest. The news director basically just asked me if I would be interested in doing this show.
JAMES
It was a pretty wacky show when it started.
BARB
Oh, it was. The whole morning television experience was an experiment and we had a lot of freedom to do what we wanted. It ended up being a little chaotic. We had cooking segments, we had live bands, we even had a live audience the first couple of years. It was a lot of fun, and we interviewed lots of local people and anybody who came through town that was famous. It was kind of a mishmash of everything.
And everybody who worked on the show wanted to make it enjoyable and fun and that was what I really liked about the morning show – it was more light-hearted than the news because news can really pull you down. News can be so awful sometimes and absorbing the news every day and then regurgitating the awful things that have happened in the world kind of weighs on you so the opportunity to do something that's light and fun where you send people off in a good mood for their day was a nice opportunity. It was also the advent of live television too, so we had a truck with a satellite where we could do live interviews and Angela Kokott was our live roaming person.
JAMES
Now days people use their cell phones and a Facebook account to go live.
BARB
The technology is crazy.
JAMES
It's almost – if you think about it – like the whole world is participating in the morning show.
BARB
Everyone on Instagram is doing their own newsfeed.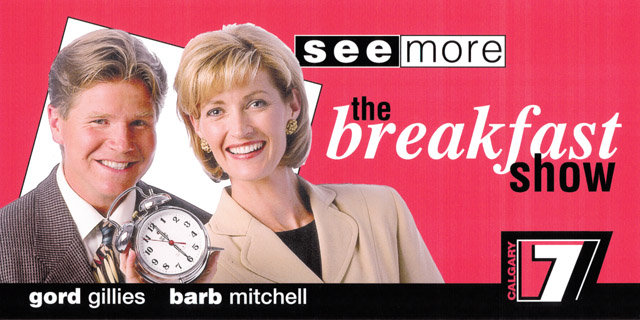 JAMES
So, in 2001 you left the morning show and continued to write and produce programs, and then you spent a year at Citytv covering Tara McCool's maternity leave cohosting Breakfast Television with Dave Kelly. Also, around the same time, you returned to the stage taking your first acting class in 2005 with the Company of Rogues here in Calgary. So, what motivated you to take acting lessons and hit the stage at forty-two?
BARB
I knew covering Tara MaCools maternity leave was a temporary gig, and I had just always wanted to act, and I thought this is my opportunity – I'll give it a shot and take some classes, at least, and see what it's like. And so I went down to Company of Rogues and took a few acting lessons with Joe Norman Shaw, and I was encouraged to audition for things. And I saw this posting for an audition for Mrs. Robinson in The Graduate but I never thought that I was even remotely qualified, but I decided to audition anyway and I got the part.
JAMES
This was your very first role, right?
BARB
It was my very first role other than Piglet in Junior High, yes.
JAMES
From Piglet to Mrs. Robinson, that's quite a leap.
BARB
And of course in that role, you have to take your clothes off on stage – and it's like, "Oh my God."
JAMES
But you were told that in the audition.
BARB
Yes.
JAMES
But you thought, I'll audition, and I won't get it…
BARB
…yeah, I won't get that…
JAMES
… I won't have to make that decision.
BARB
Suddenly I had to make the decision. But I had to talk to my bosses at Citytv because I worked on the morning show. I knew a few people from Global who had done some theatre and film-like Paul Dunphy who, you know, plays the Newscaster in a movie and Brenda Finley who did quite a bit of theatre, but Global was very strict about what you were allowed to do.
JAMES
Because you represent the station.
BARB
Yeah, you're a spokesperson. So, I went to Citytv and it's like do you think I can do this play where I take my clothes off and they're like, "Yeah, go for it." And I was like whoa this is amazing what refreshing management, and we played it up on the show, and we had a blast with it. We did interviews and lots of articles that were tongue and cheek, you know, about me barring it all, and we had a good time.
JAMES
What was the discussion with your husband like?
BARB (Laughs)
Actually, he was totally fine with it. He supports everything I do so he's, "You know if you're fine with it I'm fine with it." And you know it was a process and it was scary as hell and you go to the gym a lot more and start doing things to get more comfortable with your body.
JAMES
Your director was Iam Coulter.
BARB
Yes.
JAMES
So, how did she approach it as a director, and how did you approach it as a performer?
BARB
Well, she was fantastic because she brought the entire cast into the experience because a lot of the women in the show had to be in various states of dress. There's one girl who's a stripper and then there's a younger girl who ends up taking my man – my daughter – she had to do a bedroom scene as well. So, Iam signed us all up to take burlesque lessons which was so much fun and a group bonding activity and helped us feel good about our bodies. We also set up a schedule, so I knew when I'd have to be naked because I needed to prepare mentally for that. And so, we did a couple of underwear rehearsals and worked our way up to that and it was a very gentle, organized, professional experience.
JAMES
Which is nice to hear because that's what you want. You want to be working with production people and a creative team that is aware of your vulnerabilities and make you feel comfortable being able to be naked not just as an actor emotionally but physically on stage.
BARB
And all of the guys in the cast were fantastic. They were very respectful. With the wrong people, it could have been an awful experience.
JAMES
So that was your first experience what are some of the other stage experiences you've enjoyed?
BARB
I've been very fortunate to have been in some great productions. I did Dinner with Friends by David Marguilies which was directed by Stacie Harrison for Rogues Theatre. That was wonderful but challenging because of the conversational, authentic dialogue but it has a storyline about relationships which is so relatable. It was a small cast of lovely people and a funny, sad, intimate show.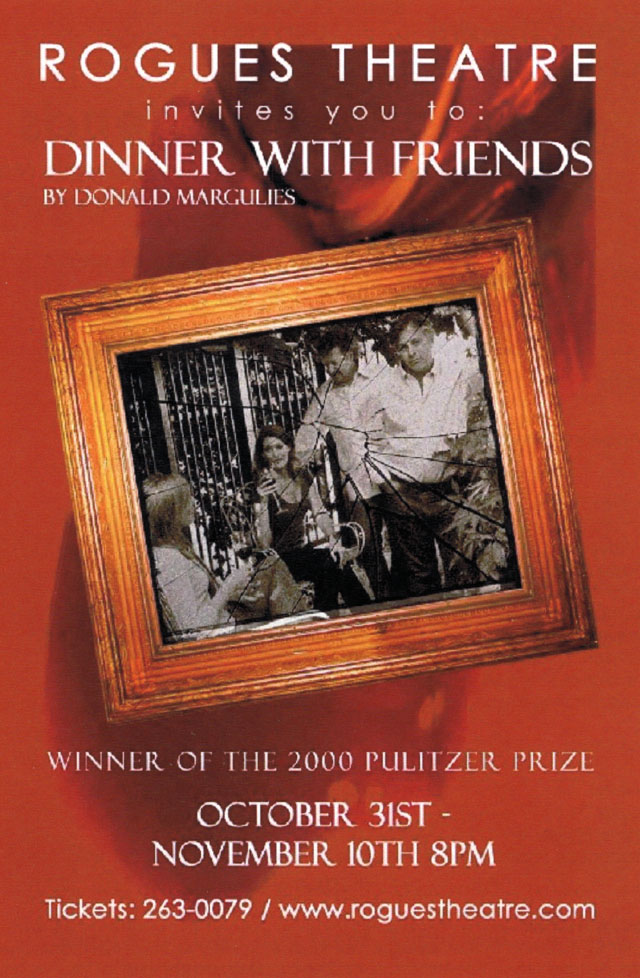 BARB
I did Habitat by Judith Thompson for Downstage and directed by Simon Mallett. It was wonderful because I got to watch and learn from local greats Stephen Hair and Sharon Pollock and a young Julie Orton – fresh out of school. Their focus is amazing and boy did Sharon live the "On with the show" mentality as her house burned down one day during the run and she still showed up at the theatre without shoes and smelling of smoke and did the show.
I think the most magical was Dirty Rotten Scoundrels for Theatre Calgary. Having a big budget allows for all of those things you dream about in theatre – gorgeous sets, incredible costumes, a big orchestra. It challenged me far beyond my comfort zone for dancing – I was exhausted – but I felt like I was part of something really beautiful, hilarious, and special.
JAMES
What are some of the top movie or television experiences you've had?
BARB
Well probably my favourite was the last thing I worked on Damnation which was a USA Network series and I'm so sad it got cancelled because it was a really great show set in the depression era and it had fantastic actors, fantastic writing, and a beautiful setting. You're out in the glorious landscape of Alberta in a period piece in the old town that they built as a set for Hell On Wheels originally I think, and we adopted that and updated it to the 1930s, and it was just a great experience all around. It was created by Tony Tost, and he's amazing to work with. He's just a brilliant guy. Very quiet gentle writer. He did the Longmire series, and he's a poet originally, and he got into screenwriting and has done very well.
JAMES
How did you get the part?
BARB
Oh, I auditioned many times for it, and my agent sent it to me, and I went for my initial audition, and it was a little intimidating because the director for the pilot was David Mackenzie who had just been nominated for an Oscar for Hell or High Water – but the audition was a blast – it was the most fun I've ever had at an audition because they let you do your first initial version and then it was – why don't we try this – and why don't we try this.
JAMES
So, they want to see how you take direction.
BARB
Yeah, they want to see how you take direction and that's always a good thing when they want to see you doing it multiple ways. Plus I was auditioning for multiple characters so that was fun. I was auditioning for a whore and a judgmental church lady which I ended up getting. It was a really fun experience just being in at the ground floor of a new creation that you knew was going to be good.
JAMES
So, you've had a career in broadcasting from being an on-air personality and producing documentaries and new work. You've been a voice artist and actor been on stage and film and television. You've had a varied career and a successful marriage How did you balance all the demands of marriage, motherhood, and career?
BARB
I didn't. I don't think anybody ever really does achieve actual balance. It's chaos. Having young children with both parents working full time equals exhaustion. We got help with nannies when we had our second and third child, but it was an absolute necessity as I started work at 3:30 am. Working and leaving my kids at home was guilt-inducing, but I needed my own thing, and I didn't want to give up my career. You try to be alert and there for your kids but with endless sleep deprivation it's a challenge and that's basically why I left was because I was so exhausted I just couldn't do the shift anymore. At some point, it was a lifestyle choice, I had migraines and the shift was having negative effects on my health and on my life and my family, so I had to stop.
JAMES
So, you're the mom of three. Who are the three kids?
BARB
Kurt, Eric, and Vanessa. My oldest is 29 and married and he's in IT networking, and my middle son is an engineer and he's 25, and my daughter's 23 and she's a dancer who lives in New York
JAMES
What guidance and advice did you give your daughter about this career?
BARB
Are you sure you want to do this? It's not going to be easy – just realize that – but she was in Young Canadians from the age of eight to eighteen so she was immersed in that world her entire life and when she graduated high school she said there's nothing else I want to do, and so she ended up going to school in New York, and her teachers were working professionals, and she actually got hired by one of her teachers after she graduated for a show.
JAMES
What shows has she done?
BARB
Her first show was 42nd Street in Long Island with Randy Skinner who is a Tony Award-nominated Broadway dancer, director, and choreographer. So right out of school, she ended up making an amazing connection. Then she ended up doing 42nd Street for a year on a national tour. She did Singing in the Rain, she did Victor Victoria, she did Bullets Over Broadway, and she just finished doing Oklahoma, and now she's going to go out and do a Spamalot national tour. She's done really well.
JAMES
What are you up to now?
BARB
Well, I'm always taking courses. I just took a mask workshop which was a lot of fun and very different because I've never done a lot of physical theatre. I'm doing improv – which I love – it helps you tap into your natural instincts and impulses and I find, as an actor, it just keeps you on your toes. Improv keeps me fresh and keeps my brain working and gets me on stage and this year I'm doing Dirty Laundry at Lunchbox Theatre.
JAMES
What is Dirty Laundry for those that don't know?
BARB
Dirty Laundry is a weekly improvised soap opera. And its great fun because they pick a theme every year and you just go out on stage and continue the story each week with characters that you've established. This year it's called Oil Money and so it's kind of like a Dallas flashback.
JAMES
What are your hopes for the future as far as acting goes?
BARB
My perfect job would be to do a series here in Alberta similar to Damnation – something challenging with good characters. Theatre is tough when you're doing film work because theatre is a real big time commitment. It's a long stretch where you're not able to do other projects but the money's not as good as in a film where you can work for a week and make good money but unless you're on a series where you have a meaty part it's not as fulfilling as being on stage. So there's a kind of a yin and yang to theatre and film, but I love them both and I'll take whatever work I can get.
***
***
You can catch Barb Mitchell in Calgary's very own improvised weekly Soap opera Dirty Laundry Monday nights at 7:30 pm at Lunchbox Theatre. Tickets are just $16.00 for adults and $10.00 for students and are available online at Lunchbox Theatre or by calling the box office at 403.265.4292 x 0.
***
***
Barb Mitchell is an actress, host, voiceover artist and writer/producer based in Calgary, Alberta, Canada. She is known for her work on stage and screen along with her voiceover work in commercials and animated series. She started acting at age 42 after a long career in broadcast news.
On stage Barb has shown her dramatic versatility performing in critically acclaimed musicals, dramas, Shakespeare and improv productions. On screen she is known for Damnation, The Reckoning, Hold The Dark, iZombie, The Merry In Laws, The Right Kind Of Wrong, Burn Up, Haunting Melissa, Heartland and more.
Barb has over 22 years experience as a news anchor, national correspondent and morning show host and has emceed hundreds of charitable, corporate and sporting events. She has also written, produced and hosted numerous documentaries, television series and specials. Barb is married and has three children.
***
If you enjoyed this interview with Barb Mitchell you might also enjoy the following interviews:
***
Note: This interview has been edited for length and clarity.