***
"I work really hard to pick plays that I feel are important or valuable or ground-breaking in some big way, at least to me, and there is an immense satisfaction in sharing that kind of experience with others. I've been transformed by theatre, and I want to offer that gift to others. And although I don't think theatre is the most efficient tool for social change, I do think it's a high-impact tool for inquisitive thinking. We need more complex thinking and feeling in this universe, and I truly believe that if you can open and audience member's heart or mind just enough, it will stay open after the show."
***
David Rooney from the Hollywood Reporter describes The Wolves by Sarah Delappe as "A dizzying whirl of attitude, anxiety and adolescent hormonal volatility…" He goes on to say that DeLappe's "…dialogue has the unwritten sound of real conversation, much of it inconsequential, even banal or endearingly silly. But out of that jumble of words comes an imperceptibly shaped snapshot of the tricky gulf separating girlhood from maturity, a portrait spilling over with humor, insight and, in the closing stretch, searing pathos — all of it undiluted by the distorting filters of the male gaze."
That sounds like a good evening of theatre to me and Calgary audiences are rather fortunate because The Wolves is being produced and directed by Jamie Dunsdon the Artistic Director and founder of Verb Theatre. The show runs from October 4th to 13th at the West Village Theatre and tickets are a steal at just $20.00 for adults and $15.00 for students and are available online at the Verb Theatre and Calgary Young People's Theatre websites.
I sat down with Jamie to talk about The Wolves, her experiences running a local theatre company and her approach to directing.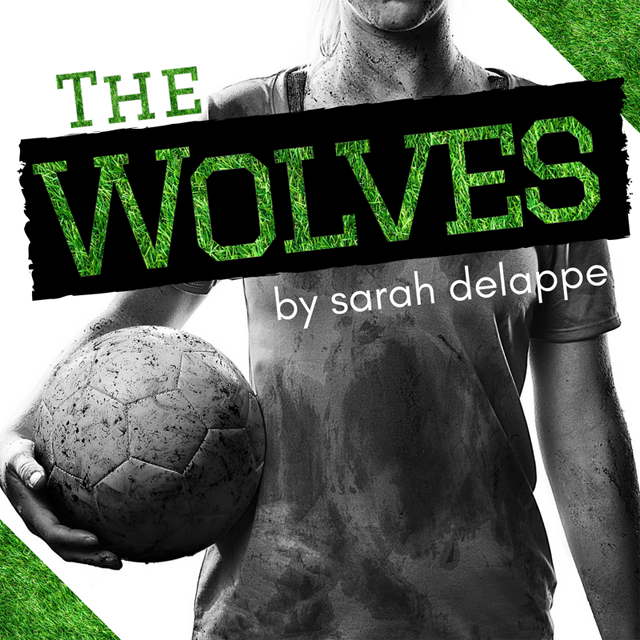 JAMES HUTCHISON
Jamie, as the Artistic Director of a small Theatre Company what do you find to be some of your biggest challenges and how have you been able to address them?
JAMIE DUNSDON
The boring answer is money, but you'll hear that from every producer.
When we're in the thick of it, and we're opening a show, I always wish we had more resources to get more people out to our shows. Marketing is expensive, but at a small company like Verb where our work is so carefully chosen for strong impact, I care way more about audience response than about getting audience money. I can't tell you how many people I've let into Verb shows for free because they showed up 30 minutes late to whatever is happening in the big theatre down the hall, and I don't want them to leave the building without having their heart touched.
We struggle with that sometimes, especially when doing small-cast shows, because we don't have the financial resources for large ad buys or massive outreach campaigns or the time to do it ourselves. I'm often directing our shows as well, which means the week before show is artistically intense, but also not full of loads of free time to think about last-minute outreach strategies. It's why we value audience members who share their experiences with others. Word of mouth is big.
JAMES
So, what is it about theatre and running your own company that keeps you going because it's a lot of work…it's a lot of time and energy…what's the big payoff?
JAMIE
I believe in the work! I work really hard to pick plays that I feel are important or valuable or ground-breaking in some big way, at least to me, and there is an immense satisfaction in sharing that kind of experience with others. I've been transformed by theatre, and I want to offer that gift to others. And although I don't think theatre is the most efficient tool for social change, I do think it's a high-impact tool for inquisitive thinking. We need more complex thinking and feeling in this universe, and I truly believe that if you can open an audience member's heart or mind just enough, it will stay open after the show.
But I'll be honest with you. There are days where it's hard to see the payoff, as you put it. Those days are rough. They happen often.
The other thing about running my own company is that I get a lot more control over what kind of ideas are being put into the universe, and how they are being delivered. I get to pick the stories that are valuable to me. If I went freelance, I probably wouldn't have as much agency in that, and I'd probably get restless and end up self-producing my own work as well anyway.
JAMES
This year you'll be directing The Wolves by Sarah Delappe – this play was a winner of the 2015 Relentless Award for Playwriting which was established to honour Philip Seymour Hoffman and it was also a finalist for the Pulitzer Prize in 2017. Those are both extraordinary honours and the play has received wide praise and positive reviews. What was it that attracted you to this particular play?
JAMIE
I found it very funny. I found it very real and resonant. This play is surgical in its exploration of female relationships. No detail is too small. One of the characters is described as "wearing eyeliner" as defining character trait, and I don't know if you can appreciate the significance of that, but it's huge and it's different than describing a girl as "beautiful in that next-door-neighbour kind of way" as we often see in casting calls. A girl who wears eyeliner on the soccer field is a very particular kind of person, and the playwright allows for her to be that and be rich and three dimensional. And this play asks questions about what breaks girls apart and what brings them together in ways that I've never heard vocalized before.
But I also just needed a play like this.
I took the loss of Hillary Clinton in 2016 pretty hard. I have a ton of empathy for her as a woman in leadership, a woman who has been misunderstood, as a woman whose passion is often obfuscated by fear and misogyny in those around her. I was finding certain roadblocks in the theatre world that resembled in some small ways the roadblocks she stumbled on. Plus, I kind of look like her. Anyway, I read The Wolves shortly after Donald Trump began his presidency. It was like I was feeling solid ground under my feet after treading water for a year. These were real teen girls speaking the way real teen girls speak and I work at Calgary Young People's Theatre as well, so I know a thing or two about how teen girls speak. And this script allowed them to be real. They were allowed to be smart and stupid, insightful and oblivious, moral and immoral. And I think I needed that. After 2016, I needed to see girls being allowed to be themselves. I'd grown weary of watching girls have to fit into someone else's mold.
JAMES
The play is about a girl's soccer team and the action of the play takes place as the girls warm up and practice throughout the season. There's a certain attraction to having characters perform real activities but I'm wondering what sort of challenges does that pose for the actors as they try to do both the physical actions required and also tell a dramatic story.
JAMIE
Um. We have to keep eyes on soccer balls, because an errant ball can disrupt the flow of dialogue. Luckily this cast gets that and understands how to adapt.
I think the activity really helps ground the performances. When you're kicking a soccer ball or stretching or doing some kind of exercise, that takes up the same brain space that would otherwise kick in and start over-thinking about things like what do I do with my hands? So the task allows them to just exist in the world.
It's been a bit different for me, though, because most of the tools in my directorial kit have to do with how characters move as a response to their objectives in the scene. But when characters are moving because they have to as part of a stretch or exercise, it changes the way physicality functions onstage. Fascinating and thrilling to navigate that.
JAMES
Do you have a consistent approach as a director when you're doing a play or do you adjust your style of directing depending on whether or not you're doing a comedy like The Importance of Being Earnest which you directed a few years ago or a drama like Blackbird which you directed last year or The Wolves which you're directing this year?
JAMIE
No, I don't have a directorial method, if that's what you're asking. Or if I do, it's simply to learn what each play needs and learn to direct all over again based on those requirements. But every play is so different, as is every artist, so I'm constantly adjusting my process.
I carry around a director's tool kit in my head, and the more experience I get, the more tools I have, which make me a better director. I collect them. Steal them. Some tools are for shaping, some are for cutting away. Some are for actors, others are for designers, others are for me. But the trick is to know which tool to use when, and to recognize when you don't actually possess the tool yet… and to know where to look to find it.
JAMES
Theatre and television and movies have focused on male stories for a long time but now we're starting to see more stories about women and their struggles and challenges in life. Do you think The Wolves might be the start of a movement towards more female stories and if so have you seen other playwrights and theatre companies that are working to give those stories a platform?
JAMIE
I'm seeing it more in film and TV, with all-female treatments of certain stories or with female-dominated worlds like Orange is the New Black or GLOW, which both have some pretty amazing female perspectives in them. But there's also a lot of sexual objectification in those worlds as well. The pilot episode of GLOW has Alison Brie take off her shirt for absolutely no reason.
In theatre, we're certainly seeing a push toward gender equity and ethnic diversity, which is encouraging, but I don't know if there's a movement toward more complex female characters just yet. I think a lot of female actors have been culturally trained not to think that way, so it might take some time.
JAMES
Last year I saw your production of Blackbird and can easily say it was one of the best productions I saw over the course of the year. It's a powerful play and you had two extraordinary actors Curt McKinstry and Camille Pavlenko in the lead roles. It was a raw and emotional theatrical experience. But that was mostly with a cast of two so you can really focus the energy and the emotion. But with The Wolves, you've got a cast of ten. How do you build and control the dramatic energy of a play when you've got such a large cast and so many storylines?
JAMIE
The Wolves and Blackbird have a lot in common – both are written in that hyper-naturalistic style that tries to capture the way real humans speak. Both explore nuanced grey zones of human experience. Both have Rachel Mah in them. Rachel is an amazing young actor who appeared as the "girl" in Blackbird and who plays our goalie in The Wolves.
But The Wolves is written to be experienced differently than Blackbird. Blackbird is strung up by a thread, so you follow a very intricate and specific story the full way. The Wolves, however, has many threads, and it's impossible to just focus on one… which means the audience will get a bit more of a collage effect. The girls talk over each other a lot, so there are entire chunks of the play where you simply CAN'T hear any one conversation. Instead, hopefully, you absorb the effect. The big picture. If Blackbird is a taut thread, The Wolves is a taut tapestry. There are some who would argue it's a bit more of a feminist structure in that regard, but I'll leave that to the scholars.
JAMES
Why should someone come to see the show, and when they do what are you hoping audiences will get out of seeing The Wolves?
JAMIE
Everybody should see this show because it might make them feel something. And we live in a time that is very unfeeling.
Everybody should see this show because it might make them question something. And we live in a time that is very uncurious.
Everybody should see this show because it stars a cast of 9 outstanding young female actors from diverse backgrounds, and they are our future and they will make you feel better about our future.
Everybody should see this show because Anna Cummer makes a cameo in it that is worth the ticket price alone!
Everybody with a teenager should see this show.
Everybody who was a teenager should see this show.
***
The Wolves a Co-production between Verb Theatre and Calgary Young People's Theatre opens Thursday, October 4th and runs until Saturday, October 13th at the West Village Theatre. Evening performances begin at 7:00 pm and there is a 2:00 pm matinee on Saturday and Sunday. Tickets are just $20.00 for adults and $15.00 for students and are available through the Verb Theatre and the Calgary Young People's Theatre Websites.
***
Plus, mark your calendars, Jamie will be directing Death Trap by Ira Levin which runs at Vertigo Theatre from January 26th to February 24th, 2019. Death Trap is a fun and twisted tale of murder and intrigue and stars an outstanding cast including Mark Bellamy, Barbara Gates Wilson, Tyrell Crews, Karen Johnson-Diamond, and Kevin Corey. I'll be talking to Jaimie more in the new year about her experiences running a theatre company and her approach to directing Death Trap.
***
The Wolves by Sarah Delappe
Cast: #00 – Rachel Mah, #02 – Haley Mowatt, #07 – Nadia Kolesnikova, #08 – Thea Libin, #11 – Tess Larson, #13 – Mya Welsh, #14 – Dana Prather, #25 – Sarah Shepherd, #46 – Vicky Pablo, Soccer Mom: Anna Cummer
Creative Team: Director: Jamie Dunsdon, Stage Manager: Sara German, Costume Coordinator: Rebecca Toon, Sound Design: Kristin Eveleigh, Lighting Design: Ajay Badoni, Assistant Director: Shea Heatherington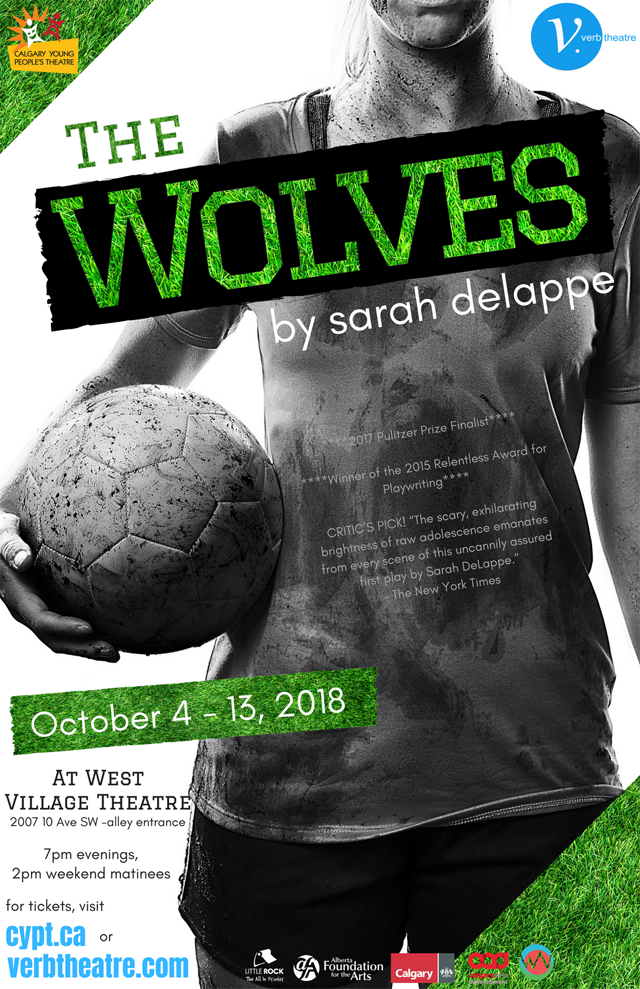 ***
Jamie Dunsdon is the Artistic Director of Calgary's Verb Theatre, Artistic Producer of Calgary Young People's Theatre, and a sessional instructor for the University of Lethbridge Calgary Campus. She is also an active director and creator, and occasional designer. In 2013/14, Jamie was the Artistic Associate at The Grand Theatre in London. Directing Credits (Selected): Blackbird, Easter Island, Sextet, Lungs, The Dandelion Project, NOISE, Marg Szkaluba: Pissy's Wife, Jim Forgetting, John and Beatrice, The Shape of a Girl (Verb Theatre); The Importance of Being Earnest, Playwrights Cabaret (The Grand Theatre); Unity 1918, Macbeth, Village of Idiots, Richard III, The Lost Prince, A Little Princess (Calgary Young People's Theatre); Bridge to Terabithia (Storybook Theatre). Upcoming: In 2018/19, Jamie will be directing The Wolves for Verb and CYPT, and Deathtrap for Vertigo Theatre.
***
VERB Theatre: TOMORROW'S THEATRE, TODAY Here at Verb, our mission is to provide for our audiences theatrical experiences that explore cutting-edge ideas in cutting-edge ways. We look to explore conversations and theatrical forms that will be important to our audiences tomorrow with our surprising, important, and innovative performance. And as for you? We simply invite you to expect the unexpected.
***
Calgary Young People's Theatre: OUR MISSION STATEMENT: We aim to inspire and encourage the next generation of the theatre community by providing a safe, creative space where young people can freely express themselves and their ideas. Through this we hope to foster in them a strong sense of community, passion and appreciation for the arts.
***
Additional media related to the Verb Theatre Production of The Wolves:
If you enjoyed this interview with Jamie Dunsdon from Verb Theatre you might also enjoy the following:
Revised October 6th, 2018