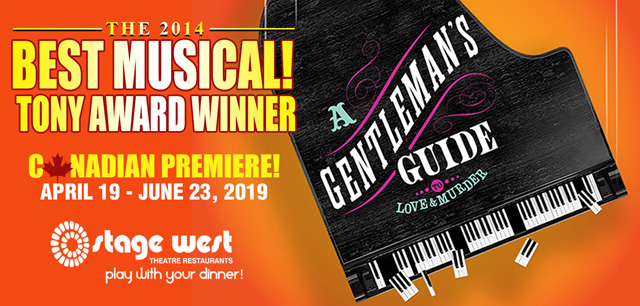 A Gentleman's Guide to Love and Murder by Robert L. Freedman and Steven Lutvak at Stage West Calgary is one of the most entertaining and fun shows I've seen on a Calgary stage. This production is outstanding, and I guarantee you'll be delighted and amused and laughing at the exploits of Monty Navarro as he plots and murders his way into high society. The show runs until June 23rd and tickets are available by calling the box office at 403.243.6642 or online at www.stagewestcalgary.com
The Tony Award winning A Gentleman's Guide to Love and Murder tells the story of Monty Navarro whose mother was cast out and disinherited by the D'Ysquith family when she married for love. Monty and his mother are forced to live in poverty as the D'Ysquith family remains unmoved by his mother's appeals for reconciliation. When Monty's mother dies and Monty learns the truth of his birth and that he's eighth in line for an earldom he sets about to avenge his mother's death and take his rightful place as head of the family.
The book, songs, and music from a Gentleman's Guide are smart, fun, and witty, but having great source material only works if you have an exceptionally talented cast to pull it off, and director Mark Bellamy's production has assembled a stellar cast that works seamlessly together. Kate Blackburn as Sibella and Ellen Denny as Phoebe are pitch perfect and hilarious as the women in Monty's life who tempt him, tease him, and manipulate him based on their own desires and ambitions. Tyler Murree shows he has a real gift for farce as he portrays every member of the D'Ysquith family with an air of comic pomposity and entitlement. And Sayer Roberts plays Monty Navarro with all the charm of Cary Grant and the elegance of Fred Astaire making Monty one of the most gracious and likeable rogues you'll ever meet.
The play is filled with memorable and smart songs including, I Don't Understand the Poor, Better With a Man, and I Will Marry You as Monty knocks off his relatives one by one on his quest to become the Ninth Earl of Highhurst. Will Monty succeed or will he get caught? Will fate lend a hand? Will he marry Phoebe? Will he always love Sibella? You'll have to see it in order to find out.
This is easily a five-star production and worthy of two thumbs up. In fact, it's so good I'm seeing it again, and I'd highly recommend you see it before it closes, because you'll have a darn good time, and this production won't be available on demand. Theatre and live performance is the ultimate "here for a limited time" experience.
I sat down with the director of the show Mark Bellamy and actor Sayer Roberts who plays Monty, the Wednesday before the finale of Game of Thrones, to talk with them about the play, musical theatre, and our predictions of who will sit on the Iron Throne.
JAMES HUTCHISON
How did you both get involved in the Canadian premiere of A Gentleman's Guide to Love and Murder here at Stage West?
MARK BELLAMY
I've loved this show from the minute I'd heard about it. I love the music and I'm a huge fan of this style of musical theatre. There's a lot of old school techniques that have been put into the writing and the structure of it. So, I learned they were doing it while I was here directing Baskerville last year, and they announced their season, and I was like, "Ah you're doing Gentleman's Guide." And Kira Campbell who's the Artistic Associate said, "Yeah we'll get you for Gentleman's Guide or for this other show, and I'm not sure which one to put you on." And I was like, "Oh God, please put me on Gentleman's Guide." And they did.
SAYER ROBERTS
I saw it ages ago when they did the performance on the Tony Awards, and for a lot of Canada that was the first time any of us had seen or heard anything about the show. And I remember watching it and asking, "What is this amazing show?" And then I got a chance to see the show a couple of years later on Broadway, and I instantly knew that this was one show that I would very much like to do. And the fellow doing it too – he wasn't the original – he was a replacement – but he was incredible, and I thought, "That's what I aspire to be as a performer." So, when the audition posting came out that Stage West was doing this I know that myself and almost every other Canadian was, "What? They're doing this. I have to be a part of it."
JAMES
The stars aligned.
SAYER
Exactly.
MARK
Yeah, they sure did.
SAYER
So, I went into the audition with a healthy dose of the cynicism that you always have to have as an actor, "This isn't my show yet. I'm just going to lay down what I can do and show them what I would bring to the role, and if it happens, it happens, and if it doesn't you move on." But as soon as I walked into the room and Mark was there and Kira and Konrad Pluta, the musical director, and we started working on material I really felt like Mark gets this show, and I really wanted to work on it. It was a really fun audition, and I just felt good about it regardless of if I got the part or not, and as an actor you have to take that as a win. It doesn't matter if you get the show or not. That's not in your control. So, I left the audition going, "That was really fun, and I had a good time, and I feel like I established a good relationship with the people who are in the room and if that gets me the job that remains to be seen." It was just one of those things where I felt this could work really well.
JAMES
Mark, I'm curious about how much you look at the individual and how much you look at the chemistry between the actors when you're casting a show?
MARK
That's hugely important to me. I've always said that one of my superpowers as a director is that I cast really well. And you don't just cast the individual roles. You have to cast the rehearsal hall. You have to cast people that are going to work well together and especially in a show like this that has a long run you have to cast people who are going to get along well, and after many years of doing this I have a pretty good sense of who a person is and how they're going to fit the room. Like Sayer said, so many people were excited to do the show – we had over seven hundred submissions between Toronto, Calgary, and the West Coast, and we saw probably two-hundred of those people either in person or via video because everyone wanted to be in this show. So, I was really fortunate that I got to pick from an incredible pool of talent.
JAMES
Have you ever had that amount of choice before?
MARK
Never.
JAMES
Are you spoiled now?
MARK
Yes. (Laughs) I'm really spoiled. Especially after working with these guys because there are some really distinct requirements for this show. You have to have people who have legitimately trained voices. Who can sing without a pop sound and these guys all can – as you've heard. Especially Sayer, Kate, and El – that trio of voices has to be so clean and they're extraordinary. And I can't actually think of anybody else in Canada I'd want to do this show with other than these people. I've been saying this – even before rehearsals started – that I have the best cast in the country, and this will be the cast that you will have to beat from now on.
JAMES
This needs to go on tour.
MARK
I would put this production on any stage in Canada.
JAMES
This is one of my favourite shows I've seen at Stage West in the last ten years.
MARK
I think it's one of the best things I've ever seen here. And not that I'm biased because I directed it – but I am. (Laughs) I love the show, and because it was the Canadian premiere we worked really hard, and I was able to get these incredible performers. I was like, "We have to make this good. We can't compromise anywhere. We have to push and push and push to make it as good as we possibly can."
JAMES
I've been telling people about it and saying you're going to like it – young or old you're going to like this show. What do you think are the elements in this play that make it work so well?
MARK
I think there is something about a charming villain that we love. He's like the antihero. But he is supremely charming, and we root for him. It helps that all of the people he offs, for the most part, have a slightly despicable edge to them or are deserving of their deaths in some way. But I think we love to see someone who's an underdog and a bit of an outsider succeed in spite of all the odds, and it satisfies that part of our soul that goes, "I know he should get caught but he's not going to and that's so great!"
SAYER
The writing is why it appeals to me. It's the book and the lyrics and the melodies. And it's like a mixture of Oscar Wilde and Noel Coward and Noises Off and the classic British farce and Gilbert and Sullivan. It's just such a perfect marriage of all of the mediums coming together to create such an exquisitely written piece. And I think, just like Mark was saying, the antihero charmingness – the fun farce side of it – he's murdering people and yet this is fun, and there's the underdog story, and it's all bouncy and light from the beginning. It's an entertaining show.
MARK
And there's a lot of great humour in it. So, there's that aspect and also the aspect that we have one actor, Tyler Murree, playing all of the D'Ysquith family. That's a fun little tour de force. And it plays into that theatrical convention, and it gives the audience a bit of that, "Oh we know what's going on. We're in on the joke."
SAYER
As if the show isn't funny enough already it just bumps it up so much more once the audience starts to catch on that that's the same guy…
JAMES
…and he's playing all the parts…
MARK
…and it's really clever, and it starts out really slowly, and as you escalate towards the end of act one you just suddenly start to rip through these people. Like literally in scene eleven – which is the ultimate finale of act one – there are four times where he changes characters and comes in and out.
JAMES
Well, on a show like this just how vital is that backstage crew for you?
SAYER
This show would not be possible without a dynamite costume crew and running crew.
MARK
There are two crew members who are dedicated to doing nothing but changing Tyler Murree into all the D'Ysquiths. And all of those costumes had to be constructed.
SAYER
So, he might be wearing a full suit, but it's all connected with a zipper in the back.
MARK
So, shirt, tie, vest, jacket it's all one thing.
JAMES
One piece that he can step into and out of.
MARK
Because for some of his costume changes he's literally got fifteen seconds.
JAMES
That's part of the magic for the audience. Didn't he just leave and then he comes back.
MARK
I think we're so good at it that sometimes people don't realize what just happened, because it's so seamless and he's coming out so calmly that sometimes you don't realize he's just made an immense costume change.
JAMES
So, in terms of the production, how do the costumes and the set add to the overall experience of seeing the play.
SAYER
Well for me as an actor whenever I put on a costume it instantly amps up by twenty percent whatever the character was before in rehearsal and that's particularly true when you're doing period dramas. Costumes give you the aesthetic, and it definitely adds to the British sensibility of the show, and it changes how you move, how you sit, how you stand. I know for the women wearing those kinds of dresses and with their trains behind them it completely changes things for them. I didn't have to deal with that as much because I simply wear high waisted suspender pants which I could live the rest of my life in very comfortably. (Laughs) And Monty goes from poor to slowly getting richer and the changing of the jackets really helped with that. That's a real juxtaposition from starting with a rather old well-loved jacket that literally has pockets that are falling apart to ultimately finishing in a tux.
MARK
I think the set and the costumes are so vital to this show which was another challenge for Stage West because we need these Edwardian costumes, and that's not something Stage West has a ton of sitting in their storage room, because they don't do a lot of shows like this. So, a lot of this had to be created. Leslie Robison-Greene who is our costume designer is a genius. It was just incredible what she came with, what she was able to construct while she was here, and what she was able to adapt.
JAMES
Are there any particular songs that you just love and why?
MARK
I've Decided to Marry You, I think, is the pinnacle of the show.
JAMES
Is that the one with the two doors where he has Sibella in one room and Phoebe in the other room and he's trying to keep them apart?
SAYER
Yes. I think with the exception of the bench scene from Carousel between Billy and Julie there's no better example of musical theatre than the doors. I shouldn't say of any musical theatre because there are lots of different genres but going for musical comedy there's nothing better than that door scene.
MARK
It so hits the peak of the farce that the show is and that kind of encapsulates the whole thing. I think one of the things that's beautiful about the music is that even though it echoes the British Music Hall and it echoes Gilbert and Sullivan it does it in such a way that it's a homage that doesn't copy it, and it doesn't feel antiquated.
SAYER
It's accessible.
MARK
It's accessible and very modern and every single song carries the story forward and that to me is the hallmark of a really good musical.
JAMES
It reminds me a lot of My Fair Lady.
MARK
Yeah.
SAYER
It's very Lerner and Loewe.
JAMES
I Don't Understand the Poor really reminds me of…
SAYER
Why Can't the English
JAMES
Yes, but it feels fresh and original.
MARK
I'm a huge fan of the Golden Age Musicals of the late fifties to mid-sixties, and this really does echo back to that era when all the great American musicals were being produced.
JAMES
So, what is it about musical theatre that adds to a theatrical experience? What does the music bring?
SAYER
Well, there's an old saying, or a piece of wisdom, or whatever you want to call it, that says, "When you have something to express you speak it. If you can't speak it – you sing it. If you can't sing it – you dance it." And the progression of that so perfectly encapsulates what musical theatre is. And in good musical theatre there is a reason the character is singing. I love speaking Shakespeare. I love speaking monologues and straight plays, but there is nothing quite as deep as you can get into, in my experience, as you can in musical theatre when you sing words that are accompanied with some kind of soaring melody that is an expression of the turmoil or the joy or whatever is going on inside the character. Scientifically music evokes a different part of our brain so the audience tunes into it on a different level. So when you mix the emotion that you can gain from poetry and the emotion you can get from a piece of orchestral music and you put that together that's double the amount of emotion you could have alone by itself.
MARK
Music is visceral. It just is. It affects you in a different place, and I think it carries emotion in a way that a scene – I mean not that scenes can't – but it just heightens everything, right? Which is what I think that saying is about. As you continue to heighten and heighten and heighten – the song heightens the scene and the dance heightens the song. And I think it's thrilling to watch, and I think it's also thrilling to watch really talented performers who can sing the way that these guys sing, and when you hear these voices it's stunning, and it's beautiful. So, I think that's part of it because I started my career as a performer doing musicals, so they hold a special place in my heart because I think you can move an audience in a way with a musical that you can't with a straight play.
JAMES
Well speaking of moving an audience, why should an audience come see this show?
SAYER
I think it's probably because they've never seen a show like this before. And if you like British Farce, if you like musicals, if you like comedy and drama – you'll like this.
MARK
It's got a bit of everything. And I think it's probably one of the most entertaining evenings you'll spend in a theatre for a very long time. It's ridiculously fun. It's ridiculously entertaining.
JAMES
Okay, quick question for both of you – off topic – do either of you watch Game of Thrones?
MARK
Oh, God yes.
SAYER
I haven't started yet.
MARK
Not any of it?
SAYER
No.
JAMES
I'm interviewing you now, but by the time this gets published the finale will have aired this coming Sunday. So, Mark who do you think is going to end up on the Iron Throne?
MARK
Oh, God.
JAMES
I'll tell you who I think.
MARK
I don't know. If you asked me that two weeks ago I would have had a different answer, but now after seeing what just happened…I think it's going to be Arya.
JAMES
Oh, interesting.
MARK
I think she's the only one who isn't conflicted in some way who can actually do it.
JAMES
Interesting choice. My choice is Tyrion in the South, Sansa in the North, and Jon goes back to his direwolf.
MARK
I read a whole article comparing it to Tolkien's Lord of the Rings and how you know Frodo doesn't stay – he ends up going to the Gray Havens and that Jon Snow is Frodo and he won't stay. He wouldn't be happy on the throne. But that's an interesting theory – that it splits. That might be it.
JAMES
Who knows? I've been wrong about so much.
MARK
Who saw any of this coming? Who saw that last episode coming? It will be interesting to see what happens. I had this random thought the other day that the only other person it could possibly be is Gendry because he's actually been legitimized.
JAMES
Oh yeah.
MARK
She made him a Lord. He's actually been acknowledged as a Baratheon. Spoiler! He's the last and technically the Baratheons are kind of still on the throne. Anyway…
JAMES
…we shall see.
SAYER
I just love that.
MARK
People are so invested.
SAYER
And it just shows you that people need this stuff in their lives so much so that here we are talking about something fictitious and completely meaningless in the rest of the trajectory of our life and our world and politics and everything and yet it matters so much to us what happens to these characters and that's why we're engaged, and that's why entertainment is not frivolous.
***
A Gentleman's Guide to Love and Murder by Robert L. Freedman and Steven Lutvak runs until June 23rd at Stage West. Tickets are available by calling the box office at 403.243.6642 or online at www.stagewestcalgary.com
***
A Gentleman's Guide to Love and Murder
Book and Lyrics by Robert L. Freedman
Music and Lyrics by Steven Lutvak
Based on the novel by Roy Horniman
CAST
Mark Allan – Ensemble, The Magistrate, Mr. Gorby & others
Alicia Barban – Ensemble, Miss Evangeline Barley & others Understudy for Phoebe D'Ysquith
Kate Blackburn – Sibella Hallward
Emily Dallas – Ensemble, Tour Guide, Pub Owner's Wife & others Understudy for Sibella Hallward
Ellen Denny – Phoebe D'Ysquith
Katherine Fadum – Ensemble, Lady Eugenia D'Ysquith & others Understudy for Miss Shingle
Sarah Gibbons – Ensemble, Understudy for Female Ensemble roles
Jeremy LaPalme – Ensemble, Understudy for The D'Ysquith Family
Luke Marty – Ensemble, Tom Copley, Dr. Pettibone, Guard & others Understudy for Monty Navarro
Tyler McKinnon – Ensemble, Detective Pinckney, Pub Owner & others
Tyler Murree – The D'Ysquith Family
Sayer Roberts – Monty Navarro
Elizabeth Stepkowski-Tarhan – Miss Shingle
THE BAND
Konrad Pluta – Musical Director/Keyboards
Rob Hutchinson – Bass sub
Jonathan D. Lewis – Violin
Jim Murray – Trumpet sub
Keith O'Rourke – Clarinet
Sean Perrin – Clarinet sub
Jason Valleau – Bass
Andre Wickenheiser – Trumpet
CREATIVE TEAM
Mark Bellamy – Director & Musical Staging
Konrad Pluta – Musical Director
Howard Pechet – Executive Producer
David Fraser – Set Designer
Leslie Robison-Greene – Costume Designer
Norman Macdonald – Wig Designer
Anton de Groot – Lighting Designer
Michael Gesy – Sound Designer/Head of Audio
Shane Ellis – Scenic Artist
Kira Campbell – Production Manager Artistic Associate
Sean D. Ellis – Technical Director
Ashley Rees – Stage Manager
Darcy Foggo – Assistant Stage Manager
Jennifer Yeung – Apprentice Stage Manager
Taisa Chernichko – Dresser
Chris Cooper – Followspot Operator
***
If you enjoyed this interview please share it and check out some of my other blog posts.
***
This interview has been edited for length and clarity.