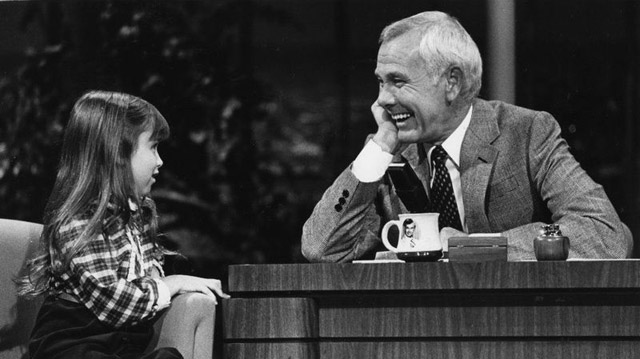 There's been a lot of changes in the late-night world of television over the last year and this week Stephen Colbert takes over the Late Show on CBS. And that has me thinking about late night television. I don't watch it much anymore, but when I was a teen I'd watch The Tonight Show starring Johnny Carson and then the Tomorrow show with Tom Snyder.
In those days Carson's show was 90 minutes and Snyder's 60 and there was no way of skipping commercials.
What made matters worse was I lived in Calgary which was on Mountain Standard Time and our NBC cable feed was from Spokane which was on Pacific Standard Time. That meant Carson didn't start until 12:35 A.M. local time and if I watched all of Snyder that meant I'd be up until 3:00 in the morning.
There were many a day in high school where by the end of the week I was fighting to keep my eyes open. Sleep deprivation was a way of life. All because I loved late night TV.
So, why would I stay up so late?
Well, one of the reasons was because I liked Johnny Carson. He knew when to step back and let the guest take the spot light. "But Carson comes from a different era," you might argue, "the audience wasn't split into a thousand fragments and there was far less choice than there is now."
That's all true, but I can't help but feel that one of the major reasons for Carson's success was his ability to be a gracious host.
He didn't compete with his guests and he was always prepared and able to step in and save an interview when it went off the rails.
And whether his guest was Orson Welles, or Bob Hope, or Carl Sagan, or some farmer from the mid-west Carson's secret was knowing when to play the straight man and let his guest get all the laughs and applause.
That's why I miss Johnny Carson.
***
So, a lot has happened since I wrote this blog post. Colbert took over the Late Show but stumbled and a year later the critics were gleefully reporting his demise. Then Donald Trump became President and Colbert's political humour struck a chord with American audiences and now he dominates late night ratings. And while I was talking to a friend about this very topic I said funny how nobody is talking about the demise of Jimmy Fallon. And then this week I read about the demise of Jimmy Fallon. I really dislike the way discussions regarding ratings are handled by television critics. What about Jimmy Kimmel? Nobody seems to be saying his time is up. The tone of the discussion is heavily influenced by the media and the media, I think, handles that discussion in a very slanted manner. This is an old problem. One around long before the internet.
Anyway, enjoy your late night entertainment and forget the critics. That I think is good advice.
***
To subscribe to my blog just enter your e-mail at the top of the page and hit subscribe.
***
Updated May 30, 2019