Is there anything more wonderful than love? Is there anything more painful?
Men will go to war over love. Look at the Greeks and that whole nasty business with Helen of Troy.
We write poetry about love. We write songs about love. We write stories about love.
We live our life for love. We give our life for love.
A life without love is a life not worth living to paraphrase some Greek philosopher named – Socrates.
And speaking of Greeks and love and philosophy my play, The Blood of a Thousand Chickens, a ten minute comedy about the classic Greek tale of Oedipus is one of 12 plays being produced at the 2016 Flathead Valley Community College 10 Minute Play Festival May 5th to 7th in Kalispell, Montana.
The Blood of a Thousand Chickens is about Phallus, the son of Oedipus and Jocasta, the King and Queen of Thebes, and his desire to marry Clitoris: the woman he loves. But unknown to Phallus, Clitoris is actually his sister and Oedipus and Jocasta believe that their son's love for Clitoris is why the Kingdom has been cursed by a deadly pox and now faces a terrible drought. To save his people from starvation and the wrath of Zeus, Oedipus must offer the Gods the blood of a thousand chickens or maybe even the life of his own son.
That's a tough decision. The toughest decision I've had to make the last couple of weeks is which hotel to book in Kalispell so I could go see my play. Now you'd think it would be easy to get a room in Kalispell that weekend but not so! That's the same weekend as the Spartan Race. Have you heard of these? These are extreme sporting events. And that weekend those damn Spartans have all the rooms booked. What is a poor scribe to do? You book what you can and I was lucky enough to get a good room at the Red Lion Inn. I didn't know Red Lions were native to Kalispell but I'm looking forward to seeing some if they are.
I rather like the fact that my "Greek" play is being presented the same weekend as the Spartan race. And even though my tale is about Thebes there is a mention of those Spartans in my play and their love of war and fried chicken. You probably didn't know that Spartan Fried Chicken was the best fried chicken in the ancient world. Unfortunately, the secret recipes of eleven different herbs and spices that made Spartan Fried Chicken so unforgettable has been lost to time. We must simply have faith that the ancient texts are correct in their assertion that Spartan Fried Chicken is indeed the food of the Gods. After all what's not to believe. Who doesn't like fried chicken? Well other than chickens and maybe vegetarians and of course vegans…but otherwise who doesn't like fried chicken?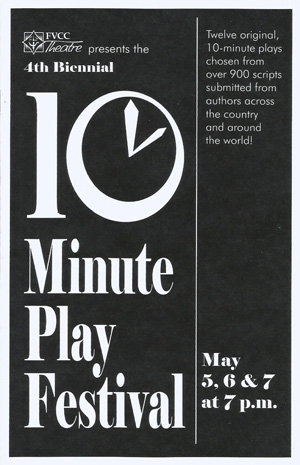 Anyway, as this blog publishes and is cast into the vortex of social media and cyber space I am at this very moment making final preparations to drive down to Kalispell and catch Saturday's performance.
This year the festival received more than 900 original 10-minute play submissions from around the world.
Entries were screened and selected by a committee comprised of FVCC faculty.
Twelve plays were chosen for production based on their fully developed plots and characters and their adaptability for a variety of theatre spaces.
2016 FVCC 10 Minute Play Festival
Back to Normal
Playwright: Tom Moran of Fairbanks, Alaska.
Director: Frankie Jackson
Cast: Katie Keller, Jenna Justice, Keanna Blodgett, Justin Allred, Zachariah Timm
Battle for Complete Control of the Universe
Playwright: Rich Orloff of New York, New York
Director: Garrett Deffert
Cast: Zachariah Timm, Brittany Kretske, Beki Hafemeyer
Beatrix Potter Must Die
Playwright: Patrick Gabridge of Medford, Massachusetts
Director: Marcus Hafferman
Cast: Samantha Hafferman, Justin Allred, Garret Deffert
Be Seeing You
Playwright: Bruce Boeck of Normal, Illinois
Director: Beki Hafemeyer
Cast: James Vale, Angie Foreman
Be That As It May
Playwright: Andrew Martineau of Springfield, Virgina
Director: Camren Lembke
Cast: Zachariah Timm, Stuart Green, Kara Brown, James Vale
The Blood of a Thousand Chickens
Playwright: James Hutchison of Calgary, Alberta
Director: James Vale
Cast: Marcus Hafferman, Jhalen Salazar, Camren Lembke, Tanner Flotre, Frankie Jackson
Games and Puzzles
Playwright: Gail Phaneuf of Boston, Massachusetts
Director: Katie Keller.
Cast: Marcus Hafferman, Angie Foreman
Jamaica Awaits
Playwright: Matt Hanf of Elk Grove, California
Director: Justin Allred
Cast: Jhalen Salazar, Camren Lembke, Frankie Jackson
Just Desserts
Playwright: David MacGregor of Howell, Michigan
Director: Brittany Kretske
Cast: Jenna Justice, James Vale, Angie Foreman, Justin Allred
No Prunes
Playwright Henry Meyerson of New Brunswick, New Jersey
Director: Jhalen Salazar.
Cast: Garret Deffert, Cassidy Brown
Please Report Any Suspicious Activity
Playwright Rick Park of Boston, Massachusetts
Director: Keanna Blogdett.
Cast: Garret Deffert, Justin Allred, Zachariah Timm
When Babies Fly
Playwright: Steven Korbar of Torrance, California
Director: Zachariah Timm.
Cast: Tanner Flotre, Brittany Kretske
Technical Crew for the FVCC 10 Minute Play Festival
Lighting Board Operator: Abigail Mosely
Sound Board Operator: Justin Alred and Cara Brown
Projection Art: Olivia Lewis-Peterson
***
Flathead Valley Community College began in 1967 with classes being held in the evening hours at Flathead High School. Today FVCC sits on a 216 acre award-winning campus in Kalispell and offers over 100 academic programs. The Flathead Valley College is dedicated to promoting excellence in lifelong learning, while focusing on student success and community needs.
***
And if you're a director or actor at a college or community theatre looking for a one act play to produce my plays Death and the Psychiatrist and 500 bucks and a pack of smokes are available for download on my web site.