I'm going to talk about a movie I saw a few years ago starring Ryan Reynolds called Buried. There's a lot I like about this movie. The aggregate critics score on Rotten Tomatoes is 87 % positive. I had heard good things about it. I didn't see it in the theatre I saw it at home. I watched it with my son. And it was gripping – well acted – had me totally immersed in the story and rooting for our hero to survive his predicament.
Now before I continue there will be spoilers. Big spoilers. I'm going to talk about the end of the movie. If you haven't seen the movie and you don't know how it ends then don't read on because the ending is what I want to talk about.
And I'm going to talk about the ending of One Flew Over the Cuckoo's Nest as well as Hamlet. You probably know how Hamlet ends so that's not really a spoiler. But if you haven't seen One Flew Over the Cuckoo's Nest don't read on. Instead, go watch One Flew Over the Cuckoo's Nest and then come back and read this blog entry.
The ending – the final image of a film before we fade to black – the final scene in a play before the lights dim – the last page of a novel – the final line of a poem – the final kiss from a lover – these are all endings. Life is filled with endings. And your story must have an ending. Cutting to black is not an ending. I'll talk about the Sopranos another time – maybe. If your ending doesn't satisfy the audience then everything you've done before that doesn't matter.
Yes, you have every right to end your story the way you want. It's your story, but once you release your work into the world it is judged. Some will like it. Some won't. Some won't care. And every audience member is going to judge your movie or play or novel. They are going to have an opinion about it. They are going to share that opinion with others. And that opinion is going to be pretty straight forward. They're either going to like it and recommend it or say it wasn't that good and you should save your money.
And there are a number of ways you can measure success. You can measure the success of a film by the critical response. You can also measure the success by the box office revenue. Sometimes a film can be an artistic success but not a financial success and sometimes it can be both. Certainly 2001 A Space Odyssey can be considered both an artistic and financial success. Animal House not so much.
Now, before I speak about the end of Buried I want to say that your hero can certainly die. Look at the end of One Flew Over the Cuckoo's Nest. Our hero Randle McMurphy, brilliantly played by Jack Nicholson, is lobotomized. He has been destroyed. Nurse Ratched and the system has beaten him. He's lost. But the story doesn't end there. No. The story continues because if you end the story with him defeated in a world without hope you would leave the audience unsatisfied and angry.
Instead the movie ends with his friend the Chief, played by Will Sampson, suffocating McMurphy. And then the Chief does what McMurphy couldn't. He escapes from the mental hospital. And that's when the credits roll. Not before. McMurphy's spirit lives on in his friend. McMurphy's life has made a difference. He has given his friend the courage to go into the world and so his death is not without meaning.
Look at Hamlet. The body count rivals that of any movie about a group of teens at a haunted summer camp. Hamlet dies. Polonius dies. Ophelia dies. Laertes dies. Claudius dies. Even Rosencrantz and Guildenstern die. And Hamlet's father – who I have it on good authority wasn't such a good King anyway and had murdered his own father to seize the crown and his brother having found out the truth about their father's death sought to revenge their father's murder by killing his brother – dies. Got that? Well, that's my theory any way. But of course Hamlet doesn't know any of that. His father is just playing him – you know. And if Hamlet's father can come back as a ghost then why doesn't Polonius show up or Ophelia – or alas poor Yorick. Sorry I'm getting side tracked. The thing is your protagonist can die. But when he dies he must die for a reason. Otherwise there was no point to his life. Otherwise there is no point to your story. If your story's point is to say there is no point then why bother making the film in the first place. I mean really, what's the point. It's pointless as far as I can see.
Okay, so in Buried we have this average guy named Paul Conroy who has gone over to Iraq to drive trucks and he gets kidnapped and buried alive with only a cell phone connecting him to the outside world. Will he survive? The stakes are high. And the film works on so many levels except at the end he dies…and the movie is over…and his death was pointless.
He deserved to be rescued. And okay, I get it if you want to illustrate how the warmongers and corporations profit from armed conflict. How they don't give a damn about the average guy. And if a few civilians get kidnapped and killed – well that's just the cost of doing business. But at the end of the movie I was angry. I had gone through everything this character went through and at the end instead of feeling angry about the corporate profiteers I felt angry at the film makers.
And I know it takes years of effort and hard work to get a film made. But once you make it and put it out in the world I get to comment on it. I get to judge it. I get to say how much I liked it or didn't like it and why.
And let me say again – I liked the film – it was an amazing piece of film making but I think our hero should have lived. And I can't help but feel that if the ending had been different maybe the box office would have been different. Maybe the film would have made a hundred million or two hundred million? But according to Box Office MoJo, Buried only made about a million bucks in North American and just over eighteen million in foreign markets.
So, was it an artistic success? You could say yes. It won awards and the critics liked it.
Was it a financial success – not so much.
Although, IMDB lists the production budget at three million which means if the movie made almost twenty million at the box office it made money. And we're not even counting DVD sales, Pay-per-view revenue, or Ryan Reynolds bobbleheads. So, if you measure financial success by whether or not a film makes a profit then I guess Buried is both a financial success and a critical success.
Damn.
So, what am I complaining about?
I guess I'm complaining because the film makers actually achieved something that is rare for me. They made me care about that guy on the screen. I wanted him to survive. And as a little guy myself – sometimes I feel like I'm the guy buried in the coffin. Not literally of course but figuratively. And so maybe this movie cut too close to home and that's why the ending bothered me so much. Maybe I identified so strongly with this character that his meaningless death makes me feel like my life and death will have no meaning.
Now I'm really depressed.
Thanks a lot Rodrigo.
Is it any wonder I write comedy? Is it any wonder I read self help books and listened to Ted Talks. I've tried positive thinking. I even hired a life coach, but the first thing he did was trade me for a better prospect. So, when a movie ends without hope I don't like it. I think life has meaning. And if the film maker isn't going to give me a happy ending well then – through the power of fan fiction – I'll simply go ahead and write one myself.
INT. BEDROOM OF LINDA AND PAUL CONROY – MORNING
LINDA CONROY wakes up in bed. She seems disoriented. Confused. She hears the shower running. The door is ajar. She slips out of bed and crosses to the bathroom. She approaches the shower and pulls back the curtain. Her husband PAUL CONROY is in the shower. PAUL looks at her and turns off the shower.
PAUL
Are you okay?
LINDA
I had the weirdest dream. You were in Iraq and got kidnapped and buried alive and…and there was a tin man, and a scarecrow, and a cowardly lion.
PAUL
Hey, hey it's alright. I'm here. I'm home. It was all just a bad dream.
LINDA
A dream…of course. Thank God. I don't know what I'd do if anything every happened to you Paul.
PAUL
Nothing's ever going to happen to me muffin.
PAUL and LINDA embrace.
MUSIC SWELLS
I don't know something seems familiar about that Auntie Em. Anyway. I'm done. It looks like Paul and Linda have their happy ending. And that makes me happy.
And if you need a laugh then why not download my play 500 bucks and a pack of smokes. Yeah, there's a death or two in that play. In fact, out of the eight characters in the play five of them die. Granted it doesn't equal the body count of Hamlet but then I was writing a comedy not a tragedy.
***
To subscribe to my blog just enter your e-mail at the top of the page and hit subscribe.
***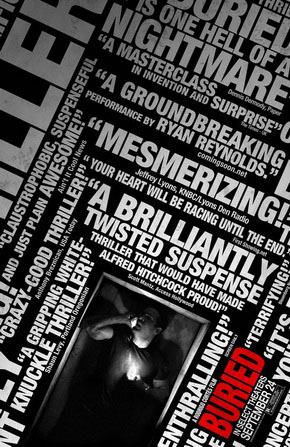 Directed by Rodrigo Cortés
Written by Chris Sparling
Ryan Reynolds – Paul Conroy
José Luis Garcia Pérez – Jabir (voice)
Robert Paterson – Dan Brenner (voice)
Samantha Mathis – Linda Conroy (voice)
Music by Victor Reyes
Cinematography by Eduard Grau
Film Edited by Rodrigo Cortés
Roger Ebert 3.5 out of 4 stars
"Rodrigo Cortés, the spanish filmmaker behind this diabolical, Hitchcock – influenced narrative stunt, makes merry mischief with camera angles and lighting."
Scott Mantz of Access Hollywood called it "a brilliantly twisted suspense thriller that would have made Alfred Hitchcok proud."