Mark Bellamy, former artistic director of Vertigo Theatre, returns to the stage to take on the role of Sidney Bruhl in Ira Levin's intensely entertaining thriller Deathtrap. Joining him on stage is Tyrell Crews as aspiring playwright Clifford Anderson, Barbara Gates Wilson as Bruhl's wife Myra Bruhl, Karen Johnson-Diamond as psychic Helga Ten Dorp, and Kevin Corey as attorney Porter Milgram. The production is being directed by Jamie Dunsdon.
Deathtrap is one of the longest running mystery thrillers to ever hit Broadway and even though the play premiered more than forty years ago it's as fresh and funny and thrilling today as it was the day it opened. The only problem is that because the play is filled with so many twists and turns and surprises you have to talk about the play without talking about the play. The only thing I can tell you, without revealing any spoilers, is how the play begins.
Sidney Bruhl, once a successful Broadway murder mystery playwright, has fallen on hard times after numerous flops, so when he receives a brilliant murder mystery play in the mail from a former student, Sidney begins to contemplate murderous thoughts about how he might steal the play for himself. I sat down with director Jamie Dunsdon and actors Mark Bellamy and Tyrell Crews to talk about weapons of choice and Vertigo Theatre's production of Deathtrap.
JAMES HUTCHISON
I'm going to start off with a hypothetical question. If you had to commit a murder – not saying that you would – what would be your weapon of choice?
MARK BELLAMY (Without hesitation)
Poison.
JAMES
Poison?
MARK
I have mine all planned out.
JAMES
Who's the victim?
MARK
Oh, I can't tell you that.
TYRELL CREWS
You're looking at him.
JAMIE DUNSDON
It's been a rough week. (Everyone laughs)
MARK
After running this company for ten years, you just amass so much knowledge that I actually figured out how I would do it. There's a plant. I'm not going to say what the plant is, but you can grow it. It's very common and there are different varieties of it. You can grow it in your garden and if you take the root and you soak it in vodka it makes it a tasteless, odourless, and almost untraceable poison that mimics a heart attack.
JAMES
It's kind of disturbing that you've given this so much thought.
MARK
There's even more. I figured out how I was going to use that poison.
TYRELL
I'm suddenly second-guessing our post-show martinis.
MARK
No, no, no – just never accept a cup of coffee from me – that's the deal!
JAMES
Tyrell?
TYRELL
You know I haven't given it as much thought as Mark.
MARK
Who has a detailed plan.
TYRELL
Well, like you said you lived in this building. I don't know how I'd do it but what I will tell you is that last night I dreamt that I actually killed somebody with my bare hands – strangling – which was not even the major part of the dream. The major part of the dream was covering it up. There was a cell phone involved and I had to destroy the cell phone and the sim card itself and make sure the sim card was absolutely disintegrated because that's the only thing that would have traced that individual to me.
MARK
This is exactly our characters.
JAMES
Good casting.
TYRELL
The violent one.
MARK
And the plotty one.
JAMES
Jamie, do you have a weapon of choice?
JAMIE
I do, but it's for a very specific person. I would use peanuts.
MARK – TYRELL – JAMES
Ahhhh.
JAMIE
Yeah, I'd take them for a walk out in the mountains. Somewhere far away from their EpiPen and then I'd throw some trail mix their way. I would make it really pedestrian. Very every day.
JAMES
So, then let's talk about the play. Deathtrap is one part thriller, one part comedy, and one part mystery and I'm wondering how do you balance all those elements so that we're laughing where we're supposed to and we're screaming where we're supposed to?
JAMIE
I think the script does most of it for us. The script is very well constructed, and it's tried and tested. The playwright doesn't drop in laughs except to break the tension and I think we just follow that lead for the most part. As far as the mystery and the thriller aspects go that's more of a balancing act and we're still working on that in rehearsal. It's all about who knows what and when and then when do we want the audience to know what and when? So that's the work – the final stage of rehearsal – we know what we're doing but now we're shaping the experience for the audience.
JAMES
And making sure you don't telegraph to the audience at the wrong time what's going on.
MARK
That's the hardest part, I think.
TYRELL
Yeah, I think, it's about playing these moments honestly and what's on the page in that specific situation. I think Jamie's done an amazing job in knowing when those secrets or the scheming are supposed to bubble up to the surface and peak through.
JAMIE
That's right, it's entirely volume control because we know this play so well now that – once you're inside it – it's hard to get back outside.
MARK
It's super hard from the inside.
JAMES
Because you know everything.
MARK
I know everything and I think the previews will be really neat because I'm sure there's going to be one night where we go way too far one way and then way too far the other. It's about finding where the sweet spot is. And it's really finite, isn't it? It's really particular.
JAMIE
There's a narrow band that we need to live within and so that's the work we've been doing the last couple of days and it's a little bit subjective, right? It's a little bit here's how much I think we need to turn it up but I'm kind of the audience surrogate so I do my best to gage that but we could have audience members who are smarter than me and pick up on things earlier.
JAMES
And you've got a great cast you're working with on this show.
JAMIE
We have a room that already understands the mystery genre because everybody in this show has worked with Vertigo multiple times which is fantastic. I'm leaning on their expertise as well, so for example, Mark caught something in rehearsal the other day that was very forensic. So, we have a room full of experts and fantastic people at the top of their craft and they're also funny which is nice.
TYRELL
I think any hall that I have found success in is one where there's the willingness to collaborate. It's knowing that we're all on the same playing field. Of course, Jamie has the final say but it's the willingness to play and experiment which is supremely helpful for this type of play – auditioning every choice and volume level that we can.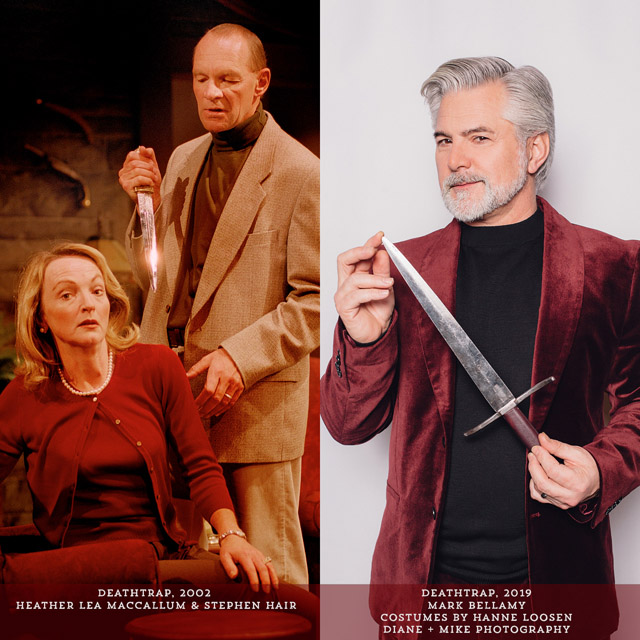 JAMES
Now, Mark, you directed Deathtrap previously, haven't you?
MARK
A long time ago. Sixteen or seventeen years ago. It was in 2002, I think.
JAMES
So, I'm kind of curious – you were the director and now you get to be the actor in it. Does having directed a show and now having had the chance to have aged into a part give you any additional insights?
MARK (Laughs)
It certainly gave me a familiarity with it. And when I directed it Stephen Hair was in it and Stephen was the former Artistic Director of the Pleiades.
JAMIE
And he had also directed it.
MARK
He had directed it! So there's this weird little legacy.
JAMES
So, Jamie does that mean you're going to be doing a female version of Deathtrap at some point?
JAMIE (Laughs)
Yes, I'm the next Sidney Bruhl.
JAMES
Mark, when you were directing it did you imagine that's a part I want to play in twenty years?
MARK
I probably did. I fell in love with this play when I was in University. I saw the movie first and I've always been a fan of Deathtrap, but I don't think back then my twenty-year-old self imagined my fifty-five-year-old self being Sidney Bruhl. I think I probably saw myself as a Clifford at some point when I was young, but that never happened.
JAMES
Tyrell, are there any particular parts that you want to play one day?
TYRELL
Hamlet is one of them. I'm a big Shakespeare guy so playing Benedict in Much Ado About Nothing with the Shakespeare Company last year was another one.
JAMES
Is Sidney in your future?
TYRELL
Ahhh, I love this play. I love this part, but it will be a very very long time before I get Mark Bellamy out of my head.
MARK
Oh dear. Oh dear. I've affected you.
TYRELL
In a good way.
MARK
Well, there are two moments in the show where I channel Stephen Hair. I'm not going to say where they are. I don't channel. I homage. I homage – like I remember what Stephen did. There's only two though.
JAMES
So, murder mysteries look at the darker side of humanity and there's always an element of desperation to the characters contemplating murder – why do you think audiences enjoy watching desperate characters making morally questionable decisions?
JAMIE
Probably because we do it in real life. We don't go as far down that path so, it's delightful to see someone have that impulse and actually follow it through. There's something a little bit cathartic in that.
TYRELL
And they're relatable. You like these people and you're invited into their home and you meet them and they're very charming and you kind of fall in love with them.
MARK
And they're funny.
TYRELL
And I think the way the plays mapped out you can see the decision making that goes into the escalation and so you can understand that decision making.
JAMIE
It's a character-driven thriller – which you can probably speak to that more Mark because I'm not sure how common those are. This is a thriller that's plot-heavy and it's plot driven but the characters are all grounded.
MARK
What characterizes a thriller as opposed to a who done it is the thriller is more about the people and what they're going to do and how they're going to do it and not what they've done. A who done it is for us to figure out. A thriller is more like what are they going to do now?
JAMES
So, we're telling people about this wonderful play and if somebody were to ask you what you're in and you say you're in Deathtrap – and they say well why should come I see that? What would your sales pitch be?
MARK
Directed by Jamie Dunsdon
JAMES
That's a good reason.
JAMIE
Stars Mark Bellamy.
MARK (Laughs)
I would say that it is probably the epitome of the American thriller. Deathtrap, to me, is the American thriller version of what the Mouse Trap is to the who done it. And it's fun. It's funny. It will scare you. You'll jump out of your seat and if you can stay ahead of these characters then you're a genius.
JAMIE
I always tell people the same thing I have written in my director's notes for the show. I was working for Craig, the artistic director of Vertigo Theatre, a couple of years ago and he had me look through something like fifty plays from the genre in a matter of months and there was some great stuff there but there was also some not so great stuff and when I read Deathtrap in the first hour of reading it I was already gasping and doing little ahahs with my cats and so if you can get that out of a read then think how good it would be on stage.
JAMES
And because you are directing this Jamie, I was wondering how significant and important do you feel getting a chance to stage Deathtrap at Vertigo is in terms of your career development?
JAMIE
It's huge for me, but that's half my battle right now is to not get too worried about that. I just have to applaud Craig because there's not a lot of artistic directors who give young female directors a chance and he did and so I'm so grateful for that opportunity and really grateful for him as a mentor in my life and I'm just now trying to focus on the work and not on the monumental career step in it for me.
JAMES
Well speaking of next steps what have you got coming up?
JAMIE
Nothing I can talk about. I'm in workshops for things that are coming up at Verb and I'm in the early stages of some stuff…like early design phase of some things that haven't been announced yet so I can't talk about them.
JAMES
Tyrell, you're part of a new theatre company called Black Radish and I see you've got a production of Waiting for Godot coming up in April. Tell me a little bit about the creation of the company and the production.
TYRELL
It's a passion project. A huge passion project for us all. Myself, Duval Lang, Chris Hunt and Andy Curtis have been meeting and reading and discussing the play for the last three maybe four years. We shopped it around a little bit but it wasn't a good fit with any existing company in the city so we decided to bite the bullet and give it a crack ourselves and now Denise Clarke is directing it so we have a chance to work in the Flanagan Theatre at The Grand and they want to open their doors and invite the community in and have a fresh start and that's a big push for me as an artist and an individual with our little company.
JAMES
Mark, you've got a show coming up later in the year at Stage West?
MARK
I'm directing A Gentleman's Guide to Love and Murder. It's a Broadway musical that won the Tony Award in 2014. It's very funny and it's based on the film Kind Hearts and Coronets with Alec Guinness and it's about a guy who thinks he is very poor but he discovers that he is actually the ninth in line to become Earl of Highhurst so he goes about murdering all of his relatives who are ahead of him and the great conceit in the show is that all of his family – all of the eight relatives – are played by one actor. It's superbly funny and has really great music.
***
Deathtrap by Ira Levin and directed by Jamie Dunsdon and starring Mark Bellamy, Tyrell Crews, Barabara Gates Wilson, Karen Johnson-Diamond and Kevin Corey runs at the Vertigo Mystery Theatre from January 26th to February 24th. Tickets start at just $29.00 and are available online at Vertigo Theatre or from the box office by calling (403) 221-3708.
Additional media for Deathtrap at Vertigo Theatre:
Other interviews you can check out on my website include:
This interview has been edited for length and clarity.