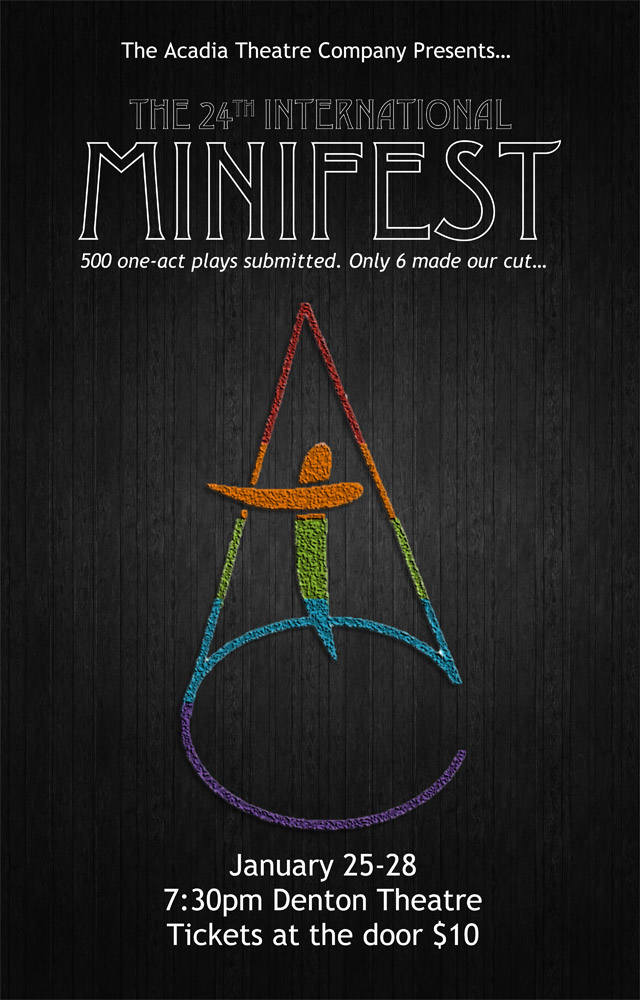 My play Death and the Psychiatrist is one of six plays being presented as part of the 24th Annual MiniFest being held at Acadia University in Wolfville, Nova Scotia from January 25 to 28th, 2017.
Death and the Psychiatrist is the story of Mortimer Graves who shows up at Psychiatrist Dr. Donna Thompson's office claiming to be the Grim Reaper. The Doctor assumes that Mortimer is under the delusion that he is death and convinces him that he should go into therapy in order to help him deal with his loneliness and emotional issues. With the Doctor's help Mortimer confronts his emotional issues and Doctor Thompson, with Mortimer's help, reevaluates her life priorities.
The production is being directed by Katie Chevel and stars Kassandra Bel as Dr. Donna Thompson, Alex Autin-Boyd as Randy Cooper, and Hunter Haas as Mortimer Graves. The show is being stage managed by Kiara Kallio.
Every year hundreds of plays from around the world are submitted to the festival. A play-reading committee reads and evaluates all the plays and develops a short list. The short list is given to student directors and they decide which plays they want to direct. Once the plays are selected students, under the guidance of faculty, design, direct, act and market the festival.
This year's MiniFest line-up includes:
Assumptions by Lynn Bolen
Death and the Psychiatrist by James Hutchison
The First Last Time by Bruce Boeck
Paper Planes by Michael Pisaturo
A Whole Other Shade of Blue by Gwendolyn Rice
Yogafu by Alex Rubin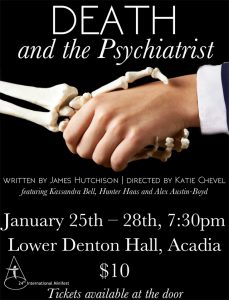 My tag line for Death and the Psychiatrist is: "Even Death Could Use a Friend." The play focuses on the importance of living a meaningful life, but of course that's hard to do without family and friends.
We're social creatures and when we fail to establish meaningful connections with people our health suffers. Our physical and mental well-being is directly connected to whether or not we feel alone and isolated. Check out this recent article from the New York Times, How Social Isolation is Killing Us by Dhruv Khullar, for a more in-depth examination of loneliness and its impact on individuals.
According to Khullar, "one recent study has found that isolation increases the risk of heart disease by 29 percent and stroke by 32 percent" and "all told, loneliness is as important a risk factor for early death as obesity and smoking."
Of course, the irony is that even though we're a more connected society in the digital age than every before – more and more people are indicating a feeling of loneliness and disconnection. That doesn't mean we need to eliminate things like Facebook or Twitter. What it means is, in addition to our social media, we still need to connect with people face to face.
That's one of the reasons I have hope for the future of theatre and all the performing arts. It's in our nature to want to experience things as a group – to share a laugh or a moment of reflection about what it means to be human – and theatre can do that. Theatre brings together a group of individuals for a shared experience. And that's important. That helps us feel connected and that helps build community.
So, if you find yourself in Wolfville, Nova Scotia this week – why not take in MiniFest, and while you're at it maybe invite that friend or family member you haven't seen in a long time to join you. Make it a night; share a laugh; enjoy the show; reconnect; after all – it's good for your heart.