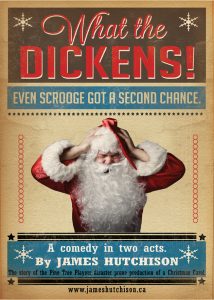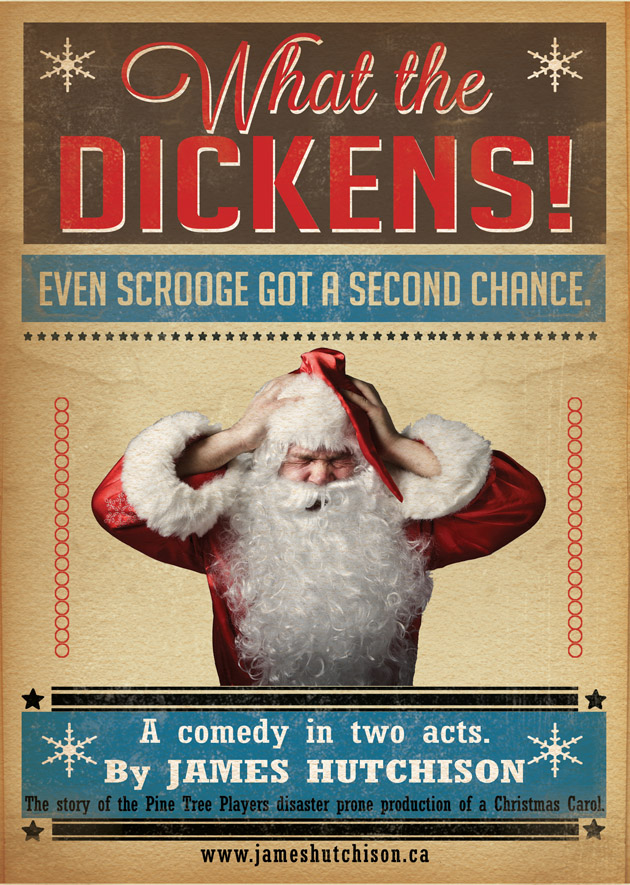 Christmas is a bumhug! Well, at least according to Scrooge in my play – What the Dickens! – the story of the Pine Tree Players disaster prone production of A Christmas Carol.
I love A Christmas Carol. The Alister Sim version is one of my favourites and I've always wanted to tell the story in my own adaptation. So, when I began my life as a playwright I decided A Christmas Carol would be one of the plays I'd write. But I wanted to do something new. Or at least something a little different. So, I ended up using the play within a play concept to create a romantic comedy that brings something fresh to the story while still giving audiences a chance to see the original story – even if it's filled with falling sets, missed cues, and pie fights.
The funny thing is once I'd spent four years working on What the Dickens! I finally knew the story well enough that I had a clear vision about how I would do a straight adaptation of the story. I added a couple of characters and I made Bob Cratchit a more fun and lively dad instead of the downtrodden person he's always portrayed as. And I wanted to spend some time showing how Scrooge could have chosen a different path. And that if he'd chosen love instead of security maybe his life would have been different. After all in my play What the Dickens! one of the characters says that every story is a love story – even A Christmas Carol.
You can download both What the Dickens! and my adaptation of A Christmas Carol for free. Just follow the links.
It's always fascinating to look at adaptations. The biggest challenge for film, television, and stage when adapting a novel is figuring out how to handle the inner voice of the character. In a novel you can go deep into the subconscious mind of the character but in movies and television you generally have to reveal inner thoughts through narration and dialogue.
Why do you think Tom Hanks had Wilson in Cast Away? It was a device in order for us to understand what his character was thinking.
Did you see the more recent Robert Redford film All is Lost? All is Lost is about a man on a boat in the middle of the ocean trying to survive. It's a good movie. I enjoyed it. I watched it twice. But it is missing the inner dialogue of the character. We never know his thoughts. It's mostly us watching him trying to survive and that struggle is well worth watching. But we never learn how he feels about his family or how he feels about life or how he feels about death.
As I was watching the film I thought – hey, he's in the ocean – why not have Wilson float by. After all, if he did, the two of them could strike up a conversation. Wilson could tell Redford's character all about the years he spent on a desert Island with Tom Hanks and Redford's character could reveal something about his inner world. And my guess is, his character would probably say how much he enjoyed seeing A Christmas Carol by the Pine Tree Players that Christmas he took the whole family on a skiing holiday to Pine Lake. The Dickens you say!
***
To subscribe to my blog just enter your e-mail at the top of the page and hit subscribe.
***