A few musings about going to the Calgary Fringe in between other musings about friends and food and festivals with links to other Calgary Fringe reviews, previews, and interviews at the end of the post.
***

So, why do you go to the theatre? A lot of people go to the theatre, myself included, to be entertained, but we also go to discover something about life. In some ways, I don't see theatre as being much different than food. We go to a restaurant to be fed, and we go to the theatre to feed our minds and our souls. Some of us are more adventurous than others. Some of us want to try new things, new flavours, new textures, but some of us want comfort food and the things we've had before and there's nothing wrong with either choice. Of course, what we like to eat as far as food goes and consume as far as theatre goes can also be very different for different people depending on where they're at in life.
For example, last season Theatre Calgary produced The Humans by Stephen Karam. I'd read the play, and I didn't get it. It didn't really speak to me in any way, but then I saw the Theatre Calgary production and it had a profound and powerful influence on me. You see the actors brought it to life. The interplay of dialogue didn't reach me from the page, but it did reach me from the stage. And I think that's because the father in the story, who's about my age and whose life has gone sideways, was my doorway into that world. His pain and situation and anguish about life reached me at a depth I hadn't anticipated. If I was twenty years younger I'm not sure the show would have had the same impact on me.
And you know what, everyone's life goes sideways at times. Mine has and I'm sure so too has yours. Our journey is never what we expect but that doesn't mean a change of course is a bad thing – it just means we often end up in places we never imagined. And that's what a lot of theatre is about. It's not about when things are going well. It's about when things go sideways. And so, I decided to go to the fringe hoping that maybe by immersing myself in that festival I'd gain some insights into my present and perhaps some clarification about my past. At the very least I was hoping to see some terrific theatre, hang out with some friends, and grab a brew and ponder life's mysteries.
One of the things you get to do when you go to the Fringe is meet up with friends and fellow fringers. I let a few of my friends know my schedule and over the course of the weekend I met up with my niece Kim Jones and her fiancee Kevin Stefan both long-time fringe volunteers, fellow playwrights Dale Lee Kwong, Phylis Heltay, Wendy Froberg and Maria Crooks and Maria's sister Virginia Crooks.
So Friday started with Back Left. Back Left is about looking at the world in ways that reawaken our senses and perceptions. If you're right-handed why not try writing with your left hand? Instead of walking forward why not try walking backward? Hungry? Then try eating with your eyes closed. Isabel Aguerrerbere and Ezra LeBank, both talented physical performers and dancers, explore what it's like to do the opposite of what you're used to doing. And although the show focuses on the physical they touch on other revelations and thoughts about life and so the show had me thinking about my own beliefs and values and how little I question what I believe and how important it is to examine my beliefs occasionally. The show also had me thinking about how important it is for us to connect in a physical and meaningful way with our surroundings and the earth. So, in order to help myself connect more, I thought about driving home backwards with my eyes closed, but after careful consideration I thought better of it by the end of the night.
Then it was off to Lolita's for an hour with Marcus Ryan. Marcus is an Australian stand-up comic and theatre performer who spent a great deal of time traveling through Central and South America. His show, ¿Hablas Inglés?, is more of a stand-up routine with observations about himself and fellow travelers and life. Those stories include falling in love, surviving earthquakes, being robbed, and ending up in Rio for the Summer Olympics. It's a fun show. And Marcus has a likable easy-going style. In fact, his show which is mostly storytelling and stand-up is perfect for Lolita's because of the small stage and performance space and so you can sit back, as I did, and enjoy a Big Rock Traditional Ale while you watch the show. And the show is all about discovery. What we discover about ourselves and others as we travel and explore other cultures. That's really what stories are about – in some ways – even funny ones – they are always about self-discovery in some form.
The final show on Friday was Balls of Yarns by multiple award-winning International Fringe Favourite Paul Strickland. I hope I got that right, because Paul said he'd pay me twenty bucks to include that description. Okay, I jest he never said any such thing but the description is accurate. Paul is a regular on the Fringe Circuit and has been to the Calgary Fringe before and I'd previously seen his show Ain't True & Uncle False. So, I knew I was going to hear some tall tales and this time he was performing at Arts Point which is a smaller venue than Festival Hall where I'd seen him perform last time. I know a larger venue is better for revenue, but I loved the show at ArtPoint because it was so much more intimate than Festival Hall. You see there's an energy that happens between performer and audience in intimate spaces that's harder to capture in a large venue. Balls of Yarn is fun and silly and inventive and well worth your time. But you know what telling tall tales and false truths is something we all do. Most of us don't grab a guitar and put it to music and travel the fringe but in our own lives the stories we tell grow and change and evolve over time. They in a sense become tall tales themselves.
***
Now if you're in Inglewood there are plenty of places to eat. There's Kane's Harley's Diner, Spolumbo's, The Ironwood Stage and Grill, The Blues Can and Swans Restaurant & Public House plus many more. That's part of the fun of a festival – going out and grabbing a meal and having a drink and talking to your friends about the shows you've seen. So at the end of Balls of Yarn is was just Dale and me so we headed over to the Pho Minh Chau Vietnamese Restaurant. The food is good, the owners are friendly, and the prices are fair. We shared a Banh Xeo which is a Vietnamese Crepe and Bun Ga Nuong Sa, Cha Gio which is Lemon Grass Chicken and Spring Rolls on Vermicelli – the cost was thirteen bucks each plus tip.
I've known Dale since we took a playwriting class with Sharon Pollock through the Alberta Playwrights Network several years ago. Dale recently had her own play, Ai Yah! Sweet and Sour Secrets, premiere at Lunchbox Theatre last February during the Chinese New Year. It had a terrific run and I interviewed Dale at that time about her forty-year journey to have a play performed on the Lunchbox Stage. This summer Dale, who is a poet and a playwright, is part of Downtown Calgary's summer edition of Jane's Walk on the Stephen Avenue Mall. Basically, a Jane's Walk, has a member of the community sharing stories about their neighbourhoods.
Dale's Jane's Walk is called C'mon down to Chinatown! and she plays Chinese-Canadian cowgirl, Connie-fucius, who hosts a fun quiz show where audience members test their knowledge about Chinese culture, Chinese-Canadian history, and secrets about Calgary's Chinatown. One participant from each show wins a copy of "Discovering (YYC) Chinatown: a self-guided walking tour" which is a chapbook written by Dale. You can check out performance times and download the 10 Minute Play Brochure at their website: 10-Minute Plays for Jane's Walk – Summer Programming 2018.⠀You can also catch either Dale or Connie or both at the Chinatown Street Festival on Saturday, Aug 18th on 3rd Ave SW in Chinatown with the Calgary Flames in attendance!
At the end of the night I went home and Dale, who wasn't done fringing, headed off to see The Calgary Fringe Late Night Cabaret.
***
On Saturday I had five shows lined up. It was also Sunfest in Inglewood which is an annual street fair. I don't go to a lot of street festivals, but this one is part of the fringe, so it brings people down to the neighbourhood, and that's good for the shows. The more people coming to see the fringe the better. I walked around the open market, watched the street performers, checked out the vintage cars and grabbed a slice of Pizza from Inglewood Pizza before heading to the first show of the day, Terms and Conditions, which was being performed in the Lantern Church Sanctuary.
This is physical comedy. And it's the tried and true story of roommate conflict. Part of the reason I like to go to physical theatre is because it has to show – not tell – what's going on. That's why silent films can still hold our attention. Heck, The Artist was a silent film from 2011 which was nominated for ten Academy Awards and won five including Best Picture. So, there is something about telling a story with action and intention that still works today. Anyway, Terms and Conditions is performed by the acrobatically skilled and very talented Taylor Casas and Cynthia Price and it's directed by Ezra LeBank who is half the team from Back Left which was the first show I saw on Friday. But unlike Back Left, this show isn't about exploring our perceptions but rather about exploring our interpersonal relationships and how the little things we do can create a lot of conflict. Finding the right spot for the houseplant, negotiating sleeping arrangements and deciding what kind of music to listen to are all potential triggers for physical combat and confrontation. But just because these characters aren't really able to speak about their conflicts isn't something unknown to most of us. How many of us huff about and slam a door and make things a little more difficult for our friends or family when we've been miffed? How often do we speak our mind and clear the air instead of letting things build in silence until they explode and potentially destroy the love and friendships we value most? Yes, this is comedy, and exaggerated for comic effect, but it's not unrelatable, and like all good comedy it allows us to reflect on our own obstinate behaviour and maybe forgive ourselves and others for past transgressions.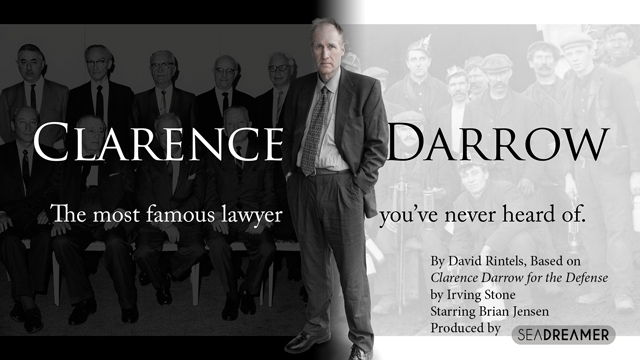 Then I went to see Clarence Darrow by David Rintels. When I first put this on my want to see list it was partly because I wanted to see a scripted show and I wanted to see a scripted show that would present a rational voice from the past. Even though the play was written in 1975 and Darrow has been dead for eighty years what he says is as important now as it was then if not more so. He was a fighter for justice in an unjust world, and we've seen a sharp turn in the last couple of years allowing the monsters of the past, which I had assumed were long defeated, to reemerge and threaten all the progress that has been made.
The script is focused on his life and his work and makes only a few brief mentions about his personal life and I'm fine with that, because this play isn't about his personal life – it's about his fight for justice. But what makes this play so rich and rewarding is Brian Jensen's compelling performance. The moment Jensen takes the stage he is Clarence Darrow. His voice and tone and manner are perfect and he glides easily between telling us about his career, cross-examining witnesses, and speaking to the ladies and gentlemen of the jury. Jensen speaks with a moral authority and wisdom and our time together feels all too short in the end. This is a play that I was glad to see at the fringe because plays from the past shed light on the present. And in some ways, they are better suited to do so because they are not caught up in the news of the day and they can reveal the broader themes that need to be discussed about justice and the type of society we want. So bravo to both Brian Jensen and his director Caleb Gordon for bringing this show to the fringe.
So, after Darrow, I grabbed a cheeseburger, fries and a root beer at Burger 320 and had a good chat with fellow playwright and friend Phyllis Heltay about Darrow, playwriting and Trump. Then I headed off to see AMAZE – A Comedy Magic Show.
AMAZE – is created and performed by the super talented and tricky David Eliot. The fringe always offers a variety of acts and a lot of them are intended for a mature audiences but the magic shows are generally suitable for families. And there are some amazing tricks in this show – none of which I want to reveal – but all of which I guarantee you will have you amazed.
What I love most about seeing a show like AMAZE is how good and energized and full of life I feel after the show. That's the way I always want to feel after I leave the theatre whether or not it's a magic show, a traditional comedy or drama, or a one-man musical band – I want to feel somehow invigorated about being alive. But isn't that what theatre is, in some ways? A magic show. On stage, we can travel in time or talk to giants or dive into the head of our hero. A magic show is all about tricking the audience and in some ways theatre is all about tricks. I mean the very fact that we feel something for the characters on stage – often fictional characters – is a bit of magic anyway, don't you think? Theatre is the active use of our imagination and the willingness to believe in fantasy. Who doesn't want to be a part of that?
And speaking of magic the next show, Evacuated, had me and the rest of the audience traveling back in time almost two decades to Indonesia while we were sitting in the basement of Inglewood Fine Arts. Yes, another traveling tale but this time by Erika Kate MacDonald who also happens to be the director of Balls of Yarn which I saw on Friday. Erika's journey from long ago is about her year in Indonesia as an exchange student when she was eighteen which ended with her having to be evacuated from a country in political turmoil. This is a true story but as she points out it has shifted and changed because all our memories shift and change over time. So what is the truth? Especially if our memories of an experience change? And how obligated are we to the truth when creating a story? I know I use some of my own experience when I write but I'm not writing autobiographical stories. And I often find that the characters in my plays take off in directions I never imagined. So where does the truth lie, and is storytelling about telling the truth or is it about revealing a truth about ourselves and others? And maybe like Erika, we're always trying to make sense about events from our past – especially events that have had a profound influence on us.
Erika is a terrific storyteller and if you want to see her show I'd highly recommend you go sooner than later since Inglewood Fine Arts is a small venue. There are only twenty-seven seats per performance plus standing room for another ten.
The final show of the night was Forget Me Not – The Alzheimers Murder Mystery by Rob Gee. This is the third show of Rob's I've seen over the years and I've liked them all. His shows are always about some type of mental health issue and those are subjects that need to be discussed and Gee's shows are not only insightful and relevant but they're also very funny and they bring some much-needed laughter to a serious subject. Alzheimer's is a growing problem and it's something a great many families are coping with on a daily basis, so a play about an Alzheimer's patient trying to solve a murder mystery is the perfect road into a discussion of what Alzheimer's is.
The funny thing is I've certainly noticed differences in my memory over the last few years. Not that I ever claimed to have a good memory. I think a good memory is mostly an illusion. Which is maybe why I'm reading, The Memory Illusion by Dr. Julia Shaw who I saw speak here in Calgary at a Wordfest Event a couple of years ago. At least I think it was a couple of years ago – and a quick Google search revealed I saw her on September 14, 2016. Which means I know where I was between the hours of 7:00 pm and 8:00 pm on the night of September 14, 2016. I have an alibi. What I was doing the rest of the day or even the rest of the month I haven't a clue.
In the meantime, I would highly recommend you don't forget to include Forget Me Not – The Alzheimer's Whodunnit on your list of fringe shows worth seeing.
***
And that's it. That's all I had time for. There are a lot of other shows I wanted to see, but I'm leaving town and Friday and Saturday were the only days I had available to head to the Fringe.
The Calgary Fringe Festival runs until August 11 and you can check out the entire Fringe schedule online. And if you see a show you like be sure to help spread the word and share your recommendations on Facebook, Twitter and Instagram.
Other Calgary Fringe Reviews, Previews, and Interviews
If you enjoyed this article about attending this year's Calgary Fringe then you might enjoy the following: