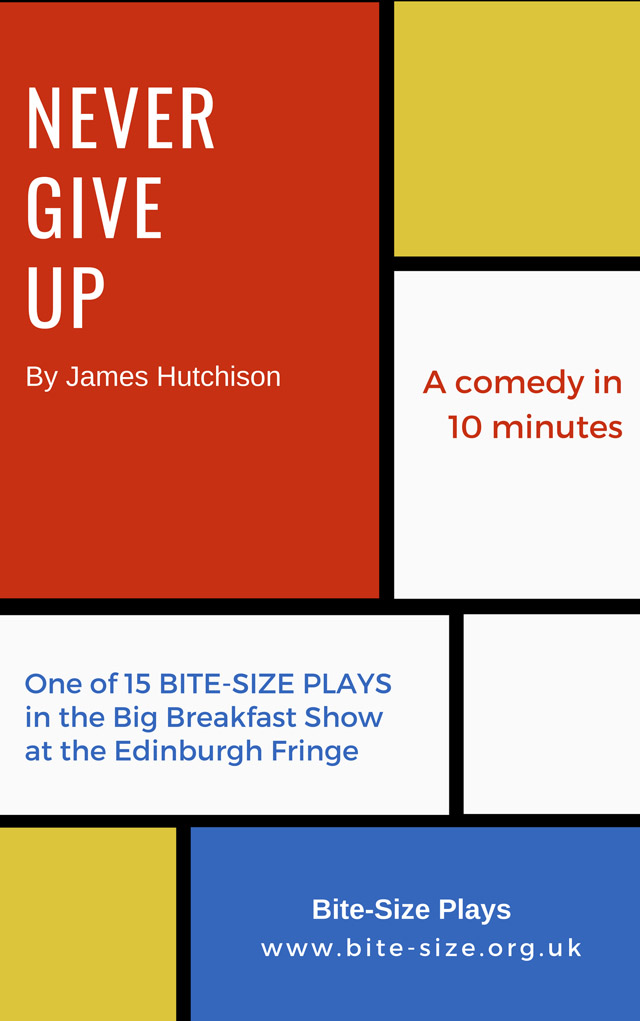 Bite-Size Plays is currently presenting my ten-minute comedy Never Give Up along with fourteen other plays as part of their very popular The Big Breakfast Show in this year's Edinburgh Fringe.
Never Give Up is a story about Nigel Davenport a playwright who has been entering the Short Cuts Playwriting Festival for years. He's never won – in spite of submitting hundreds of plays. When Nigel gets a call from Artistic Director Todd Sparks he thinks his luck has finally changed, but when Nigel meets with Todd – Todd tells him that they'd like him to stop submitting to the Festival because he's such a terrible playwright. This only inspires Nigel to try harder and he becomes even more determined to figure out how to write an award-winning play that will win the festival.
The Big Breakfast Show is a daily offering of free coffee, strawberries, a croissant and five short plays. There are three different menus that run in rotation and Never Give Up is part of Menu 1.
In addition to their Big Breakfast Show, Bite-Size Plays is also presenting a new show called Neverwant. Terry Murden of the Daily Business Magazine gives Neverwant five stars and describes the play as "a dark and delightful tale of a robotic future." His recommendation – put Neverwant on your "must see" list.
The Edinburgh Fringe runs until August 27th and you can check out the entire Fringe schedule online. And don't forget if you see a show you like be sure to help spread the word and share your recommendations on Facebook, Twitter, and Instagram.
Bite-Size Plays – The Big Breakfast Show at the Edinburgh Fringe – Aug 1 – 27
BREAKFAST MENU 1
Desk Fort by Annette Storckman
Never Give Up by James Hutchison
Green Dot Day by Carey Crim
The Retirement Position by Thomas Willshire
Sad 2am Sex Fantasy by Seamus Sullivan
BREAKFAST MENU 2
Battlelines by Stephanie Weston
Home by William Knowelden
I've Tried it Once by Dave Simpson
Trapped Language of Love by Ronan Colfer
Put Asunder by James McLindon
BREAKFAST MENU 3
Sandbox by Scott Mullen
Nathan Builds a Time Machine by Tom Hartwell
The Meeting by William Knowelden
Fagbutt in the Fishbowl by Derek Webb
Foxing by Greg Romero
2018 Reviews & Interviews for Neverwant & The Big Breakfast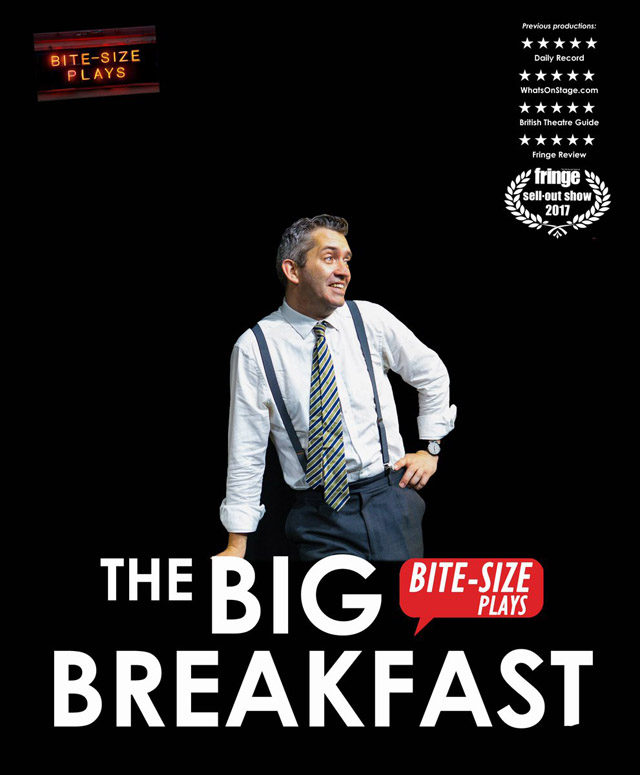 If you enjoyed this post about Never Give Up at the Edinburgh Fringe you might also enjoy the following: