We write songs about love. We tell stories about love. We long for love. We celebrate love. Love is all around us and yet we don't always know what it means. If we did we wouldn't need to keep discussing it and exploring it and talking about it. We are, it seems to me, bound by our heart's desire. So, what is this thing called love? I think if I was to define love – I would simply call it absurd.
So, I'm really excited that Christopher Duthie, Julie Orton, and Ayla Stephen have joined forces to bring Calgary the premiere of Christopher Duthie's new play, A Dinner Party, which just so happens to be an absurdist examination of love.
When Boo, Darling, Baby and Sweetie are unable to agree on a common definition of Love, their otherwise normal dinner party spirals into an absurd chaos of marriage proposals, identity crises, culinary emergency and polite cannibalism. Part absurdist meta-theatre, part romantic cringe comedy, A Dinner Party asks how we know our individual Selfs and understand our Love for one another in the fragmented social landscape of the 21st Century.
If that doesn't sound like a fun night at the theatre I don't know what does. So, grab the boyfriends and the girlfriends and the husbands and the wives and all the significant others and head on down to The Studio at Vertigo Theatre from June 20 to 29th to catch this multifaceted and intriguing play. Tickets are just $30.00 for adults and $25.00 for students and seniors and can be purchased by calling the Vertigo Box Office at 403.221.3708 or online at VertigoTheatre.com. Please note that A Dinner Party deals with adult themes and contains nudity and is intended for a mature audience.
I sat down with Christopher, Julie, and Ayla while they were in rehearsal to talk with them about the play and how it explores relationships and love.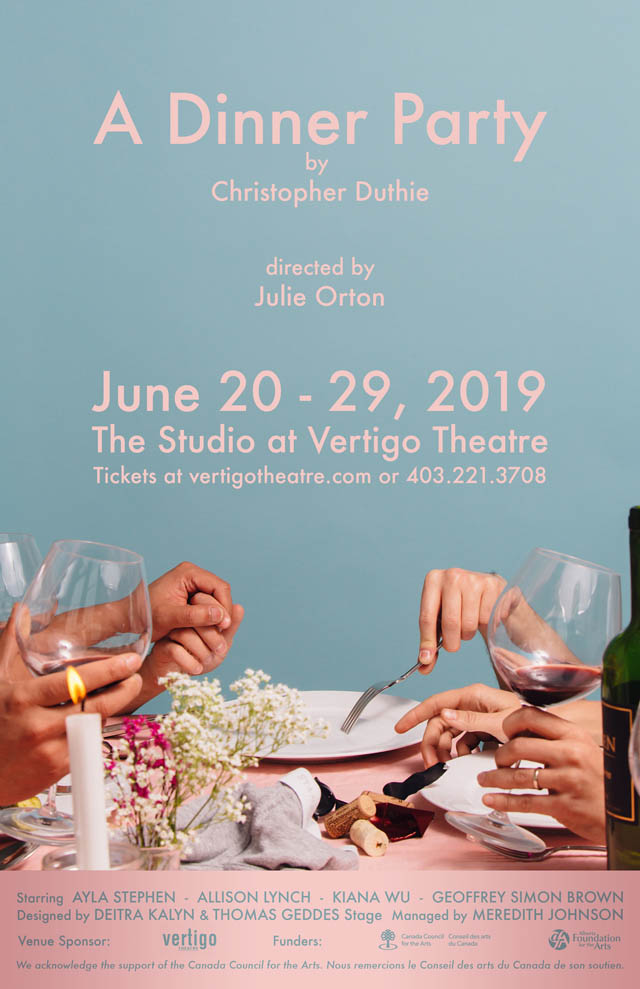 JAMES HUTCHISON
We're going to be talking about your play A Dinner Party which is an exploration of love and so I'm curious about what your favourite love song is and why?
CHRISTOPHER DUTHIE
I think my favourite love song is, Naïve Melody – This Must Be the Place by the Talking Heads because it's so beautiful and also because it's about what we think love will be and then we discover what it is.
JAMES
Are you checking Google music?
AYLA STEPHEN
Yeah. (Laughs) I can't think of any. I love – love songs so much and they always hit me right in the heart but then I forget about them and find new ones.
JULIE ORTON
I have two. The first one is Little Person by Jon Brion and it's from the movie Synecdoche, New York which is a Charlie Kaufman movie.
JAMES
It's a strange movie.
JULIE
It's a very strange movie but it's a beautiful song and it's very reminiscent of this play. It's about going through the world in a disconnected way hoping that one day you'll bump into that other person you've been waiting for and that you can just live a simple life together with that other person. And my other one is When you Get to Ashville by Steve Martin and Edie Brickell because it's just a really pretty lovely yearning song.
JAMES
So, where did the inspiration for this play come from?
CHRISTOPHER
I was doing my MFA in creative writing from 2015 to 2016 in Guelph when I was living in Toronto and I needed to figure out what to do for my thesis, and I had literally written down this conversation that I'd woken up with in my head that was funny, and then I'd put it away and I had figured once I finish my thesis I will come back to it. And I think I was secretly intimidated by the pressure of writing a thesis play and having to write something serious and important. And as a way of psyching myself out of that kind of thinking I just said, "I'm going to write this ridiculous play and try to make myself laugh and give myself the freedom to make myself laugh and see if anything comes from it." And that scene became the play and quite quickly the structure and setting of the play became very clear, and I found that as I started writing something emerged that would be funny at first and then it would stop being funny and it became kind of serious, and once it was serious something real would happen and it would become funny again.
JAMES
So, what is the play about?
CHRISTOPHER
A Dinner Party is an absurdist party about two couples whose evening is thrown off course into a kind of chaos of marriage proposals, heartbreak, culinary emergency, polite cannibalism…but essentially it's about two young couples disagreeing on what love is.
JAMES
The definition of love.
AYLA
It's a millennial viewpoint on love and relationships that's absurdist and highly relatable and also very funny. And I say millennial in a good way. It's not derogatory and it's not a judgemental term. It's just that's where we are and that's where these characters are living.
JULIE
And one of the great things about the way Christopher has written the play is that it can to be explored in an ungendered way. So, every character could be played by anyone and have any sexual orientation. And it's funny because when you end up with your cast, just by virtue of the dynamics in the room, all of a sudden, you're making a different comment on a love dynamic. And so you can tell many different versions of love and many different stories.
And so we have a couple in the play who have been together for a long time and in our version of the play, they're being played by two female-identifying performers. And so all of a sudden, the dynamics of an older settled love between two women is a really interesting story to dig into compared to the younger love couple in the play being played by a male-identifying performer and a female-identifying performer. Suddenly the dynamic of the settled female couple becomes much more interesting when compared to the younger male and female couple.
And the first time I was introduced to the play was when we did a reading at Christopher's house. So myself and Mike Tan, Graham Percy, and Brett Dahl, were invited to read the play. And so in that dynamic, I was the only female and there were different dynamics at play for sure. But it didn't change the arc of the play, it didn't change the relationships at the core and what their issues are. It was fascinating. Now we have the inverse of that where we have one male and three females, and it works just the same.
JAMES
Who have you cast in the show?
AYLA
I'm playing the character Boo, and Allison Lynch is playing Darling, who is my partner in the show. And we have Geoffrey Simon Brown playing Baby and Kiana Wu playing Sweetie.
JAMES
Did you make any interesting discoveries during the writing process in terms of love that you didn't expect?
CHRISTOPHER
I think I confirmed ideas that I had always sort of operated with. Like, I don't necessarily believe that everyone experiences love in the same way. I don't necessarily believe that there's one person for everyone. I don't necessarily think that everyone wants as their ultimate fulfillment of self to be with another person. I think those sorts of ideas made themselves apparent.
JULIE
There are definitely parts of both couples that I can relate to. You have this young couple that are in the early stages of being together. Like six weeks of being together and everything is wonderful. Everything is new and fresh. And there's definitely parts of that relationship where I go, "Oh, I remember what that was like." And it was so perfect, right? "Why can't we live there forever?"
And then there's this more settled couple that I recognize immediately. And I think, okay, I love the intimacy of how well they know each other. And I love the comfortability between them, but I also see the traps of that. And I also see the disconnections that can happen after spending a lot of time with someone. And so, I think for me, same as Christopher, it just confirmed the things that had been swimming around in my head.
JAMES
Ayla, what about yourself? Have you discovered anything new in terms of your views of love and relationships?
AYLA
I haven't been in relationships as long as my character has but there is that beautiful comfortability and knowing that even if you're having a fight there's still that underlying love, and support and commitment that's there. And not to say that's easy or that makes it okay when you are not nice to the person you love, but there is a kind of security built into that.
JAMES
Why do we do that? Why aren't we nice to the people we love? As actors, you do dramas all the time, where people who are supposed to love each other are not nice to each other. Any insights on good old human nature?
JULIE
I think in order to be in a long term committed relationship, you have to maintain a certain amount of vulnerability at all times. And I think it is human nature when you are feeling not as strong as you did yesterday or if you're feeling a little insecure to occasionally swipe out in order to protect yourself. And sadly, it tends to be at the person that you love the most, because they know you the best. And it's frustrating, and you wish it didn't happen, but it does.
JAMES
Do you think in love we expect too much from our partner?
JULIE
Oh yes. And I think committing to one person is a really cuckoo experiment because you are an individual fully formed human with a much different experience leading up to the day you met them. And so, your way of interpreting things or looking at things or defining things is different than theirs. And so sometimes you come up against something that is just a conflict of experience and it's really hard to say we're two different people, but we're going to continue on the same path, even though we don't know where this is going.
JAMES
Is that a cultural thing or is it a human thing?
CHRISTOPHER
Without giving too much away I have right in the play that we have these two holy things in the West, in our culture. We have the dream of the perfect monogamous love, and then we have this dream of total personal freedom. And those ideas are at war constantly. Because I don't really believe you can have both. Because I think how we define perfect love in our culture involves giving up a piece of yourself and surrendering to the fact that I'm with you on this road that we are creating together. And that is going to involve some of where you want to go, and that's going to involve some of where I want to go, and we are going to disagree. And if our dream is to stay together, then we need to figure out a way to do that.
JAMES
How much do you think we understand our partners and how does the play explore that?
AYLA
I think the play explores that quite a bit. I think that might be one of the thesis points. How are we communicating and what language are we using? Because if your timelines are different, and the way you're talking about getting there is different – even if it might look the same – it's not the same thing. And that can cause feelings of insecurity and vulnerability that can lead to those miscommunications and those anger points. So it's like, "Oh, it sounds like we're not working towards the same thing? Is this the right relationship for us to be in?"
JULIE
And I think another thing that the play explores is not just how well do we know our partners, but how well do we know ourselves in our partnerships, because I think we invest a lot in a dual identity and we end up losing a little bit of our individual identities. And so, at the end of the day, when you sit down with yourself and think how well do I know my partner – I think it's actually who am I in this relationship?
JAMES
Julie, I want to ask how did you go from reading it in Chris's home to now sitting in the director's chair. At what point did you go, "I'm going to be the director?"
JULIE
Not one point did that happen. When I read it my gut reaction was I really want to be in this play because there are so few opportunities to do absurdist Theatre in Calgary these days. There's been a little more this season with Rosencrantz and Guildenstern and Waiting for Godot which is great but not new absurd theatre. I don't think I have seen a new absurdist play in years. And Christopher's writing is so funny and quick and smart, and really profoundly beautiful.
So after reading it that first time, I just thought, "Oh, my God, I really hope he's gathered us all here because he wants us to be in his play." And then I didn't hear a lot about it because he was working on his thesis. And then he reached out to me and said, "I want to talk to you about A Dinner Party," and we met for coffee and he said, "I think you should direct it." And it scared the poop out of me James, but I think I said yes immediately and then I went home and I was like, "What have I done? I don't know what I'm doing. I have no idea the first thing about how to direct a play, how to lead a room, how to talk to actors. I just know how to be talked to as an actor."
AYLA
See, and I disagreed.
JULIE
Yeah, you did.
AYLA
Julie and I worked on Goodnight Desdemona Good Morning Juliet together. And that was the first time we've been actors in a room together since University. And I was like, Julie's had so many opportunities to work as an actor in Calgary and outside of Calgary. She's immensely skilled and the way that she's able to communicate with a director about what she's doing and what she's doing with us as actors in the scene I was like, "Julie should move into directing."
CHRISTOPHER
You were the first person that said, "Julie could direct this."
JULIE
And I'm excited that I said yes because it's been profoundly exciting in the room. It's been one of the hardest things I've ever done, for sure. But there's nothing I like more than sitting in a room and watching actors pull apart a script and invest in characters. And this is a character-rich play and so it hasn't felt like I'm a total fish out of water. It feels like I can actually communicate what's happening. And it's been so joyful and I don't know what happens next with me as a director, but right now, God, I love it!
JAMES
So, you were all at the University of Calgary together and I understand that you've wanted to work together again for some time and now you're finally making that happen. What was the process of bringing A Dinner Party to the stage?
AYLA
Chris did a lot of the legwork writing grants and finding opportunities and making partnerships and connecting with people in the community to get extra support. Like Vertigo came on board, once we had some grants, and they're really doing a lot to support indie artists who are coming up.
CHRISTOPHER
They're our venue sponsors.
AYLA
We had that support and we had people in our lives who were really excited about seeing us working together again because we've established ourselves as artists in the community now. And we raised additional funds through a Kickstarter campaign and it's all for generating new work which I think hasn't been happening as robustly as it had been in Calgary about five years ago. And we're excited to be contributing to that.
CHRISTOPHER
I will say too that, as much as we are friends we admire each other's work. And what we've talked about is coming to each other with projects we're interested in leading and trying to find a sustainable way of supporting each other and making theatre in the long term. And also to help each other build the skills that we have and can share with each other to develop our own practices and production abilities.
JAMES
So, just before we wrap up here what's your favourite line from the play? Without giving too much away.
AYLA
"I could so be a shepherd." I love that line.
CHRISTOPHER
It feels a bit like tooting my own horn but actually, I really like the line, "No, I knew you were behind me."
JULIE
Yes, that's a good one. I like, "Love isn't just one feeling it's an amalgamation of every feeling."
JAMES
And final question, just curious, what is polite cannibalism?
CHRISTOPHER
Oh, you'll have to find out.
AYLA
Come see the show.
JULIE
Pinkies up.
***
A Dinner Party runs from June 20 to June 29th in the Studio at Vertigo Theatre. Tickets are just $30.00 for adults and $25.00 for students and seniors and can be purchased by calling the Vertigo Box Office at 403.221.3708 or online at VertigoTheatre.com. Please note that the show does contain adult themes and nudity and is intended for a mature audience.
Calgary theatre artists Christopher Duthie, Julie Orton and Ayla Stephen are proud to present the independent premiere production of A Dinner Party by Christopher Duthie, directed by Julie Orton at the Vertigo Studio Theatre from June 20-29, 2019.
Written as Christopher Duthie's MFA thesis in Creative Writing at the University of Guelph, A Dinner Party is a comedy about true love for the post-truth era. This new take on the absurdist genre is hitting the stage for the first time in an independent production supported by the Canada Council for the Arts, the Alberta Foundation for the Arts, a generous community of Kickstarter crowdfunders, the venue sponsorship of Vertigo Theatre and the partnership of Inside Out Theatre's Good Host Audience Inclusion Program.
A Dinner Party is the pilot project of an indie producing collaboration between Duthie, Orton and Stephen. With over a decade of experience each onstage as actors and offstage as playwrights, theatre creators and/or producers, they are banding together to play a more active role in making exciting theatre happen in Calgary.
***
If you enjoyed this interview please share and check out some of my other interviews.
***
This interview has been edited for length and clarity.
***