***
If you have ambitions of pursuing a career as a screenwriter or television showrunner then I'd highly recommend you attend the Austin Film Festival. I attended the 2018 Austin Film Festival Writer's Conference and found it to be a very rewarding and exciting opportunity to connect with industry professionals as well as up and coming writers. This interview with Matt Dy, the Director of Competitions about the 2018 Austin Film Festival will give you a comprehensive overview of what the festival is about and why you should enter the competition. The 2019 Austin Film Festival runs from October 24th to the 31st.
***
We all have favourite stories – favourite films – favourite television shows and books and plays – because these stories somehow reach us. They make us laugh, or cry, or reflect more deeply about life, or simply give us a momentary escape from our troubles.
That's why I'm really excited to announce that my play Masquerade is a finalist in the stage play competition at this years Austin Film Festival – which is a festival that's dedicated to story. Masquerade is about an empty nest couple, Sarah and Glenn, that have drifted apart. They were talking divorce and selling the house until they discovered a book called: A Good Marriage is Just a Fantasy by Dr. Ravi Shasta. Basically, it's a book about exploring your sexual fantasies with your partner. Unfortunately, sometimes what is real and what is fantasy can become blurred and what was intended to bring a couple closer together can sometimes drive them apart.
My play gets a workshop reading on Saturday, October, 27th from 2:45 pm to 4:15 pm in the InterContinental Stephen F. Austin, State Boardroom. There are a total of nine scripts that have been selected for readings at this year's festival and you can check out the complete schedule of readings at the Austin Film Festival website.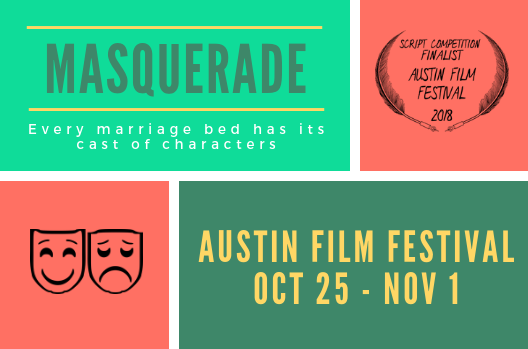 The Austin Film Festival runs from October 25th to November 1st and is a celebration of film and television that focuses on story and the people who write the screenplays and teleplays. The festival features industry professionals as well as up and coming writers. I'll be flying down to Austin to participate in the festival as well the staged reading of my play. I gave Matt Dy, the Director of Competitions for The Austin Film Festival, a call to talk to him about how the festival began and what participants can expect.
JAMES HUTCHISON
The Austin Film Festival was founded in 1993 by Barbara Morgan, who still serves as Festival Director, for the purpose of furthering the art and craft and business of screenwriting and filmmaking. So, I'm curious over the last twenty-five-year history of the festival how have those founding goals been developed?
MATT DY
The Festival was also co-founded by Marsha Milam who is still involved in a limited capacity, but Barbara Morgan is sole Executive Director for the Festival now. The two of them started the festival because they felt there was a need for a community like this. There really wasn't a writer's festival let alone very many screenplay competitions at the time. There were maybe a handful and now there are hundreds of them in existence, but we're one of the original ones which is a really nice thing to be able to say.
The thing that still remains intact over the twenty-five-year history of the festival is our goal and mission to champion the screenwriter. We're now open to playwrights and eventually we may become more of a hub for all forms of story because we're also expanding into fiction podcasting and we have a digital series component as well – content for the web – so there's a lot of different formats that we've embraced over the years but the mission to champion the writer is still the same.
JAMES
You know when I think of successful screenwriters they might have different success stories but I'm wondering if there might be a couple of qualities that sets the successful screenwriter apart and I'm thinking one of those qualities is having a dedication to the craft. In what way do you think a dedication to the craft benefits a writer's career and development?
MATT
That is absolutely essential and it's easier said than done. I'm a writer as well and I tend not to take my own advice – to write every day you know – you hear of people who have nine to five jobs and they're married, and they have kids, and maybe they have a second job, and they still make time to write. So my thing is to not make excuses anymore and just do it. It is about dedication. It is about finding time to write because, as a writer, you want to treat the writing as if it's going to be your job. You need to set deadlines and goals and that's why competitions are a great thing for writers because you work towards a deadline to get your script in for the competition.
It's also teaching you about persistence. You're a finalist in our Stage Play Competition. You're in the top three out of 655 plays that were submitted but a lot of people that didn't make it as far as you have may actually have a really good play and we may have overlooked it because – it's a little bit of the luck of the draw – trying to find a good match for the reader that might respond to it. It's a human process, and it's incredibly subjective, so you're going to get different results from different competitions, and so it's also about being persistent and moving on and entering the next competition
JAMES
Enter other ones or give it a rewrite and enter again.
MATT
Yeah, and you'll find that exists in every creative field. And if you pick any popular film or stage play that has gotten produced – if you talk to those writers they will tell you consistently that they had so many doors closed on them – so many people told them this would never get produced or shouldn't be produced and yet they still got it produced. And so the writer's process is to write every day and stay persistent, stay focused, and write the story you want to tell.
JAMES
You said you're a writer yourself so I'm just wondering from your own perspective – because you're surrounded by writers – what does keep someone going? I mean those rejection letters are piling up and you work for years for little money…what is that keeps writers going? Why do they keep writing stories?
MATT
Passion. Love. A lot of playwrights are incredibly passionate – they love their work – they do it for the love of the art – and I think a lot of screenwriters feel the same way. It's a dream and if you don't have a dream it's hard to find the motivation to get up each day and work on that passion project
JAMES
I wonder if part of it might be realizing that when you sit down at your desk to begin the research, the writing, the outlining or just diving into writing your script you might be starting a ten or fifteen or twenty-year journey in order to realize that project.
MATT
Absolutely. Everybody has their own process. There are some writers who end up having one project that they spend their entire lives working on, but there are other writers who work on many different projects all at the same time because they know their one pet project may not be the one that gets them discovered.
JAMES
The festival has a number of writing competitions. You've got the feature-length drama. You've got the comedy feature. Horror. Sci-fi. So you've got lots of different categories, but I'm wondering, regardless of the genre, do you notice anything that the winning scripts seem to possess? Something in them that makes this writing stand out.
MATT
I think if I had to pin it on one thing it would be stories that have that unique voice – that unique perspective. Those stories end up winning or advancing in the competition. It's always their unique spin on a familiar story. A different perspective so that when you're reading it you go, "Oh that's brilliant. I wasn't expecting that."
Each writer is going to have their own perspective on the world and so their version of a story is going to be different than someone else's version of the story, and you can tell when they're writing something for themselves for the passion and for the love of their story rather than when they're trying to write something for the masses that they think would sell.
JAMES
You bring up an interesting point because I just watched Get Out which was a huge hit last year and so I'm wondering when you have a hit like that – a film that, you know, is well made, does well at the box office, gets awards – does the success of that film, in the marketplace, influence the types of scripts you see being entered into the festival?
MATT
Oh yeah, not just the marketplace but also the climate – and what's happening politically and what's been happening in the industry with movements for diversity. All these different ancillary things that are happening in the world obviously effect what people are writing and submitting to the competition. You can definitely feel that when you're reading scripts, and you'll find that there are many people who are commenting on the current President and many of the other things that are happening in the Zeitgeist because we write to talk about and make sense of the world we live in.
Of course, there are going to be people who are going to try and anticipate what is marketable and usually if they try to emulate what's popular right now they're too late because those projects were long in gestation and they're striking a cord now. As a writer, you should just continue to write what you're passionate about and then something might happen to make your script a timely subject. There was a playwright here from last year in the playwriting competition who happened to write a play about immigration on a border town in Texas. It was a play she had written a long time ago that never got produced but she pulled that back out of her drawer because she knew this is the time for it.
JAMES
Well, let's talk a little bit about the festival. There are two components. There's the film festival and there's the conference and the conference is filled with industry professionals and established as well as up and coming writers. What's the conference part of the festival about?
MATT
I like to call it summer camp for screenwriters except it's only four days. It sort of has that Kumbaya feel when you first arrive. It's palatable – at least for me. You know you can stereotype writers and say they're all an isolated bunch who are very introverted who don't like to converse or be communal, but I find that even the most introverted screenwriter, deep down, really wants to connect, and I think when they realize that wow, I'm not the only one who feels that way, and they come to a conference where it's a bunch of introverts and a lot of thinkers and creative types who are just like them then the walls start to come down. And we try to make it easy for them to get to know each other and just converse and make friends. Usually without fail that's what happens.
MATT
I also think a lot of people come to the conference with the goal of getting their script sold and produced or getting an agent or manager but that rarely ever happens at the festival. I like to think of the festival as an incubator where things just take time to develop. Like you're planting the seeds. You're making connections with people you wouldn't normally be able to meet. If you place in the competition you're going through a special track of panels with people who are just like you – quality writers, talented people with great ideas, so you're in a very talented room with people that you're going to several events with and you never know you might find your next collaborator or somebody who would love to read your work and would introduce you to somebody that they know in the industry and so usually those are where most of the success stories come from.
JAMES
As a participant in the conference there are panels there are readings what kind of things are happening?
MATT
Everything that happens at the conference is about the creative and business sides of story, so if you want to learn about other people's writing process and how you can apply that to your own writing you can do that, or if you're really wanting to understand how it works in the TV writers room we usually have that covered. We have pitching opportunities, we have script reading workshops, we have an indie filmmaker track as well if you're a filmmaker and want to learn more about microbudget filmmaking. We have a playwriting track. We have a panel that covers writing for webisodes. We have a script to screen series where writers will show a few clips from their film or show and show the process of what they wrote and how that translated to the screen. We have a conversation series with people who just talk about their career in general and usually, those are the bigger people and in particular our awardees like Tony Gilroy
JAMES
Why don't we talk a little bit about that since you brought it up? As part of the festival, you honour screenwriters and filmmakers, and the very first person that was honoured at the festival was Horton Foote who wrote Tender Mercies and adapted To Kill a Mockingbird for the screen, and then last year you had Kenneth Lonergan at the festival who wrote and directed Manchester by the Sea. Who are you honouring this year and why?
MATT
I mentioned Tony Gilroy who is a screenwriter and filmmaker. He's somebody that we've tried to get for a very long time. We try and find people that have a rich history of contributing to storytelling and also have an ability to be accessible to our audience because that's something we also pride ourselves in is that you have an opportunity to meet Tony Gilroy and talk with him or meet somebody like Vince Gilligan the creator and showrunner for Breaking Bad who took the time to meet everybody when he was here for the festival.
MATT
Another awardee we have this year is Daniel Petrie, Jr. who we're giving our Heart of Film Award and we invited him because he's been involved with the festival for such a long time and he really loves our festival and he's very giving and he comes almost every year and we even gave his production company a category the Enderby Entertainment award because his company produced a finalist script from I think 2008 or 9 from our competition and it premiered here at the festival, and they've worked with many writers that they've met here at the festival. And so usually we try to find in an awardee who has left a mark on the industry and is somebody who can share words of wisdom for the next generation of creators.
JAMES
And you're also honouring Roger Corman. How many careers has he helped launch?
MATT
Yes, I know that's another reason it was very clear why we chose him because when you find out all the careers he's started you wonder why he hasn't received more credit. It was clear for us that he needed to be an awardee.
JAMES
And then you've got Larry Wilmore.
MATT
Yes, and he's somebody else who has been so great as well. Somebody who has been great talking with our attendees and very giving and very accessible as well.
JAMES
So, my play Masquerade is a finalist in this year's Stage Play Competition and I'm really excited to be attending the festival, but I was curious about why you decided to add a stage play category to the film festival?
MATT
It was our Executive Director who had the idea to do it because we work with many playwrights, and we find that many screenwriters and tv writers aren't just screenwriters and tv writers they also have plays and a lot of these people have been asking us to start a playwriting competition. A lot of playwrights living in New York City, for example, find it hard to make any money as a playwright so a lot of them make their money in TV. The Americans, House of Cards, Orange is the New Black those writer's rooms took place in New York and a lot of them consisted of playwrights. We started the screenplay competition in 1994 because there was a need for something like that and so we thought this would be a great way for playwrights who want to make that transition into film and television to utilize the resources that we already have in place. And also to give recognition to your own play because the placement and the exposure your play gets from the festival could help get it produced because every playwright still wants to have their play produced.
JAMES
Let's talk about the other aspect of the festival – so you've got the conference part but it's also a film festival and the film festival runs for an additional four or five days after the conference ends. What are some of the highlights coming up this year as far as films go?
MATT
What I love about our film festival is that our mission to honour the writer still exists. All the awards that are handed out for the different categories in the film competition are handed out to the writers of the film. Not the director or the producer. You know when you watch award shows or you're at a film festival and they announce the best picture they usually hand out the awards to the director and the producing team. Unless it's a writer/director but usually the writer isn't involved with directing or producing they just wrote the script. But at our festival, the writer is the one who actually receives the award. We put a stronger emphasis on the quality of the writing than the marketability or the production values of the films that are chosen to be in the festival. So story really is the thing that we look for the most.
MATT
The thing that's nice about our festival is that we're after Toronto after Venice – after all the bigger film festivals that have those Oscar contenders – and so we have a lot of those big films that end up getting nominated for Oscars. Last year, I think, we might have had nine or ten of them. We had Lady Bird, Three Billboards, I Tonya, Mudbound, and Call Me By Your Name.
JAMES
That was quite the lineup.
MATT
And while a lot of people are going to be gravitating towards the bigger marquee films that we have this year like The Favourite or Boy Erased or Widows you don't want to miss out on all the other films that are playing within the film festival competition because those are films that you might not be able to see anywhere else anytime soon.
JAMES
So, as I mentioned this is my first time going to the conference. What basic tips or advice can you tell me about coming to the festival that I should know and would help prep me or anybody else who is going?
MATT
Well, get familiar with our list of panelists that are attending the festival and the conference. Find out if your screenwriting heroes are going to be here because they're going to be out during the festival. They're going to be at the Driskill bar and they're going to be at the partner parties and their badge is just going to say their name. It won't tell you any of their credits or if they're a panelist. So you never know who you're going to be standing next to and if you recognize them you can respectfully introduce yourself like, "Hi I'm a finalist in the playwriting competition." And there aren't very many finalists. There's about fifty of you and that's a huge difference from the ten thousand five hundred scripts that were submitted this year. And your badge will say finalist and you should wear that badge proudly and introduce yourself, "I'm James, I'm a finalist in the playwriting competition." And that is something that will hopefully open doors. "Oh, you're a finalist. Okay, tell me about your play." And of course what's also going to happen next is, "Well what else are you working on?" And so be prepared to talk about other work that you've written and of course be ready to talk about your play.
MATT
You'd be surprised how many writers come here and they have a fantastic piece of work but they don't know how to talk about it to people. So, just be prepared for that elevator pitch but I wouldn't necessarily call it pitching at the festival because nobody really likes to be pitched to. A lot of these agents and managers and producers who are here are here to have a good time and to meet writers and contribute to the festival. They don't want to be treated as if the only reason you're talking to them is so you can send them your script – there's so many people that are after them that they just want to be treated like a human being.
JAMES
Well, treat them like you would want to be treated if you were in their position.
MATT
Yeah, exactly and as a manager, it's all about the relationship and so if that's how you're going into it they're probably going to think I'm not sure I want a relationship with this person. And don't forget about your fellow writers that are sitting right next to you because you know everybody comes here wanting to try and meet the panelist or agents and managers but it's a chance for you to meet other writers like yourself and develop your network and friendships and your professional relationships.
JAMES
I was thinking about the legacy of the festival. And I have to say I really like what you guys are doing with the Austin Film Festival – On Story. Tell me a little bit about how that started and what you guys are doing with that part of the festival.
MATT
So, Barb our Executive Director had always envisioned that we would have a TV show and so she had the foresight to record all of our panels during the festival and to keep a record of it so that we could utilize it in some way one day. And we also had a lot of people who attended our festival asking if we had any recordings so there was a demand for it. And so we went through our archives and created a quality product that PBS loved and picked up and our marketing team has gotten us in almost all the markets for PBS and now On Story has expanded into a book and a radio show on PRI and we have a podcast as well. So On Story has really become its own brand and people really love it.
JAMES
I watched a couple of them on YouTube and shared them through Facebook, and Twitter and Instagram. I watched Carl Reiner talking about the early days of working on the Dick Van Dyck Show and it was really interesting, and I watched Kenneth Lonergan who you had here last year and I thought it's nice to have those things available.
MATT
And we're proud to say we're an Emmy award winner as well. We won an Emmy for our episode featuring Vince Gilligan whom I had mentioned earlier and actually, we're nominated this year for an Emmy for our episode featuring Eric Heisserer the writer for Arrival.
JAMES
I'll have to hunt those down and watch them. Are there any legendary stories from the festival that you can share?
MATT
Oh God. Legendary stories. Well from the first year the winning script in our competition actually got optioned and produced rather quickly. It was called Excess Baggage and it was written by Max D. Adams. It had Alicia Silverstone and Benicio Del Toro in it.
I believe the first screenwriters' conference for AFF happened at Willie Nelson's old opera house, but it was run down, and it was rainy but somehow it brought people together, and you know we said magic happened there. I wasn't around for it but this is what our director Barbara Morgan has said repeatedly over and over again – that magic happened there despite all the chaos because everybody was there because they believed in story and telling their stories. And a lot of big influential people from Columbia Pictures were there as well and they felt the magic too, and I think that helped encourage them to become more involved with us and to see us as a legitimate resource for writers, and they optioned that first script and produced it and that's really what put us on the map.
MATT
And you know what feels legendary for me each year is the Awards Luncheon and hopefully you'll see that and feel that too when you're here because the awards luncheon is where we celebrate the winners in the competition and win or lose it's still a really great event because on that stage we are awarding up and coming writers from our competition and we're also honouring the established writers like the Tony Gilroys, the Larry Wilmores, Roger Corman, Dan Petrie and so they're all on the same stage together. And what's so beautiful is that one of those awardees, almost without fail, will comment on what they've seen from the up and coming writers. They're deeply moved by the time they get up on stage because they're also not sure what to expect at our festival. So, when they see we're really championing the writer and they're hearing all the winner's stories and we even have a young filmmakers award so they end up seeing young kids going up there and accepting awards too it makes an impact. And these kids are in awe of what they are seeing – you know these teenagers are seeing people from different backgrounds and ages winning our script competition and our film competition and then they're seeing highly established people as well and so that's really inspiring for the next generation of young people who are going to continue to create and write and tell stories. And for me, that feels legendary because everybody always comes away feeling so invigorated and inspired.
***
The Austin Film Festival and Writers Conference runs from October 25th to November 1st. You can check out all the details regarding the Festival at their website online.
***
AFF is pleased to announce the 2018 Script Competition Finalists and Winners. 51 scripts were chosen for the Final Round with one winner to be determined in each of the 13 categories. The winners were announced during this year's Conference at the Awards Luncheon held on Saturday, October 27 at the Austin Club. (Winners in Bold.)
***
COMEDY FEATURE SCREENPLAY
Presented by Sony Pictures Animation
Sex APPeal by Tate Elizabeth Hanyok
Darryn the Bold and the Sword of Boldness by Justin Best
Meet Cute by Noga Pnueli
My Date Is Kate by Carlin Adelson
Orientation by Eve Symington
***
DRAMA FEATURE SCREENPLAY
Presented by Writers Guild of America, East
Horsehead Girls by Wenonah Wilms
The Death of Colm Canter by Revati Dhomse & Hector Lowe
Dig Two Graves by Jared Schincariol
The Huntress by Abdullah Alhendyani
The Innocent and the Vicious by Dominique Genest & Nick Kreiss
***
SCI-FI FEATURE SCREENPLAY
Open to science fiction, fantasy, horror, surrealism, myth/legend and fantastical storytelling.
Our Own Devices by Paul Vance
Darryn the Bold and the Sword of Boldness by Justin Best
No Man's Land by Jeffrey R. Field & Michelle Davidson
***
HORROR FEATURE SCREENPLAY
Open to thrillers, dark suspense, sci-fi, and macabre themes.
The Patience of Vultures by Greg Sisco
Blood of Israel by Davey Morrison
Shaky Shivers by Andrew McAllister & Aaron Strongoni
***
ENDERBY ENTERTAINMENT AWARD
For feature scripts in all genres with an original concept and distinctive voice that can be produced for under $10 million. The production company was founded by Rick Dugdale and Daniel Petrie, Jr.
Project Horizon by Charles Morris
Grit N' Glitter by Seth Michael Donsky
The Patience of Vultures by Greg Sisco
Put Your Hands In by Warner James Wood
Surfmen by Christopher Rhoads
***
AMC DRAMA TELEPLAY PILOT
All Semifinalists will be reviewed exclusively by AMC who will determine the Finalists and eventual Winner.
Worth by Stuti Malhotra
Double Time Dames by Davia Carter
Liberty Falls by Robert Attenweiler
Lifers Anonymous by Sean Collins-Smith
Mindset by Ethan Solli & Ziba Sadeghinejad
Ticker by Connie O'Donahue & Jeremy Nielsen
***
COMEDY TELEPLAY PILOT
What Will Jessie Do? by Kevin Luperchio
Band of Mothers by Sabrina Brennan
Bastards by Erin Muroski
The Last Abortion Clinic in Kansas by Tammy Caplan
Rice, Fish, and La Croix by Naomi Iwamoto
***
DRAMA TELEPLAY SPEC
The Handmaid's Tale: Rebels by Angela Jorgensen
Billions: Trust by Amanda Parham
The Handmaid's Tale: The Abduction by Todd Goodlett
***
COMEDY TELEPLAY SPEC
Unbreakable Kimmy Schmidt: Kimmy Volunteers! by Maggie Gottlieb
Better Things: Goy Vey by Robert Axelrod
Master of None: Headspace by Honora Talbott
***
SHORT SCREENPLAY
Ruby Throat by Sarah Polhaus
Seat 23B by Eliott Behar
A War on Terror by Peter Haig
***
SCRIPTED DIGITAL SERIES
Presented by Stage 13
Epizootic by Daniel Young
Halcyon by Jonathan Marx
hello, world\ by Michelle Sarkany
***
STAGE PLAY
Particular Disposition by Benjamin Fulk
Masquerade by James Hutchison
Disposable Necessities by Neil McGowan
***
FICTION PODCAST
The Rest Stop at the End of the Universe by Samuel Suksiri
Alethea by Katrina Day & Phillip R. Polefrone
Forces by Len Sousa
Welles D-11 by Simon Nicholas
***
JOSEPHSON ENTERTAINMENT SCREENWRITING FELLOWSHIP FINALISTS
In addition to this year's Script Competition Finalists, we are proud to announce the Finalists for the inaugural Josephson Entertainment Screenwriting Fellowship. This new opportunity will provide a one-on-one mentorship with producer Barry Josephson and his team in Los Angeles for the writers of one feature screenplay and one teleplay pilot.
***
Feature Screenplays
The Death of Colm Canter by Revati Dhomse & Hector Lowe
Darryn the Bold and the Sword of Boldness by Justin Best
Meet Cute by Noga Pnueli
The Patience of Vultures by Greg Sisco
Sex APPeal by Tate Elizabeth Hanyok
***
Teleplay Pilots
Lifers Anonymous by Sean Collins-Smith
Band of Mothers by Sabrina Brennan
Mindset by Ethan Solli & Ziba Sadeghinejad
Ticker by Connie O'Donahue & Jeremy Nielsen
Worth by Stuti Malhotra
***
If you enjoyed this interview with Matt Dy from the Austin Film Festival you might also enjoy the following interviews:
***
This interview has been edited for length and clarity. Revised on November 26, 2018.
***